Sometimes, a lighter caseload is a welcome break from being busy and gives you the breathing room you need for self-care. But extra space in your schedule has financial implications for your business. This can lead to stress and even burnout. If your caseload is lighter than you would like, how can you get more therapy clients in your private practice?
We've come up with 11 ways to change your practice to make it easier to engage new clients and fill your caseload.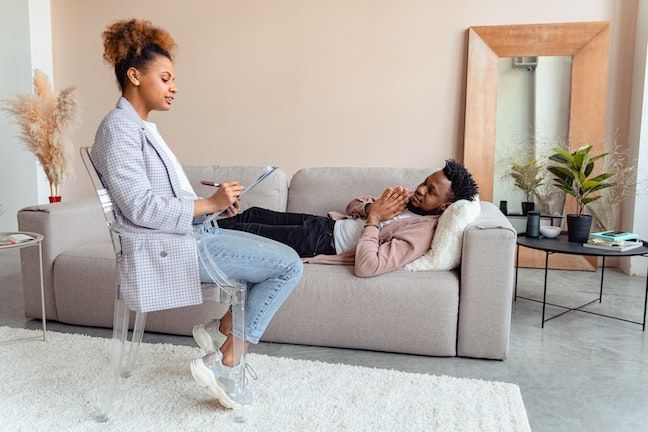 Generate more client inquiries
Most people who want to start therapy will explore their options before committing to one therapist. With therapist information becoming more and more available across the internet, it's now easy to compare potential therapists. This means that your digital brand needs to be unique, engaging, and packed with information about your expertise.
1. Invest in therapist directories
The first way to establish an impressive online brand is to invest in therapist directories. Therapist directories have an infinitely more vast online footprint than a typical individual therapist website. For this reason, some therapists have profiles in therapist directories and don't bother with creating and maintaining their own website. Putting yourself in the prospective client's shoes, it's much easier to compare therapists across one website, rather than across various therapist websites that have different looks, feels, and information levels. Setting up a profile on a therapist directory like Zencare is a great way to start getting a grasp on your marketing. And we'll help you create an engaging profile that looks and sounds professional!
2. Freshen up your practice website
If you do have your own website, now is a good time to try to see it through a prospective client's eyes. Does your website have the basics, including contact, insurance, and fee information? Is this information easy to find? You'll want to make sure that the text on your website is jargon-free and accessible to audiences that know very little about the mental health field. Consider the look and feel of your website, too. A modern, simplistic website will be more attractive than an older, less intuitive website.
3. Take professional photos and videos
Make sure that all images associated with you and your private practice online look professional, inviting, and warm. Getting professional photographs and videos taken is well worth the investment. By including an introductory video, prospective clients can become familiar with your style and personality – which will be a hook for them and get you more referrals. Zencare will help you with your image by sending professional photographers to you and guiding you through the production of an appealing welcome video.
4. Build effective referral relationships
Another way to generate more client inquiries is to grow your network. Knowing more people helps you get your name out there, and is particularly handy when you're looking for more clients.
Having a professional network means that you know who to reach out to when looking for more clients – and that you've already built a strong connection with these colleagues so that they want to refer to you. This creates effective referral relationships from which you may get new clients. Once you have this network, don't be afraid to share that you have availability and are seeking new clients. This network could include other therapists, psychiatrists, and primary care physicians.
One way to build your professional network is to collaborate with fellow therapists when your clients aren't such a great fit. If you come across a client or prospective client that you think would benefit from working with a different therapist, this is a time for you to support another therapist in your network. In time, they'll likely support you too.
5. Find and join online networks
There are many great therapist email listservs, social media groups, and other online therapist groups available to you when you're building your professional network. Be sure to think quality, rather than quantity. Having a few close connections as support may be better when it's time to grow your caseload than having dozens of loose connections who won't send new clients your way.
6. Develop your social network
Another network to consider growing is your social network. This includes social media, of course, which can help you to promote your brand and get information about your practice in front of a large audience. It also means other forms of promotion, including speaking engagements, featured articles or blog posts, or expert quotes for published content. This is a way to share your knowledge and position yourself as an expert. It's also a way for people to engage with your brand and get to know you more – increasing the possibility of interested prospective clients.
Convert more inquiries to scheduled appointments
Another approach to growing your caseload is to increase the likelihood that client inquiries actually turn into scheduled appointments.
7. Respond quickly to all new referrals
Responding quickly to all emails and phone calls is vital to growing your caseload. This can be made easier by creating and using email templates, so that your response is effortless on your part and strategically structured. Remember, the prospective client is likely reaching out to several therapists during their search, so being timely in your response gives you a better chance to connect with the individual before others do.
8. Be friendly on the phone
You might miss a call or two, especially if you're in session with another client. Record a friendly voicemail message to let the prospective client know that you'll get back to them within 24 hours. This is also a chance to show off a warm, inviting personality and give prospective clients a sense of security with you. Once you record your voicemail message, be sure to check your voicemail at least once daily so you can be quick with your response
9. Perfect your consultations
Most prospective clients will want to speak with you in a consultation call before they schedule their first appointment (likely, you also want to get to know them a bit before you complete an intake!). By practicing and perfecting your phone consultations, you'll come off as calm, informative, and engaging to prospective clients. This might look like practicing your explanations of your  therapy modalities or your practice's intake process. When you're ready to take these phone consultations, dedicate ample time for each call so you're not rushed.
Prospective clients want to feel like a priority and they want to feel hopeful about starting therapy. This might be the first time that someone has talked about their mental health, so helping them feel comfortable in those first interactions is key to converting them into a regular client.
Look at the big picture
It will take time for your marketing and networking strategies to play out. You'll also need time to generate client inquiries before you can practice converting more referrals into scheduled appointments. For these reasons, it's important to set small goals with deadlines. You may also consider making larger adjustments to your practice if absolutely necessary.
10. Set goals and make backup plans
It's most helpful to set small goals for increasing your caseload over a set period of time, so as not to feel overwhelmed. If you respond well to deadlines, try setting a deadline for when you would like a certain number of new clients. In the meantime, consider coming up with a backup plan, just in case you fall short of your goals.
11. Adjust your practice if necessary
If you still find that your caseload is lighter than you would like, it may be time to adjust your practice. This can look like changing your hours if you've heard many prospective clients ask about evening or weekend sessions. You might also think about joining an insurance panel if you aren't already part of a network. Adjusting your fee so that it's more feasible for prospective clients can also be a good way of opening more doors.  Depending on demand and interest, you might also try offering online sessions or in-person sessions..
While you may specialize in working with a specific client population or offering a specific therapy modality, you might find that being more of a generalist in your branding attracts more prospective clients. You can always return to specialization, once your caseload is filled with enough clients to meet your financial goals.
It's important to remember that finding yourself with a light caseload is not a failure on your part. Not only are you a therapist, but you're a business owner – and the need to make strategic business decisions isn't a judgment on your worth. By being intentional about how you attract new clients, you'll soon find that your efforts pay off.