Throughout the ebbs and flows of the coronavirus pandemic, the ways that we run private practice have permanently changed. With the widespread use and standardization of telehealth, over the past few years, therapy no longer solely looks like sitting across from each other in an office.
We've previously shared some COVID-related considerations for returning to in-person therapy to help you decide what's best for your practice, including budget, client, and safety concerns. For those who have made the transition to fully teletherapy practices, we gave you 9 steps to follow to transition to remote sessions smoothly. But what if you're still trying to decide, or are seeking a combination of the two?
Below, we discuss 9 factors to consider when deciding to offer in-person sessions, telehealth sessions, or a hybrid approach with your clients.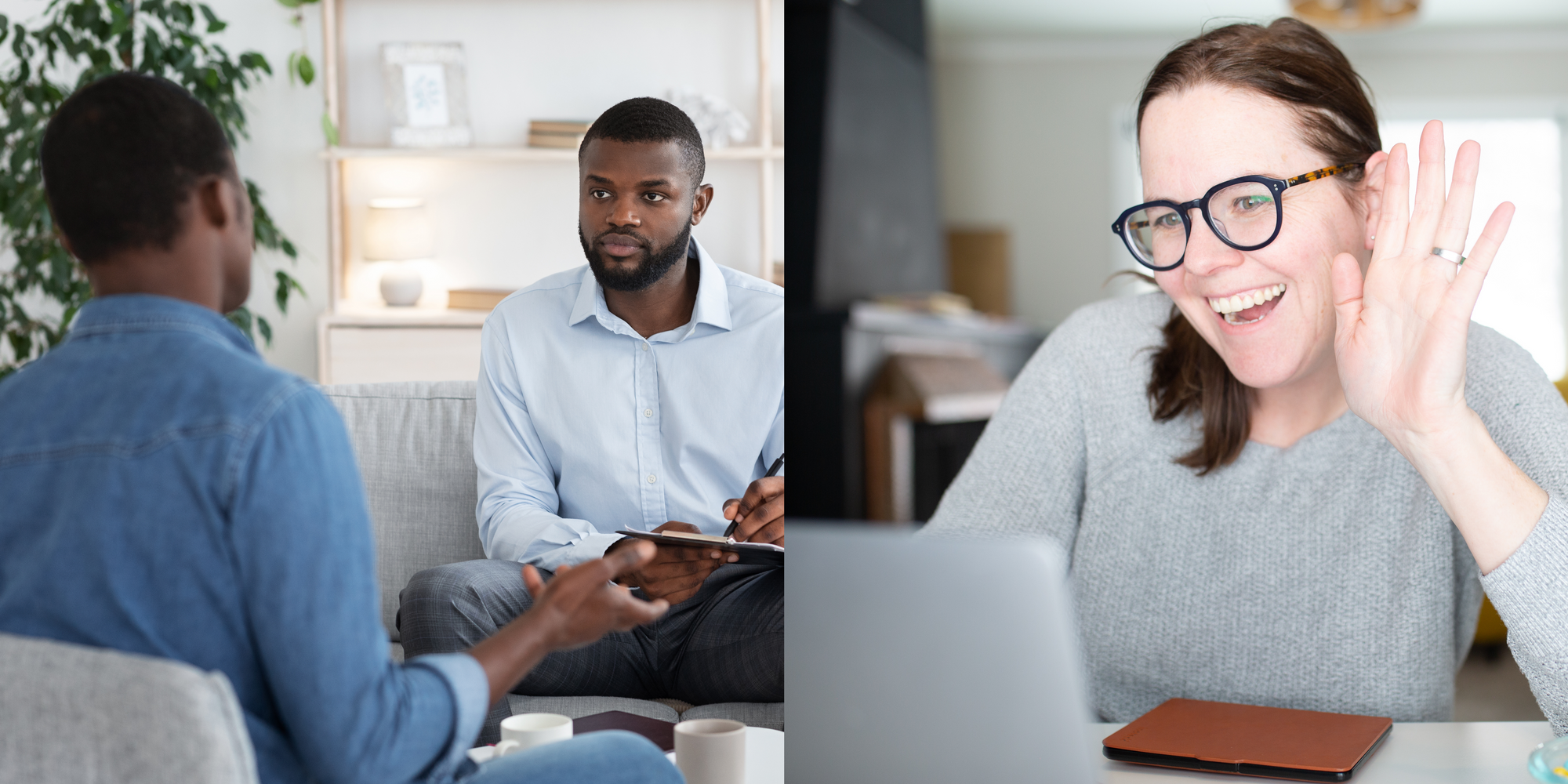 1. Client demand: Gage what your existing and new clients are looking for
Your clients' preferences for session location are important to consider when deciding between your options. Client comfort levels will vary, as will their preferences. Some clients may find it helpful for their therapeutic progress to see you in-person, while others might enjoy the accessibility of meeting online.
First, ask your long term clients what they would like to do. You can phrase the question as an exploration so as not to lock yourself into a locational offering. This could look like, "I'm thinking about looking for a new office space. If I find one, would you want to come in and meet in-person?"
You can also start to track the preferences of all new referrals. Take note of how many people ask about in-person sessions versus telehealth sessions. This tally will give you an estimate of people's appetites for one or the other.
2. Client location: Assess how many of your clients would make it to in-person sessions
Another logical way to assess how many of your clients might be interested in coming into your office is to estimate the distance between where they live and your office's address. It's very likely that your clients who live across town won't be keen to make that commute, especially after many of us have adapted to staying in our neighborhoods for most of the day. A good rule of thumb is a half hour drive – most people won't want to drive or commute more than 30 minutes for an appointment. If the majority of your clients live over half an hour away, it may be best to maintain an online or hybrid practice.
If you practice in more than one state, determine how many of your clients live outside of your city – these clients will very likely not make it into your office for sessions at any point. While practicing in multiple states has many benefits, it does limit the number of clients that you work with face-to-face. This will, however, give you something to stand on when deciding whether to open an office or not.
3. Therapy effectiveness: Determine if in-person sessions are more effective for your unique specialty or approach
There are some therapy modalities that work best when delivered in person. The issue isn't so much that clients can't feel therapist support through telehealth – there are many ways for therapists to connect with clients on a deep level through an online platform. Rather, some therapy modalities rely on physical cues best experienced in-person.
Some providers find that therapy modalities like Eye Movement Desensitization and Reprocessing (EMDR) or Brainspotting are difficult to facilitate with clients without being in the same physical space as them. Other therapy modalities rely on physical stimulation, such as transcranial magnetic stimulation. If you find that your therapy approach benefits from being in the same physical space as a client, in-person sessions may be the best fit for your practice.
If your therapy approach involves physical objects such as art or music therapy, it may also be better to offer in-person sessions so clients can experience the full treatment.
A recording of Zencare's January 2022 event, "In-Person, Telehealth, or Hybrid? How to Build a Thriving Therapy Practice in 2022."
4. Office cost: Consider the cost of having a physical office
One of the major considerations to keep in mind when it comes to having an office is the financial feasibility of maintaining a physical space for your practice. In the past, most therapists had their own offices or rented an office in a shared space. Now, with the popularity of telehealth, things might look a little differently.
If you're just starting your private practice or you've found that your budget is tight, consider moving to an online practice and saving money on office rent. By taking sessions from your home, you cut back on one of the biggest items in your budget. However, if you're partial to keeping your work away from your private life – work-life boundaries are for therapists too! – then there's nothing wrong with spending the money to keep an office space.
You might ask yourself the following questions to get the full picture when it comes to renting an office:
How many clients do I need to see in order to pay for the cost of my office?
Can I find a flexible working arrangement, one that I only pay for when I use?
Are there other options to session locations that I can leverage, such as going on walks with clients or in-home sessions?
What other costs will arise with maintaining an office? This could include decorations to make your office an inviting place, utilities, cleaning fees, and more.
Because of the budgetary heft of maintaining an office space, it's a huge consideration for your practice. You can always give it a try – or try going without – to see what works best.
5. Group practice culture and team camaraderie
When you're the only therapist in your practice, the decision around where to have sessions with clients is easy. However, when there are other therapists in the picture, there are more preferences to add into the equation. When you run a group practice, part of your business model will include taking care of your therapists – and that means listening to their thoughts around in-person therapy, online sessions, or both.
As the owner of the private practice, you'll need to think about how best to manage your team. Can you manage your team of therapists – including offering them the support they need as they treat clients – from a virtual setting? How will your therapists feel connected to one another, as members of the same team? What keeps therapists motivated in their work and helps them avoid burnout? These are all questions to ask yourself as you make plans for your team. And there are no better experts than those on your team, so be sure to ask what they think!
While it's best to give clear policies for both staff and clients, sometimes taking things slowly and making gradual changes is the better approach. This approach is more sensitive to people's comfort levels and gives you an opportunity to gauge the benefits and risks. As you transition into or out of the office, consider flexible working options that include some in-person sessions or staff meetings and some online. A hybrid practice puts your therapists in control, a huge protective factor against burnout and work-related stress.
6. Insurance reimbursement: Revisit the different reimbursements for in-person vs teletherapy sessions
While it's common for your clients to receive the same health insurance coverage whether they see you in-person or online, there are some health insurance plans that only cover in-person sessions. Other plans offer different coverage rates depending on the location. For this reason, it's important for both you and your clients to understand the differences – as even small differences can impact your budgets down the line.
If there are different rates offered for in-person services versus telehealth services, be sure to update your billing procedures accordingly. Your clients may ask you about these differences too, so it may be helpful to practice responding to these questions or finding resources for your clients to reference. You might also consider how the different reimbursement rates impact your finances and budget – and if there's an advantage to offering one type of session over the other.
7. Marketing: Update your marketing to reflect your latest session structure
As with any changes you make in your practice, don't be afraid to play up your locational changes in your marketing! If you've taken the time to consider your options and chose to offer sessions either in-person or online sessions, then you've made a strategic decision and that's worth talking about.
Whether your practice has in-person, online, or hybrid therapy sessions, many prospective clients will feel excited about the offering. Include messaging around where you take therapy sessions within your social media posts, newsletters, online advertising, and anywhere else you engage new audiences – and make sure to highlight the strengths of that location!
You can also take the policy changes as an opportunity to engage with your current client base. An example of this is to send out an engaging email that not only shares the change in policy but also highlights a few other reasons why your practice is special. This can help clients feel more connected to you and your practice so they stick around for longer.
8. Personal wellbeing: Understand what you need to work effectively without getting burnt out
At the end of the day, the person most impacted by a change in location is you. As a therapist and as a business owner, it's absolutely vital for you to understand what you need to avoid burnout.
If you prefer the flexibility of telehealth, it's okay to give up your office space. But if you prefer to connect with clients across a room, that's perfectly fine too. With the many changes happening in the mental health space, it's time to prioritize what works best for your mental health and lifestyle.
If you choose to take online sessions from the comfort of your home, find a spot where you can work free from distractions. This includes receiving those always ill-timed package deliveries, helping your homeschooled kiddo with their Zoom log-in, or giving your dog a treat. By avoiding distractions, you ,ay find yourself better equipped to handle a healthy work-life balance. Protecting your professional and personal lives by instilling boundaries is a great way to prevent burnout.
You might also want to consider any upcoming big events in your life. If you're moving, growing your family, taking care of a family member, or beginning a new course of study, ask yourself what location suits your needs. By protecting and optimizing your schedule, you're putting your wellbeing first.
9. Staying connected: Ensure you have ways to stay connected with your therapist community
Wherever you decide to hold therapy sessions with clients, it's essential that you maintain connection to your therapist community. Being connected to a group of therapists (even a small one!) may help you feel a larger sense of purpose, which is a strong protective factor against burnout – and not to mention an overall bonus for your business. It gives you a safe place to express yourself amongst a group of people who understand the nuances that being a therapist brings into life.
Are your supervision sessions in-person or online? If you attend group supervision, does it run smoother if you all show up to the same place or when on a digital platform? There's no right or wrong pathway and the way that you connect with other therapists doesn't have to perfectly match how you connect with clients. The importance is that it suits you and that you're able to still feel a deep, personal connection to others. You might also check out meet-ups with colleagues outside of work, therapist events, online networking platforms, and other ways of coming together.
We aren't sure what the next few years hold for private practices, but part of the excitement of being a therapist in this current atmosphere is that we have the opportunity to be flexible and make decisions about what's best for us, rather than what's traditional or customary. By considering all sides of the picture, you'll land on a practice location that works for you. Chances are, what works best for you will also be what's best for your clients.