At Zencare, we believe that the process of starting therapy should be simple, empowering, and accessible to all– and that the best way to get there is by helping therapists build thriving practices. We serve as a one-stop-shop for private practice marketing, and lead with respect for therapists, therapy-seekers, and the courageous work that takes place in session each day.
That's why we've designed our therapist directory to work differently: at the core of our mission is the belief that it should not be so hard to find a great therapist, and over the past 5 years, we've helped thousands of individuals connect with a therapist who fits their needs, and therapists across the country grow a successful private practice.
Now, we're excited to share our mission with you, with 6 reasons why providers choose to join the Zencare community. Get started today or reach our Brooklyn-based team with questions.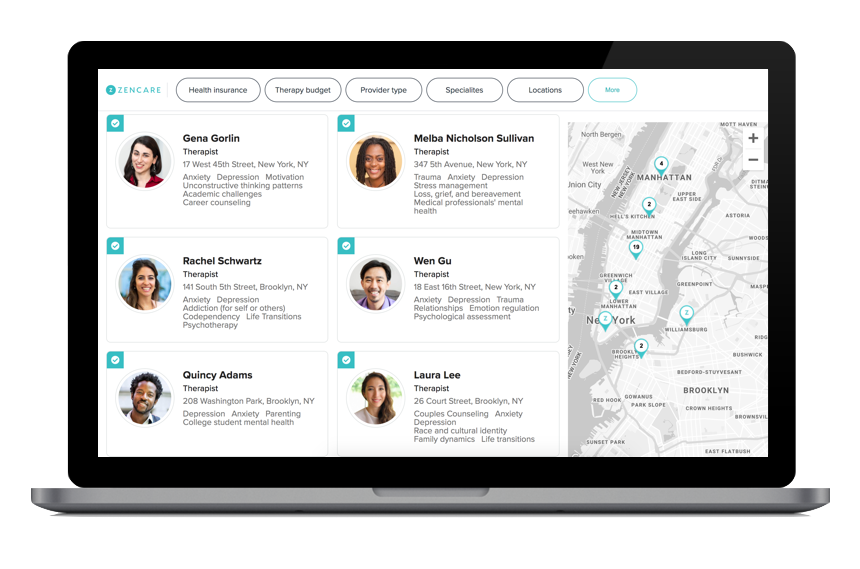 1. Professional and visual online presence
Your Zencare profile is singularly designed to showcase your skills and strengths as a therapist, speaking directly to the types of clients you want to work with. We offer:
A robust online profile that is search-engine optimized and includes information about your specialties and expertise, practice logistics, and professional experience, as well as resources to help prospective clients understand payment options and break down therapy jargon.
A high-quality onsite photo and video shoot. We train local photographers who are skilled in calming any photoshoot nerves and will coach you to put your best foot forward on camera, so that you can choose from polished headshots and office photos to publish to your profile. You'll receive our guide on how to craft a compelling introductory video, and can even use the photos and video we take on your personal website!
Copywriting and marketing support: We know it can be challenging to sum up all of your years of experience in just a few paragraphs, so we offer professional copywriting services, as well as video script review prior to the photoshoot, helping you to hone your message to clients and stand apart from the crowd of same-sounding therapist bios.
2. Motivated, well-matched referrals and clients
Whether you're new to private practice or expanding your current practice, Zencare helps eager, savvy prospective clients find you. According to Zencare providers, the therapy seekers that connect over our platform are more knowledgeable and ready to start therapy with you as their chosen therapist.
We've referred over 15,000 clients to private pay therapists: if you're transitioning off of insurance panels, your clients can use our extensive library of resources to learn how to use their out-of-network benefits and understand the value of private pay therapy.
And if you do take insurance, prospective clients have the option to filter by both health insurance and therapy budget. We present clients with a session fee histogram to help set expectations on the cost of therapy before they reach out - and when they do reach out, we ask them to indicate how they'll pay for sessions so you have a complete picture prior to intake.
3. Unique marketing opportunities
With over 200,000 page views each month, the Zencare website is the go-to therapy referral source for a diverse community of professionals and students. Clients to come to Zencare through:
Partnerships with local referral coordinators, including doctors, hospitals, university counseling centers, student groups, treatment centers, and HR departments. We build trusted relationships on the ground with local communities, networking on your behalf to generate more word-of-mouth and direct referrals.
Blog posts and newsletters: With over 30,000 active subscribers, our newsletter readers seekers are eager to learn about and begin therapy! We publish new articles each week to our blog and are committed to featuring inclusive images and topics that positively encourage the pursuit of self-driven change.
Advertising: We advertise through Google, Facebook, and Instagram to promote new network launches, placing your practice in front of an increasing audience of therapy-seekers each month.
Search engines: Through search-engine optimized pages, the Zencare website is designed to target highly localized and specific keywords that indicate a client is motivated to begin therapy!
4. Modern referral process
We want to make it easy to connect therapy seekers with therapists - and that begins with making it simple for a prospective client to reach out to you. Too often, games of phone tag last days and decrease motivation for both parties. For that reason, we built an online scheduler to keep you accessible and organized. Here's how it works:
You'll indicate when you're available during the week for phone calls
Prospective clients can request a 10-minute call directly from your profile
We notify you that a prospective client has requested a phone call, which you can confirm or reschedule as needed
We remind you (and the prospective client!) about the call as the time approaches to ensure everyone is ready
We also have a personalized matching service for clients seeking a bit more guidance in their search. When our therapist matchmakers receive a request from a client that would be a good fit for your practice, we'll send them your way!
5. Client-centric therapy search
Our mission is to make finding a great therapist as comfortable, empowering, and simple as possible - and we accomplish this through an extremely aesthetically pleasing and user-friendly website.

Unique search features include the ability for clients to find your practice on a map, filter by therapy budget and available session times, and match with providers who share their identity, all to ensure folks who contact you become better-fitting and longer-lasting clients.
You also have the ability to toggle the flow of referrals on and off as your availability changes; clients can view up-to-date availability information, so that you don't spend time fielding inquiries when you're totally booked.  
6. Concierge support team
We are wholly committed to the growth of your practice and success on the platform: here are a few things our team can help you with:
Referral support: Whether you can't find a client's contact information or need to reschedule a requested call, we're here to make sure you connect. We check in regularly throughout your membership to ensure the referrals we send become clients, and are here to help troubleshoot any issues that arise.
Matching clients: If you get sent a referral who isn't a good fit (from Zencare or otherwise!), we'll follow up with the client to ensure they connect with another provider.
Profile questions: If you run into technical troubles or have questions about how your page is performing, just give us a shout at support@zencare.co, and we'll dive right in!
The Zencare team is mission-driven, woman-led, and based in Brooklyn, NY. We are committed to anti-racism and the belief that through therapy, self-driven change is possible.

We came to this work out of our own challenges in wanting to seek therapy and struggling to find the right therapist fit: now, we're grateful to have the opportunity to solve that problem for countless others, and supporting providers across the country along the way.
We'd welcome the opportunity to get to know a bit about you and your practice. If you have any questions or would like to learn more, please reach us at hello@zencare.co. We look forward to hearing from you!