Haven't joined Zencare yet? Curious whether it's worth it? Read on for 30 perks included in Zencare membership when you join as a therapist in private practice!
Jump to any section to learn more: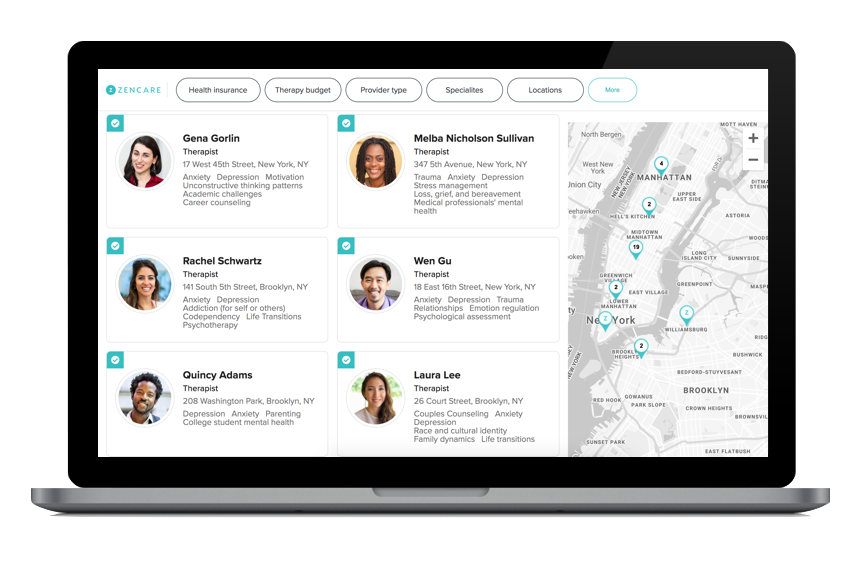 Streamlined, professional online presence
1. You're the star of a high-quality photoshoot
Photos are a crucial part of your online presence – especially for prospective clients forming a virtual first impression! When you join Zencare, we provide a high-quality, onsite photoshoot, plus photo editing.
Whether you are camera shy or always ready for your closeup, our professional photographers will make you feel comfortable and look radiant, with headshots and office photos that you're free to use on your own website, too.
2. You get to highlight your practice through a unique, effective intro video
Introductory videos are a stand-out part of every Zencare therapist profile. They're a great way to communicate your personality and approach to prospective clients.
Plus, they're highly effective! According to a study of Zencare users presented at the National Institutes of Health (NIH), therapist videos had the strongest influence over a user's confidence that a selected provider would be a good fit.
3. We'll give you a hand with video coaching and support
Excited about shooting your introductory video, but not used to being in front of the camera? The Zencare team is here to support and coach you through the filming process.
We provide prompts you can prepare answers to beforehand, and we'll work with you so that you look and sound your best for future clients. You can choose to have your script reviewed in advance of the onsite shoot, and practice with a Therapist Success Manager on a coaching call for a smooth delivery.
4. We'll work with you to craft your professional statement
Share just a few details about your specialties, treatment approach, and unique background – we'll do the rest! We synthesize your highlights to create a clear, effective professional statement, which helps connect you with the right clients.  
You're able to review the professional statement we draft for you prior to publication, and can tweak it at any point when you have professional updates to share.
5. A robust online presence means higher chance of referrals
Prospective clients who receive the names of multiple therapists are more likely to choose the provider that they can learn about and connect with online.
For Zencare members, our search engine optimization means that clients researching your practice will find warm photos, a video introduction, clear logistic information, and a professional biography, plus easy ways to reach out.
6. You have the option to share testimonials from Zencare clients
Help prospective clients learn about what a great experience your current and former clients have had with you, through our closed feedback testimonial system.
No starred reviews or non-client posters here: every testimonial is from a client who has contacted you via Zencare, and you have the option to share on your profile or keep private.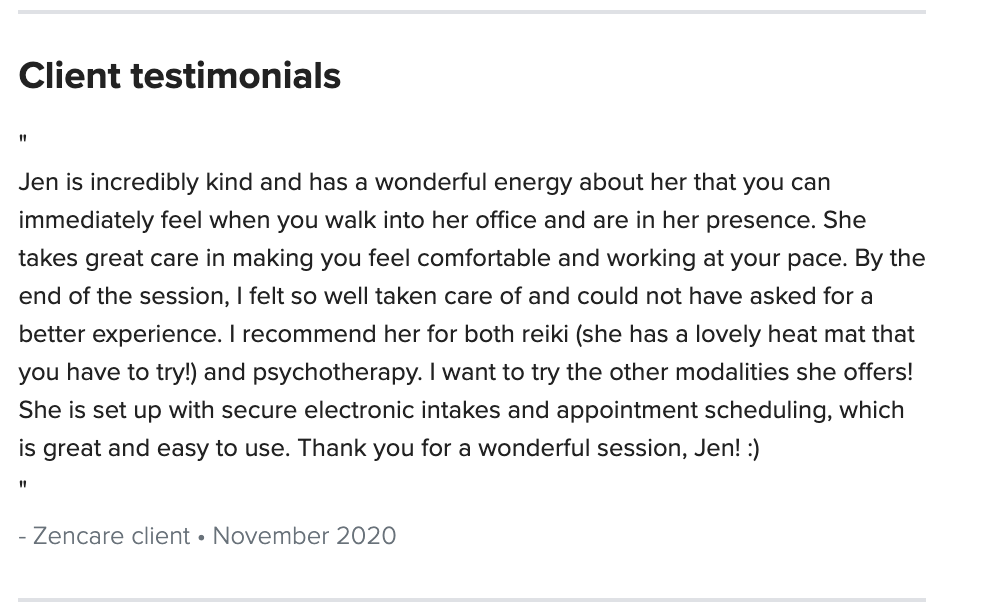 7. Your profile is always easy to find, thanks to your name in the URL
Your profile will have a unique URL that includes your name – it's easy to find, remember, and share!
Modern ways for clients to contact you
8. Your profile includes phone consultation scheduling
Phone tag is a game of the past, thanks to our convenient online scheduler for phone consultations.
How it works:
You indicate what times you are free during the week to make calls
Clients can request a 10-minute phone consultation directly from your profile
We notify you that a client has requested a phone call, and you can confirm or reschedule as needed
We remind you (and the client) about the call as the time approaches so you're sure to connect
9. Email contacting is an option for clients, too!
Clients who prefer to communicate via email can also contact you through email form. We moderate these emails to make sure they reach you, and our concierge support team is ready to lend a hand if you have any trouble connecting.
Easy-to-use, highly-optimized website
10. Modern and beautiful interface
Zencare's website has a modern search interface and beautiful design, making time spent on our site enjoyable!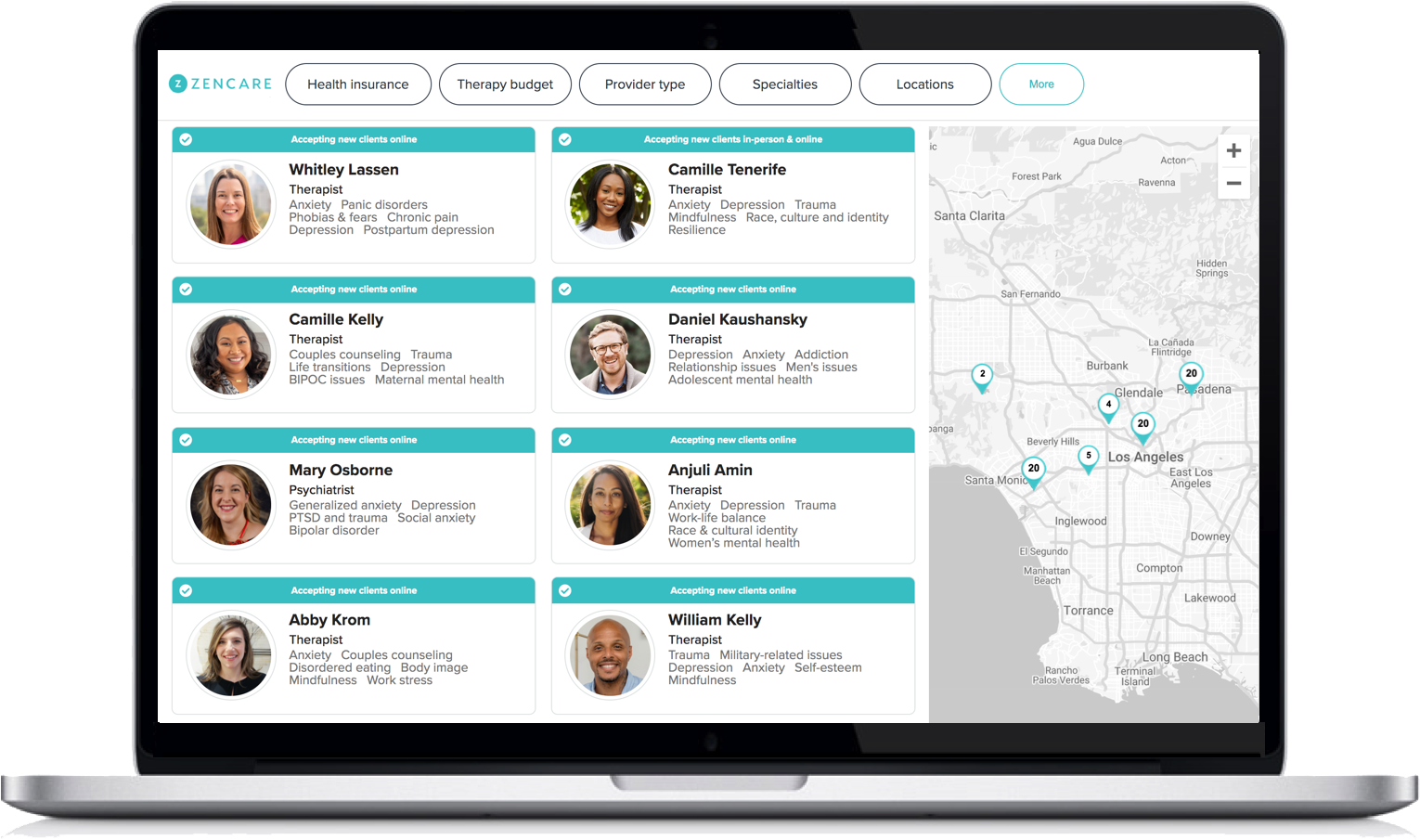 11. Search engine optimization (SEO) means your practice appears in targeted web searches
Clients searching online connect with your practice after landing on our highly trafficked blog, therapy resource posts, and web pages that are designed to capture local, high-intent therapy seekers.
12. User-friendly search experience for clients
Our mission is to make finding a great therapist as comfortable, empowering, and simple as possible for therapy seekers.
Not only is the site aesthetically pleasing, it's extremely user-friendly. The search functions are easy to navigate, and information is easy to read and access.
In addition to the ability to find your practice on a map, clients can narrow their search by therapy budget and available session times, to ensure folks who contact you are a good fit for your practice.  
Get published + promoted
13. You can get quoted on the Zencare blog
Zencare has a lively and informative user blog, with multiple new posts published every week!
We love featuring insight from our network of psychotherapy experts. Whenever you're featured, we'll link to your profile – which boosts credibility on the article topic, and drives up traffic to your page.
14. You're always welcome to write a contribution on the blog  
In addition to being quoted in articles that our editorial team writes, you are encouraged to submit your own articles – which we'll then publish on our blog.
You get to write about something that you're passionate about, which we then edit and publish on our site. Learn more details about our therapist blog features here.
15. Contribute to articles sent out in our newsletter
We often share our blog posts (with therapist contributions) in our free user newsletter. We send this newsletter, which has over 5,000 subscribers, on a weekly basis.
16. Get promoted across our social media platforms
As articles are published, we promote across our social media platforms (including Instagram, Twitter, and Facebook).
Supportive, vetted community
17. You're in good company
We take our vetting process very seriously – meaning when you join Zencare, you are in the company of highly qualified and trusted providers.
18. You can subscribe, and submit, to our moderated professional listserv
When you join Zencare, you're invited to join your local Zencare listserv! Many Zencare clinicians look to their peers for:
Referrals and local service recommendations
Supervisors, supervisees, and peer groups
Office sublets, hiring for a group practice
Conference announcements and requests for speakers
New practice announcements
And more!
You can toggle your settings to receive emails immediately, or as one daily digest.
19. We're an exceptionally supportive community
Joining Zencare means your community of practice will be expanded to include hundreds of exceptional clinicians – and you can reach out to them for support!
20. You'll have more opportunities for referrals
Through Zencare, you have more chance of getting referrals from other providers, via:
The Zencare listserv
Professional networking events
You can also share your Zencare profile with former colleagues, add the link to your signature and website, and circulate on social media!  If the people who want to refer to you know that you have an online presence, they will be more likely to share your link with prospective clients – and those clients will be more inclined to reach out to you as informed consumers.
21. You're invited to professional networking events
We hold events for our members regularly. Keep an eye out for an email from the listserv for the next event!
Motivated, well-matched referrals and clients
22. Clients who fit your practice can easily find you
Having so much clear information about your unique practice in your profile means that when a client schedules a session with you, they've made an informed choice.
23. Work with highly motivated clients
Because clients make an informed choice to work with you, they will be motivated to commit to the therapy process with you!
24. Grow your number of private-pay clients
Trying to increase your private pay base? We provide supportive resources to clients on how to use out-of-network benefits and understand the value of private pay therapy.
25. No more insurance and fee mismatches
Zencare clients confirm that they understand your fees and insurance status before reaching out.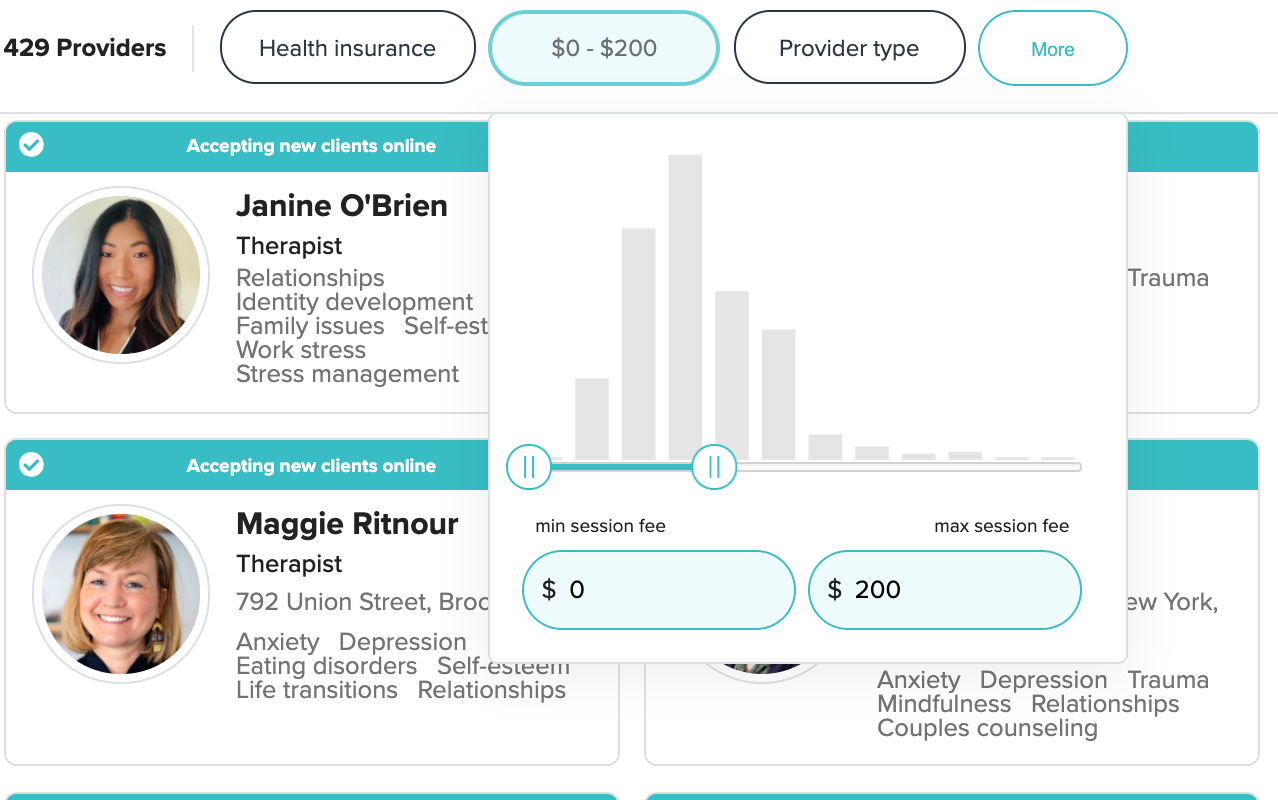 26. Direct connection to a millennial audience
If you are looking to build your millennial client base, Zencare is the place to start! Our brand and content are geared largely towards millennials. The majority of Zencare clients are 18-40 year old women, working professionals, and college and graduate students.
27. Referral relationships, networked and built for you
Zencare has developed relationships with partner organizations including the One Medical Group, WeWork, as well as local primary care groups, hospitals, treatment centers, university counseling services, student groups, and HR departments at local companies!
Client and tech support
28. Your availability is kept up-to-date
Not accepting new clients? Simply toggle off the flow referrals, so you don't have to spend time over phone or email with prospective clients you can't currently accommodate!
When you're ready to open back up, indicate the times you have available, so prospective clients can see at a glance whether your schedules will align.
29. We share reminders to stay current
We know you're busy, so we'll send you monthly reminders to update your availability, pricing, insurances, and other profile content.
30. Warm, supportive team
We're always here for you! If you have any questions or concerns, or just want to say hi, you can reach our Brooklyn-based team at any time at hello@zencare.co.