If you're a therapist in private practice, you likely have an online profile in at least one therapist directory, such as PsychologyToday and Zencare.
But what does it mean to "optimize" your profile?
Put simply, profile optimization is all about improving your profile to maximize its reach to prospective new clients. Read on for some concrete strategies to make sure your profiles are working as hard as you are!
Master your platforms
It might sound obvious, but a crucial part of profile optimization is making sure you understand the platforms in which you're listed. To make effective use of a directory, you have to know how it works!
Be a user: Pretend you're looking for a therapist and check out a directory where you're listed. How would you search for a therapist on this platform? Which sorts of profiles do you think your prospective clients would be most likely to click on, and why?
Find yourself: Run some searches and see where you show up. Do you appear in what are likely to be common search results, and in the results for every search that you should? How many steps does it take to find your profile? What could make that process easier or faster?
Consider the big picture: As you look at the directory, take a step back to consider why a client would come to this particular directory. Where in the therapist search process are they? And how does this theoretical client relate to the kinds of clients you want to see in private practice?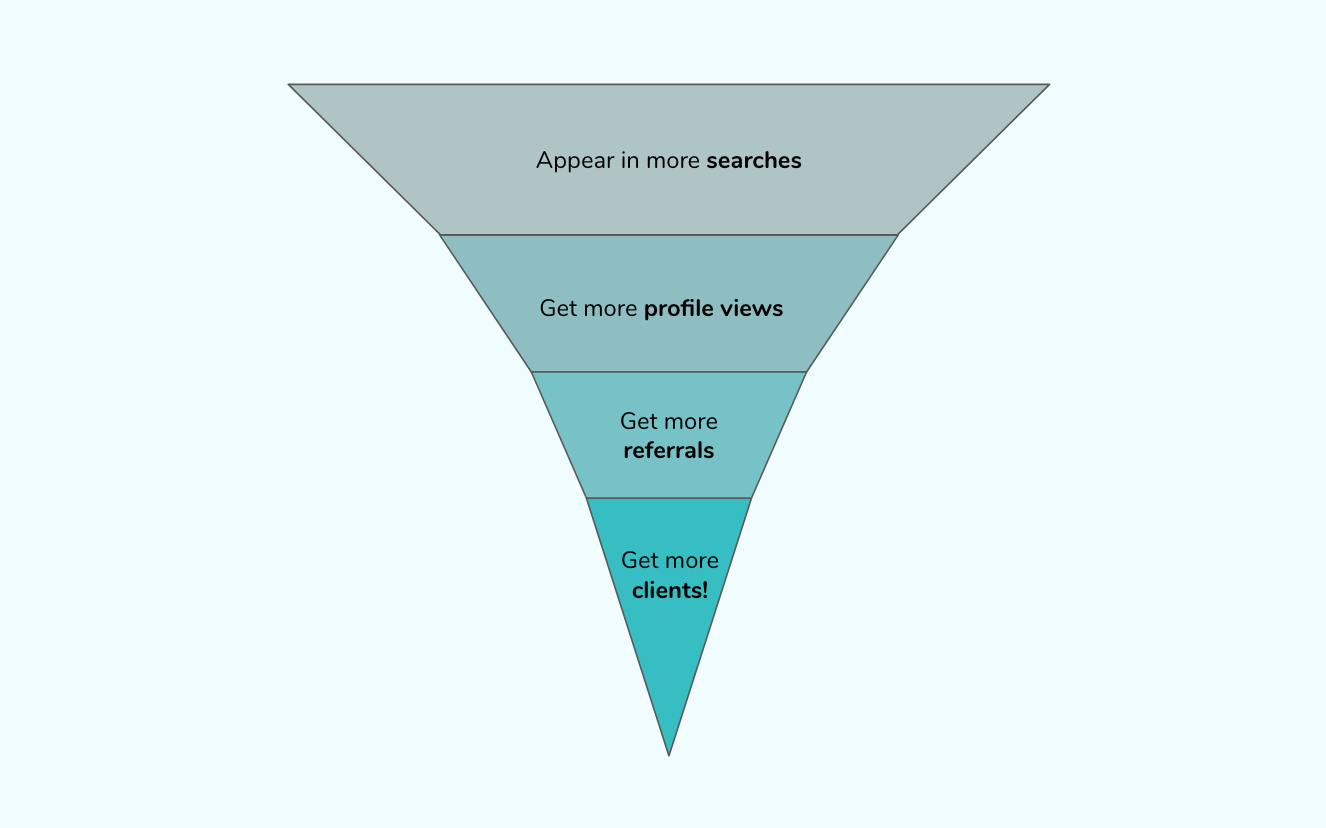 Check out the search preview
It's important to note on each directory how the preview of your profile is displayed on the search page. This is the first information clients are presented with about your practice, and it influences whether or not they'll ultimately click through to your page. Consider, for example, the two profiles below: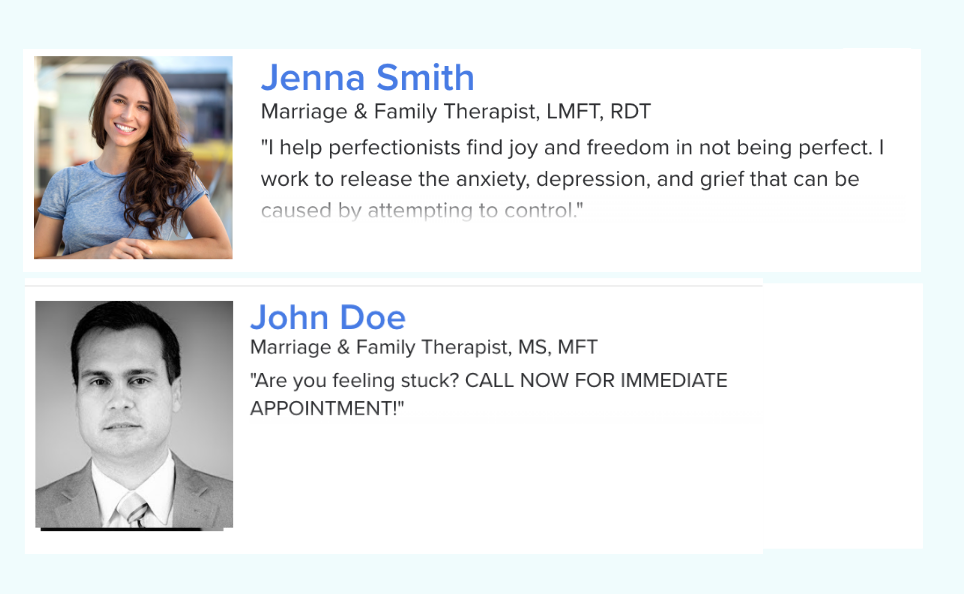 Which one of these two profiles are you more likely to click on? These two therapists are located in the same zip code, have similar credentials, and are likely paying the same amount to be listed in the directory. Still, in the same amount of space, one therapist conveys much more warmth, credibility, and personality.
To maximize clicks to your profile, choose a brightly lit, professional headshot with a warm smile. Test out different openers to see which lands best: effective lines convey what it would be like to work with you as a therapist and what prospective clients can expect to gain from sessions. They say something specific about your practice without being overly exclusive to one client population upfront. Take a quick scan through other examples in your zip code: your first line should be as unique as your practice is to you, and not rely on cliches, hypotheticals, or sweeping statements.
Review your profile
Once you know how clients arrive at your profile, the next step is going over your page with a fine-tooth comb. Go slowly, field by field—taking baby steps will help you test one thing at a time and see each piece clearly.

Your photo: When it comes to your photos, warm smiles generally work best. You should include photos of your office too, if you have them, but not as the profile photo.
Your top specialties: When listing your top specialities, it's best to include one or two that you see a lot of and that are very common (anxiety, depression, relationships, life transitions, etc). Then, you might also include one or two that are more unique to you (sex therapy, mindfulness, DBT, etc).
Your other listed specialties, approaches, and populations: Everything you list here will be tied to the searches you appear in, so you'll want to make sure that this list is representative of your practice—without claiming expertise that goes beyond your training. So if you want your profile to appear in search results for a given clientele, such as "Couples," then "Couples" must be listed on your profile under the clientele you serve. Also, be careful when adding custom specialties, since directories are not usually structured to allow custom search results. For example, if you offer Kundalini yoga, it would be more advantageous to select the existing option for "Yoga therapy" rather than writing in "Kundalini."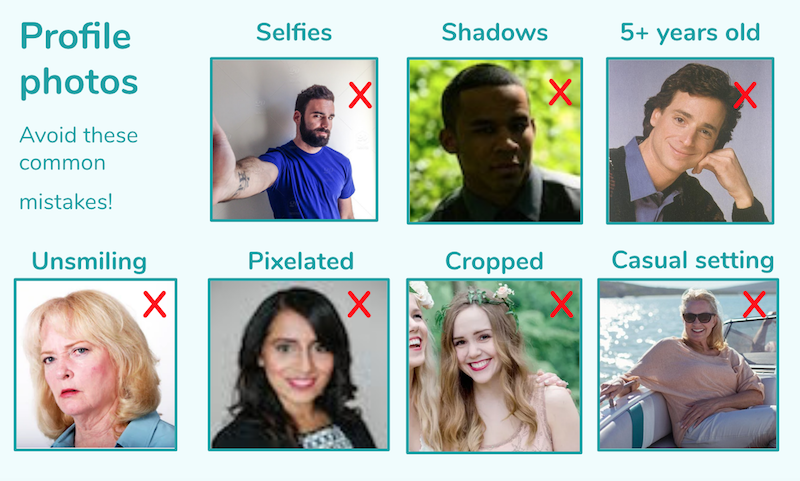 Remember that when taken all together, the basic details of your profile tell a story. Most therapists use directories to reach a wide audience of prospective clients at the top of the funnel; you generally don't want to be overly specific, lest you risk alienating clients who could be a really good fit for you.
For example, if you list your top three areas of specialty as "Women's mental health, Postpartum depression, and Parenting," that paints a very specific picture of the kind of client you are best poised to work with; it could limit the number of searches you appear in and the volume of requests you ultimately get.
Consider the difference in listing "Life transitions, Relationships, and Women's mental health" as your top three specialties. This volume of searches for these topics are likely to be much higher. And then, you can use the copy in the body of your profile to explain that you work with women at all different life stages and moments of change, including the perinatal period.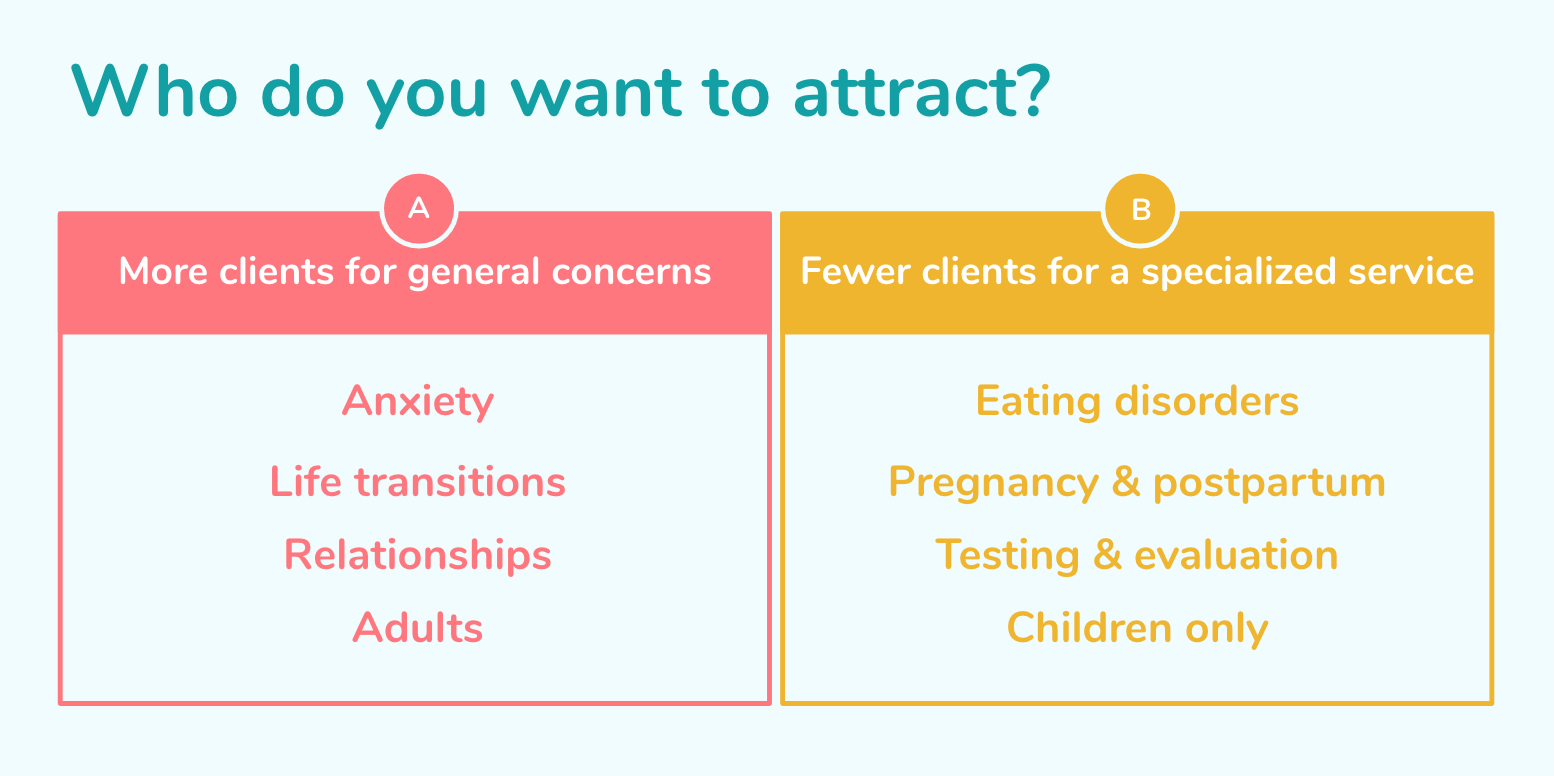 However, for more niche directories, like a modality-based or population-specific directories (i.e., a directory of providers who are certified in EMDR, or who specialize in serving the LGBTQ community), it makes sense to play up that part of your practice. In these cases, the client who is typically searching via that directory is likely to have a vested specialty interest and be more likely to reach out to you when your profile demonstrates deep expertise.
Refine your copy
Once the basics are in place, your next step is to pick through all the writing on your profile to make sure it's accurate, up-to-date, and effective. As you read through, work on revising to follow these guidelines:

Stay specific to your practice: Remember that the goal is not to get clients to start therapy, but to get them to start therapy with you.
Avoid jargon: Don't use acronyms or rely on clinical terms that potential clients may not know. Instead, explain what will happen in a typical therapy session with you in plain language.
Pay attention to details: It's usually best to avoid all-caps, which can be jarring for potential clients to read. And make sure to check for typos!
Use all the space available!: If there's room for three paragraphs, write all three! Consider the following formula: in the first paragraph, describe who you work with in broad terms. In the second, explain how you help them address the challenges they're facing now. In the third, describe why you are uniquely poised to serve them: your experience, or the relationship you build with them. Lastly, end your bio on a brief message of hope or welcome so clients are excited to reach out!
You'll also want to make sure that your profile answers these basic questions clearly and simply:

Do you have appointments available right now? When and where?
What's the best way for clients to contact you?
What insurances do you accept? Can clients use out-of-network benefits to see you?
What are your fees? Do you offer a sliding scale? If yes, what is the range and how is it determined? In order to protect your time and the time of prospective clients, the more transparency you can offer here, the better.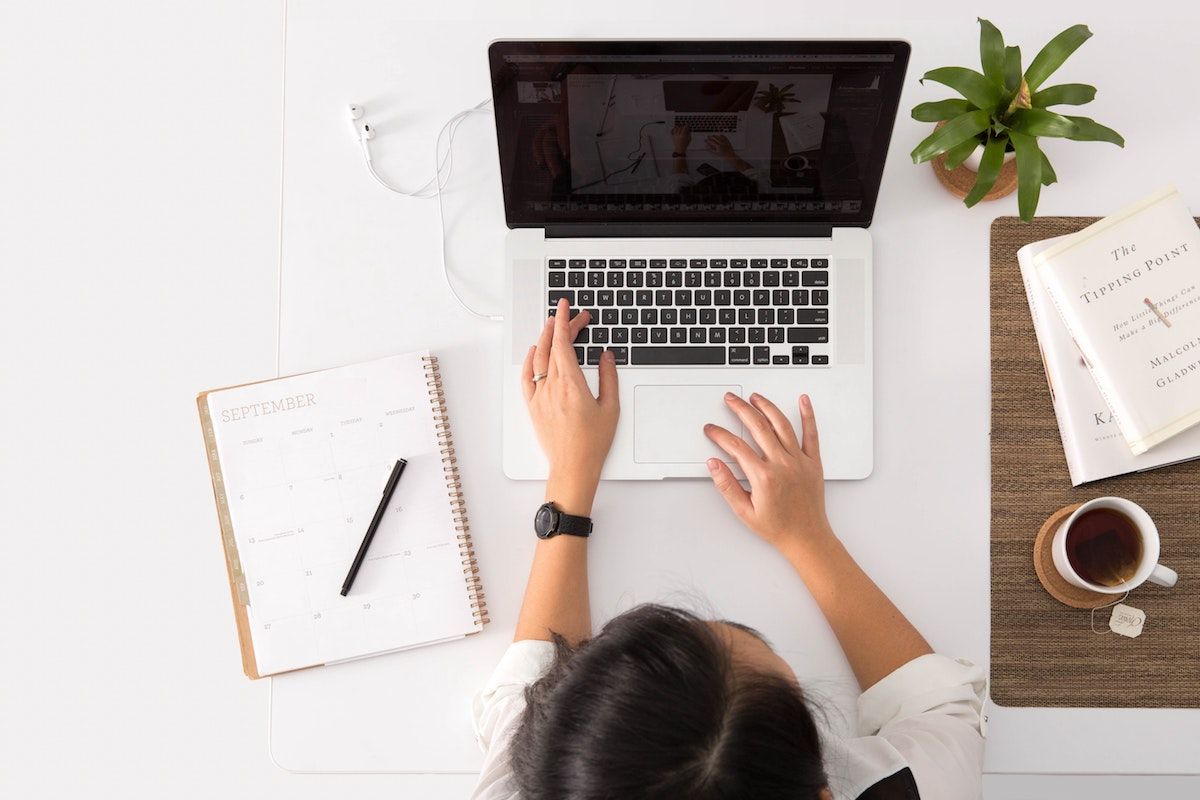 Test your changes!
The only way to know for sure if your profile is optimized is by systematically making changes and tracking the results over a period of time. Refer to the funnel chart below to test out different stages of client conversion: