Philadelphia is known for its toughness: with its hard-working residents, famous sports teams, hearty food, and place in American history, this reputation is well-earned. But being tough doesn't mean not asking for help – you may find yourself on the search for the opportunity to speak with a professional mental health clinician about stress, insecurities, big transitions, family conflict, and more.

Because Philadelphia is home to top-tier businesses, art, healthcare, and many other industries, it attracts high-achievers who may feel the need to process through the pressures placed on them, reflect on what brings fulfillment, and grow their values. It's also a family-centered city and incredibly diverse, which means that therapists' personalities, identities, and specializations also vary widely – making the search for the right fit even more valuable!

If you're looking for a therapist in the City of Brotherly Love, we've laid out a few considerations to support your search. Read on to learn about finding the right therapist for you.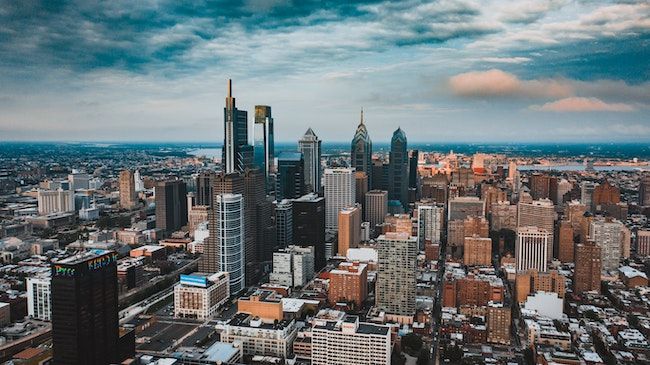 1. Make sure the logistics work for you
Most of your mental health work will happen in session – but certainly some of it comes during the process of getting to session in the first place! When you're looking for a therapist, be sure to pay attention to what's comfortable in terms of location, timing, and budget so that you can fully focus in session without worrying about traffic (hello, I-76!) or paying the bills.
Locational logistics
With the swell of therapists offering online therapy, mental health care is more accessible than ever. However, many people still prefer to meet with a therapist face-to-face. Both online therapy and in-person therapy have benefits, so deciding for yourself what you prefer will be key in figuring out what type of therapist to look for. You might also take into consideration your internet connection, the therapist's access to a secure video platform, and whether you'll have privacy if you take therapy from your home or workplace.

If you decide to seek in-person therapy, next it's time to think about where to look for a therapist. If you live in Central City, would you be willing to drive to Germantown? If you work downtown, could you see yourself driving to Kensington every week for your session? If it's helpful, write out a list of neighborhoods that you could easily get to each week without too much trouble. Some people prefer to see a therapist in their own neighborhood so they can return home quickly after heavy sessions, while others prefer to see someone across town so they have geographical separation (and time) to process on their commute home.
Temporal logistics
Once you've determined where you'll look for a therapist, it's time to think about your schedule. How will therapy fit into your calendar? While most people see their therapists once a week, you may be able to ask for twice weekly sessions or every-other-week sessions.

Check in with yourself on what time of the day works best for you to see a therapist. If you're a morning person, you may want to see a therapist that offers appointments before work hours. If you feel most relaxed in the evenings, finding a therapist that offers post-work sessions may be best. Figuring out when you have the most energy – and if those moments would be best spent in session – will set you up for success in your therapy routine.
Financial logistics
Therapists in Philadelphia are dedicated to making mental health care as accessible as possible. With big Philly care systems like UPenn-Presbyterian and Jefferson Health offering top-notch in patient care, the focus on community care makes therapy easy to find and pay for. The average cost of one therapy session in Philadelphia is between $80 and $150, so if you're planning on paying out-of-pocket, you can expect to pay around that range.
However, if these prices don't quite match your budget, consider the following ways to decrease the session bill:
2. Figure out what your mental health needs and preferences are - and find a therapist who can meet them
Everyone goes to therapy for a different reason. Most licensed therapists are adept at supporting clients who feel the impact of  depression, anxiety, overwhelming stress, and major life transitions. However, if you feel that you have a more specific concern, you may benefit from a practice geared towards that topic.
Ask yourself the questions like, "What would I like to talk with a therapist about?" and "Who would I be most comfortable with?" You'll likely set some mental health goals with your therapist when you first get started, but tackling these questions early on in your search opens the potential for you to more easily find a therapist who can meet you where you're at.
Here are a few more specific specialties to consider depending on your needs:
Addictions: If you're hoping to find ways to break an addiction or harmful habit - or if you're impacted by someone else's addiction - connecting with a therapist who specializes in addiction is a good choice. Addiction might even look like sports betting, gambling, or obsessions over the stock market.
Trauma: If you've experienced adverse events such as abuse, crime, religious trauma, natural disasters, or others, and would like to process through what happened and find coping strategies, a trauma informed therapist can be a great person to help you start healing.
Identity development: If you would like to explore your identity and how you show up in the world - whether that's race, sexuality, religion, relationship status, etc - a therapist with special training in these topics can assist you as you unpack these complexities.
You may also consider what you prefer in a therapist beyond specialty and training. These can be attributes like gender, appearance, race, cultural background, language, or exposure to certain fields (e.g. business, arts). Finding a therapist that you feel comfortable around and connected to is paramount to your ability to open up in session. If meeting with a therapist of color is important to you, there's nothing wrong with making that a major consideration in your search.
If you're unsure of whether a therapist's specialities match your areas of need, make sure to confirm with them during an initial phone call.
3. Give a few therapists a call to explore the options
After giving yourself time to consider all these logistics and personal preferences, it's time to finalize your search! Zencare makes it easy for you to view therapist profiles, watch introductory videos, see therapist specializations, and schedule a quick phone call with a prospective therapist – all to make it easier on you to find the perfect fit.
Philadelphia is a very unique city and has many talented, passionate therapists within its limits. We're here to support you in the start of your mental health journey, and wish you luck!