Online therapy has become an increasingly popular medium for therapists and clients to hold sessions. About 40% of Zencare therapists in NYC offer it as an addition to in-person sessions, and some even offer it as their primarily method of seeing clients.
Learn about online therapy, its effectiveness, and how to decide whether online therapy is right for you!
What is online therapy?
Online therapy is an electronic approach to counseling, with the therapy session(s) taking place over the internet. With online therapy, clients connect to certified therapists via e-mediums, like video calls, instant text messaging platforms, and audio/video recordings.
Some online therapists use a combination of these platforms. If the therapist and client have pre-arranged a session, online therapy can happen in real time. Otherwise, it usually occurs in a time-delayed format.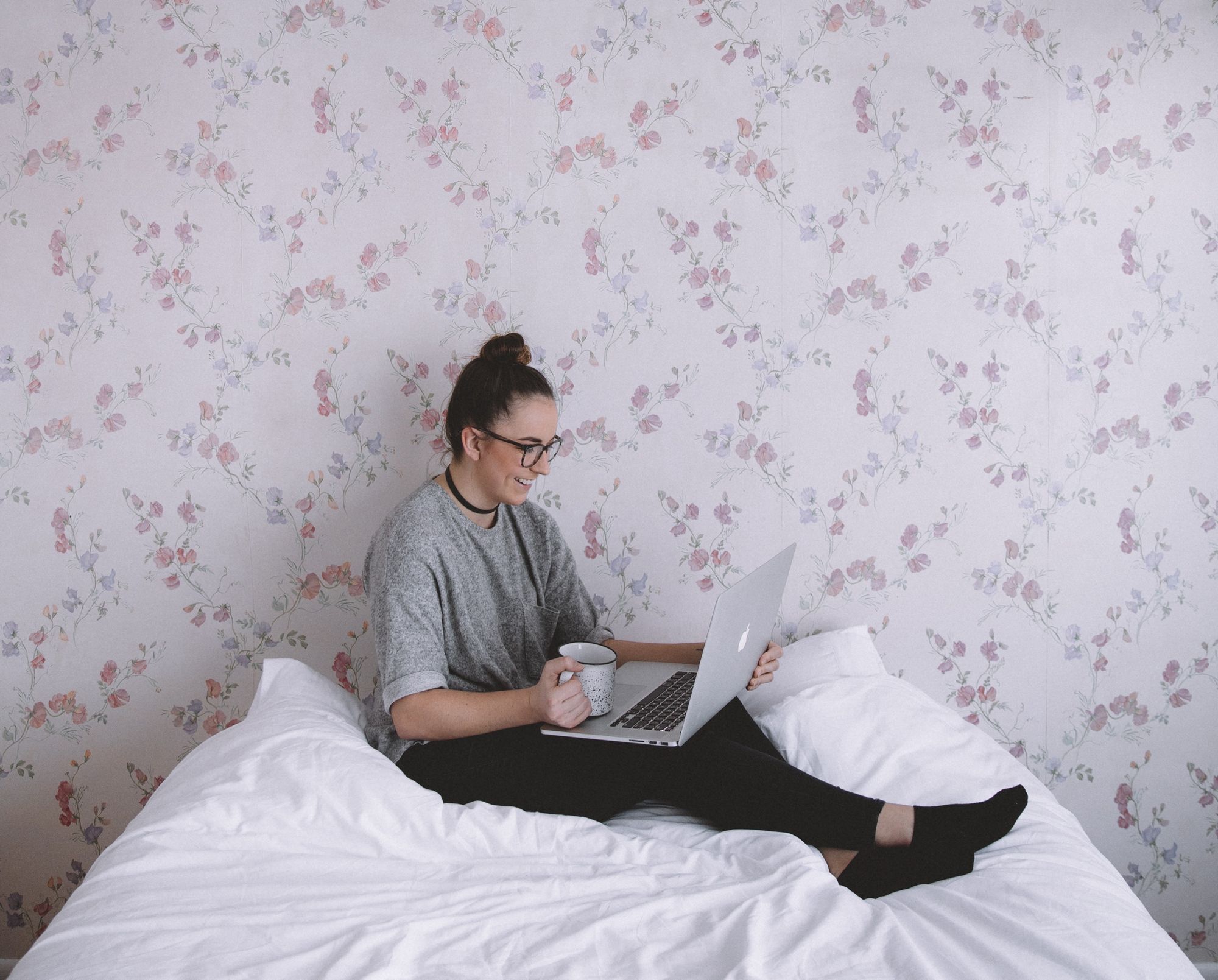 Where to find an online therapist
If you are in NYC, Boston, or Rhode Island, you can use Zencare to find an online therapist.
Note that therapists can only work with clients who reside in the state in which they are licensed, to abide by ethical guidelines.
You can also try out an online therapy service rather than looking for an individual therapist. BetterHelp and Talkspace are two popular online therapy options.
What types of online therapy are there?
There are four different types of online therapy: video counseling, phone counseling, written messaging therapy, and audio or video messaging.
Video counseling:
Video counseling is similar to an in-person therapy session, in that the therapist and client have a scheduled appointment – but their connection is remote, with  communication taking place online through a platform like Skype, Zoom, or Facetime.
Some therapists offer this service in conjunction with their in-person practice; others connect exclusively online with clients.
Phone counseling:
The practice of phone therapy, in which sessions take place over the phone, predates online therapy.
Online therapy platforms may choose to integrate internet-based phone sessions as an option.
Written messaging therapy:
The client communicates with the therapist with written tools, such as email or an instant messaging platform.
Services like BetterHelp and Talkspace allow clients to send unlimited written messages to their therapists.
Live sessions are possible. More typically, however, therapists respond to clients during their set business hours (i.e., a time-delayed format).
Audio or video messaging:
The client and therapist communicate by sending recorded messages or videos.
Services like BetterHelp and Talkspace allow clients to send unlimited audio and video messages to their therapists.
Live sessions are possible. More typically, however, therapists respond to clients during their set business hours (i.e., a time-delayed format).
Is online therapy free?
No, most online therapy is not free. If you're in crisis, there are a number of hotlines you can call for immediate support, including the National Suicide Prevention Hotline at 1-800-273-8255.
How much does online therapy cost?
The average cost per session for online therapy is often lower than the cost for an in-person session. However, rates vary with different therapists, so make sure that you check with potential therapists about their exact rates before you commit to sessions.
Online services usually offer weekly, monthly, or yearly pricing plans rather than fees for each session. For example, Talkspace plans range from $49 to $79 per week, with the higher prices providing more live video sessions. Other options include 7 Cups and Betterhelp.
However, many health insurances don't reimburse for online therapy sessions, so you may have to pay out of pocket. Be sure to compare a few different options before you start therapy to make sure that online therapy makes financial sense for you.
Does online therapy work?
Studies have demonstrated that remote sessions can be just as effective as in-person sessions for therapy, and therapists now conduct therapy through secure video platforms, which reduce concerns around privacy of your sessions.
Studies into the effectiveness of online therapy reveal promising potential. One study showed tele-psychiatry patients reporting improved mental health after one month of sessions. In that same study, 93% felt they could present the same information as in an in-person study; 85% were comfortable in their ability to talk; and 96% were satisfied with the session.
Various studies have reported success in using online therapy to treat these conditions in particular:
What are the benefits of online therapy?
Depending on your lifestyle and mental health needs, online therapy can offer a range of benefits. Some of them include:
You can schedule sessions at more flexible hours. Eliminating the travel time to and from the therapist's office can give you more flexibility in the hours and days you can see your therapist. Therapists may also have greater scheduling flexibility when it comes to remote sessions because the sessions can happen from their home office.
You can broaden your search beyond your immediate neighborhood. Part of the challenge of finding available therapists is limiting your search to your immediate vicinity. Expanding your search to therapists within your entire city or state can multiply your options for therapists and increase your chances of finding a great match. For individuals in remote areas, online counseling can provide help that would otherwise be unavailable.(Note: Therapists can only work with clients who are in the state in which they are licensed to abide by ethical guidelines.)
You can avoid challenges related to travel. If you have a disability that makes it hard to travel, if you are a caretaker for children or loved ones, if you have limited access to transportation, or if you live in an area where weather or cold winters make traveling more difficult, online therapy can make it much easier for you to commit to sessions.
You may save money. Online therapy is often a cheaper option than in-person therapy. For example, a therapist might be able to offer you a lower rate if they live in an area where rent is lower. Or, they may work exclusively from home and be able to avoid the overhead costs of an office.
You can see your therapist when you're traveling. If you travel for work, your options for hours to see your therapist are even further constrained. Knowing you can see your therapist remotely during work travels can give you peace of mind, and it may allow you to continue seeing a therapist who is a great match for you.
You can find more specialists. Depending on where you live, it can be hard to find an in-person therapist who offers a specialty you need or want. Online therapy can give you more options for getting exactly the right treatment.
It can be easier to reach out. The relative anonymity of online therapy can make it easier for first-time therapy seekers to reach out.
What are the downsides to online therapy?
Some additional downsides to online therapy can include:
Limited insurance reimbursement and coverage. Many insurance plans will not allow you to use out-of-network benefits for online therapy. A couple of notable exceptions include Breakthrough and Doctor on Demand.
Technical difficulties. Online therapy relies on consistent internet access to work well. If you or your therapist has a slow internet connection during a live session, you may  run into glitches like frozen screens or distorted audio.
Possible lack of personal connection. Some people are simply more comfortable working with a therapist face-to-face. If you generally prefer to interact with people in person rather than online, online therapy may not be a good fit for you.
When is text-based online therapy recommended?
Online therapy may prove effective for:
Clients whose schedule or lifestyle otherwise wouldn't allow for in-person or live sessions.
Anyone looking to dip their toes into therapy without necessarily committing.
House-bound or remote clients who are otherwise unable to receive adequate help.
Individuals who communicate best through written messaging.
When should I not choose online therapy?
You should not choose online therapy if you are experiencing thoughts of suicide or if you otherwise think you may be a risk to your own or others' safety. In-person therapists are generally better equipped to assist in crisis situations and with intensive care for more serious mental health conditions.
Can I see a therapist online anywhere in the country?
No, you can only work with an online therapist who is licensed in the state where you live. Licensing laws and ethics regulations prevent online therapists from working with clients outside of the areas in which they are licensed.
What should I look for in an online therapist?
Here are a few things you should make sure to look for in an online therapist:
Licensed in your state. Your therapist should have a license to practice in the state where you live. You can use Zencare to find options in New York City, Boston, or Rhode Island.
Secure technology. Your therapist should be using a secure platform for text, video, and audio therapy option. Some examples of secure platforms include doxy.me, veesee, and simplepractice. This is important for your personal privacy and for compliance with federal HIPAA regulations.
Experience and training in online therapy. Your therapist should have additional training and experience in online therapy. Online therapy can be harder to regulate than in-person therapy, so make sure you know about your therapist's educational credentials, background using online platforms, and training in treating your specific mental health concerns.
Someone you feel comfortable with. As with any therapy, find a good match with your therapist is very important! Check out our guide on how to know if your therapist is "the one."
Ready to start online therapy?
Find vetted therapists who offer online therapy sessions on Zencare, below. Search by fees; watch therapist introductory videos; and book free initial calls to find the best online therapist for you!