When you find yourself in the position of needing therapy, the last thing you want is a struggle. Unfortunately, looking for a therapist is often exactly that, and trying to find a therapist in Boston is no exception.
However, there are certainly some upsides to being in the city of Boston when reaching out for help. Some of the larger Boston area companies and consulting firms, such as Bain & Co., Boston Consulting Group (BCG), and Weber Shandwick, offer comprehensive health options (including out-of-network coverage!) for their employees. Furthermore, the Boston area is very college-centric, and students will usually find that they have coverage through their school. Therefore, professionals and students alike in Boston may find it very manageable to find a nearby therapist who is within budget.
Of course, there's more to finding the right therapist than just cost, which is why we have put together this step-by-step guide for you to get started on your therapy journey in the wonderful city of Boston!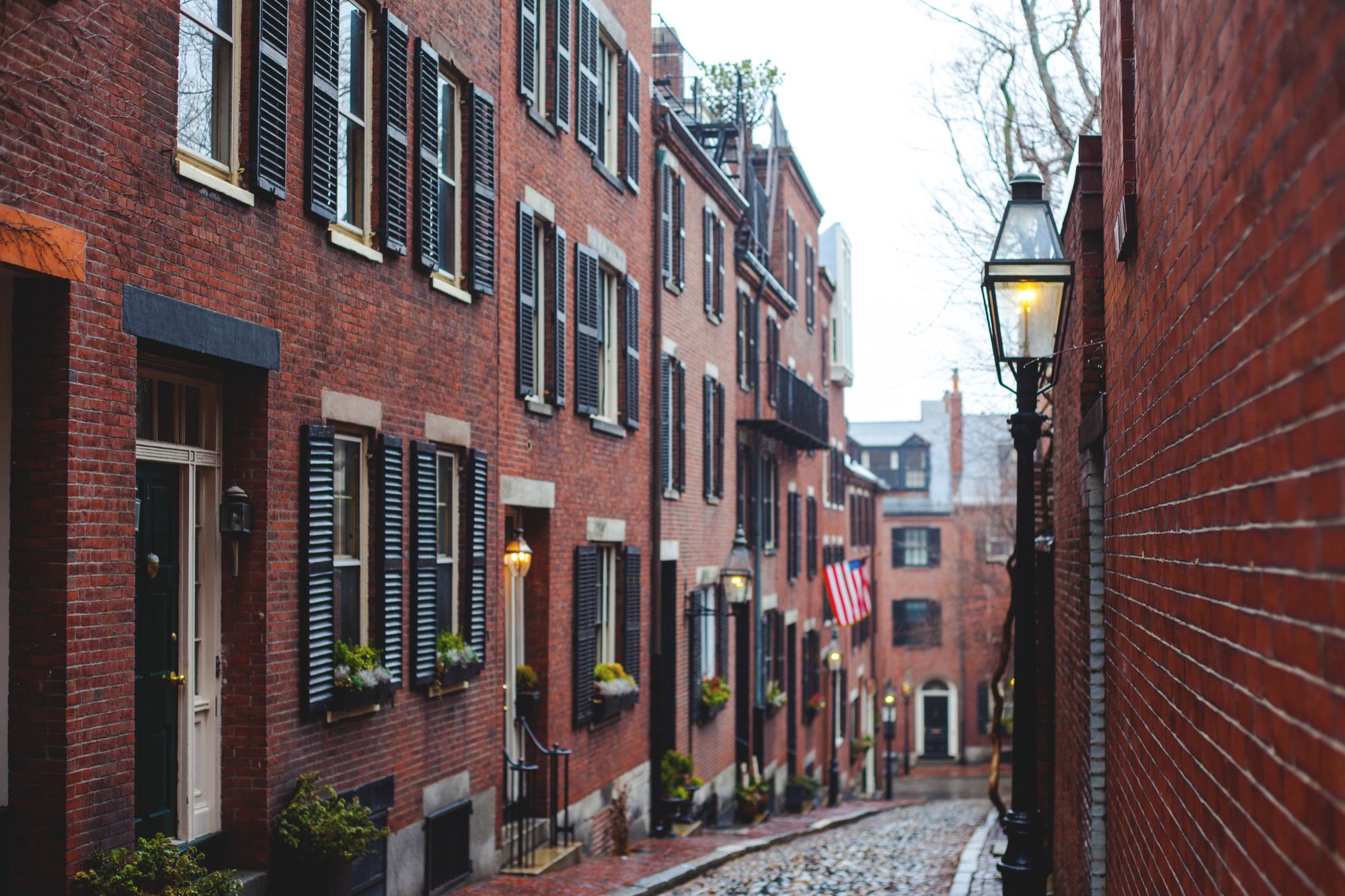 1. Search for a Therapist You Can Afford
It's fairly common knowledge that therapy and mental health care, in general, can be expensive. In Boston, private pay therapists generally charge between $150-$200+ per session, which is an intimidating number for many people. Fortunately, there are ways to avoid paying full-cost for therapy if you're working within a set budget.
Look for in-network therapists
If you've ever looked for a therapist before, or if you've talked to people who have, you've likely heard that it can be a challenge to find a therapist who accepts insurance. Due to the low reimbursement rates from most insurance companies to therapists, this is an unfortunate truth in many areas. However, Boston is a wonderful exception!
If you have Blue Cross Blue Shield insurance, in particular, you'll find that many Boston area therapists are in-network, and it can save you a lot of money. Depending on your deductible, you could end up paying about $50 copay per session.
Here are some other insurance companies commonly accepted among Boston therapists:
Harvard, MIT, Lesley, Berklee, and Boston College also provide insurance coverage for their college students, and many therapists except these college insurances as well.
Use out-of-network benefits
Even with Boston's uniquely plentiful insurance landscape, it can still be difficult to find an in-network therapist. If you run into this problem and you have PPO insurance, try using their out-of-network benefits, which can pay up to 80% of the session fee! Remember to always check with both the insurance company and the therapist to confirm coverage prior to starting sessions so you don't incur surprising fees.
Look for therapists with sliding scales
If insurance is not a viable option for you, and budget is a top priority, your next avenue is to look for a therapist who uses a sliding scale fee system, which allows him or her to adjust (or "slide") their session fee amount based on a client's ability to pay. By looking for Boston therapists who use a sliding scale, you can get your per session costs below $150 and even sometimes below $100.
Explore local mental health resources
You can also look for nonprofit organizations that support particular people groups, such as LGBTQ, ethnic minorities, the homeless, veterans, etc., many of which offer mental health services as part of their mission. In those cases, therapy may be offered at drastically reduced prices or even pro bono (at no cost to the client). You can find such affordable, low-fee options here.
2. Look for a Therapist Who's Trained to Treat Your Area of Need
There's a long list of reasons people seek therapy - from anxiety to childhood trauma to aging - but not every therapist is equipped to safely and successfully work with every mental health challenge.
Specialty
There are a few more common mental health issues that most therapists can work with, like depression, anxiety, and general relationship issues. If your reason for seeking therapy is more specific or complex than these, however, it is imperative that you find a therapist who is trained and experienced in your area of need. Settling for otherwise could be counterproductive for you. In particular, look for specialists if you are dealing with:
Therapeutic Approach
To further narrow down your therapist search, also consider therapeutic approach, or how a therapist approaches the issue you hope to address in sessions. Therapists often subscribe to certain counseling theories, which can greatly determine what sessions look like with them. Here are a few common therapeutic approaches:
Talk therapy- Just like it sounds, a talk therapy approach will consist mostly of conversations between you and the therapist, with lots of questions, answers, and digging deeper. If you easily express yourself verbally, then talk therapy could be the right route for you, but it's also possible that you will need to look to a different type of therapy in order to truly open new doors of thought. Alternatively, if you struggle to express yourself in words, talk therapy could be a difficult route; however, it could also ultimately help you grow in expressing yourself verbally.
Skills based therapy- The intent of a skills-based therapeutic approach is to teach clients tools to handle life's challenges and situations as they come their way.
Holistic therapy- Therapists utilizing a holistic approach may integrate yoga, meditation, massage, or other sensory elements into your sessions, which can be excellent if you experience anxiety or could simply use a peaceful space.
Creative therapies- You may be surprised what emotions you can experience and express in nonverbal ways. Creative therapy may involve movement, visual art, music, or even theater to help clients with self-expression.
Solution-Focused therapy (SFT)- While SFT doesn't ignore your problems, it focuses less on the problem and more on solutions to the problem by identifying and building on the successes you've already had in life.
Cognitive Behavior Therapy (CBT)- Another skills-based approach, CBT aims to help you identify the connections between things that happen to you (or around you) and your reactions to them, with the ultimate goal of changing your reactions and behaviors to more healthy and sustainable coping mechanisms.
Psychodynamic or Psychoanalytic therapy- If your current struggles are rooted in past traumas or your upbringing, psychodynamic or psychoanalytic therapy may be a good fit for you, as you'll dig back into your past to better understand your present.
3. Determine What's Important to You and Seek a Therapist Who Fits
Cultural background
Aside from the issues that are central to your need for therapy, you should also consider your personality and what makes you who you are.
For a lot of people, cultural background influences their everyday life and view of the world. When that's the case, it can be a good idea to look for a therapist who understands that, whether it's someone who comes from the same background as you or someone who has worked hard to understand other cultures in their career.
In Boston, you'll find therapists with a variety of backgrounds, including Black/African-American, Latinx/Hispanic, Asian, Christian, Jewish, and LGBTQ therapists.
However, if you can't find a provider who shares the same background as you, you can always connect with a therapist who has specialized training in race & cultural identity, LGBTQIA+ topics, or spirituality & religion.
Personality fit
There are more ways to "fit" with a person than just having a similar background (or having an understanding of each other's backgrounds). You and your therapist aren't looking to build a friendship, per se, but you are on the same team. This is what we call a therapeutic alliance. True progress in therapy will require diligent work from both of you to establish and work toward your goals. That said, you need a therapist you can speak with candidly, who you look forward to being around, and who communicates in a way you can understand.
Some ways to get a feel for a therapist before you meet in person include:
Reading about the therapist on a website (such as Zencare!)
Searching for social media posts related to the therapist's professional practice
You'll likely be spending many hours with your therapist, so some good research upfront is worth it in order to find someone you think will be a good fit.
4. Try to Find Logistics That Work for You
Most people would rather avoid Boston's traffic and congestion, but if you live or work right in the city, it might be convenient for you to find a therapist there as well. However, a large portion of Boston area therapists choose to base their offices in the suburbs and surrounding areas, so if you do live outside of the city, you may get lucky and not have to fight through Boston rush hour.
Aside from location and commute, there's also time of day to consider. If you only have your own schedule to work around, you may find it relatively easy to find a therapist with appointment times that work for you, whether that's after work, during lunch hour, or at another time when you're able to get away from the usual routine. With children or other people to work around, however, scheduling can get much more difficult.
The goal, when considering logistics, is to find a therapist whose location and schedule work for you because you'll want to establish a therapy routine that's sustainable. If you regularly have to cancel or run late for therapy, that takes a toll on your progress.
Depending on your schedule's flexibility and the criteria you need to set for your "right" therapist, you may struggle to find someone who meets all your needs. Fortunately, it's a wonderful time in the world to consider online therapy. With the success of online video platforms and the necessity of them during the pandemic, many therapists offer virtual sessions. It's important to vet any therapist before participating in therapy, so make sure a virtual counselor is licensed in Massachusetts before you get started.
5. Assess Fit After Therapy Begins
We hate to burst your bubble, but having a first therapy session may not be the finish line. Even when everything looks great on paper, sometimes things just don't click in therapy, and if this is the case, you may find that you're not making progress. There are a variety of factors that play into fit: personality compatibility, mannerisms, and general comfort level with a therapist are among some of the elements that determine your success in therapy. If you find yourself thinking:
I don't feel like I'm learning anything from this
I want to be honest, but I'm not comfortable with this person
I'm not feeling heard
...then it's time to have a conversation with your therapist and consider looking for someone new. Do have the conversation, because it can be a great learning experience for both of you. You may wind up realizing that you can make this therapeutic relationship work (or at least you can get references for other reputable therapists!)
Once you find someone with whom you're comfortable, lean into it, and prepare to do some hard work learning about yourself and finding solutions to your problems. You're worth it.