Therapy is a highly intimate experience. Sharing stories, ideas, and personal experiences takes a strong level of trust between you and your therapist.
Such trust is often gained through mutual understanding: An understanding of where you've been, where you're at now, where you're going — and how your identity is interwoven throughout each of those paths.  
When you're a person of color, finding a clinician who shares your identity (be it ethnic, racial, or cultural), or who is also a POC, may become one of the top items in your list of "what I want in my therapist." Here are six steps for finding a therapist of color who's right for you!
1. Start with a platform that's preconfigured to connect you with POC therapists
Finding a website or other place of information specifically designed to highlight therapists of color will save you from combing through a massive listing site — allowing you to connect much faster with someone whose profile speaks to you.
On Zencare, you can use our Identity filter to refine your search by provider identity using the dropdown list in search settings. There are 20+ identities that you can select to narrow your search, including "Providers of Color", "Biracial/Multiracial" and "Indigenous" — just to name a few. You can select as many as you need and if you're looking for a therapist who has a more specific identity or shared background, you can even select identities such as, "Asian/Asian-American" or "Latinx/Hispanic".
Zencare's Identity filter also encompasses gender, spiritual and religious identities. So if seeing a therapist who has shared gender identity and faith is important to you, you can select whichever you'd like in the Identity filter dropdown list.
2. Further narrow your search by determining what you want to address in therapy
In addition to the typical questions that will guide your search for a therapist — such as cost and insurance, scheduling, and other logistical factors — think about what pressing issues you hope to address in therapy.
Maybe you're looking to deal with family pressure — say, for settling down and getting married, when you're not ready to — but want someone who understands that within the context of your family's background and cultural expectations. In that case, someone who shares your background may be your most desired quality in a therapist, so they can knowledgeably help you navigate this, and related, stressors.
Or, perhaps, you're facing subtle and ongoing micro-aggressions at your place of work. Speaking with someone who not only validates these experiences as grounds for trauma, but is furthermore versed in helping you navigate their present and aftermath, can be a huge relief; you may wish to work with someone who explicitly mentions racial trauma in their profile.
These are just some starting examples, of course. You might not know what, precisely, it is that you're looking for, and that's okay!
Even narrowing down by your feelings or symptoms — like anger, numbness, extreme mood fluctuations — or your situation — like relationship issues or work stress — can be helpful.
The goal is to frame a lens from which to start your search for a provider who's equipped to help you.  
3. Expand your search to include "online therapy" to increase your chances of finding POC therapists
If you can't find therapists of color who would be a good fit near you, don't settle for someone you're not excited about just because they're closer to your home or office!
Instead, consider expanding your search to include therapists who offer remote sessions. Doing so will likely open up the pool of potential therapists, making it possible to find someone who's right for you. (Just keep in mind that even though the sessions are online, the therapist will still need to be licensed in your state of residence.)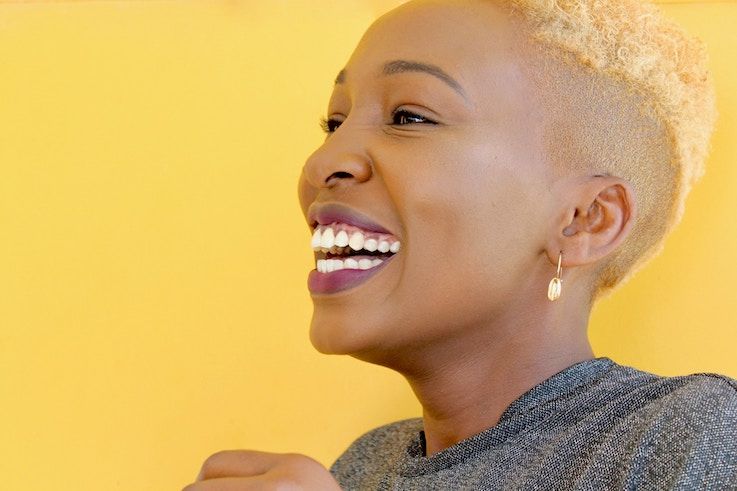 4. Ask questions on the initial call(s) to determine fit with your unique POC experience
Once you've found a therapist or two whose profile and/or website speak to you, it's a good idea to have an initial call to determine a) whether you mesh, and b) if they're receptive to all the complexities (race-related and otherwise) that might arise during your time together.
Consider asking therapists the following Qs to make sure they're equipped to help you — both as a fellow POC, and for your unique challenges and situation:
Q1: Have they had clients in the past whose experiences and life situations are similar to yours?
You may wish to ask about whether they've worked with clients whose identities are similar to yours, as well as situations that you're facing — like mental health conditions, loss of a loved one, or a major life change.
Q2: If you speak a certain language that's influenced your identity, are they familiar with/versed in/fluent in that language as well?
It can be so validating to describe your experiences using the language (whether literal, or slang) that you would with your friends or family, without having to spell out what that means for the therapist.
Q3: Would they feel comfortable — or better yet, would they encourage — discussing heavy, nuanced topics like discrimination and aggression?
This is tough to answer after just one phone call, but if they're topics you're keen to discuss, see how receptive the therapist is to your bringing them up.
Don't be afraid to tell them that you're interested in talking about identity! Those who are able to handle those concepts in the session will gladly speak with you about it in the initial phone call.
5. After each initial interaction, assess whether you feel fully seen — both in the context of your background, and in your present  
After your initial call with the therapist, ask yourself whether you felt hopeful about continuing with them. Were they receptive to both the direct and the more nuanced elements of your experience as a POC, and did they seem open to exploring them further?
If you do decide to proceed with an in-person appointment with them, evaluate whether you felt respected and truly heard during your time together.
And, after your first few weeks together, ask yourself: Does my therapist make me feel seen? Do I feel understood as the sum of my parts, rather than exclusively my symptoms or background?
If you cannot truthfully answer "yes" to all of those questions, it's okay to connect with someone else instead! Therapy works best when you feel safe, understood, and able to be your full, unapologetic self.
6. Can't find a POC therapist who's available, affordable, or a great fit? Consider expanding your search to culturally-competent providers  
Still can't find a therapist of color with whom you click? Or perhaps the therapists you're finding don't have availability, fit into your therapy budget, or don't offer the specific type of therapy you seek.
In those cases, you can try expanding your search to those who explicitly address topics around multicultural counseling in their online presence.
Look for these keywords and ideas:
Multicultural counseling or culturally-competent care
Affirming practices for people of color and marginalized identities
A focus on first-generation challenges, acculturation, and racial identity
Addressing issues of power, privilege, and the impacts of structural oppression
If you're unsure about a particular statement on a therapist's profile, ask them to clarify
If a therapist indicates, for example, that they work with clients from "all cultures," you might ask more specifically on your initial call with the therapist what cultures they have experience working in, and if they'd be willing to learn more about yours.
Sitting in a session with someone who understands — or at least has a solid framework upon which to build an understanding — is incredibly valuable in talk therapy.
Don't give up!
No matter where you are on your journey, try not to get discouraged! Finding the right therapist is highly worth it, since it takes the potential of disconnect or misunderstanding out of the picture, and allows you room to be your full self.
At the end of the day, it's your therapeutic journey — and your "must-haves" in a therapist will lead to a better outcome in the end.
Find therapists of color near you on Zencare