Unlike baseball or football, therapy is a year-round sport. There's not a specific "season" for therapy - it's there for you when you're ready. So why not make 2023 the year that you start therapy?

Therapy is a place to explore who you are and where your life is headed. In therapy, you'll discover the traits that make you unique and the strengths that make you resilient. With the beginning of a new year, there's no time like the present to find a therapist who is perfect for you.
Not sure if therapy is right for you this year? Here are 6 reasons why therapy will be helpful in 2023 and beyond.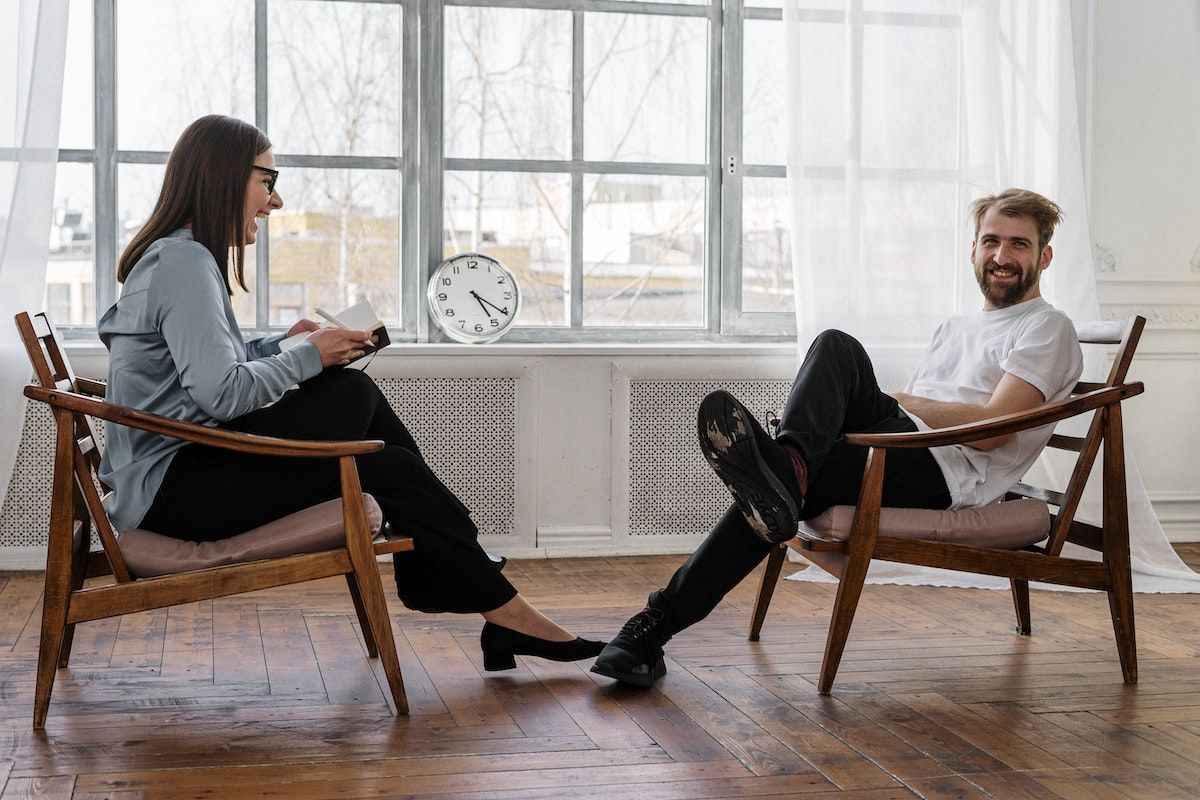 1. Find meaningful time to realign with who you authentically are
It's natural that with time and progression through life, we undergo changes to our personalities, preferences, life situations, relationship statuses, and more. Change is constant, which is why it's important to take a timeout and consider what those changes mean to you - and whether you want to continue heading in that direction.
Take a moment and ask yourself if you're living an authentic life. What does that mean? A therapist is a great person to speak with about what authenticity looks like for you. Therapists, especially those that practice Acceptance and Commitment Therapy, will take you through values clarification exercises to help you determine what authenticity looks like. These simple exercises help you identify your values and assess how closely you're living through those values. If you find that you aren't living according to your values, you can work with your therapist to make changes in your work life, your relationships, and your daily routines.
Has your authentic self changed over time? Therapists are also excellent resources to help you explore your identities and how they impact your life. By talking through who you are and where you come from, you might learn something about what makes you unique. Therapists can also help you tease apart what your dreams are and reflect on how your dreams have changed. Taking time to realign your life sets you up for a life that feels balanced, joyful, and meaningful.
2. Build a routine that prioritizes your overall wellbeing
Everyone's therapeutic journey looks different, however a key part of that journey is spending regular time with your therapist. Weekly sessions are a great way to prioritize your wellbeing by placing a hold on your calendar to work with your therapist.
Depending on your therapist and your goals for therapy, your sessions might look different week-to-week. Some sessions might be spent talking about work, others going through mindfulness exercises. You might spend several weeks talking about your attachment style, and then move onto working towards breaking an unhealthy habit. Therapists are trained to be client-centered and flexible in their work, meaning that they look to the needs and interests of the client when determining what to talk about each session.
By regularly checking in with your therapist, you're checking in with yourself. Your time with your therapist is time for you to reflect on what's working, what's not working, and how to lead a healthier life. Weekly therapy sessions also give you a way to benchmark your progress towards your goals.
Therapy sessions can be a safe haven from everyday life. They can be relaxing, they can be enlightening, or they can simply be a time where you put your phone away for an hour. Whatever they look like for you, taking time out of your week for therapy is a really great way to say to yourself, "I'm worth the work to feel better."
3. Create a safe space to move beyond painful memories
Therapy sessions are a comfortable place to talk about what's bothering you. Therapists are trained in trauma-informed care, so you are safe to discuss what happened during the week, or something painful that you recall from your past.
A lot of people experience adverse emotions when they remember uncomfortable experiences, which can lead to panic attacks, flashbacks, or disconnection from others. Working through painful memories can help you feel more present in your current life, and cope with any distress in the future.
When working with a therapist to process through painful memories, you'll be in a safe space to share details - or not. Part of trauma-informed care is that therapists will never push you to disclose any details that you don't feel comfortable speaking about. They'll never force you to talk about any specific event and will leave it up to you how in-depth you want to get. Therapists will also give you tools to use when you're having a difficult time looking back on traumatic events or painful memories, tools like body scanning, grounding exercises, deep breathing, or distraction.
For those who would like to learn how to reduce their physical and mental reactions to painful memories, therapists can use an evidence-based therapy modality called Exposure and Response Prevention. This therapy technique slowly introduces the relevant distress to the client so they can learn how to cope with their subsequent emotions and physiological responses. By practicing their coping skills, they begin to react less strongly to their fear stimuli or distressing memory.
It's important to find a therapist that you can trust while you process painful memories, so be sure to take a consultation call with prospective therapists to ensure that they're the right fit for you. Zencare also makes it easy to watch therapist introductory videos so you can get a feel for their style, personality, and client focus.
4. Address your anxiety about climate change, social injustice, or politics
If 2022 was anything to judge by, 2023 could bring more national and worldwide events that lead to anxiety. Many individuals reach out to therapists to talk about their anxieties around climate change, social injustice, or politics.
Climate anxiety describes the overwhelming feelings of impending doom for our planet. Therapists who specialize in climate anxiety help clients reflect on their values and how the current discourse around climate change might contradict their values. They support clients through the heavy feelings that come with thinking of our world's future, including paralyzing fear.
Therapists can also teach you how to set boundaries to maintain your mental health. These boundaries could be especially helpful to set with your friends, family members, or colleagues that hold opposing views when it comes to social justice topics or politics. Therapists can also teach you how to communicate effectively, including communicating your boundaries.
One of the ways that therapists encourage their clients to view situations from different perspectives is by lightly challenging them, not because they don't align with your view but because it could help you understand why it's important to you. They might ask you questions like:
Why is this topic upsetting to you?
How do you feel when you speak with someone who disagrees with you on this topic?
What in your past led you to feeling passionate about this topic?
What's important for you to keep in mind when engaging in discourse about this topic?
5. Learn how to have healthier relationships
Therapy can help you learn how to have healthier relationships, whether those are platonic, familial, romantic, or sexual. In 2023, you might meet new friends, start dating someone special, or grow your family. Or, you might stick with those already in your circle, and strengthen your relationships. This is especially meaningful if you find you have issues with communication that lead to misunderstandings and conflict
Most therapists highly value the support systems that we have in place. Some therapists, like marriage and family therapists and social workers, are specifically trained in identifying and strengthening social support networks. This makes them specially positioned to help you with yours.
Couples therapy is an excellent way to strengthen your relationship with your partner or partners. Couples therapists encourage clients to openly express their emotions and take their partner or partners' feelings into consideration. Clients learn how to grow their bonds and how to navigate relationship conflicts in an intentional, healthy way.
Family therapy brings all members of the family together to have a dialogue about their relationships. This is also a space to address behavioral issues or major family transitions, including divorce, re-marriage, and the blending of families.
Therapists can also help you navigate any conflicts that you have with your friends. You might find that, after time spent in therapy, you feel like it might be healthiest for you to let go of some toxic friendships. A therapist can help you navigate those tricky conversations and ensure that you continue to prioritize your mental health. They can also teach you how to be more present in conversations, on dates, or events with others, which can lead to lower levels of stress and greater feelings of connection.
6. Remember that you are resilient and worthy of happiness
From your very first session, your therapist will become your number one cheerleader and will support you through difficult times and remind you that you're resilient and worthy every step of the way. Therapists believe in a concept called "unconditional positive regard," a humanistic psychological concept that assumes good intent from all people. Therapists accept and support their clients no matter what they do, say, or believe. Your therapist will be there for you with unconditional positive regard and their investment in your mental health.
Therapists can also teach you exercises and practices in self-compassion. Through self-compassion work, you can grow your self-love and do away with your self-critical thoughts, judgments, and comparisons to others.
You are always growing, and your therapist knows that. They think that you're awesome for showing up. And with intentionality, you might even start seeing yourself the way your therapist does.
There's no bad time to start therapy - why not make 2023 your year? Finding the right therapist for you is essential for a positive therapeutic experience, and Zencare makes it easy for you to match with a therapist that specializes in your particular concern, situation, or mental health goal.