The increasing calls to shelter in place are vital to prevent the spread of coronavirus around the world. However, for many of us, such unprecedented levels of isolation can lead to profound disconnection and loneliness. As more and more folks hunker down at home, maintaining that real-time connection with others has become all the more critical for our emotional health.
Live virtual events and get-togethers can provide a much-needed social boost during times when we're feeling detached and uncertain. So while many apps and companies offer pre-recorded videos, we wanted to find live-stream ways of connecting, too. Here are a few resources you can check out to Stay Active, Stay Mindful, Stay Engaged, Stay Supported, and Stay Grounded.
Have more resources to share? Let us know below!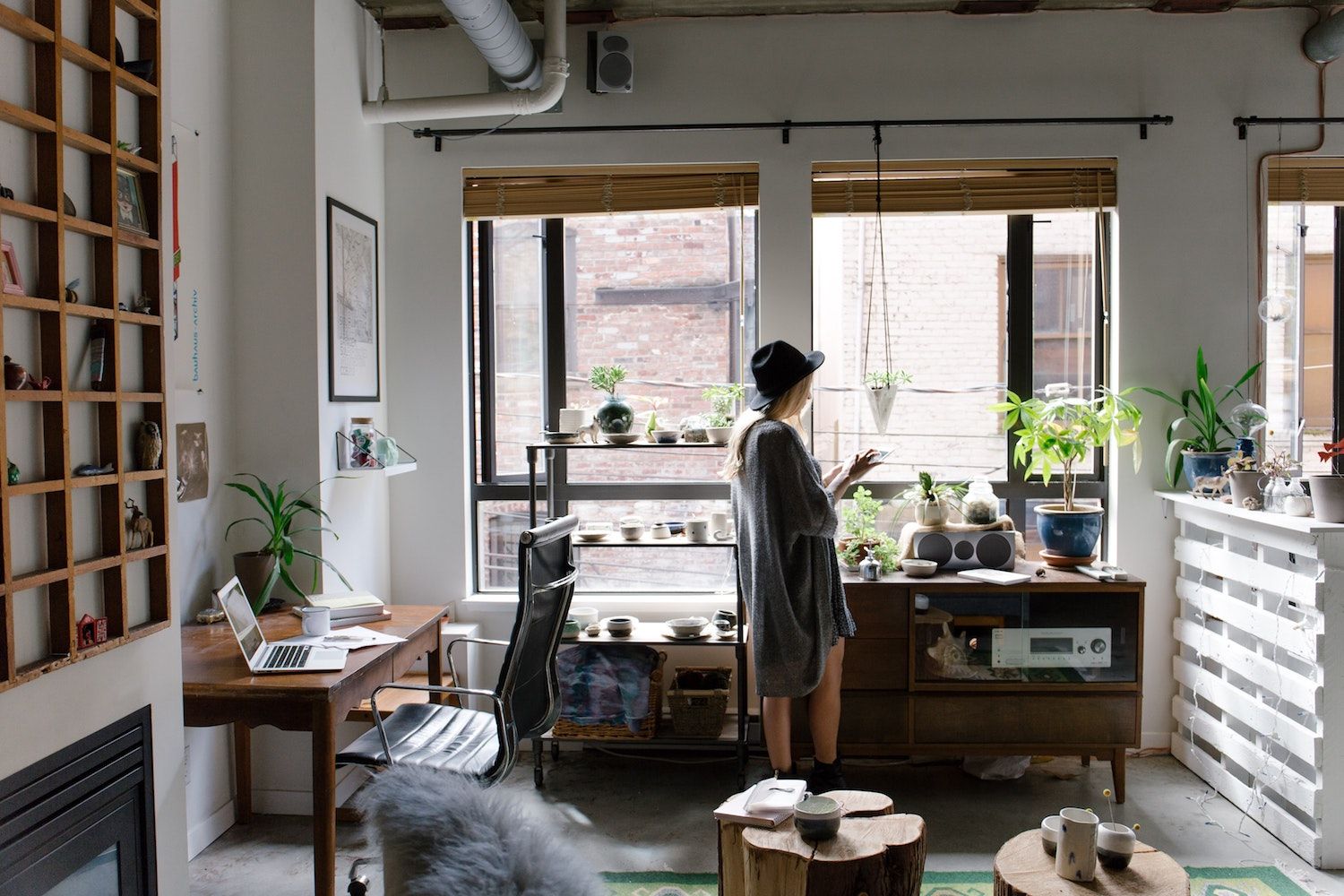 Stay Active
305 Fitness
What: Daily livestream HIIT class
How: Youtube link
Cost: Free
Souk of Rima
What: Daily livestream advanced Jivamukti yoga practice. 11am and 6pm classes; see see updated schedule here.
How: Zoom link
Cost: Suggested price is $10 or "Pay What You Can" via VENMO @ Rima-Rabbath
Stay Mindful
Zen Habits
Sue Hutton Mindfulness
Stay Engaged
Books Are Magic
What: Virtual book readings and author talks. See schedule here.
How: Zoom links on each event page
Cost: Free
Virtual Classes & Events from 92Y
Live Concerts
What: A list of concerts offered virtually during coronavirus.
How: Find a concert of your choice from this list by NPR and join one!
Cost: Varies; most are free, and some will require registration or a subscription
Stay Connected
Virtual Movie Nights with Friends
What: Organize your own virtual movie night with friends!
How: Zoom or Google Meet. Netflix Party for Netflix live-streaming.
Cost: Free (+ cost of your Neflix account!)
Virtual Happy Hours with Colleagues
Stay Supported
Peer support groups and chat apps for you to connect with compassionate listeners.
7 Cups of Tea
What: Peer text support with compassionate listeners.
How: Download the app on the App Store or Google Play.
Cost: Free
Wisdo
What: Online community of people who've "been there" and have gone through similar experiences.
How: Download the app on the App Store or Google Play.
Cost: Free
Stay Grounded
Support groups run by therapists to help you stay grounded and connected during this isolating time.
Better Together - A Weekly Support Group for College Students During COVID-19
What: An open process group appropriate for university students of all ages and is running a minimum of 8 weeks or longer, if necessary. It is intentionally scheduled on Fridays at 2pm ET so as to be accessible across time zones throughout the US and also abroad to accommodate international students.
Weekly Topics:
Fight, Flight, or Freeze: Identifying stress responses in yourself and those around you.
Riding The Wave: Cultivating emotional regulation and healthy coping skills.
Living in A Pandemic World: Dealing with uncertainty.
Collateral Damage: Working through collective grief, loss, and trauma.
Cabin Fever: Finding privacy and autonomy in any living situation.
Long Distance: Maintaining relationships with friends, family, and significant others while social distancing.
Lonely in Lockdown: Sex, dating, and intimacy during a pandemic.
What Comes Next? Finding purpose and meaning making.
How: Students can register here, or by visiting the Repose website.
Cost: Repose is in-network with NYU's student insurance, Wellfleet, and for those experiencing financial hardship, they offer a sliding scale. No one will be turned away for an inability to pay.
Self-Care & Sanity!
What: A supportive space to help you structure a time in your day to to connect with others, cope with stress, and create healthy routines for maintaining psychological and emotional health. This is an open, creative flow, support group that does NOT require verbal participation. We will use mandalas, music, writing, and conversation to process emotions and thoughts amidst this health crisis.
How: Interested parties should RSVP to contact@theroottherapynyc.com for portal link and password. You can also follow them on Facebook @theroottherapynyc.
Cost: Free; will transition to paid (insurance- and client-based)
Expectant Parent Group - Coping with COVID-19
What: Growing a family is a time of great transition; Experiencing a global health crisis necessitates transformation. Join us to process the unique issues of going through this transition in the time of COVID-19.
How: Interested parties should RSVP to contact@theroottherapynyc.com for portal link and password. You can also follow them on Facebook @theroottherapynyc.
Cost: Free; will transition to paid (insurance- and client-based)
New Parent Group - Coping with COVID-19
What: Growing a family is a time of great transition; Experiencing a global health crisis necessitates transformation. Join us to process the unique issues of going through this transition in the time of COVID-19.
How: Interested parties should RSVP to contact@theroottherapynyc.com for portal link and password. You can also follow them on Facebook @theroottherapynyc.
Cost: Free; will transition to paid (insurance- and client-based)
'Find Your Happy' Hour
What: Join a private virtual support group for working moms in Chicago balancing relationships, work, and motherhood during a global pandemic. Relate to other moms while learning strategies for emotional coping, empowered communication, and authentic living.
How: Learn more and join here.
Cost: $17/meeting
Telehealth Support Group for Healthcare Workers
What: This is a newly formed support group for healthcare workers needing to decompress from current pressures related to the coronavirus pandemic. We will focus on talking things out, learning self care techniques, and utilizing meditation to stay grounded.
How: Learn more and join here.
Cost: Please inquire (sliding scale available)
Divorce Support Group for Mothers
What: If you are a Mom separated, going through a divorce or are divorced, this group is for you. Work through your emotional feelings and experiences in a supportive group setting with the guidance of a skilled therapist who has been there! Begin your day with an incentive for positive change!
How: Learn more and join here.
Cost: $40/session or $350 for all 10 sessions if paid in advance
Support on the Spectrum
What: Do you have a child on the spectrum who is struggling to navigate this current time of uncertainty and anxiety? Join one of our Zoom Social Skills groups! A low-stress outlet for your child to connect with others, develop social skills, and foster normalcy.
How: Learn more and join here.
Cost: $20/50min group session
Coping Skills for Everyday Life
What: This DBT therapy group provides an accepting and validating environment to learn skills to find joy in the moment, gain control over emotions, tolerate painful experiences, improve confidence, and gain satisfaction in your personal relationships.
How: Learn more and join here.
Cost: $100/session (if paid weekly) or $80/session (if paid monthly); Cigna insurance accepted
LGBT COVID-19 Support Group
What: Join us for our intimate online support group where we will videoconference, talk through struggles and shared experiences, and support each other in taking things one day at a time.
How: Learn more and join here.
Cost: $50/session (sliding scale available)
Coping Skills for COVID-19
What: This group offers skills specifically geared towards dealing with the impact of COVID-19. Whether it be learning how to self soothe while cooped-up at home, maintaining or forming new relationships virtually, or managing distress, this group offers practical skills that can be transferred to everyday life.
How: Learn more and join here.
Cost: $100/session (if paid weekly) or $80/session (if paid monthly); Cigna insurance accepted
Emotional Growth Group
What: This is a newly formed support group for healthcare workers needing to decompress from current pressures related to the coronavirus pandemic. We will focus on talking things out, learning self care techniques, and utilizing meditation to stay grounded.
How: Learn more and join here.
Cost: Please inquire for the cost of group (a sliding scale is available and participants may be eligible to use their insurance)