Even when it's obvious that something needs to change, people often still have trouble putting that change into action. Change is hard, whether that's forming new habits or quitting old ones. In therapy, Stages of Change refers to an individual's readiness to embrace the need for change. It also describes the individual's motivation to take concrete steps toward practicing new behaviors. It is a key concept used in Motivational interviewing (MI), which is a client-centered therapy used to increase motivation and evoke commitment to behavioral change.
When developing MI, Drs. Miller and Rolnick realized that all clients do not enter therapy at the same starting point (Prochaska, 2016). Some clients are easily able to identify their challenges and express their readiness to make behavioral changes. Others, however, may have been mandated to participate in treatment not of their own accord but because of a court or family member mandate. These individuals might not yet accept the notion that their behavior needs to change. A key component of MI is to identify which Stage of Change a client is at when entering therapy.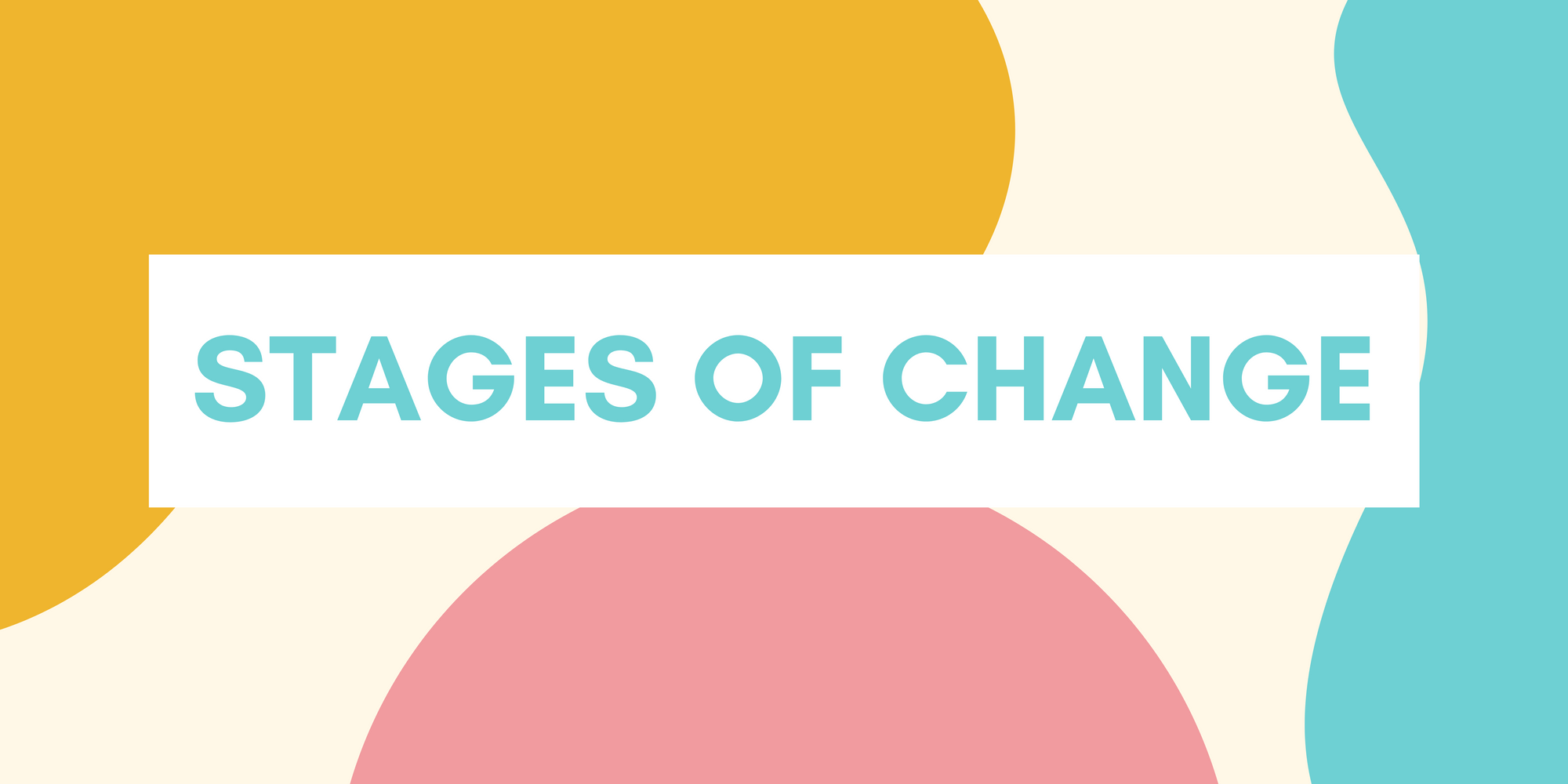 The concept of Stages of Change can be applied to the following challenges and conditions, as well as more general challenges often addressed in therapy:
Most of these challenges and conditions have a behavioral element to them, as in something physical that the client either needs to do or needs to stop doing. With the above, there is an action that clients take that needs to be addressed.
What are the Stages of Change?
The Stages of Change have 6 key phases:
Stage 1: Precontemplation
In the Precontemplation stage, the client may experience some adverse effects associated with their behavior; however, they do not perceive these negative consequences as detrimental enough to motivate them to consider changing their behavior. In this stage, the client has little or no motivation to change their behavior as they do not view themselves as having a problem. Here's how that may play out in a few common challenges:
Alcohol addiction: An individual drinks multiple glasses of wine every day but doesn't recognize it as an issue. They think that they're "just winding down after a stressful day," however the drinking causes conflict in their marriage.
Relationship patterns: An individual is constantly being belittled by their partner but doesn't realize its harm. They think that their partner is "expressing their love" for them, despite it causing them to feel upset.
Workplace stress: An individual's workplace stress manifests in physical ailments, but they don't realize where they stem from. They think that their physical ailments are a symptom of aging, rather than the physical effects of stress.
Stage 2: Contemplation
In the second Stage of Change, the client may begin to realize that their behavior is harmful, but they are ambivalent about making any changes. The person may have a desire to change and may even consider changing their behavior, but has not yet invested much time or effort into changing their behavior.
Alcohol addiction: An individual feels hungover every morning and recognizes that physical discomfort as a bad sign and something that they should avoid. However, they continue to drink the same amount each night.
Relationship patterns: An individual speaks with a friend about how much they don't like it when their partner calls them bad names, but hasn't asked them to change or left the relationship.
Workplace stress: An individual notices that every time they have a work presentation, they get headaches before and after. They've read about stress migraines and put the pieces together, but don't want to change anything about their work routine.
Stage 3: Preparation
In this stage, the client has committed to changing their behavior and accepted responsibility. Many clients in this stage measure the positive versus negative aspects of their behavior and have drawn the conclusion that the negative ramifications outweigh any perceived benefits. Some clients may attempt to develop a plan for change, but have not taken any concrete steps.
Alcohol addiction: An individual shares with a loved one that they have a problem with drinking. They promise that they'll get sober, however they haven't yet looked up alcohol abuse treatment programs or tried to cut back on their consumption.
Relationship patterns: An individual tells their toxic partner that they've crossed a boundary and that they're going to break up with them, yet nothing in the relationship changes.
Workplace stress: An individual recognizes that their stress levels are causing them insomnia. They decide that they'll learn how to meditate and expand their mindfulness practice, however they haven't yet downloaded a meditation app or looked up resources to help them.
Stage 4: Action
In this stage, the client is actively involved in changing their behavior. Any efforts to change their behavior would be enough to categorize them as being in this stage. Most individuals in this stage understand that they are responsible for changing their behavior and recognize that they require some form of ongoing assistance to help them reach their goal.
Alcohol addiction: An individual stops drinking because they know that their drinking is leading to unhealthy outcomes. If they don't stop completely, they decrease their intake.
Relationship patterns: After accepting that their relationship is unhealthy, an individual breaks up with their partner and moves out of their shared apartment.
Workplace stress: An individual who frequently feels stressed out when speaking to their boss begins to practice mindfulness meditations before their one-on-ones.
Stage 5: Maintenance
In this stage, the client has developed some level of efficiency and consistency that has allowed them to maintain their behavioral change. As a general rule, clients' behavioral changes must be maintained for a minimum of six months in order to qualify for this stage.
Alcohol addiction: An individual who previously suffered from alcohol addiction has been sober for six months and they're working with a therapist to process through the origins of their addiction.
Relationship patterns: An individual hasn't talked to their ex partner in months, even though they miss that person.
Workplace stress: An individual practices breathwork every day before logging in to work because it helps them feel calm. They haven't missed a day of their exercises in months, though sometimes they still feel like they're out of control.
Stage 6: Termination
In the sixth and final stage, the client has made all of the necessary behavioral changes for them to take on existing and new potential challenges in a productive manner. Many clients don't actually end therapy in the termination stage. Many people in treatment for substance abuse issues continue to participate in social support groups, such as 12-Step programs, AA, or NA, for many years after they have been sober or abstinent. In this stage, the client has been able to make positive changes, maintain new habits, and continue to be on a path toward improvement.
Alcohol addiction: An individual has been sober for over a year now. While they sometimes feel a small urge to drink, they use their coping skills to ignore or mitigate this urge.
Relationship patterns: An individual no longer speaks with their ex partner after leaving the toxic relationship several months ago. Sometimes, they feel like texting them, however they know that there is nothing left in that relationship that would be healthy.
Workplace stress: An individual, who used to feel an incredible amount of anxiety when speaking to anyone senior at their company, meditates every day before work. They also use affirmations to continually work on their self-love. This helps them with their anxiety.
It is important to keep in mind that the Stages of Change model is not linear. Clients may relapse and return to any of the previous stages. Therefore, the termination stage does not always indicate the end of treatment.
Humans aren't built for change — our brains like to keep the same neural patterns, which makes it difficult to break out of habitual or routine behaviors. Yet, we're also capable of understanding what's healthy and what's not healthy. It may just take some time for us to find an inner sense of motivation to make those changes. The Stages of Change model is a helpful way for therapists to consider the best ways to help their clients.