While many insurance plans are either HMOs or PPOs, there is a third type of insurance called an EPO. What is an EPO and how does it work? Read on to learn more!
What is an EPO?
An EPO is an Exclusive Provider Organization and is an example of a managed care plan. Having an EPO plan means that you can receive services from a predetermined list of in-network providers without having to seek a referral from a primary care physician! What sets EPOs apart from HMOs and PPOs is that these plans do not cover any out-of-network care (except in emergencies).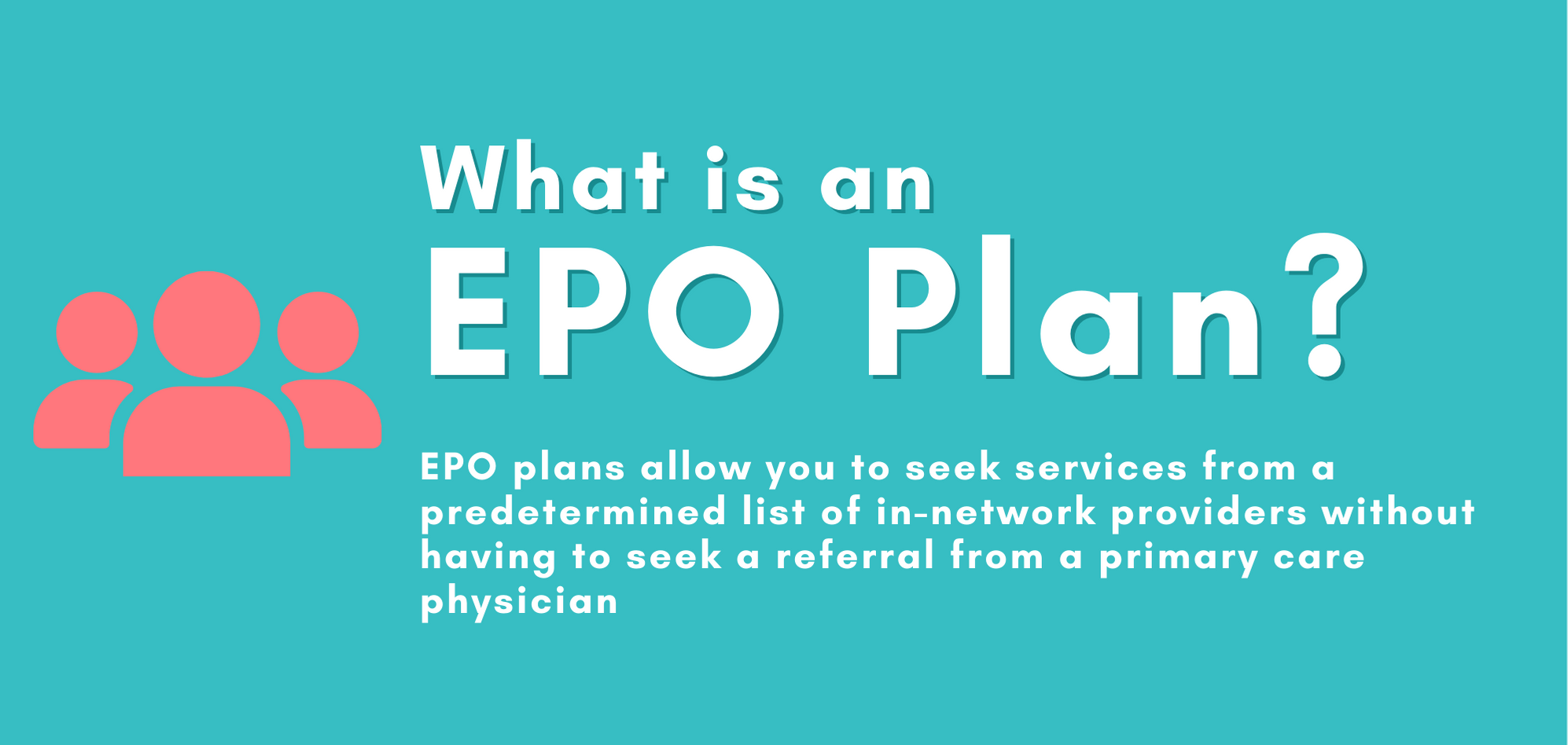 How do I know if I have an EPO?
Check your insurance card and see if your insurance plan has "EPO" in the title. If you don't see it there, but think you might have an EPO, you can check with your insurance company by calling the customer service number on the back of your insurance card - they'll be able to tell you the type of plan that you have and also help you better understand your coverage.
What are the benefits of having an EPO?
There are a number benefits of having an EPO! Here are a few to keep in mind when choosing an insurance plan:
Access to a network of providers. Because EPOs determine which providers are available to you, you'll be able to see a list that makes it explicitly clear who is in your network with no guesswork.
No referrals needed. Unlike HMOs, you will not need to receive a referral in order to see a specialist. You'll still have a designated primary care physician, however you won't have to visit this doctor to be able to see a specialist.
Lower premiums. In comparison to PPOs, EPO plans generally cost less per month which means you might be able to save money by picking this type of plan.
What are the downsides of having an EPO?
As with any insurance plan, there are also a few downsides to having a EPO insurance plan. Here are a few to keep in mind:
Limited network. Your EPO plan has a predetermined list of providers, meaning you can only visit providers on that list, potentially limiting your care.
No out-of-network coverage. Because your visits to an out-of-network provider will not be covered, seeing a specialist (or therapist) that isn't in-network could become pricey.
How do I know if an EPO is right for me?
As with any insurance, this depends! Here are a few things to consider when deciding if an EPO may be a good choice:
Your budget. When searching for plans, keep in mind the premium costs and the deductible to make sure these fit into your budget.
Current providers. If you already have providers you would like to maintain care with, check to see if they are an in-network provider for the EPO plan.
Zencare makes easy for you to find therapists who are in-network with EPO insurance plans in your area so you can focus on finding the right fit!