Across the country, costs are rising, and the cost of therapy is no exception. Here, we examine the average session fee for private practice therapists across the US, and explore the ease of access to in-network therapy by state.
Key findings
Nationwide, the average cost of therapy is $182/session. Only 38.32% of therapists in private practice are in-network with any insurance panel.  
The most expensive state in which to seek therapy is New York, with sessions costing an average of $213.4.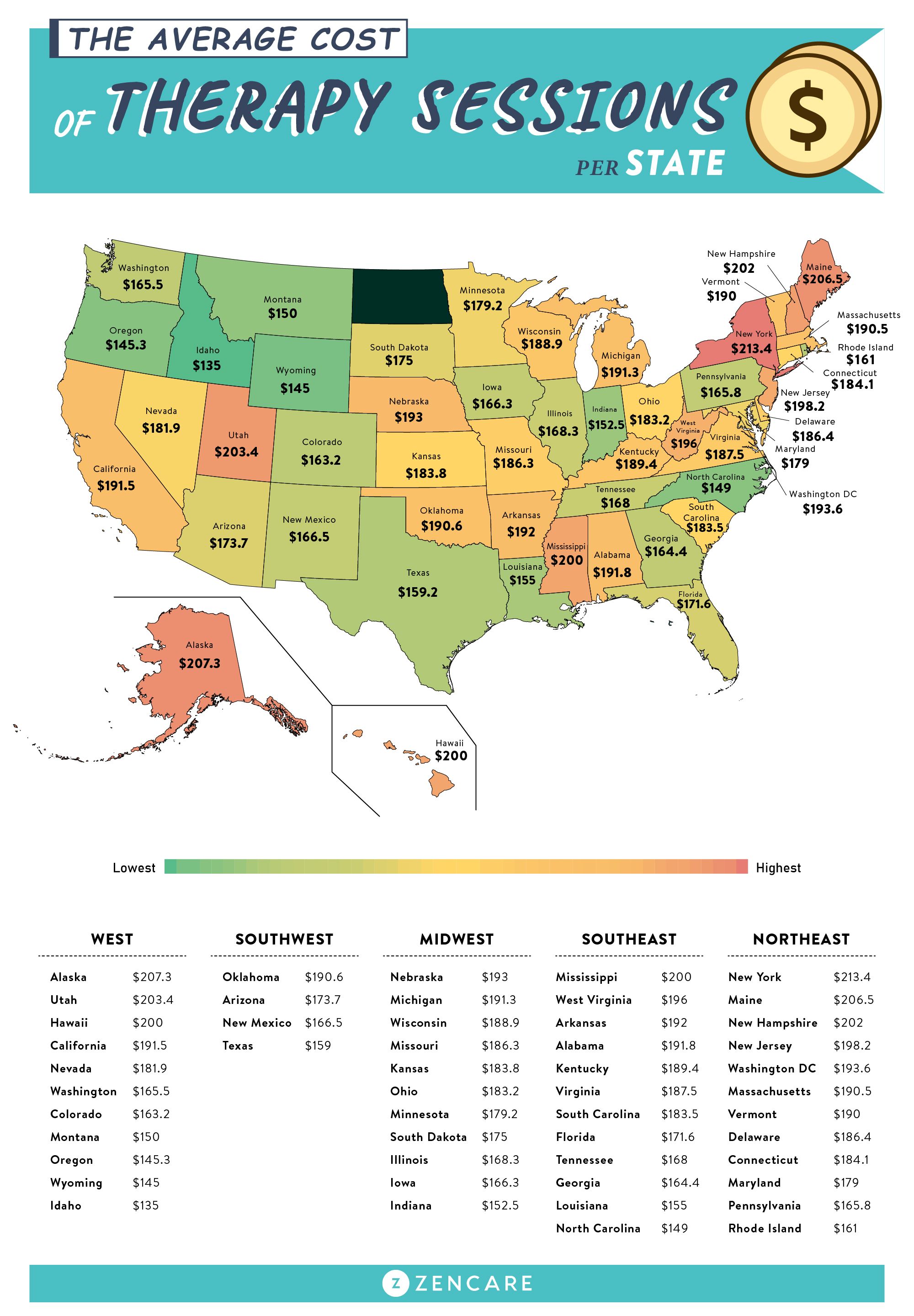 Top 5 most expensive states by average therapy session fee
New York - $213.4
Alaska - $207.3
Maine - $206.5
Utah - $203.4
New Hampshire - $202
Top 5 least expensive states by average therapy session fee
Idaho - $135
Wyoming - $145
Oregon - $145.3
North Carolina - $149
Montana - $150
Seven states have average therapy session fees greater than or equal to $200/session; only five states have average therapy session fees less than or equal to $150/session.
Why do session fees vary by state?
Session fees generally reflect the cost-of-living of the location. In more expensive cities, therapy will be more expensive – just like housing, groceries, and gas for your car. This increased cost-of-living not only covers a therapist's salary (which they must use to pay their living costs), it also means that their office rent is higher, their utilities are more pricey, and likely that their continuing education opportunities are more expensive. A city's cost-of-living strongly influences how much therapists must charge their clients each session, which is a large reason why session fees vary by state.
What else influences a session fee?
There are other elements that go into calculating a session fee, not just location. Therapists set their session fees by considering:
Session length. Intuitively, sessions that are longer will cost more. Generally therapists hold 45-50 minute sessions, however, they can offer sessions that last several hours, especially for couples or family therapy.
Type of session. Some therapists charge more for different types of sessions. For example, group therapy may be less expensive per session than individual therapy. Family therapy may cost more than individual therapy.
Level of specialization. When a therapist specializes in a specific condition, situation, or therapy modality, it means that they've undergone additional training to get certified. With a greater level of expertise, they may charge higher session fees.
Years of experience. Therapists who have more experience under their belts may charge more for their services, as they have more practical knowledge than therapists just starting out.
The role of insurance
While all health insurance plans have differing benefits, most offer coverage for mental health treatment, including therapy sessions. Generally, the option that leads to the lowest out-of-pocket cost to therapy seekers is to see an in-network therapist. However, the number of therapists who take insurance or are in-network with health insurance plans also varies significantly by state.
The state with the highest percentage of in-network therapists is Rhode Island, where 68% of private practice therapists accept at least one insurance panel. This means that two out of three therapists in Rhode Island offer therapy where clients don't have to pay the full session fee out-of-pocket.
Contrast this to California, where only 18% of therapists take any insurance. It's harder to find an in-network therapist in California, which may mean that more clients must resort to seeing an out-of-network therapist for their regular therapy.

Affordable therapy options
There's no doubt about it: therapy can be expensive, especially if you're attending weekly sessions. For some, the cost of therapy is simply too steep, which leads to mental health treatment becoming inaccessible.
There are several ways to decrease the cost of therapy, including:
Sliding Scale. Some therapists offer sliding scale payment options. This means that their session fees depend on financial need. For clients who don't have enough income to afford the full rate, therapists may lower their typical fee, leading to more accessible treatment.
Community Resources. Inside your community is a perfect place to start therapy. Community centers, places of worship, hospitals, and schools, sometimes offer free or low-cost therapy. Many community organizations and programs also provide peer support group sessions, where you can connect with other people who have similar experiences to you.
Out-of-Network Benefits. If the therapist you wish to see is not in-network with your insurance (and remember, only 38% of private practice therapists nationwide are in-network with any insurance at all!), you may be eligible to receive partial reimbursement for sessions through out-of-network benefits.
Thoughts from the experts
New York-based psychotherapists Mia Ruth, LMHC of Insight & Action, Mary Tate, LCSW of Tate Psychotherapy and Aja Evans, LMHC shared with us their reflections on the cost of therapy in 2022.
Q. With the average private pay session costing $182/session and only 38% of therapists in-network with any insurance, how do you think about the accessibility of mental health care?
Mia Ruth, LMHC: "As an out-of-network provider, this is something I think about and struggle with often. Unfortunately, the healthcare system in our country makes it difficult for many people to find the affordable, consistent mental health care they need. We do what we can at my practice to offset many of our clients' high deductibles and lack of out-of-network benefits with flexible rates, but because of the large number of people for whom paying full fees is not feasible, unfortunately we cannot always accommodate what each client needs."
Aja Evans, LMHC: "It can be a delicate balance to find what works for you financially as a business owner and desire to provide care and accessibility. Telehealth has helped accessibility to care immensely, but therapists still have to navigate what that means for our session prices. Creating an avenue for clients to access my services in a comfortable way for both of us was important to me."
Mary Tate, LCSW: "Access to in-network mental healthcare is limited due to the barriers that health insurance companies impose for mental health providers. Low reimbursement, battling medical necessity and billing practices leave therapists unable to dedicate their time to the most important thing: providing quality psychotherapy. When health insurance companies are held responsible for their rigidity in mental healthcare, there will be more providers willing to participate in their plans and work alongside them to expand access to care."
Q. What is your message regarding the value of therapy, despite the costs?
Mia Ruth, LMHC: "When finding it difficult to justify the cost of therapy, I encourage people to consider what they can potentially gain through the work of examining themselves in a dedicated therapeutic space. A deeper understanding of the self, fewer unpleasant emotions, more satisfying relationships, and likely a more meaningful and joyful life, to me, are invaluable. Therapy is an investment in yourself, and little is more important than that."
Aja Evans, LMHC: "With the right therapist, you can most certainly start the process of working towards feeling better. We all have things we prioritize: it is less about judgment in how we prioritize and more about what is important to you. If you value therapy you will find a way to make it happen. There are options (albeit some are limited): private practitioners, groups, clinics, etc. You can get very creative about how you seek help."
Methodology
This data was gathered from 3,267 private practice therapists listed in Zencare's database as of February, 2022.

Session fee is the average of providers' indicated fee for individual therapy sessions; if a provider offers a sliding scale or range of session fees, only the standard ongoing fee was averaged.

In-network percentage is the average percent of providers who indicate they are in-network with one or more insurance panels.
When providers are licensed in multiple states, their session fee was averaged in each state in which they are licensed; for the national averages, each provider was only counted once.