Your private practice therapy office is a place of transformation. In this space, clients will lose themselves in introspection, learn about themselves through reflection, celebrate their progress with elation, and more. Your therapy office is a place of tears, but also joy. It's more than just an office, it's a physical representation of the healing space you hold for clients.
When clients arrive at your therapy office, what they see will make an impression. To ensure that this impression is one of professionalism, openness, and safety, pick decor that speaks to your therapy style. You might also pick decor that shows your personality, allowing clients a glimpse into who you are.
Whether you use leafy plants as a symbol of growth or paint with cool colors to promote feelings of calm, you're in good company with other Zencare therapists who strive to provide clients with an intentionally-designed space for therapy. Looking for inspiration? We're excited to showcase some amazing office spaces through our professional therapist photography so you can make your therapy office a great place for your clients.
Pops of Color
Pops of color keep the eye moving throughout the room. They tend to immediately attract attention, and can be a fun way to spruce up a space. These accent pieces can be chairs, throw pillows, or artwork that break with the main color theme of the room. Pick a color that you love - most likely, anyone who enters your therapy office will notice it, so be sure that it's a color that brings you joy!
Deep shades of blue welcome clients to take a seat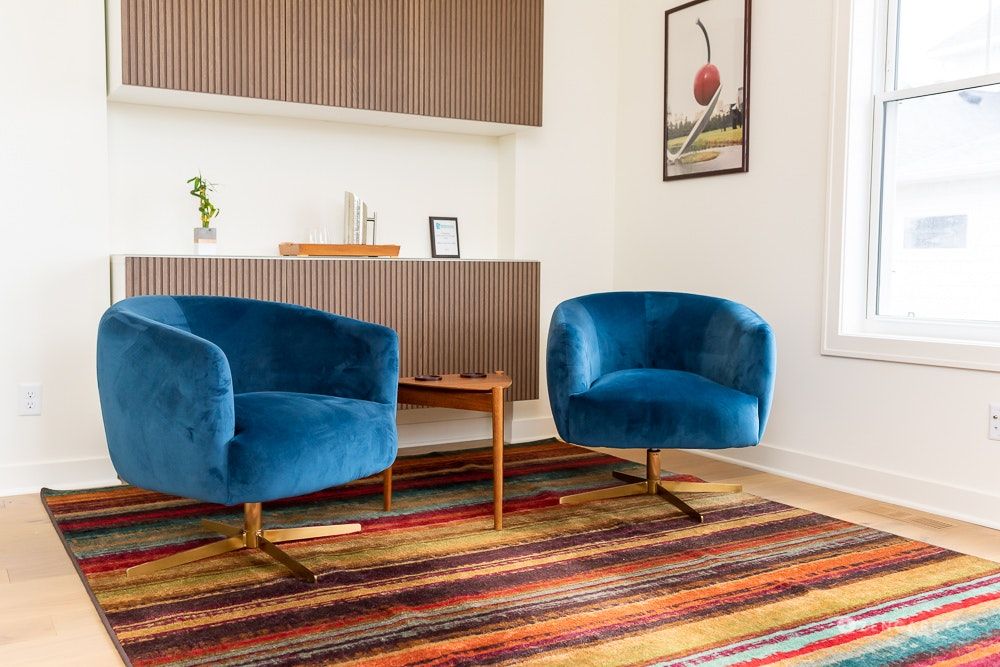 Therapist: Dr. Matthew Syzdek
Location: Lakeville
The contrasting blues and yellows create an inviting space
Therapist: Sharon Uy
Location: Los Angeles
Attention-grabbing accent wall
Therapist: Dr. Tyler Howard
Location: Los Angeles
Mellow yellow meets modern and sleek
Therapist: Dr. Caroline Kalai
Location: NYC
Bright and sunny waiting room
Therapist: Latrina Hynes, LMFT
Location: Los Angeles
Gorgeous Greenery
What captures the essence of "nurture" more than plants? Whether your plants are of the leafy variety and cascade down your bookshelf or if they're a tray of adorable succulents, greenery is a great way to bring a sense of livelihood to your space. Plants can be a great metaphor for any number of therapy-related concepts, so keeping some around not only helps make your point but also can promote feelings of relaxation and creativity. There's a lot to say about how effective nature therapy can be!
Leafy vines promote a sense of growth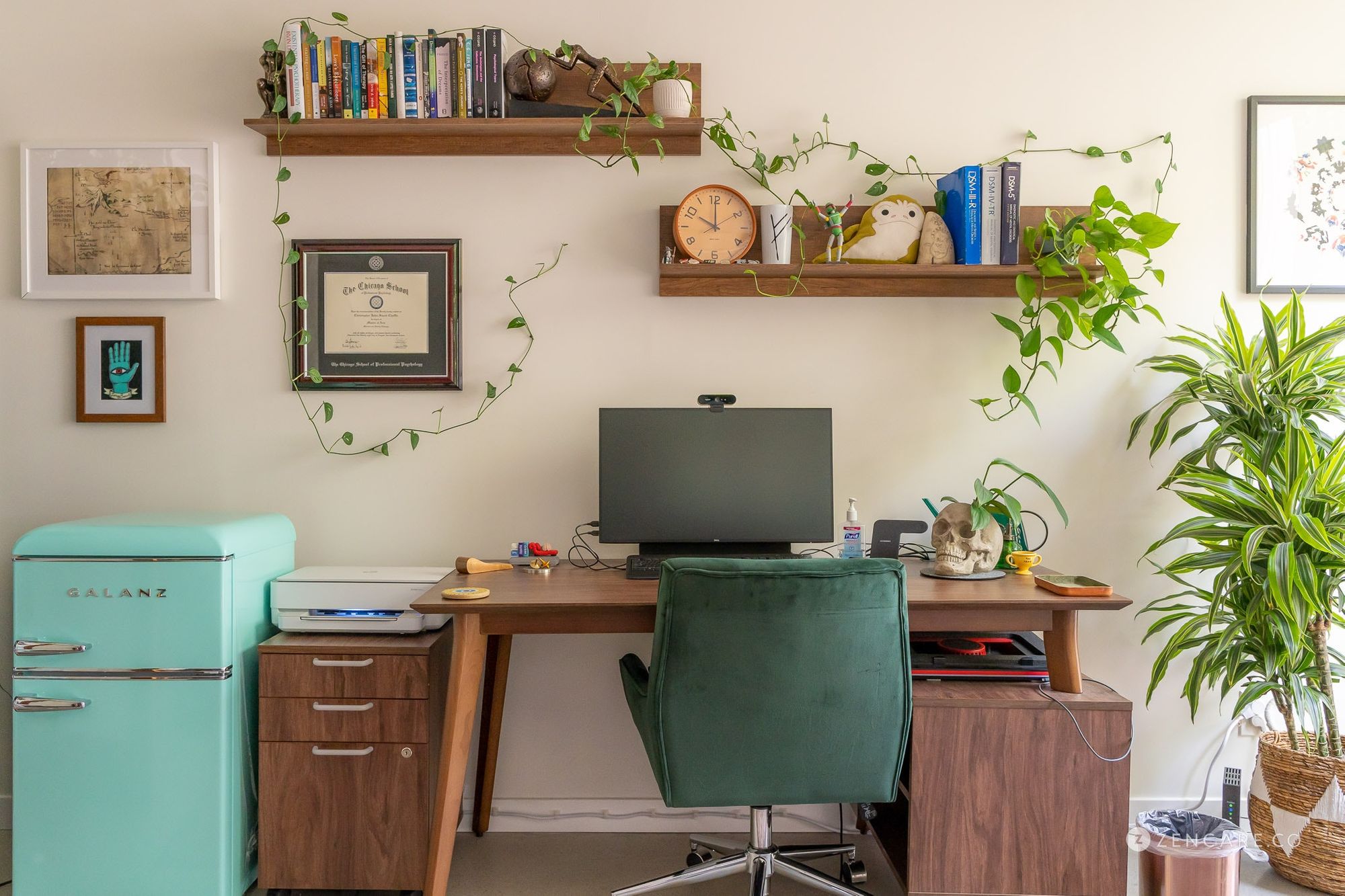 Therapist: Dr. Chris Chaffin
Location: Bixby Knolls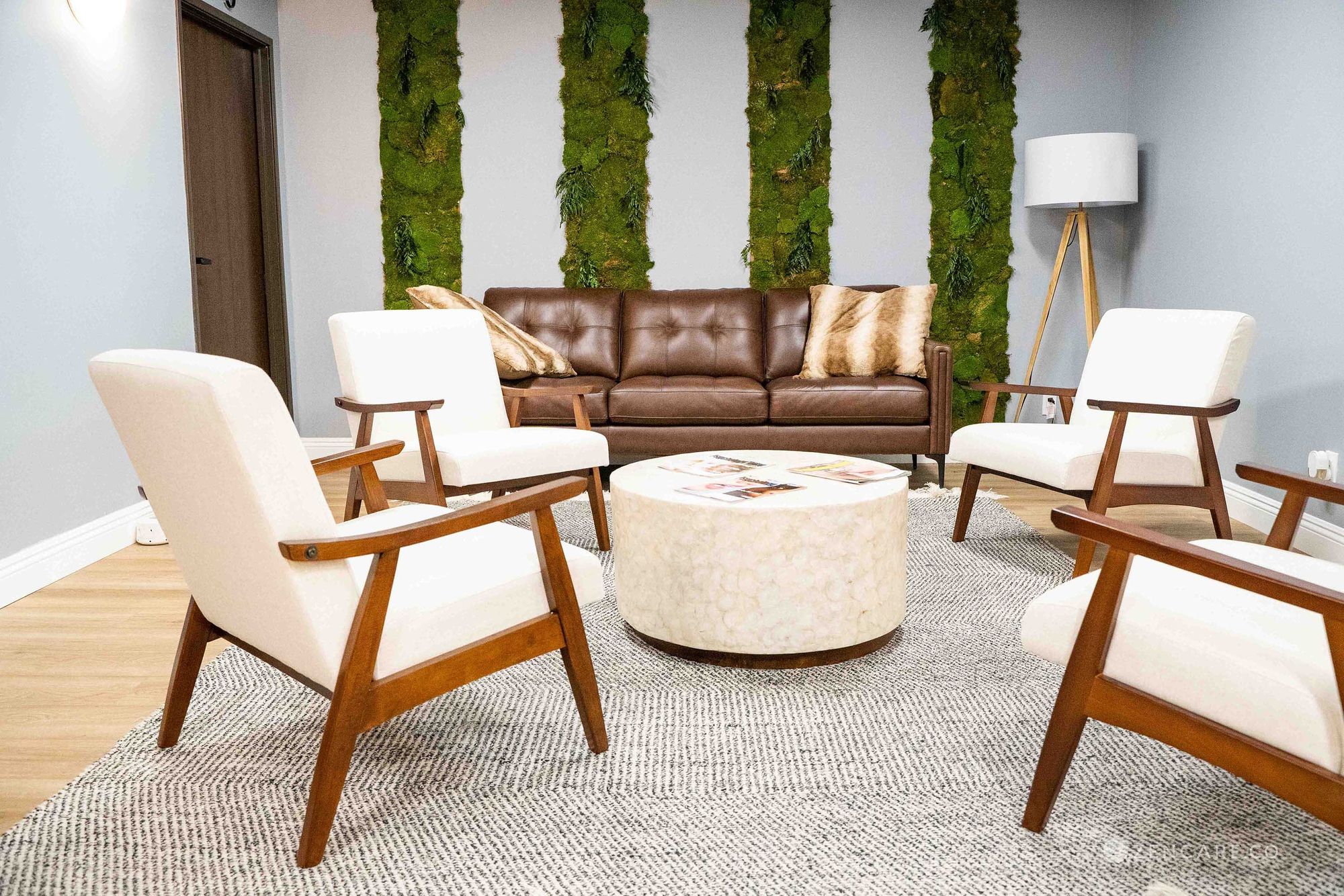 Therapist: Christina Ching
Location: Brea
Urban oasis
Therapist: Dr. Komal Choksi
Location: NYC
Indoor garden
Therapy Group: The Beverly Hills Therapy Group
Location: Los Angeles
Who said flowers have to be in a pot?
Therapist: Kim Grevler, LCSW
Location: NYC
An indoor/outdoor green scene
Therapist: Aleecia Kaloustian, LCAT
Location: NYC
Inspiring artwork
Artwork can express meaning that words cannot. Whether you pick artwork that is meaningful for you or artwork that promotes a sense of wonder, what you put on your walls will capture clients' attention. As eyes wander throughout your therapy office, they'll land on the big or small details of your artwork. Artwork is a great way to show a splash of your personality so clients can get to know you more.
Picture walls draw clients' attention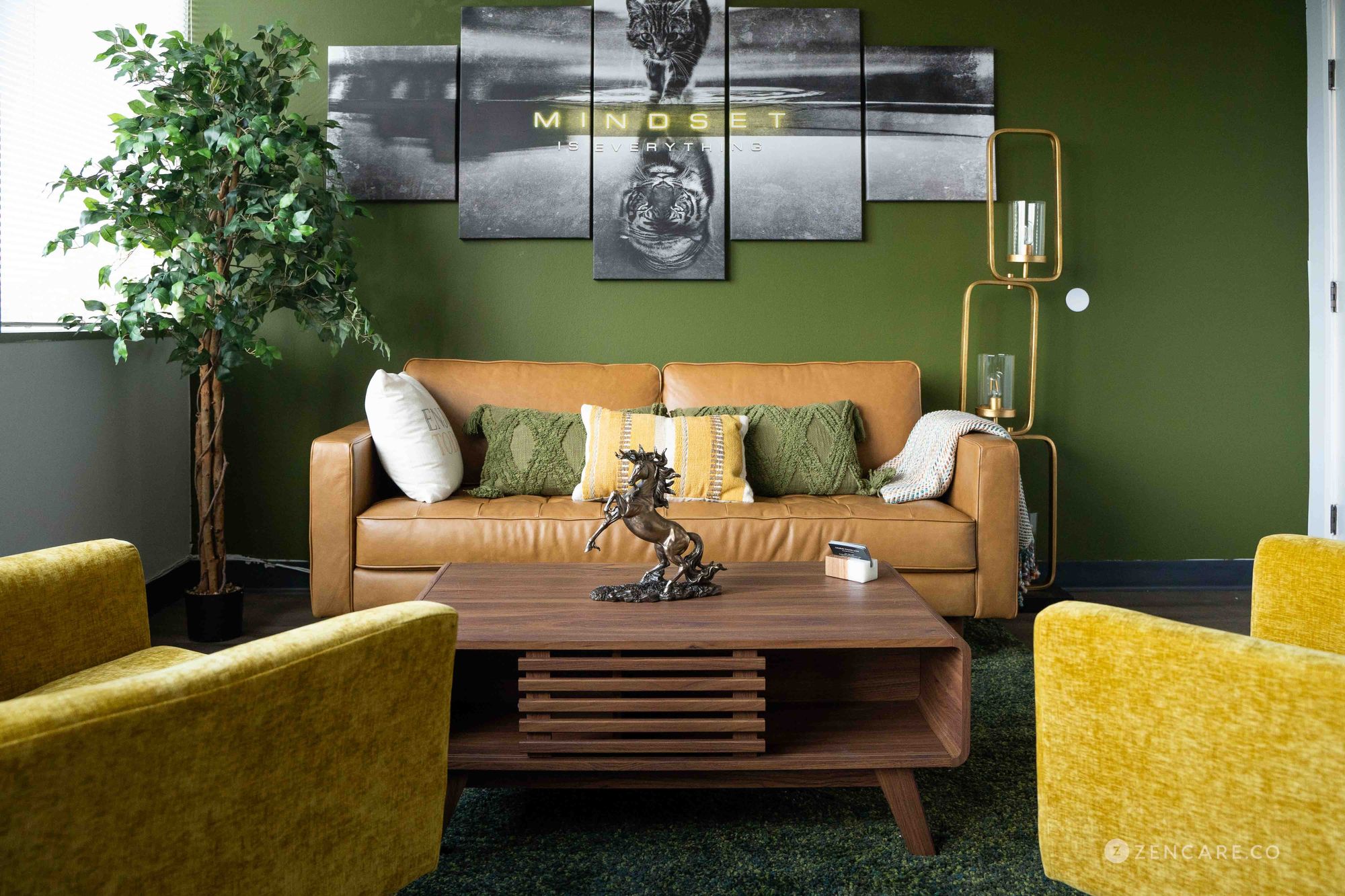 Therapist: Charles Walker
Location: Long Beach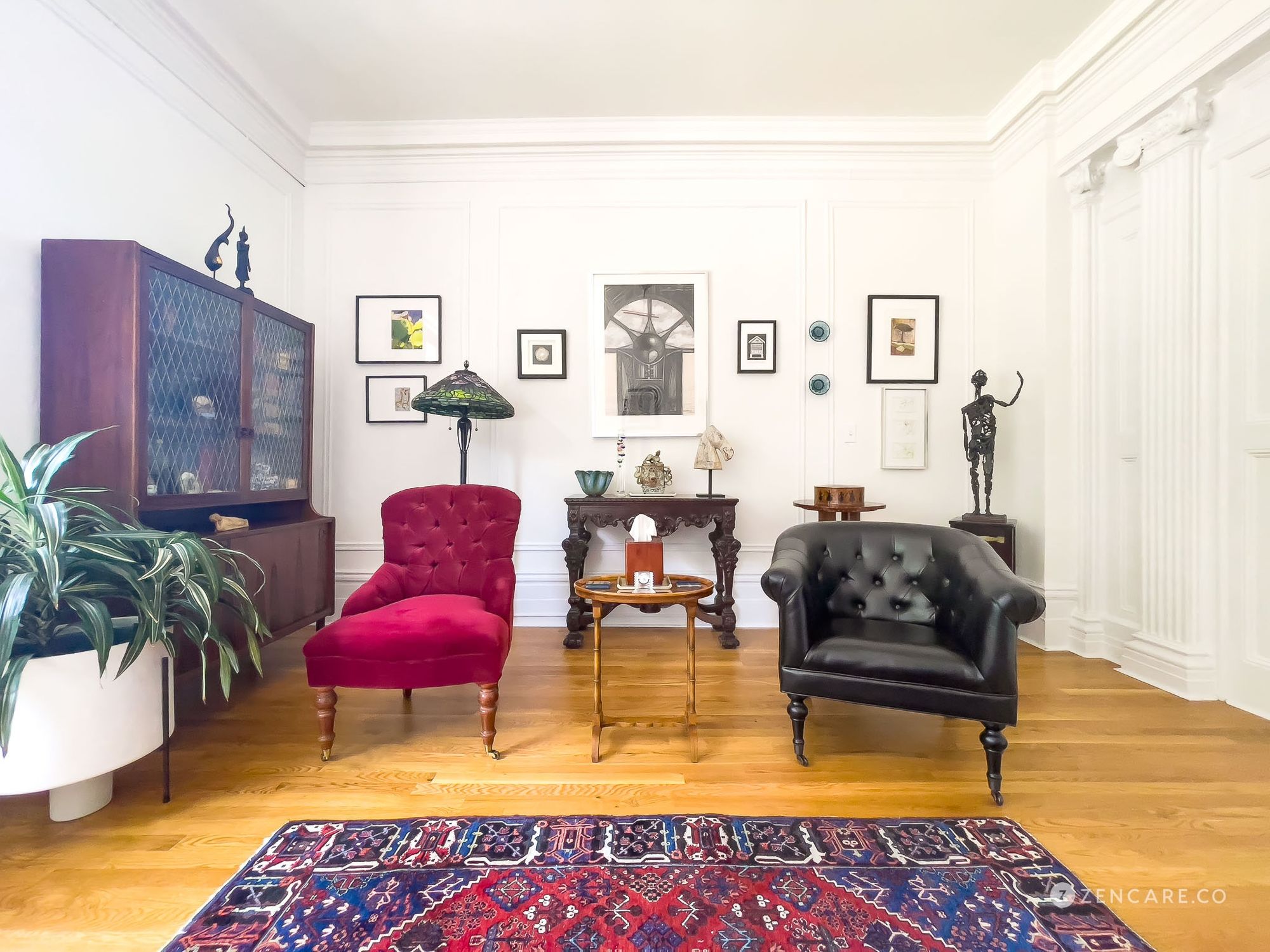 Therapist: Dr. Ramon Burgos
Location: NYC
The peacock feathers brighten this soft, grey space
Therapist: Jolie Weingeroff, owner of PVD Psychological Associates
Location: Rhode Island
Colorful wall art to elevate the space
Therapist: Emily Natale, LMHC
Location: Rhode Island
This wall art takes you to another place
Therapist: Glen Barnard, LCSW
Location: NYC
Modern, metal artwork adds a unique touch
Therapist: Straight Up Treatment
Location: Los Angeles
Bright art adds color to muted walls
Therapist: Dr. Melanie Soilleux
Location: Washington DC
Who says beige is boring?
Neutral colors, including beige and other shades of white, bring a sense of cohesion and synchrony to any room. As most of the work done in therapy happens within the mind and conversation, having a calm room draws the attention inwards. Neutral colors  are also the perfect background for any accents or decor.
Classic fixtures in a bright & airy setting
Therapist: Dr. Bonnie Steinberg
Location: Rhode Island
Cozy with plush seating
Therapist: Dr. Stephanie English
Location: NYC
Beige - with a touch of soft color
Therapist: Danielle Feinerman, LMFT
Location: Los Angeles
Brighten up your beige with art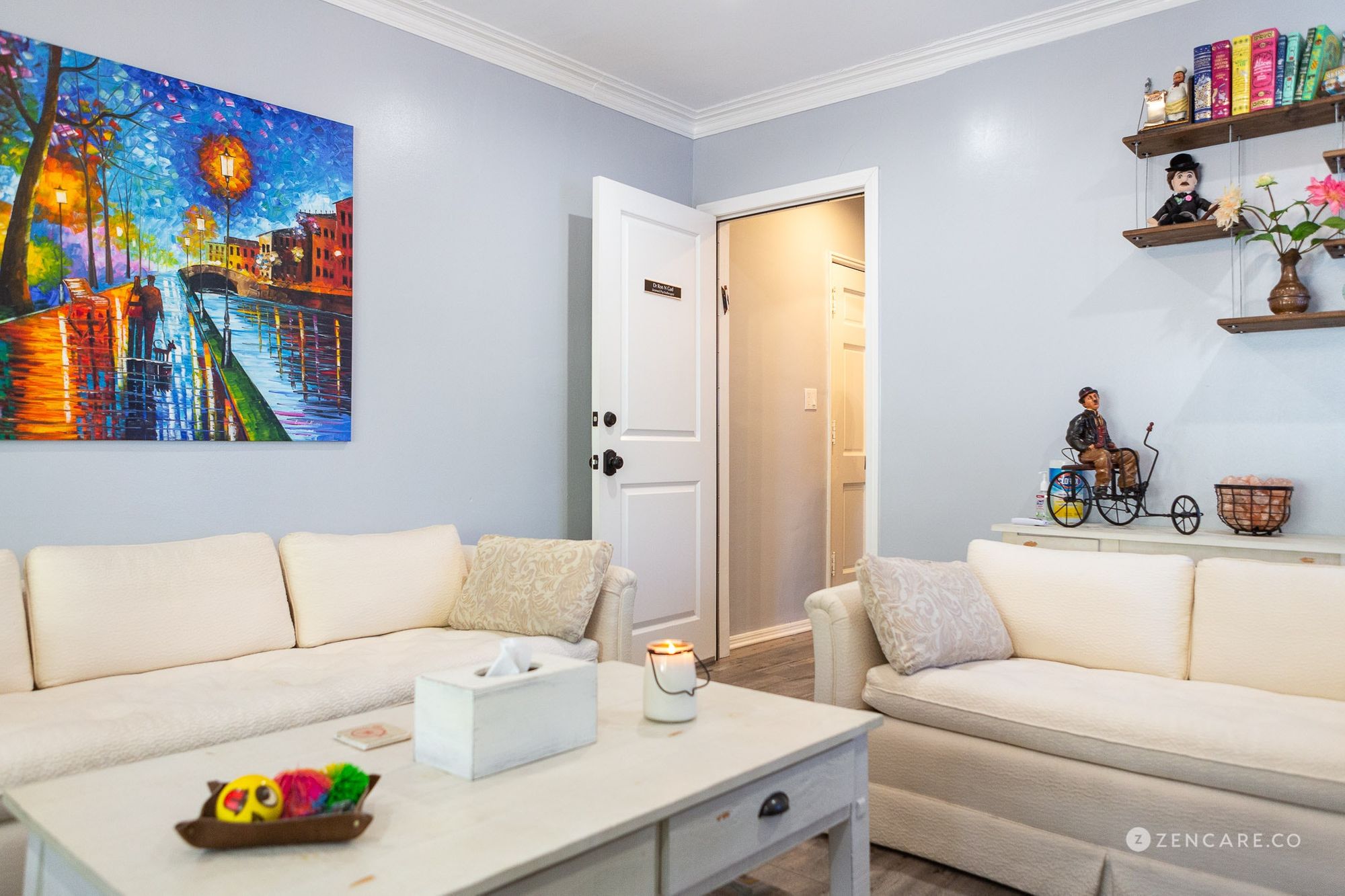 Therapist: Dr. Ron Gad
Location: Los Angeles
Books can make beige pop
Therapist: Abbe Horsburgh
Location: NYC
Light & bright – a mix of warm and cool tones creates a relaxing space
Therapist: Lisa Butler, LCSW
Location: Chicago
Warm & modern, brick walls and window frame add character
Therapist: Michele Conklin, LMFT, ATR
Location: West Los Angeles
These warm brown tones are anything but dull
Therapist: Anna Diamantis
Location: Connecticut
A mix of traditional furniture and modern decor create light & cozy space
Therapist: Kristina Cofone, LCSW
Location: New Jersey
Modern Zen
Nothing is more zen than clean lines and organized shelves. Zen spaces welcome visitors and invite them to experience a sense of peace and balance. By using modern zen touches in your therapy office, you can help your clients stay grounded and find a sense of balance, which can be especially helpful as they work through their challenges. Using bright lights can also instill feelings of hope and joy.
Simple order and bright light leads to feelings of balance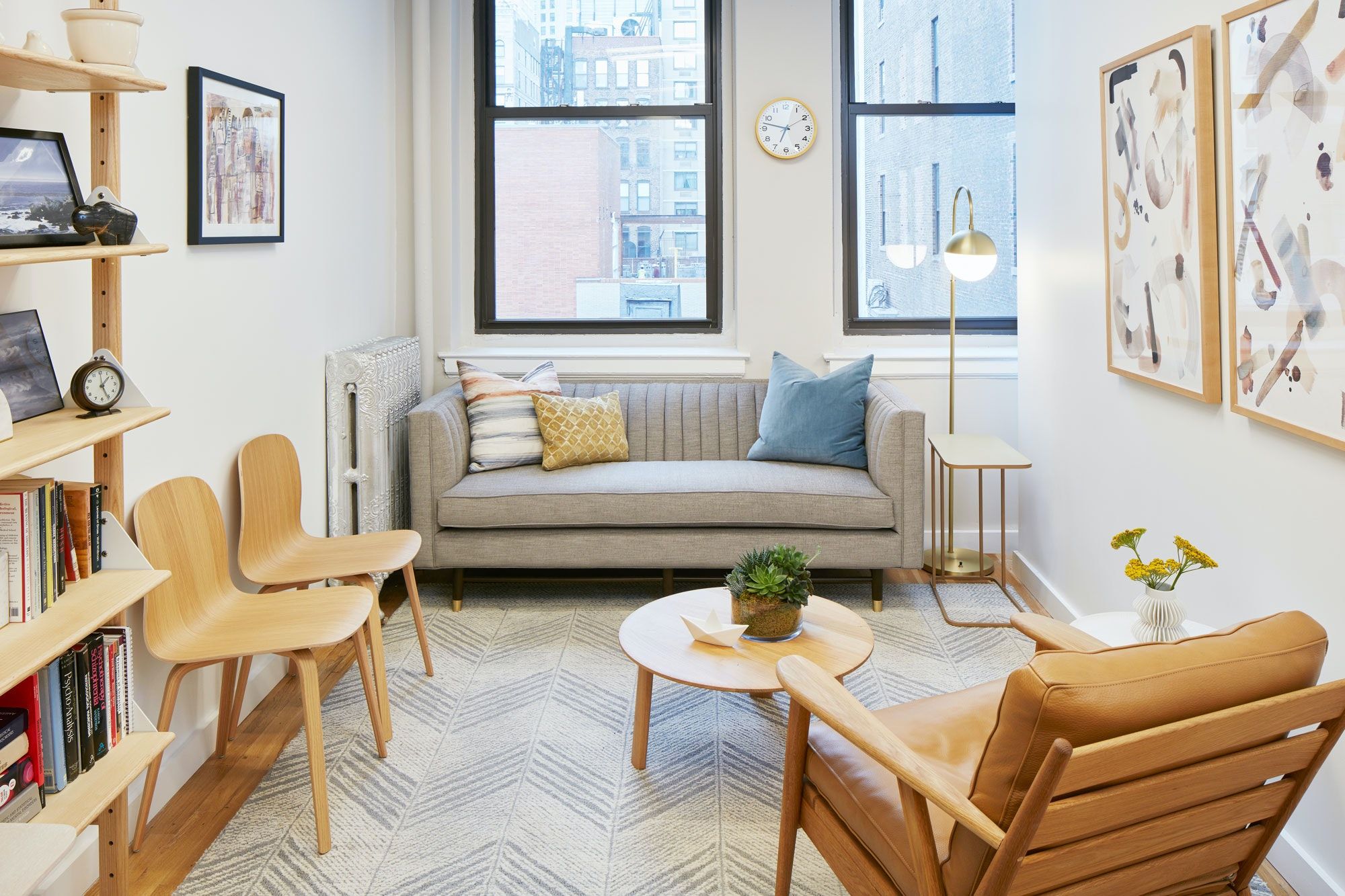 Therapist: Octave
Location: NYC
Mid-century modern charm
Therapist: Laura Hoge, LCSW, LCADC
Location: New Jersey
Tranquil & chic
Therapist: Elle Michel, LMFT
Location: Los Angeles
Peaceful & cozy
Therapist: Elizabeth Nigro
Location: NYC
Plush purple couches add an uplifting welcome
Therapist: Erin Bishop, LMFT
Location: Los Angeles
Gold accents & big windows brighten the room
Therapist: Cyndi Pylsinelli, LMFT
Location: San Diego
Pillows provide a pop of color in this light and airy space
Therapist: Zi Wang, LMHC
Location: NYC
Eye-catching area rugs
Rugs center a room, drawing the eye towards the middle of the room. This can be especially helpful when used in a therapy office, where most of the conversation will happen in the space between your chair and your clients' seat. Rugs can also add color to a room and draw the eye downwards, which can be a welcome focal point during vulnerable conversations.
Colorful patterns bring the whole room together
Therapist: Patrick Davin, LPC
Location: Greenwich, CT
Cool blues and grey create a tranquil environment
Therapist: Resilience Lab
Location: NYC
Retro vibes
Therapist: Dr. Katherine Smith, LMFT
Location: Los Angeles
Warm & fuzzy add cheery personality
Therapist: Shira Myrow, LMFT
Location: Los Angeles
This rug transforms the light airy, space into a warm and cozy one
Therapist: Dr. Abby LePage
Location: Washington DC
The rug ties the whole room together making it warm and inviting
Therapist: The Collaborative
Location: NYC
This warm rug provides a cozy center in this loft-like room
Therapist: InTouch & Motion
Location: Chicago, IL
Unique features
Unique features are another opportunity to show your clients your personality. If you have meaningful objects or decorations, you can incorporate them into your therapy office for a unique dimension that stands out to your clients. These unique features can be objects, cushions, artwork, or bespoke furniture that brings character to the space.
Bringing your personality into the room adds character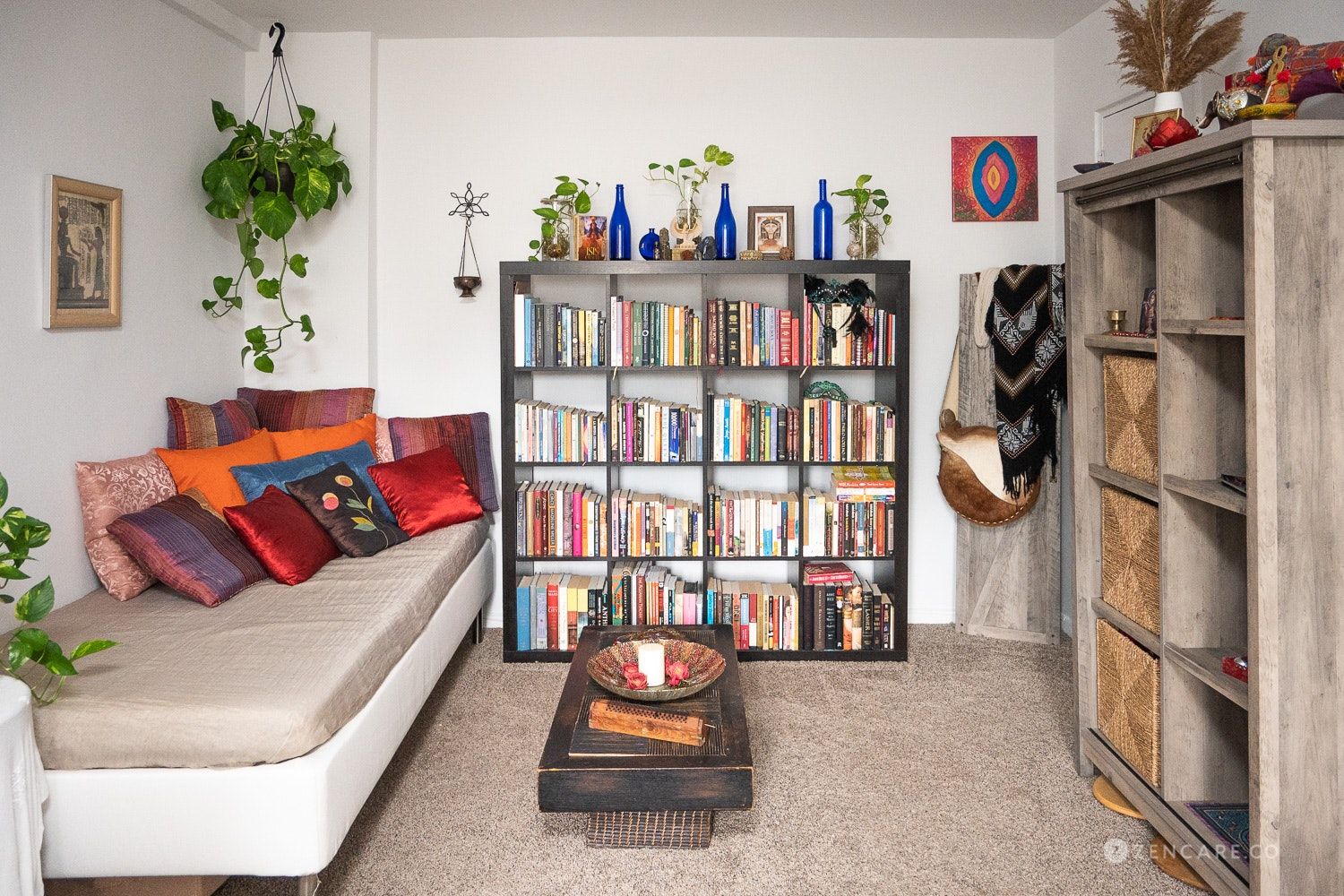 Therapist: Ishtar Gonzalez
Location: NY
A one-of-a-kind warm wall
Therapist: Koepke Counseling
Location: NYC
Some western flair in West LA
Therapist: Meghan Schafer, LMFT
Location: Los Angeles
Stunning mix of neutrals, textures, and shapes
Therapist: Dr. Alina Gorgorian
Location: Los Angeles
These tall ceilings are truly unique and create a bright and inviting space
Therapist: Dr. Rebecca Harmon
Location: NYC
Boho-chic
Therapist: Lauren Stern, LPCC
Location: San Diego
Rooms with a view
Windows not only let in warm sunlight, but they also offer you and your clients a glimpse into the world outside of your therapy office. By offering your clients views of nature, even if it's just the leaves of a nearby tree, you can help promote feelings of relaxation and reduce stress. Cityscapes are also a great backdrop for the work that you're doing in therapy, gently reminding your client that what they learn in therapy can be taken with them out into the wider world.
Admire the tall trees and greenery
Therapist: Transcend Anxiety
Location: Los Angeles
The cityscape peeks through these beautifully framed windows
Therapist: Dr. Samiha Jallouqa
Location: Chicago