While many people are familiar with the term "postpartum depression," not as many people know about a related mental health condition called postpartum anxiety. Like postpartum depression, postpartum anxiety occurs during pregnancy and/or shortly after the birth of a child. It also comes with its own distinct set of symptoms and recommended treatments.
Read on to learn about what postpartum anxiety looks like, what to do if you or your loved one is experiencing symptoms, and how to treat it.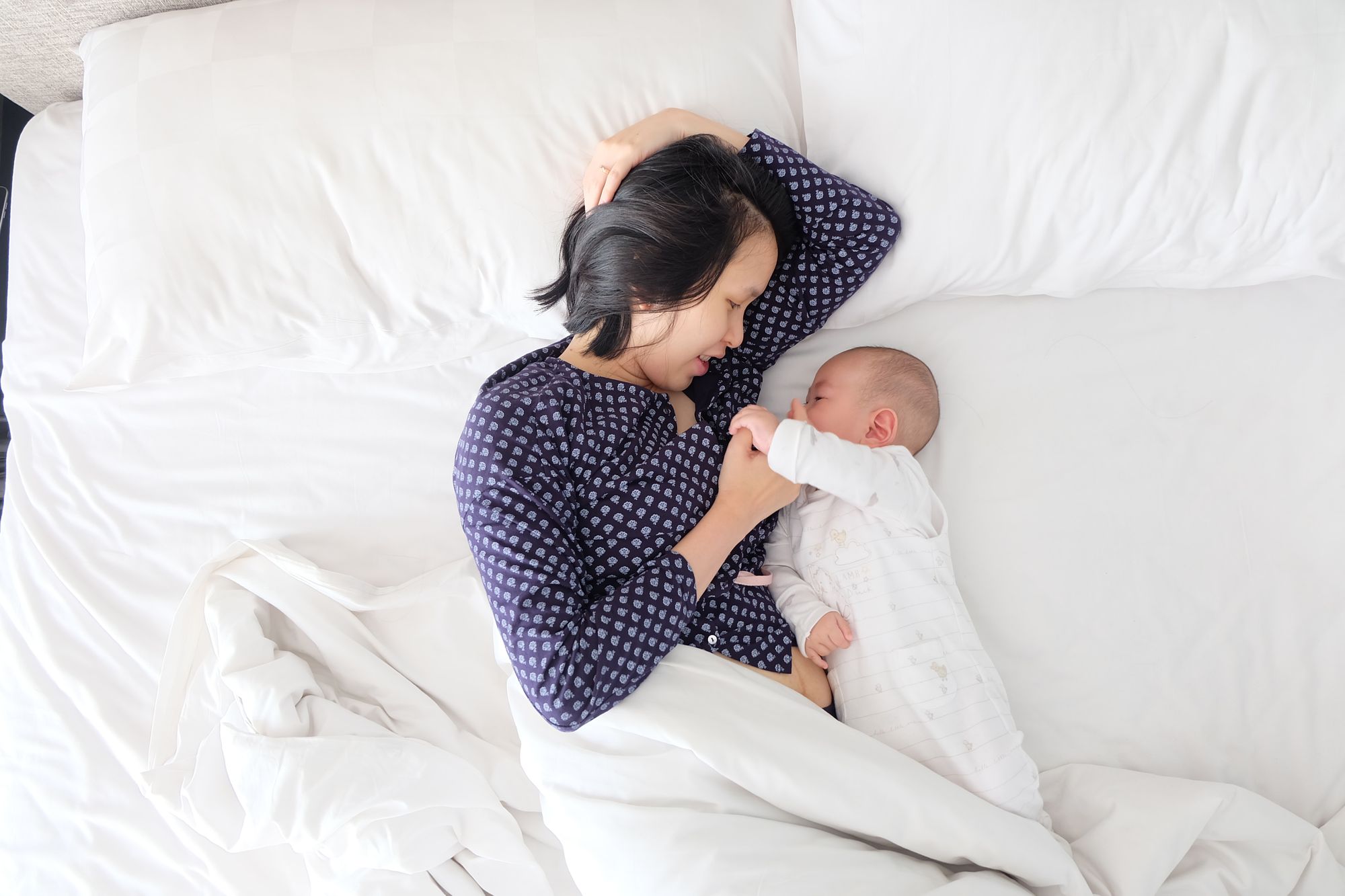 What is postpartum anxiety?
Postpartum anxiety is characterized as excessive, uncontrollable, and irrational anxiety in the months before or after giving birth.
"It is common for a new mom to worry about her infant's wellbeing, and her ability as a caregiver," points out Dr. Susan Park, a psychiatrist in New York City whose specialties include perinatal depression and anxiety.
This may be a biological given, says Dr. Laura Venuto, a Licensed Psychologist in New York City with specialties in life transitions, anxiety, and maternal mental health. "Mothers are hardwired to have heightened awareness about potential harm that can befall them and their baby. It's a protective mechanism, hormonally linked to breastfeeding," says Dr. Venuto.
But when such worrying gets out of hand, making it difficult for these new mamas to get through the day? That's when it might indicate postpartum anxiety.
For instance, a mom who is concerned about dropping her baby down the subway escalator might walk 40 blocks in the cold before riding the train – or avoid going out altogether, says Dr. Venuto. These overblown fears can inhibit a new mom's ability to perform even small acts.
What are symptoms of postpartum anxiety?
Symptoms of postpartum anxiety are similar to those other anxiety disorders, with the added factor of new parenthood at play. Dr. Venuto lists some hallmark symptoms of postpartum anxiety:
Racing thoughts (worries that keep women up in the night or distracted during the day)
Living in a perpetual state of worry
Frequent concerns that something bad will happen (harm will befall them or baby)
Disruption to appetite (many women with postpartum anxiety have reduced appetite and may have rapid weight loss)
Difficulties falling asleep or sustaining sleep – many women struggle to fall back to sleep after they are awoken by their baby in the night
Fidgety/Unable to sit still
Dizzy spells
Hot flashes
Nausea
Shortness of breath
Heart palpitations
Panic attacks (including chest pain, dizziness, and/or an intense fear of going out in public)
Jane Hesser, a Licensed Independent Clinical Social Worker in Rhode Island who is an expert in prenatal and postpartum depression and anxiety, emphasizes that postpartum anxiety comes in many forms. You don't need to experience any particular set of symptoms to have it.
How common is postpartum anxiety?
According to Dr. Park, 10% of women develop anxiety during their first few months postpartum.
Additionally, about 85% of women experience some form of sadness and anxiety during the postpartum period. However, adds Park, many of these women are experiencing what is commonly known as "the baby blues." These have similar symptoms to postpartum depression and/or anxiety, but go away on their own within two weeks.
Park emphasizes that postpartum blues can increase the risk of subsequent postpartum anxiety disorders by up to four times. If symptoms of depression and anxiety persist for longer than two weeks, the woman should be evaluated – as she may benefit from further treatment.
What causes postpartum anxiety?
The scientific cause of postpartum anxiety is thought to be an interaction of biological, psychological, and social factors, says Park.
Hesser says this variety of factors makes it hard to know exactly what, exactly, causes postpartum anxiety.
Possible causes include (but aren't limited to):
Changes in the brain during pregnancy that may predispose mothers to PMADS (Perinatal Mood and Anxiety Disorders)
Hormone changes in pregnancy and postpartum
Biological predisposition and a history of mood or anxiety disorder prior to pregnancy
Lack of sleep
Certain stressors are also thought to play a roleHowever, from a scientific standpoint, there's still not enough evidence to 100% predict who will be impacted
When does postpartum anxiety start?
Postpartum anxiety can begin any time during the perinatal period (the time immediately leading up to, and after, childbirth).
"Often, symptoms actually begin in pregnancy and worsen postpartum," says Hesser. It can also set in up to a year after giving birth.
Postpartum anxiety and other mental health conditions
Although any new mother can develop postpartum anxiety, Hesser confirms that "women who have a history of previous anxiety or mood disorders and women who have symptoms in pregnancy are more likely to experience anxiety postpartum."
Having a baby can also re-trigger or exacerbate other anxiety-related mental health conditions. Women sometimes experience newly onset OCD after the birth of a child, or find that their previous OCD symptoms occur.
Hesser points out that "OCD symptoms postpartum may take a new form – involving repetitive, scary thoughts about harm coming to the baby." As a result, new moms will attempt to avoid those thoughts and the feelings that come with them. "Sometimes these thoughts can be very visual or graphic, and women often feel afraid or ashamed to talk about them."
Additionally, Hesser notes that "women who experience traumatic childbirth may find they have moments when they re-experience the fear they felt during the event itself, experience anxiety related to medical care, intimacy with a partner or future pregnancy, as well as [other symptoms of postpartum anxiety]." This may be indicative of PTSD.
Am I experiencing postpartum anxiety or just new-parent nerves?
"Becoming a mother can be scary! It is a huge transition, and most mothers experience at least some anxiety in early motherhood," says Hesser.  However, it's important to take especially intense or long-lasting anxiety seriously. "If a woman is experiencing symptoms of anxiety that feel really distressing or are overwhelming her ability to cope, function or parent," Hesser says, "she should be seen by a professional trained in assessing perinatal mood and anxiety disorders."
Dr. Venuto agrees, adding that while new parents may experience intermittent worry, you'll know you're experiencing postpartum anxiety when your symptoms are impairing your ability to function at home or the workplace.
Dr. Venuto provides some examples:
A mother who is so worried about dropping her baby down the stairs that she resides only on the first floor of her home or crawls up or down the stairs when holding the baby.
A mom who feels such debilitating anxiety about her baby's sleep schedule that they avoid all social occasions and opportunities to leave the house that do not perfectly align with their baby's nap schedule.
A mom who is so worried about her healthy baby contracting a virus that they never leave the house and may not permit healthy visitors to enter the home.
Treatment options for postpartum anxiety
There are a range of treatment options available for women dealing with postpartum anxiety. Dr. Venuto recommends the following:
She also points to self-care as part of recovery, but notes that it is highly unlikely to eliminate the symptoms of postpartum anxiety on its own. Self-care includes:
Healthy eating (having nutritious snacks on hand)
Resting (sit and close your eyes even if you cannot sleep)
Exercising (this doesn't mean running a marathon – even a 10 minute walk can boost one's mood and diminish worries)
Socialization (attending a mother's group, going out to buy a cup of coffee instead of making it at home)
Hesser adds that "both individual and group therapy can be helpful," and in particular urges women with early symptoms or a history of anxiety or depression to seek treatment: "The sooner you get help, the better!"
Medication is another option for some women. Hesser and Park both note that SSRIs (selective serotonin reuptake inhibitors) such as Zoloft are often prescribed, though some physicians may recommend other medications. "Always consult with your prescriber about concerns involving medication, and never change your medication use without consulting with your prescriber," Hesser emphasizes.
Park also recommends prioritizing self-care as possible. "I recommend starting light exercises like yoga early in the postpartum period and to leave the house once a day for fresh air," she says, adding that building routines around getting adequate sleep is also an important step. Additionally, she urges women facing postpartum anxiety to take time for connecting with their partners. "It may be daunting to leave an infant for a date night," she notes, "[but] it is important to spend quality time with your spouse over simple activities like going for a walk or getting a cup of coffee."
Finally, Park notes that support groups can also be a helpful way for new mothers to connect with others in similar situations and reduce symptoms of postpartum anxiety.
How long does postpartum anxiety last?
Unfortunately, there's no way to know for sure how long postpartum anxiety will last. If left untreated, says Dr. Venuto, it can linger for months – if not years.
With evidence-based support, women may notice a reduction in their anxiety within 8-12 weeks. However, there is no set timeline for recovery.  Symptom reduction depends on the unique situation and treatment.
"Sometimes women tell me they were told it will go away when they deliver or stop nursing," Hesser says, pointing out that "those are myths that sometimes prevent women from getting help sooner." Bottom line? "There's no reason to wait to go for an evaluation."
When to seek treatment for postpartum anxiety?
Park recommends seeking treatment whenever excessive worry becomes uncontrollable and interferes with day-to day-activities or with your ability to enjoy your new life as a mom.
Supporting a loved one with postpartum anxiety
Hesser notes that one of the things that mothers struggling with postpartum anxiety need most is understanding. Venuto agrees, adding that many women fear pursuing treatment "because of the stigma surrounding mental health challenges in our culture."
"[Help her] understand that she is not alone, she is not to blame, and with help, she will be well." These words are the motto of Postpartum Support International, whose website Hesser recommends as a helpful source of information for loved ones.
Hesser also says that practical help, such as childcare for older children, or anything else that can "enable a mother to sleep and have time to rest" is also an invaluable form of support.
Once you've encouraged someone with postpartum anxiety to receive treatment from a trained professional, Dr. Venuto recommends providing concrete, consistent support. "Cook her a meal, clean her house, provide childcare so she can rest or leave the house." Having faith that they will get better and sharing your optimism with them? That, in itself, may provide a beacon of hope during a scary and uncomfortable time.
How to find a therapist for postpartum anxiety
Anyone seeking a therapist for postpartum anxiety should prioritize both the therapist's expertise and the level of comfort that you feel with the therapist. You should feel "that you can open up to the therapist and that she or he truly understands what you are experiencing," Hesser says.
She also recommends finding a therapist who specializes in working with perinatal women. These therapists have an in-depth understanding of attachment as well as evidence-based treatment modalities for perinatal mood disorders. They can easily describe what those modalities are, why they help, and--after getting to know you a bit--which might be most helpful for you.
If you're looking for a therapist who specializes in postpartum anxiety, use Zencare's Specialities filter in our therapist directory. Check out a few therapist profiles, including their introductory videos and professional statements. Once you find a therapist that looks like a great fit for you, book a consultation call with them and get started!