Finding an affordable therapist in Seattle can be difficult. Most private practice therapists charge between $150 - $200+ per session and finding in-network therapists can be overwhelming: health insurance websites are often outdated and inaccurate, and those who are in-network are hardly ever accepting new patients because their services are so in-demand.
If you do not have the financial means to afford the typical Seattle therapy fees, there are a number of ways to afford therapy on a budget, including sliding scales and using out-of-network benefits.
If sliding scales are still above what you can afford, below are institutes that offer need and income-based low cost therapy services, most provided by non-profits and therapist training institutions.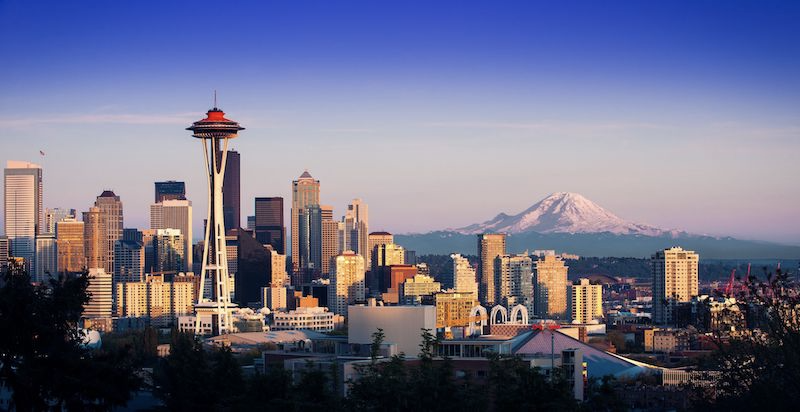 Low cost therapy for college students in Seattle
Seattle Pacific University Family Therapy Clinic
The Family Therapy Clinic consists of a team of professionals in mental health that includes professors, credentialed family therapists and therapists-in-training. The clinic operates under the supervision of the graduate Marriage & Family Therapy program at Seattle Pacific University. The clinic's approach to participate in the healing of individuals and their relationships is to focus on the patterns, stories, and contexts of their lives. Issues that therapists specialize in include school issues, grief, trauma, relationship issues, anxiety, life transitions, and spiritual concerns.
Focus areas
Adolescent, adult, individual, family, group, and couples therapy
Fees
Fees are sliding scale.
Location
3307 3rd Ave W
Seattle, WA 98119
Contact information
206.281.2819
CityU of Seattle Counseling Center
The City University of Seattle Counseling Center is an outpatient counseling center that offers low-cost counseling services and is open to students and the public. Counselors are graduate students from CityU's Master of Arts in Counseling program who are supervised by CityU staff with extensive clinical and supervision experience. The staff is trained to provide professional and compassionate services in a safe, confidential environment. Since it is a training clinic, the CityU Counseling Center is unable to provide psychiatric, case management or crisis services, but can coordinate service with other providers.
Focus areas
Individual counseling, students
Fees
The CityU Counseling Center is subsidized and therefore offers services for a nominal fee – often as low as $5 to $25 per session. For clients who lack adequate insurance coverage, have exhausted benefits or cannot afford co-payments, the counseling center is able to help.
Location
521 Wall St #100
Seattle, WA 98121
Contact information
206.239.4760
Low cost therapy for LGBTQ folks in Seattle
Mend Seattle
Mend Seattle provides quality, low-cost mental health counseling to individuals, couples and groups. The clinic values understanding critical social theory and an anti-oppressive lens to inform their approach towards therapy, counseling, and supporting human transformation. The emphasis is on serving the QTBIPOC (Queer, Trans, Black, Indigenous, People of Color) Community. The staff is made up of a team of interning and licensed therapists.
Focus areas
LGBTQ+, individual therapy, couples therapy, group therapy
Fees
Mend Seattle offers a sliding scale, with the minimum pay range being $40-60 per week. They do not ask for income, but rather ask clients to honestly consider what they can sustainably pay.
Location
200 1st Ave W
Seattle, WA 98119
Contact information
206.660.4396
Seattle Counseling Service
Seattle Counseling Service (SCS) is a community-based organization that provides an array of mental health services for members of the LGBTQ community and their significant others. They help individuals and families with everything from single episode to mild to severe persistent mental illness. A special emphasis is placed on strengths-based counseling because we believe in the power and ability of each person to heal themselves. All counseling is LGBTQ-affirmative and conducted in an atmosphere free from homophobia, prejudice, fear, ignorance and cisexism.
Focus areas
LGBTQ+, individual, couple, family, and group counseling, medication management, addiction services
Fees
For mental health services, SCS accepts coverage from Premera, Community Health Plan of Washington, Lifewise, Kaiser Permanente PPO, Kaiser Permanente HOM with Authorization, 1st Choice Health, Regence, Bridgespan, and Molina. For clients that qualify as low-income, fees are sliding scale and Medicaid is also accepted.
Locations
1216 Pine Street, Suite 300
Seattle, WA 98101
Contact information
206.323.1768
Low cost therapy in different languages in Seattle
Asian Counseling and Referral Service
Asian Counseling and Referral Service (ACRS) provides community-based multilingual and multicultural services to Asian Americans and Pacific Islanders and other underserved communities - including immigrants, refugees, and American-born. ACRS offers culturally, linguistically and clinically competent counseling services to individuals, couples and families through culturally specific and individualized mental health counseling.
Focus areas
Adult, youth counseling, multicultural counseling, case management
Fees
Depending on eligibility, most services are offered free of charge or provided on a sliding-scale based on family size and income. ACRS also accepts many forms of insurance.
Location
3639 Martin Luther King Jr. Way S
Seattle WA 98144
Contact information
206.695.7511
Ukrainian Community Center
The Ukrainian Community Center of Washington (UCCW) is a nonprofit focused on helping Eastern European refugees and immigrants predominantly from the former Soviet Union overcome language, cultural, educational and social barriers. UCCW offers behavioral health services with a collaborative and family-oriented emphasis. Family counseling is provided, as well as individual counseling, which is still viewed within the context of the whole family. The staff is made up of professional bilingual and bicultural Behavioral Health Counselors, who are trained to overcome the barriers and obstacles that confront clients. Services are provided in English, Polish, Russian, Ukrainian, and Belarusian.
Focus areas
Individual and family counseling, multicultural counseling, elderly support, case management
Fees
UCCW serves low-income individuals and families at free or low-cost.
Location
13470 Martin Luther King Jr Way
Seattle, WA 98178
Contact information
425.430.8229
Low cost therapy for veterans in Seattle
Make the Connection
Make the Connection is an online resource for veterans, their family members, and friends, who are seeking local support and treatment options for mental health. They provide information about signs and symptoms of topics such as alcohol or drug problems, eating disorders, chronic pain, feeling on edge, trouble sleeping, and many more. They also provide information about different medical conditions such as depression, anxiety, PTSD, bipolar, and schizophrenia. Make the Connection posts videos from other veterans about their experiences and life challenges since leaving the military.
Focus areas
Military veterans mental health information and resource locator
Fees
Make the Connection is a free resource
Location
N/A
Contact information
Veterans Crisis Line: 1.800.273.8255 (Press 1)
Valley Cities Active Military and Veterans Services
Valley Cities Behavioral Health Care provides caring, compassionate treatment, recovery, and support services to people struggling with substance use and mental health challenges. Staff are available to help veterans navigate through relevant resources, including for housing, financial benefits, medical benefits, employment, upgrading discharge, education or other specific issues. Navy veterans Bob Wilson and Starr Lehnus also provide military and culturally sensitive therapy to veterans. Clients who have served in any branch of the United States Military regardless of discharge are eligible. Current spouses or dependent children may also be eligible.
Focus areas
Military veterans and family members
Fees
All services are free to eligible veterans, active duty, National Guard, army reservists, and their family members.
Location
There are 10 locations throughout King County and one clinic in Pierce County. Outpatient clinics are located in Auburn, Enumclaw, Federal Way, Kent, Midway, Renton, and multiple neighborhoods in Seattle.
Contact information
M - F: 7:30am to 6:30pm
253.833.7444
206.461.3222 (24-hour crisis line)
King County Veterans Program
King County Veterans Program (KCVP) works with partners to provide financial, housing, employment and other supportive services to veterans, service members and their families throughout King County. Through a collaborative case management process, veterans are assigned to a social service professional who will help determine the type and levels of services and resources for which you may be eligible. Social service professionals can connect veterans to physical and mental health resources, assistance with substance use disorders, post-traumatic stress disorder, or traumatic brain Injury resources, and connections to social groups and supports.
Focus areas
Military veterans and family members
Fees
Financial assistance is based on the client's current income and calculated upon review of necessary personal financial documents. When visiting a King County Veterans Program office, veterans should bring their ID, proof of service and proof of income.
Location
2106 2nd Avenue, 1st Floor
Seattle, WA 98121
Contact information
M - F: 8:30am to 4:30pm
M/W/Th: 8:30am to 11am; T: 1pm to 3pm (walk-in hours)
206.477.8282
Low cost therapy for the homeless in Seattle
Valley Cities Homeless Services
Valley Cities' Homeless Services offers a range of health outreach programs and services to families enduring homelessness in King County. Mental health, substance use, health care access, and case management services are their specialties. Services are offered on an outreach basis in shelters, transitional housing programs, and a wide variety of other community locations, as determined by the needs of the family. Other services are rapid crisis response, vocational training, and additional support to high needs homeless families in King County. The primary goal of the program is to assist families in achieving and maintaining housing stability and to reunify families that have been separated by Child Protective Services. Referrals come through domestic violence shelters or other service providing agencies.
Focus areas
Residential and mental health services for homeless, substance use treatment
Fees
There are no fees for services.
Location
There are 10 locations throughout King County and one clinic in Pierce County. Outpatient clinics are located in Auburn, Enumclaw, Federal Way, Kent, Midway, Renton, and multiple neighborhoods in Seattle.
Contact information
M - F: 7:30am to 6:30pm
253.833.7444
206.461.3222 (24-hour crisis line)
Low cost therapy for older adults in Seattle
Consejo Counseling: Older Adult Outpatient Mental Health Program
Consejo is a counseling center that assists adult, adolescent, children, and families to identify concerns and problem areas in their lives that need change. Consejo's Older Adult Services aims to address behavioral health conditions among the elderly with severe cognitive issues, mood disorders and emotional impairment that affect their daily functions. Some of these include Alzheimer's disease, depression, anxiety, and effects from traumatic events. Consejo's Older Adult program evaluates for the following potential triggers for mental illness in the elderly community.
Focus areas
Adults, older adults, adolescents, children, families
Fees
Fees are sliding scale.
Location
3808 S Angeline St.
Seattle, WA 98118
Contact information
206.461.4880
Free helplines in Seattle
Crisis Connections
Crisis Connections, formerly known as Crisis Clinic, is one of the oldest Crisis Lines in the nation, and home to five programs focused on serving the emotional and physical needs of individuals across Washington State. These programs include the 24-Hour Crisis Line, King County 2-1-1, Teen Link, WA Recovery Help Line and WA Warm Line. With over 400 trained volunteers and experienced staff, Crisis Connections provides support, resources and certified training for King County and other communities statewide. Crisis Connections helplines connect people in physical, emotional and financial crisis to services that will be of help.
Focus areas
Free mental health helpline
Fees
This is a free resource for everyone.
Location
N/A
Contact information
866.427.4747 (24-Hour Crisis Line)
866.833.6546 (Teen Link)
877.500.9276 (WA Warm Line)
Other low cost therapy services in Seattle
Bastyr Center for Natural Health
Bastyr Center for Natural Health (BCNH)'s counseling services offer support for patients dealing with depression, fatigue, seasonal affective disorder, work-related stress, relationship issues, life transitions, and health problems, especially chronic health problems. BCNH is ideally suited to provide short-term treatment (typically no more than 12 sessions). Appointments are generally scheduled on a weekly basis. Counselors are student clinicians who are closely supervised by a licensed mental-health professional. Patients can be referred to outside services when appropriate.
Focus areas
Adult counseling, depression, life transitions, health problems
Fees
The regular price for counseling appointments is $25.
Location
3670 Stone Way N.
Seattle, WA 98103
Contact information
206.834.4100
Atlantic Street Center
Atlantic Street Center is a non-profit social service agency providing services to children, youth, and their families. They help families and communities raise healthy, successful children and youth through direct services and advocacy for social justice and equity. Services include education, family support, and behavioral health counseling to the low-income minority populations of King and Pierce Counties. Clients come primarily from communities of color including African Americans, immigrants, and refugees, with the vast majority classified as low- and very low-income.
Focus areas
Children, youth, families
Fees
Since the center serves low-income youth and families of color, clients must have Medicaid or be Medicaid-eligible.
Location
2103 South Atlantic Street
Seattle, WA, 98144
Contact information
M - F: 9am to 5pm
206.329.2050