Finding an affordable therapist in Raleigh can be a difficult process. Many private practice therapists charge between $120 - $150+ per session and finding in-network therapists can be arduous: health insurance websites are often not up-to-date, and those providers who are in-network are often at capacity because their services are so in-demand.
If you don't have the financial means to afford the typical Raleigh therapy fees, there are a number of ways to afford therapy on a budget, including sliding scales and using out-of-network benefits.
If sliding scales are still above what you can afford, below are options that offer need- and income-based low-cost therapy services, most provided by non-profits and therapist training institutions.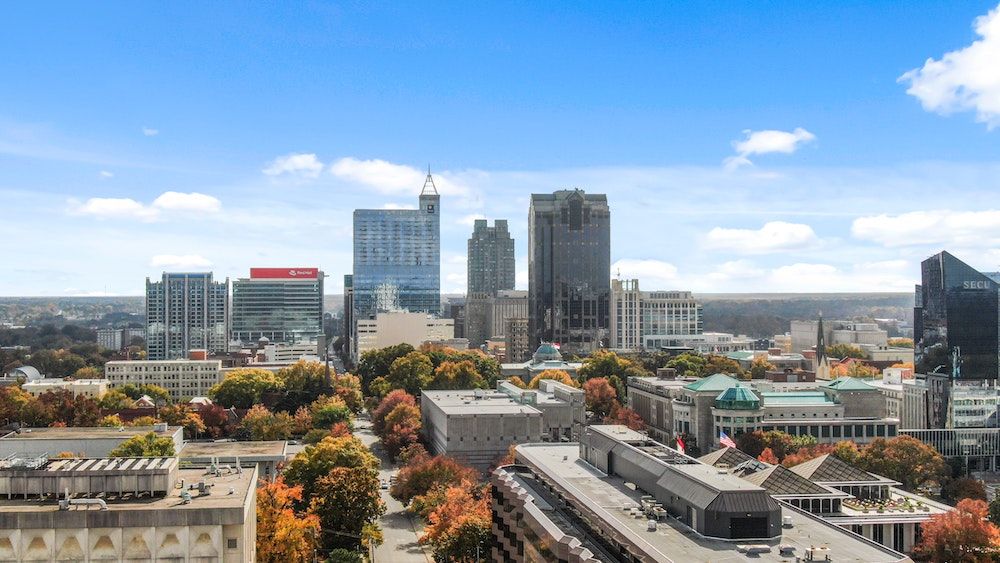 Low cost therapy for college students in Raleigh
Pfeiffer's Marriage and Family Therapy Clinics
Pfeiffer Institute for Marriage and Family Therapy (PIMFT) and Pfeiffer Institute Reach are therapy clinics established to provide training opportunities for master's level graduate students in the Marriage and Family Therapy (MFT) Program at Pfeiffer University. Therapist interns provide direct services for individuals, couples, families, and groups. Therapy services are provided for depression and anxiety, grief counseling, work and career issues, stress management, life transitions, and more.
Focus areas
Individuals, couples, families, groups
Fees
Students and faculty from local colleges and universities receive a discounted rate of $15 per session. The cost per therapy session for non-affiliated clients is $30 per 50-minute session.  For those in financial need, a sliding scale fee is available after the initial session.
Location
600 Airport Boulevard, Suite 600
Morrisville, NC 27560
Contact information
919.941.2900
UNC Psychology Department Community Clinic
The UNC Psychology Department Community Clinic (the Clinic) is dedicated to providing high quality and affordable psychological services to the triangle community and the UNC campus through specialty clinics for children, adolescents, adults, couples and families. Adult therapy covers issues such as anxiety, grief, anger, academic or vocational functioning, interpersonal relationships, family, self-esteem, and sexual orientation.
Focus areas
Adults, adolescents, anxiety, academic functioning, self-esteem, relationships
Fees
Reduced fees are offered based on income. The fees will be discussed and established during the phone screening with a graduate assistant.
Location
500 Finley Golf Course Rd
Chapel Hill, NC 27599
Contact information
919.962.6906
Low cost therapy for LGBTQ folks in Raleigh
Triangle Pastoral Counseling
Triangle Pastoral Counseling is a diverse and highly-trained staff of pastoral counselors and psychotherapists are committed to enhancing mental health through counseling that integrates cognitive, emotional, physical and spiritual issues. Clients are individuals, couples, families and children. Issues worked with include addictions, anxiety, depression, life transitions, stress, trauma, relationships, and sexuality. There are counselors who are trained to serve the LGBTQ+ community, with issues including coming out, dealing with orientation and/or identity, struggling with hostile cultures (familial and religious), and more.
Focus areas
LGBTQ+, counseling
Fees
Insurance is taken, and fees are adjustable based upon income for those without insurance.
Location
200 High Meadow Dr.
Cary, NC 27511
Contact information
919.845.9977
Low cost therapy in different languages in Raleigh
Fellowship Health Resources
Fellowship Health Resources is a nonprofit that provides behavioral health services to improve the quality of life for individuals living with mental illness and addictions. Services include assessment, individual, group, and family therapy, as well as psychiatric evaluation and medication monitoring. Some of the evidence-based practices include Seeking Safety, Cognitive Behavioral Therapy (CBT), Motivational Interviewing (MI), and Wellness Recovery and Management (WRM). Services are available in English and in Spanish.
Focus areas
Individual, group, family therapy, assessments, Spanish-speaking
Fees
Fellowship Health Resources in North Carolina accepts Medicaid, State Funded IPRS, BCBS, and also provides a sliding fee scale.
Location
5509 Creedmoor Rd
Raleigh, NC 27612
Contact information
919.573.6520
Catholic Charities Raleigh
Catholic Charities provides professionally-trained bilingual (English and Spanish) counseling services to individuals, couples, and families. Clients are often those who are experiencing emotional distress, want to grow toward their full potential, experiencing difficulty dealing with depression or anxiety, want to increase skills to deal with life's struggles, and desire healing from grief, loss, or strained relationships. Counseling is provided from a perspective that recognizes the emotional, behavioral, cognitive, spiritual, and physical aspects of an individual's healing or growth.
Focus areas
Individuals, couples, families, Spanish-speaking
Fees
Fees are decided on a subsidized sliding fee scale, based on income and other circumstances.
Location
3000 Highwoods Blvd # 128
Raleigh, NC 27604
Contact information
919.790.8533
Low cost therapy for veterans in Raleigh
Make the Connection
Make the Connection is an online resource for veterans, their family members, and friends, who are seeking local support and treatment options for mental health. They provide information about signs and symptoms of topics such as alcohol or drug problems, eating disorders, chronic pain, feeling on edge, trouble sleeping, and many more. They also provide information about different medical conditions such as depression, anxiety, PTSD, bipolar, and schizophrenia. Make the Connection also posts videos from other veterans about their experiences and life challenges since leaving the military.
Focus areas
Military veterans mental health information and resource locator
Fees
Make the Connection is a free resource
Location
N/A
Contact information
Veterans Crisis Line: 1.800.273.8255 (Press 1)
Veterans Clinic - Raleigh II
The Veterans Clinic - Raleigh II offers mental health treatment services in an outpatient setting. Services include couples/family therapy, individual therapy, medication, trauma treatment, behavior modification, tobacco cessation counseling, suicide prevention services, peer support services, supported housing, nicotine replacement therapy, chronic disease and illness management, family psychoeducation, and more.
Focus areas
Veterans, mental health, substance abuse, medication, therapy
Location
3040 Hammond Business Place Suite 105
Raleigh, NC 27603
Contact information
919.899.6259
Low cost therapy for the homeless in Durham
Haven House Youth Services
This is a service center for youth up to age 24. Youth can go to this location to ask for help through specialized services for young people. Haven House Services runs 11 different programs that help more than youth who are homeless, in crisis, or facing significant life challenges. Services can range from transitional housing, to case management, referrals, crisis intervention, and family support. Clinical and counseling services include screenings and clinical assessments for those in the juvenile justice system, crisis counseling, and individual and family counseling.
Focus areas
Homeless, youth
Fees
Costs depend on the program. Some programs are free of any charge.
Location
600 W. Cabarrus Street
Raleigh, NC 27603
Contact information
919.833.3312
Genesis Home
Genesis Home works to end homelessness for families with children and for young adults by providing housing and supportive services to foster independence.
Focus areas
Homeless, families, children, young adults
Location
300 N. Queen Street
Durham, NC 27702
Contact information
919.683.5878 (ext. 22)
Low cost therapy for older adults in Raleigh
Hope and Restoration Pathways
Hope and Restoration Pathways (HARP) offers individual and marriage counseling. Issues covered in individual therapy include mental illnesses, traumatic life events, financial instability, substance abuse treatment, and more. Therapists are prepared to assess each individual's need for counseling services and develop an appropriate treatment plan. Therapists are trained to help with issues such as health problems, loss related to aging, adjustment to retirement or aging, family conflict, and more.
Focus areas
Individual, marriage counseling, older adults
Fees
HARP accepts insurance. For those unable to pay the standard fee for counseling services, HARP will at times offer charity care services or utilize a sliding fee scale.
Location
310 New Fidelity Ct
Garner, NC 27529
Contact information
919.744.4461
Lincoln Community Health Center
Lincoln Community Health Center provides accessible, affordable, high quality outpatient health care services to the medically underserved. The Behavioral Health Clinic at Lincoln is a specialty area that focuses on mental health issues such as depression, anxiety, stress, and substance abuse. Individual psychosocial assessments are provided with recommendations for follow-up treatment which may include medications, one on one counseling, or referral into the community where patient needs may be met more appropriately. Services include psychiatric assessments and medication monitoring, psychosocial assessments and follow-up counseling, substance abuse assessments and treatments, case management, and crisis assessment and referrals. The staff are trained to provide services to older adults.
Focus areas
Older adults, therapy, assessments, medication
Fees
Payment is based on a sliding scale, depending on income and family size.
Location
1301 Fayetteville St.
Durham, NC 27702
Contact information
919.956.4000
Free helplines in Raleigh
NAMI North Carolina
The National Alliance on Mental Illness (NAMI) NC's hotline is 1.800.451.9682 (or text at 919.999.9527) and can be reached for crisis resources and information.
Focus areas
Free helpline
Contact information
1.800.451.9682
Hope4NC Helpline
The Hope4NC Helpline (1.855.587.3463) connects North Carolinians to additional mental health and resilience supports that help them cope and build resilience during times of crisis.
Focus areas
Free helpline
Contact information
1.855.587.3463
Other low cost therapy services in Raleigh
New Leaf Behavioral Health
New Leaf Behavioral Health is non-profit community mental health organization providing affordable and effective mental health services. Individual counseling can cover issues such as depression, relationship problems, anxiety, anger management, stress management, career adjustments, crisis and trauma, divorce and family issues, eating disorders, and more. Additionally, family, couples, and group therapy are provided. Children and adolescents are also served.
Focus areas
Individual, family, couples, group therapy
Fees
Most major insurances are accepted. New Leaf also offers a reduced fee program for those without insurance or who have limited mental health benefits. Fees for services are designed to be highly affordable with rates as low as $5 per session.
Location
3725 National Drive
Suite 220
Raleigh, NC 27612
Contact information
919.781.8370
Cornerstone Family Services Group
CornerStone FamilyServices Group serves clients through a person-centered service system focused on recovery and integrating substance abuse and behavioral health to improve health outcomes. Person-centered means that providers listen to the person receiving care, help the person understand their choices, and always affirm that people can be in control of their own lives and recovery. Services include individual, group, and family therapy, play therapy, art therapy, anger management programs, cognitive behavioral therapy, in home intensive therapy, conflict resolution and problem solving skills, stress management and self-esteem building, and more.
Focus areas
Individual, group, family therapy, art therapy
Fees
Cornerstone Family Services Group accepts most insurances, including Medicaid. There is an additional $10 dollar copay for uninsured or under-insured individuals.
Location
7408-A Siemens Rd
Wendell, NC 27591
Contact information
919.404.8599
Mariam Clinic
Mariam Clinic operates on the belief that every human being has a right to live in dignity, and that access to affordable healthcare is an essential human need. Mariam Clinic offers mental health services to eligible existing patients. Mental health services cover issues including mood disorders, depression, bipolar disorder, anxiety disorders, trauma-related disorders, and dual diagnosis.
Focus areas
Mental health, mood and anxiety disorders, dual diagnosis, trauma
Fees
Mariam Clinic is funded through donations, and provides free care to patients. Mariam Clinic provides services to adults (age 18+) who are at or below 200% of the poverty level who do not have any health insurance.
Location
1021 Darrington Drive
Cary, NC 27513
Contact information
919.824.4672
The Mindly Group  
The Mindly Group offers counseling and psychotherapy services for those of all ages. Therapists are trained to help with issues such as anxiety, anger management, depression, grief and loss, and more. Low cost counseling options are provided through clinical interns, who are unlicensed graduate students in training. All services provided by clinical interns are supervised by a fully licensed mental health professional. Clients receiving services from a clinical intern will be offered the opportunity to both communicate and meet face-to-face with the intern's clinical supervisor upon request. Clients have the right to transition services to a licensed mental health professional at Mindly at any time; however, regular service fees will apply.
Focus areas
Individuals, adults, teens, couples
Fees
Major health insurances, including Medicare and Medicaid, are accepted. Sliding scale is not offered, but clinical interns provide low cost counseling options, as opposed to licensed mental health professionals with higher fees.
Location
8406 Six Forks Road
Suites 201 & 204
Raleigh, NC 27615
Contact information
919.617.9656