Finding an affordable therapist in Austin can be difficult. Most private practice therapists charge between $150 - $200+ per session and finding in-network therapists can be overwhelming: health insurance websites are often outdated and inaccurate, and those who are in-network are hardly ever accepting new patients because their services are so in-demand.
If you do not have the financial means to afford the typical Austin therapy fees, there are a number of ways to afford therapy on a budget, including sliding scales and using out-of-network benefits.
If sliding scales are still above what you can afford, below are institutes that offer need and income-based low cost therapy services, most provided by non-profits and therapist training institutions.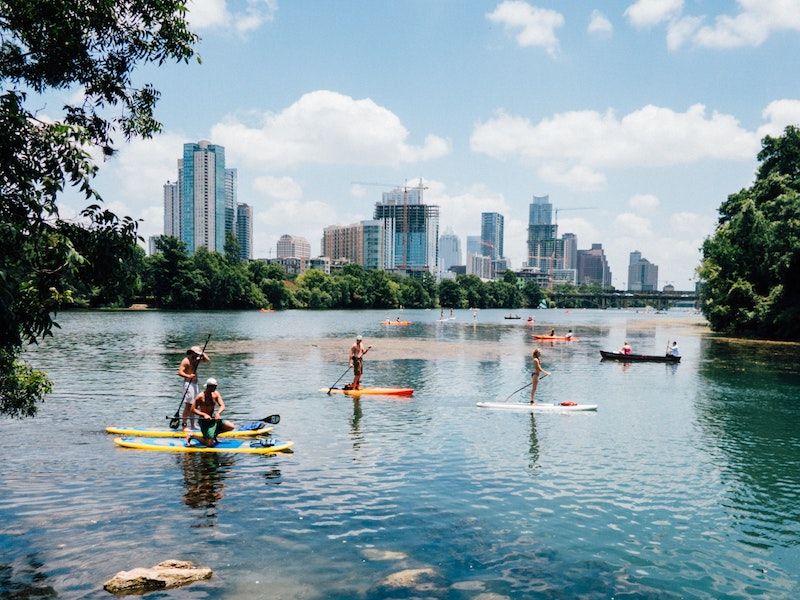 Low cost therapy for college students in Austin
Assessment & Counseling Clinic @ Texas State University
The Assessment & Counseling Clinic (ACC) serves to meet the mental health needs of persons in the university, San Marcos and Hays County communities. Located on the first floor of the Education Building on the Texas State campus, the ACC is a resource for people who are, or may be, in need of counseling. The ACC offers counseling for a variety of concerns to couples, families and individuals ages 3 and older. Counseling at the ACC is provided by Master's level interns who are pursuing a graduate degree in Counseling. All interns are supervised by professors in the Professional Counseling Program.
Focus areas
Individual, families, and couples counseling
Fees
All fees at the ACC are based on a sliding scale. Counseling sessions are $20 per hour, and less for those who cannot afford that price.
Location
1st floor, Education Building
601 University Dr (Texas State University)
San Marcos, TX 78666
Contact information
512.245.8349
Anxiety & Stress Clinic
The Institute for Mental Health Research's Anxiety & Stress Clinic, located at the University of Texas at Austin (UT), is dedicated to providing high quality and affordable individual and group therapy for a variety of anxiety and stress-related disorders to the Austin community. Treatment services are designed to provide effective psychological care in a compassionate environment to members of the UT campus and the general public. Services are provided by faculty-supervised doctoral students in UT's Clinical Psychology doctoral program, and on a limited basis by licensed psychologists. A range of anxiety disorders are treated, including social anxiety disorder, generalized anxiety disorder, specific phobias, panic disorder, and agoraphobia. Anxiety related issues such as obsessive-compulsive disorder, post-traumatic stress disorder, and depression, are also addressed.
Focus areas
Anxiety, phobias, depression, stress-related disorders
Fees
Payments from insurance providers are not accepted. Fees are discussed and established during initial evaluations with the clinician. Fees for individual therapy vary between $45 to $160 per 50 minute session. Group sessions are $25. A varying rate is provided on a sliding scale determined by annual income.
Location
Patton Hall (RLP 4.106), 305 E. 23rd (UT Austin campus)
Austin, TX 78712
Contact information
anxietystressclinic@utexas.edu
Low cost therapy for LGBTQ folks in Austin
The Center for Relationships
Affordable relationship-focused counseling is provided at the Center for Relationships for individuals, couples, families, and groups. Therapists use a multicultural, spiritual, LGBTQ, and non-monogamy sensitivity approach to counseling. Therapists deeply respect clients as resilient, whole humans who are capable of healing and flourishing in relationship to self, others, work, and community. Clients are matched with a collaborative treatment team dedicated to co-creating a safe, respectful atmosphere of trust necessary for growth, connection, and transformation. All counselors are trained in Gottman Method Couples Therapy (Levels 1-3), Relational-Cultural Model, and other current models of relational counseling. Other services offered are individual and couples yoga therapy, trauma-informed care, ongoing groups for clients and professionals, and couples intensives and retreats.  
Focus areas
Relationship-focused counseling, LGBTQ, individual, couples, groups, families
Fees
Counseling services range from $50 to $150.
Locations
5800 Berkman Drive,
Austin, TX 78723
Contact information
512.465.2926
Shalom Austin Jewish Family Service
Shalom Austin Jewish Family Service is the professional human service and mental health branch of Shalom Austin. JFS provides a wide array of mental health and support services to the Jewish community and to the wider Austin community, including counseling and psychotherapy, support groups, emergency financial assistance, and community consultation and education programs. Licensed clinicians can see teens, adults, couples, and families. Clinicians work with clients who want to manage mental health symptoms, life transitions, LGBTQIA+ concerns, trauma, relationships, and substance abuse.
Focus areas
Adults, couples, families, adolescents, LGBTQIA+, trauma, relationships, substance abuse, life transitions
Fees
Service is offered either on a sliding fee scale or through eligible insurance.
Locations
7300 Hart Lane,
Austin, TX 78731
Contact information
512.250.1043
Waterloo Counseling Center
Waterloo Counseling Center is a nonprofit providing low-cost counseling services in a culturally-affirming and accepting environment, for Austin and the surrounding area. Waterloo therapists help clients identify and set goals for therapy and work on what is most important. All Waterloo therapists are passionate about and are dedicated to providing LGBTQIA+ affirming therapy in a safe and supportive environment. Couples, family, and group therapy are also offered. Services are provided in English and Spanish.
Focus areas
LGBTQIA+ affirming therapy, individual, couples, family, and group therapy
Fees
Fees are based on a sliding scale for people who are uninsured. Waterloo accepts many major forms of insurance, including Medicaid and Medicare.
Locations
314 E Highland Mall Blvd, Suite 301
Austin, TX 78752
Contact information
512.444.9922
Low cost therapy in different languages in Austin
SAFE Austin
SAFE (Stop Abuse for Everyone) Austin provides confidential counseling and therapeutic services for survivors during their healing process to help move beyond the violence and trauma. The Therapeutic and Counseling program is designed to meet survivors wherever they are in the process of healing. Through education on the dynamics of interpersonal violence and the development of goals, survivors are supported as they heal from trauma and reclaim their lives. Counseling services are provided in multiple languages, including Spanish and American Sign Language. Individual, group, and family counseling are offered. Family counseling focuses on relationships and the health of the entire family. A variety of counseling groups fit all people and needs, including groups for drop-in clients, teens, Spanish-speaking clients, people with disabilities, women of color, men, and more.
Focus areas
Individual, group, and family counseling, abuse, trauma, multilingual counseling
Fees
SAFE provides free counseling.
Location
1515 Grove Blvd.
Austin, Texas 78741
Contact information
512.267.SAFE (7233)
737.888.7233 (text)
Capital Area Mental Health Center
Created in response to a growing need for quality mental health services at an affordable price, Capital Area Counseling (CAC) is a nonprofit providing low cost, effective and accessible psychotherapy to Central Texans. Counseling at CAC is available for adults, adolescents, children, couples and families in English and Spanish. Group therapy is also available.
Focus areas
Individual, couples, families, and group counseling, bilingual counseling
Fees
Fees range from $10 to $55 per session, and are based on income and household size. A 10% discount is available to clients if they pay in advance for at least 4 sessions.
Location
2824 Real Street
Austin, TX 78722
Contact information
512.302.1000 ext. 100
Low cost therapy for veterans in Austin
Make the Connection
Make the Connection is an online resource for veterans, their family members, and friends, who are seeking local support and treatment options for mental health. They provide information about signs and symptoms of topics such as alcohol or drug problems, eating disorders, chronic pain, feeling on edge, trouble sleeping, and many more. They also provide information about different medical conditions such as depression, anxiety, PTSD, bipolar, and schizophrenia. Make the Connection posts videos from other veterans about their experiences and life challenges since leaving the military.
Focus areas
Military veterans mental health information and resource locator
Fees
Make the Connection is a free resource
Location
N/A
Contact information
Veterans Crisis Line: 1.800.273.8255 (Press 1)
Phoenix House
Phoenix House provides individualized, holistic drug and alcohol addiction treatment. The approach is committed to treating the whole person - and their families - with caring, qualified professionals in the fields of psychiatry, medicine, mental health, social work, education, and recovery support. In particular, Phoenix House offers military and veteran services, including substance abuse, mental health, and other support services that are specifically designed to address the unique experiences and challenges of the military community.
Focus areas
Military veterans, substance abuse, mental health
Fees
Phoenix House accepts self-payment, with different rates for services depending on the program. State-, county-, and Medicaid-funded services are provided to qualifying individuals.
Location
3000 S Interstate 35
Austin, TX 78704
Contact information
888.671.9392
Low cost therapy for the homeless in Austin
Austin Resource Center for the Homeless (ARCH)
ARCH is a city-owned housing-focused shelter located in downtown Austin, managed by Front Steps. Doors are open to everyone, whether this is their first time being homeless, or they have been living on the streets for years. The ARCH is designed to assess client needs, provide information on how and where to access services, and meet the basic emergency needs of homeless adults. It offers emergency shelter, basic services and connections to housing. Services include case management, job placement, legal assistance, veteran services, mental health services, and healthcare through the CommUnity Care Clinic.
Focus areas
Homeless, housing shelter, mental health services, veteran services, case management
Location
500 E 7th Street,
Austin, TX 78701
Contact information
512.305.4100
Low cost therapy for older adults in Austin
Austin Family Institute
Austin Family Institute (AFI) provides therapy to all; it offers couples and family therapy, as well as individual and child and adolescent therapy. Counselors are trained to provide older adults a supportive environment to work through issues such as depression, grief and loss, mental illness, low self-esteem, chronic pain, developmental disabilities, abuse and trauma, self-harming behaviors, life transitions, later-life issues, and more.
Focus areas
Individual, family, and group counseling, life transitions, later-life issues
Fees
Directors and faculty operate at a fixed fee. All associate therapists operate on a sliding scale. To determine the sliding scale cost for associate therapists, income and number of dependents are determined.
Location
4201 Bee Cave Road, Suite C213
Austin, TX 78746
Contact information
512.329.6611
Free helplines in Austin
Integral Care 24/7 Helpline: 512-472-HELP
Integral Care's 24/7 Helpline provides around the clock crisis support as well as access to all programs and services for adults and children, including appointments and billing. The team will listen to and care about callers, and support callers without judgement and provide immediate support in a mental health crisis. Individuals seeking help or services should start by calling the 24/7 Crisis Hotline, a uniform telecommunications system that links all of Integral services. Hotline clinicians offer support to anyone seeking help, identifying how they can best be served and quickly linking them with the most appropriate resources and ensuring they receive the best care possible.
Focus areas
24/7 free mental health helpline
Fees
This is a free resource.
Location
N/A
Contact information
512.472.HELP (4357)
Texas Youth Helpline: 1-800-98-YOUTH
The Texas Youth Helpline is answered 24 hours a day, seven days a week. They can also be reached 24/7 via chat, and by texting. The helpline provides prevention services to youth, parents, siblings, and other family members who are in need of a caring voice and listening ear. Helpline counselors also assist youth advocates, such as caseworkers, counselors and school officials by locating state and local resources. The helpline also provides free information and outreach materials to those working with youth and families.
Focus areas
24/7 free helpline
Fees
This is a free resource.
Location
N/A
Contact information
800.98.YOUTH
512.872.5777 (text)
Other low cost therapy services in Austin
Alive Austin
Alive Austin provides affordable counseling services for individuals, couples, families, adolescents, and children. Group therapy is also available on a wide variety of topics. Alive Austin has a diverse pool of therapists, almost always insuring that clients can find the right person. Therapists at Alive Austin also work with a collaborative approach, as a community of therapists with the shared goal to make sure every client is treated like the only client. Services are offered in whatever format works for the client—traditional in-office, phone, email, Skype, or off-site services are available.
Focus areas
Individuals, couples, families, adolescents, children, group therapy
Fees
Alive Austin is in-network with Blue Cross Blue Shield PPO insurance plans. All therapists offer an initial consult at no cost, and offer services on a sliding fee scale.
Location
6448 E. Highway 290, E-114
Austin, TX 78723
Contact information
512.561.0609
Plumeria Counseling
Plumeria's approach to counseling is founded on a holistic perspective. Clients' treatment encompasses the mental, emotional, spiritual, physiological, and interpersonal aspects of their well-being. A wide array of professionals on staff include LPC, LMFT, LCDC, LMSW, LCSW. Psychological and emotional issues addressed include depression and mood disorders, anxiety and panic attacks, trauma, grief and loss, eating disorders, life transitions, self-esteem issues, relationship stress, spiritual and existential concerns, and more. Other services offered are couples, premarital and marriage counseling, substance abuse, anger and stress management, career and vocational counseling, sexuality and gender issues, and more.
Focus areas
Individuals, couples, family and group counseling, depression, anxiety, life transitions, self-esteem, spiritual concerns, substance abuse
Fees
Most fully licensed professional counselors are able to accept various insurance and EAPs, and charge private pay $110/session and up. Senior licensed interns accept private pay only, at $85/session and up. First-year licensed interns accept private-pay only, at $60/session and up. If a client wants to work with a therapist who does not accept their insurance or EAP, the therapist may be willing to provide paperwork to submit the client's insurance for out of network reimbursement.
Location
2501 W. William Cannon Drive, Building 6 Suite A,
Austin, TX 78745
Contact information
512.344.9181
Austin Child Guidance Center
Austin Child Guidance Center is a nonprofit dedicated to improving the mental health of children and their families. A multidisciplinary team of psychiatrists, psychologists, social workers, and counselors provides individual, family, and group therapy; psychiatric and psychological services; parent education; community presentations and consultations; and training to current and future mental health professionals. Services offered include individual and family therapy, group therapy, psychological assessments, psychiatric services, and a walk-in clinic for children up to age 17 and their family members.
Focus areas
Individual and family therapy, group therapy
Fees
The center offers a sliding fee scale, based on gross household income, family size, and regular/standard living expenses. Insurances accepted are Aetna, Ambetter, Blue Cross Blue Shield, Idealcare, Tricare, United Healthcare, Vista360 Health, Dell Children's Health Plan, Medicaid, Sendero and Superior Health Plan.
Location
810 W. 45th Street
Austin, TX 78751
Contact information
512.451.2242
Mindful Wellness Center Of Austin
The Mindful Wellness Center of Austin is a nonprofit dedicated to philanthropic activities, such as providing affordable mental health counseling, that will empower Austin-area residents with coping skills and mindful well-being. One-on-one therapy sessions are provided by pre-graduate social work interns. Group therapy is provided to promote social skills, and help clients learn that they are not as alone or different as they may think. Interacting with others and collaborating on shared problems nurtures feelings of security through giving and receiving empathy and validation. There is also a mindfulness skill development group, which is a curriculum-based class that subtly cultivates mindful awareness while teaching how the brain, gut and nervous system interact with each other in ways that effect mood and behavior.
Focus areas
Individual and group therapy, mindfulness skill development
Fees
Sliding scale and affordable counseling are available for those who meet the income eligibility requirements.
Location
4361 S Congress, #102
Austin, TX 78745
Contact information
info@mindfulwellnessaustin.org
LifeWorks
LifeWorks was created in 1998 to establish a continuum of support for youth and families experiencing crisis. LifeWorks' mission is fearless advocacy for youth and families finding their path to self-sufficiency. The service philosophy is strengths-based and client-centered. LifeWorks counseling provides support for individuals and families who are struggling with issues such as family conflict, abuse, trauma, anxiety, depression, and the stress of everyday life. Counseling programs offered include community-based peer support counseling, psychiatric services, resolution counseling, and youth and adult counseling.
Focus areas
Individuals and families, family conflict, abuse, trauma, stress, anxiety, depression
Fees
Several health insurance carriers, including Medicaid and CHIP, are accepted. Fees are based on ability to pay (sliding scale). Services are free for STAR-eligible youth and their families. New clients who do not have insurance are accepted.
Location
3700 South 1st St.
Austin, TX 78704
Contact information
512.735.2400