For many therapists in private practice, it can be tempting to join the club when it comes to insurance networks. Still, there are a few reasons why being an out-of-network therapist is more beneficial than being an in-network therapist — for both you and your clients.
Being an out-of-network therapist means that you don't have to jump through the hoops of insurance companies, hoops that often change each year and can be rigorous in their requirements. You'll also save time because you won't need to complete the necessary in-network paperwork (think diagnosis, detailed notes, and payment details). Perhaps most importantly, being an out-of-network therapist means that your services get their full value, as you have the ability to set your own rates and won't be beholden to the insurance company's valuation.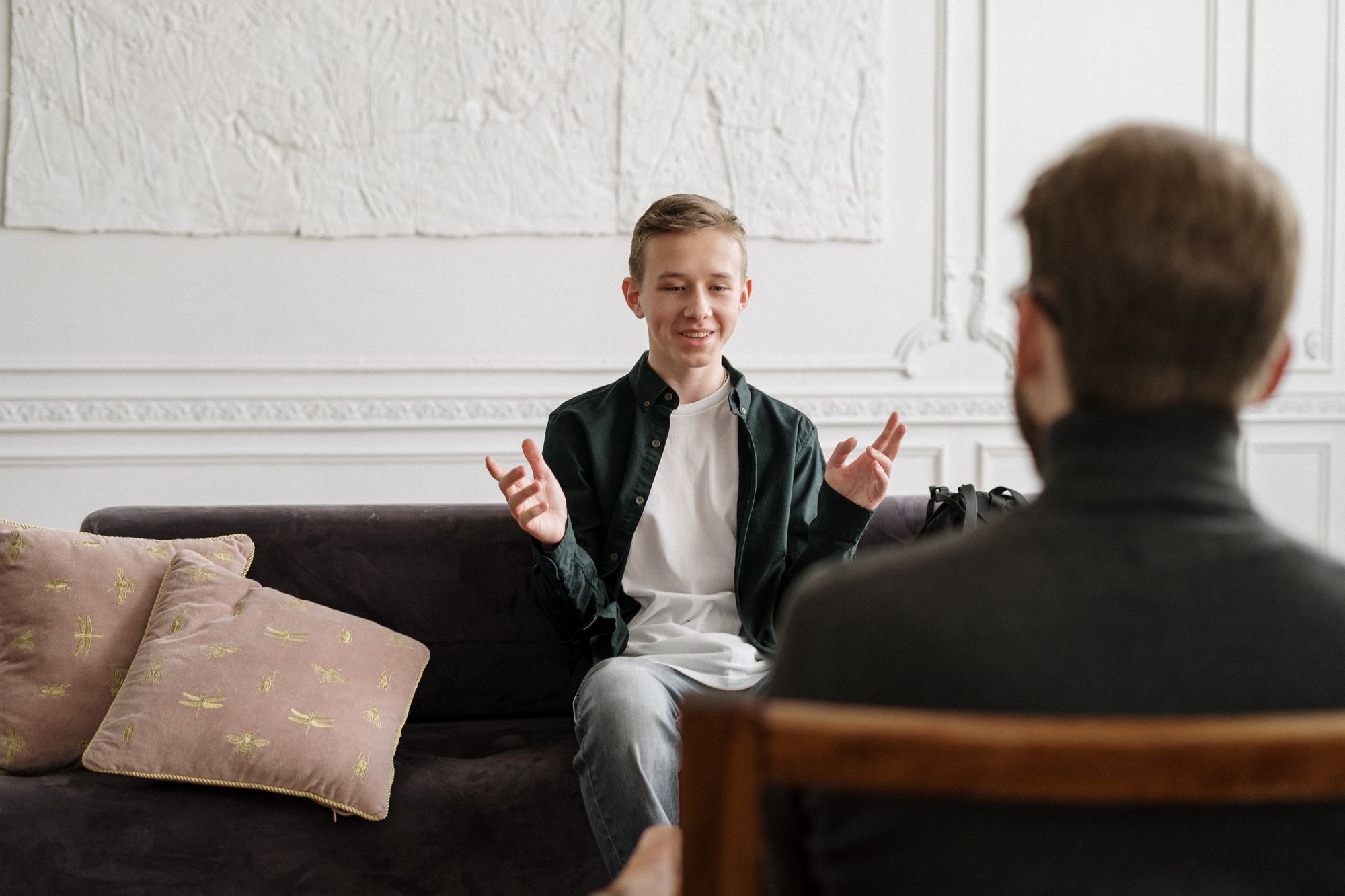 For clients, seeing an out-of-network therapist can be a better option than using their insurance companies' in-network provider list. They'll have a greater selection of therapists, which means that they can choose a therapist who not only offers the exact services they're looking for (like EMDR) but also one whose style and personality clicks with their own.

So what options do you and your clients have when it comes to out-of-network billing? On Zencare, we indicate the out-of-network options for each therapist in our directory to make it easy for clients to check out the possibilities. We've listed out a few key pieces of information to get you started when deciding what to offer.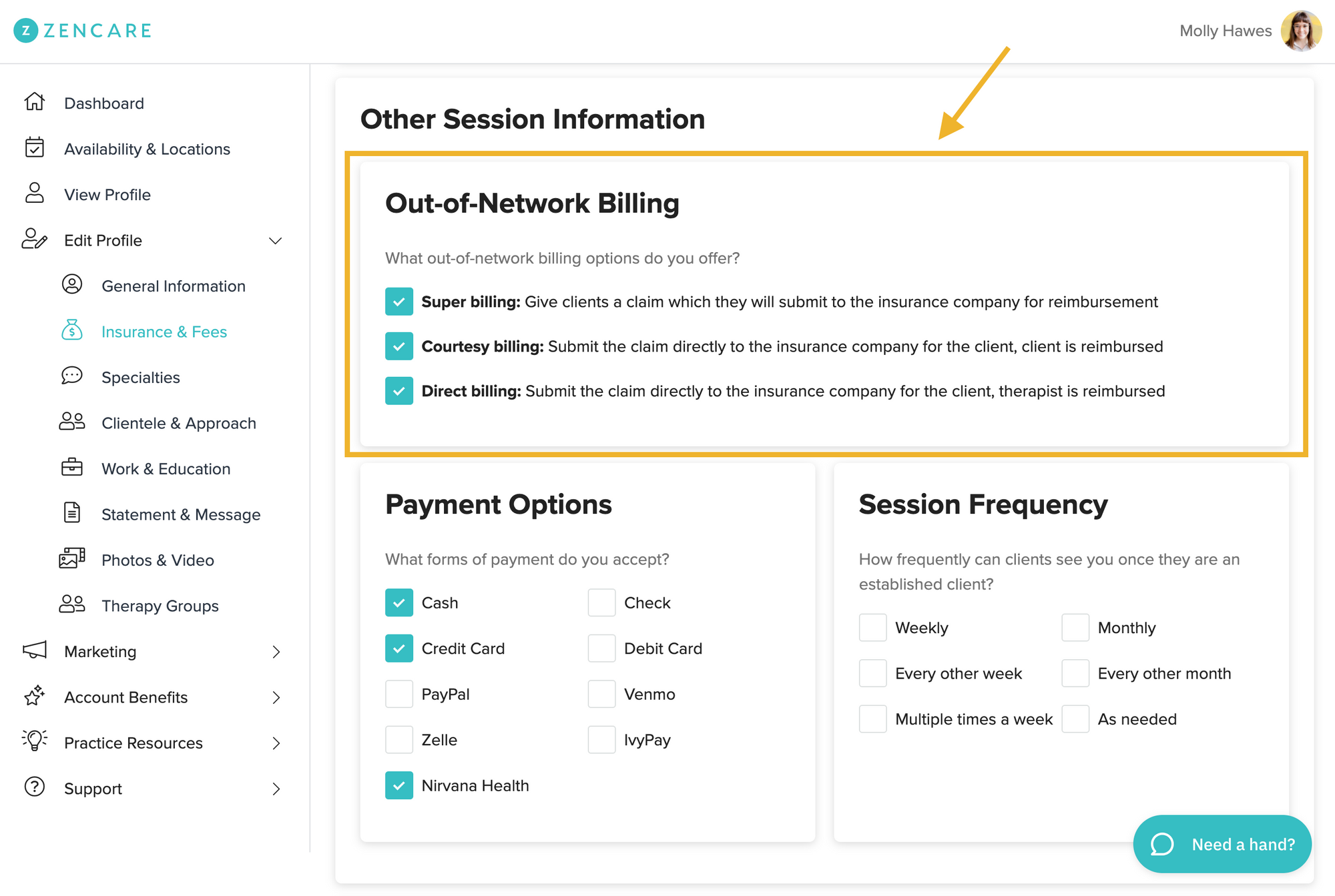 Super billing
Super billing is a billing option in which the therapist provides the client with a claim, and then the client submits that claim to their insurance company. This means that the client pays each session fee upfront and from their own pocket. They'll complete the necessary paperwork (proof of the session, proof of payment, details about your treatment, request for reimbursement) to the insurance company and receive reimbursement down the line. The super bill will generally include all of the pertinent information, such as diagnosis codes, CPT codes, and more.

There are many reasons why super billing is a helpful billing option for clients and therapists alike. Here are a few pros for using super billing:
You receive payment upfront. Because the client pays the session fee, you do not have to wait for a reimbursement from the insurance company — which can sometimes take months!
Clients get all of the information they need to complete the process on their own. When you provide a client a super bill with the relevant information, they'll have what they need to complete the reimbursement request process on their own, which saves you from getting involved.
Therapy is more accessible. Because clients aren't limited to in-network providers, they have the opportunity to seek therapy with the provider of their choosing. This also means that out-of-network therapists may have higher demand for their services or a packed census.
However, there are also limitations to super billing as a billing option, including:
You'll need to put in the work upfront. To save time down the road, you will need to put together an effective super bill template that includes all of the necessary information for the client to use in their request. You will also need to input information for each client and be sure to stay organized when it comes to providing their clients with super bills.
Clients may need support. Anything that has to do with insurance can become incredibly complicated — so many clients may still request your help with the reimbursement request process. They may have questions about where to send their requests or how to complete their paperwork, which could take up time during your sessions or outside of your billable hours.
There are many excellent resources available to practice owners to make the super billing process easier; Simple Practice is one example of a practice management tool that makes creating super bill templates straightforward.
Direct billing
The second billing option for out-of-network therapists is direct billing. Direct billing is when a therapist submits a claim to the insurance company directly and receives the reimbursement. Using this billing option, the client does not have to pay the full session cost out of their own pocket and does not have to complete any regular paperwork.
This billing option is useful for therapists because:
You receive the payment from the insurance company. Because the insurance company will reimburse you directly, you don't have to rely on the client to pay the full fee at the time of the session.
It's more affordable for clients. Clients pay only the portion of the session fee that the insurance won't reimburse to you (called a coinsurance), making out-of-network therapy services more affordable to a wider client base.
Billing won't be the focus. With nearly all of the reimbursement work happening on your end, your client will likely have fewer questions about billing — which means you can use your time together to talk about their mental health.
The drawbacks to direct billing, though, include the following:
You're responsible from start to finish. Being the sole paperwork owner, you'll need to be on top of your game when it comes to submitting reimbursement claims and following up on your payment. It helps to have help with billing, either by a billing staff member or a technology tool that makes it simple to submit reimbursements such as Nirvana Health or Reimbursify.
Payment comes later. Because this billing option relies on reimbursements, you may not receive full payment for your services until weeks or even months later. To account for this, your business model will need to work with later-date income.
Courtesy billing
The final out-of-network billing option is courtesy billing, which combines elements of direct and super billing. The therapist submits the insurance reimbursement claim, but instead of the therapist getting reimbursed for the service, the client will get reimbursed for the session fee less their coinsurance. The client is responsible for paying for the session fee upfront and the therapist takes care of the necessary paperwork with the insurance company so that the client gets some money back.

There are many pros to this billing option, such as:
You're helping your clients. By completing the reimbursement paperwork for your client, you can show them that you're on their side and helping them with the logistics — and technically helping them get their money back. This signifies that you're there for them for more than just the conversations you have in session.
You get paid upfront. Because the client pays you directly and gets reimbursed later on, you get paid for your services immediately and don't have to wait for the reimbursement to arrive.
Some challenges that arise with courtesy billing, however, include:
You're on the hook for the paperwork. Being in charge of submitting the reimbursement paperwork means that you'll need to be prompt and accurate with your requests. You might also find yourself needing to communicate back-and-forth with the insurance company.
Set aside some time for billing each week. To ensure that the reimbursement requests get done, you'll need to schedule them into your weekly routine. Writing out and submitting reimbursement requests may take a block of time, which takes away from seeing clients or taking care of yourself.
No matter which billing option you choose as an out-of-network therapist, there are ways to help your clients navigate their insurance benefits. These are great ways to support your clients in more ways than during your sessions — though these billing options are also beneficial to you and your practice.
Whichever billing options you chose, you can indicate what's available for your clients on your Zencare profile. We want to ensure best-of-fit between client and therapist, and that means being on the same page about billing and payments.