Want to go paperless in your therapy practice, but not sure where to start?
Ultimately, the system you choose will depend on your needs, practice size, and budget. We created this guide to help you better understand what therapy software is available, and which tool is right for you!

What features should I look for in billing and practice management tools?
The features of a practice management tool can include:

Scheduling: Ideally with integration to other calendars you already use, such as Google Calendar or Outlook; this could also include attendance tracking for individual and group sessions
Billing & invoicing: Include mental health CPT codes for billing; create invoices, superbills, receipts and CMS-1500 (HCFA) form
Customizable note-taking platform: Individual notes, group notes that you can share internally.
A client portal: Clients can schedule appointments; secure client-therapist messaging available
Customizable intake forms: Secure form that you can send prior to first client appointment
Integrated credit card processing for clients
Claim management: Submitting, filing, tracking
A tele-health component for remote sessions: Ideally integrated directly as a calendar feature
Appointment reminders: Via text, email, or phone call
A mobile app for 24/7, anywhere access: iOS, Android, and/or Apple Watch compatible
HIPAA-compliant security
What billing and practice management brands are available?
Some tools are designed especially for billing and practice management in the mental health field. These include:
Other tools, like Office Ally, are designed for billing and software, but not necessarily equipped for total practice management.
Other options include:
Outsourcing to a billing professional
Using a platform that's HIPAA-compliant, but not necessarily designed for practice management – such as Google's G-Suite
Managing your practice entirely offline – i.e., paper-based
Using a tool thats designed for practice management, but not necessarily in the mental health field, such as Kareo
How much does each billing and practice management tool cost?
The following platforms have a base fee of $19-100+ per month, depending on factors like practice size and additional features:
See a full breakdown and cheatsheet of costs and features at the end of this article!
Calculating the cost of each platform for your caseload
Let's consider a few private practice scenarios to see how your costs might play out. These consider factors such as your caseload size, how many private pay vs. insurance clients you have, how many clients pay using a credit card, and whether you want text appointment reminders.
We've assumed a solo practice with a 25 client per week caseload, and that you opt into having text appointment reminders in all cases.
We reached out to all platforms to confirm features and costs where details weren't publicly available.
Scenario One
In this scenario, you're seeing 25 insurance clients per week, all of whom pay through a health insurance that you are in-network with. We'll assume an average copay of $25.
Below is what your true monthly cost would be for each platform (these numbers may look different for clients with higher copays). Zencare Practice Management Premium is the lowest cost option, coming in at under $100.
Scenario one: 25 appointments/week, all insurance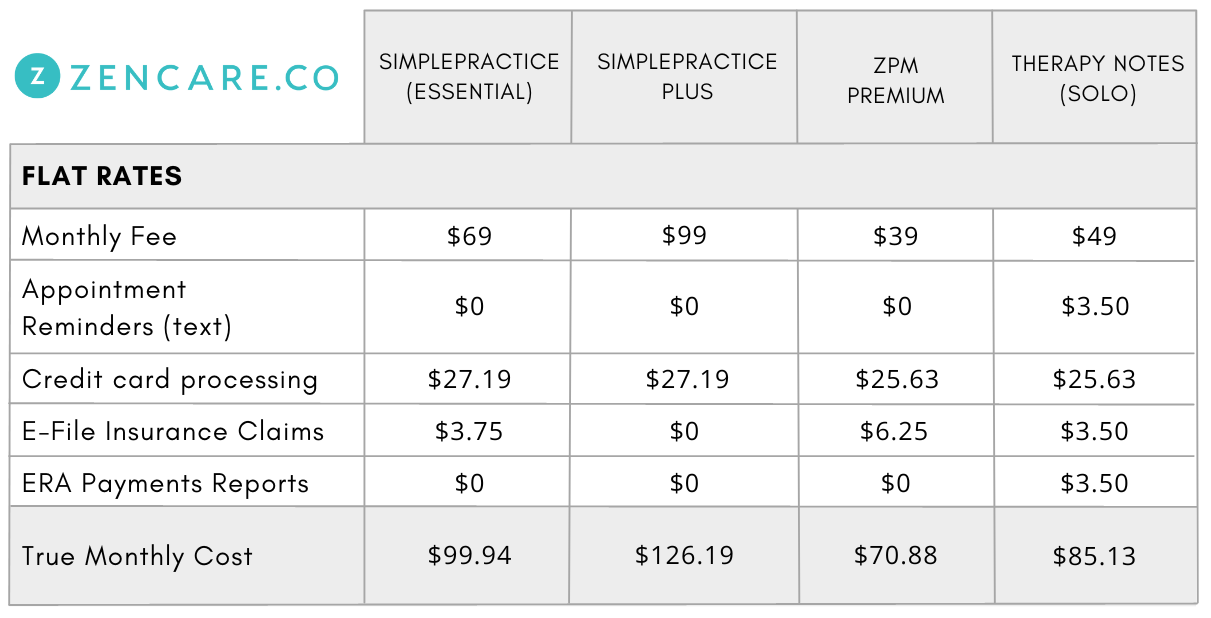 Scenario Two
Let's now say you're seeing 25 clients per week, half of whom pay through their insurance, and half private pay at a rate of $150 per session.
In this scenario, we assume all clients pay their session fees with a credit card. Because of credit card processing fees at high volumes, Zencare Practice Management's monthly cost goes up, but is still a fraction of the cost of SimplePractice.
Scenario two: 25 appointments/week, half insurance, half private pay $150/session
Scenario Three
Now let's take a full private pay caseload. You're seeing 25 private pay clients per week, all of whom are paying $150 per session, and use a credit card to pay their fee.
Even at this high volume of credit card processing fees, Zencare Practice Management costs less than every other platform listed below. Plus, without the added insurance features, the Professional Plan starts at $19/month instead of $39/month.
Scenario three: 25 appointments/week, $150/session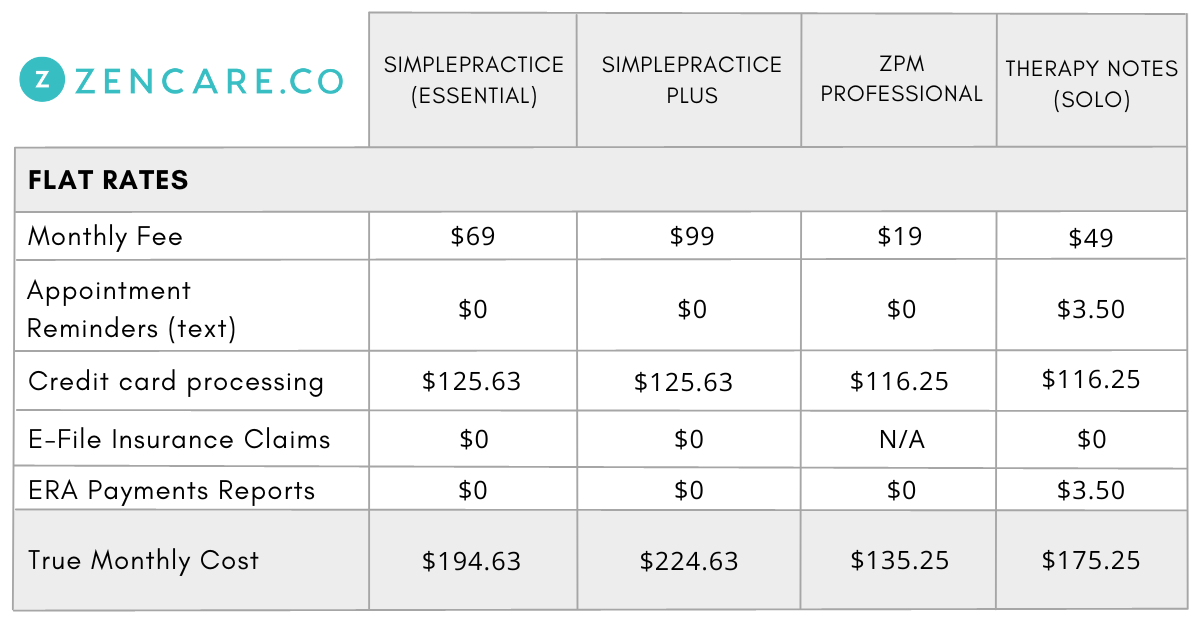 Scenario Four
You're seeing 25 private pay clients per week at $150 per session, and all of whom pay in cash.
With cash-only payments, Zencare Practice Management costs less than half as much as TherapyNotes or SimplePractice. Here's what your true monthly cost would be for each platform:
Scenario four: 25 appointments/week, mostly cash pay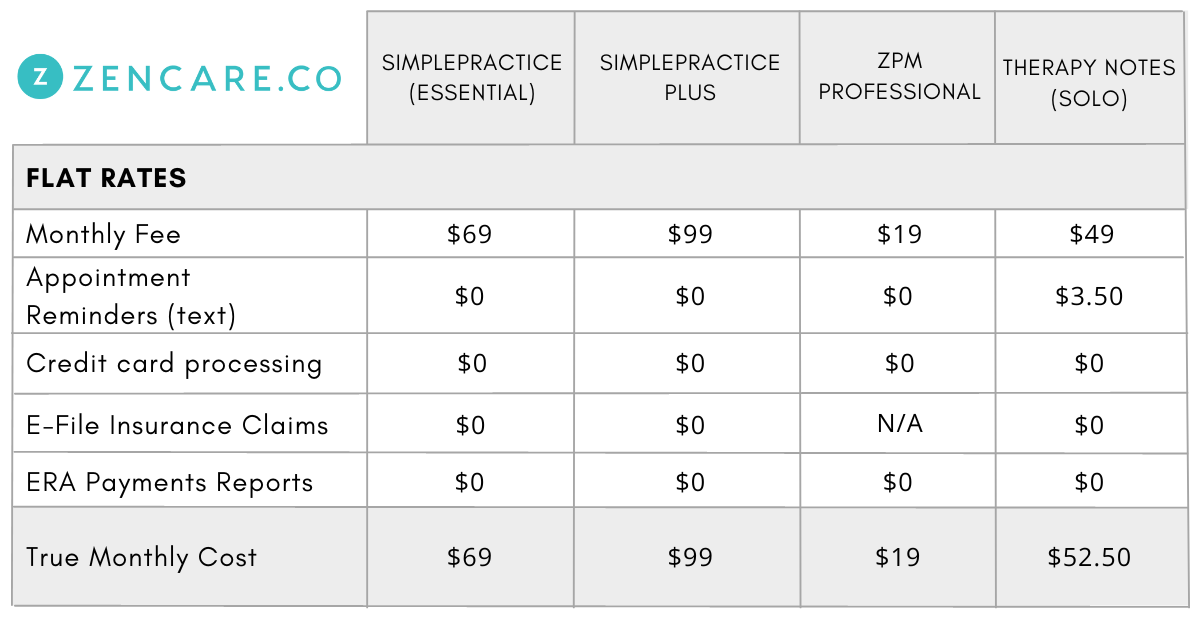 Features & Cost Cheatsheet
Want to see a comparison of all features and costs across platforms? Use the table we compiled below!
You can download and print out this cheatsheet, too.
Therapist Billing & Practice Management Platforms: Featured Comparison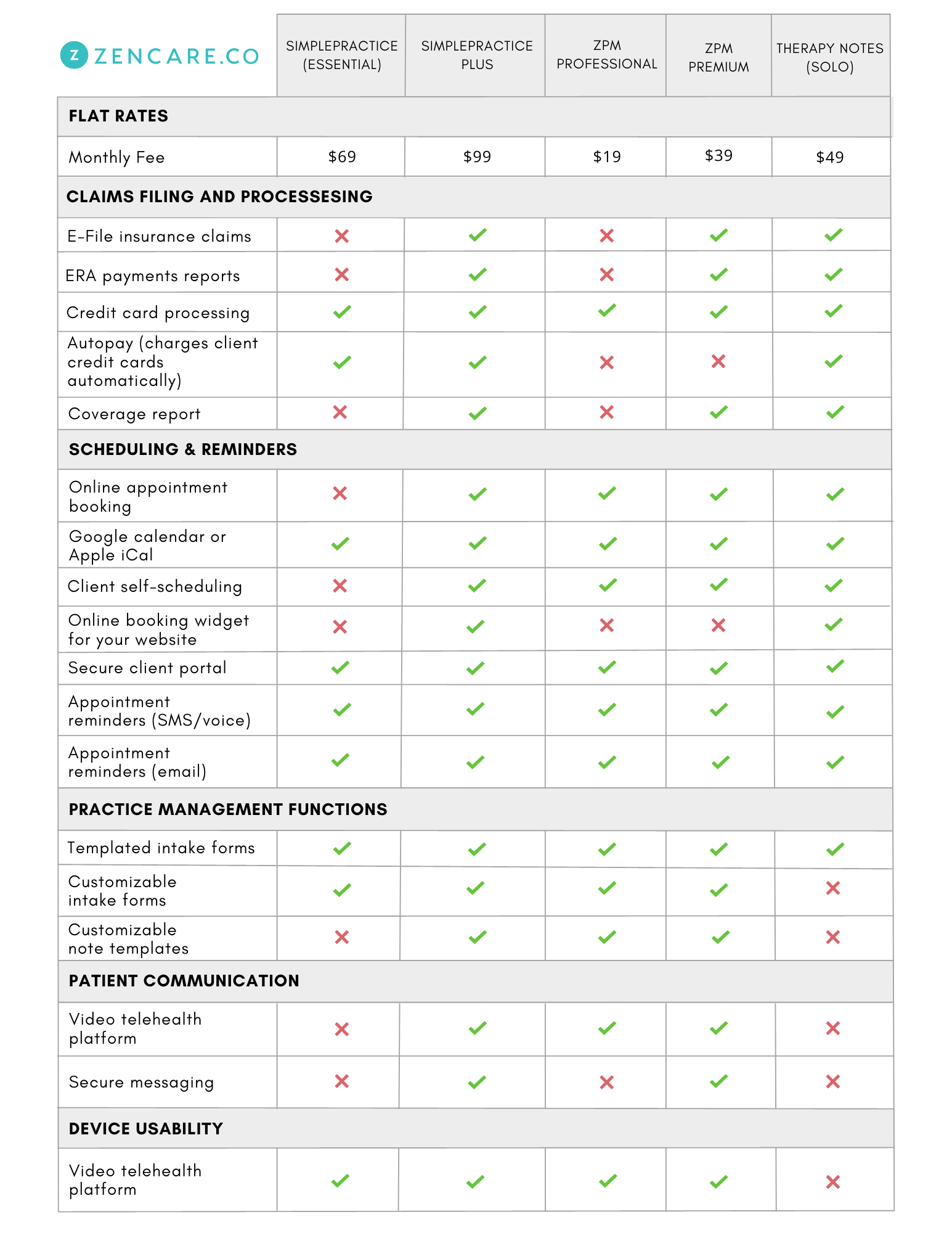 And if you're starting or looking to grow your private practice, and want to join a supportive community of providers, join the Zencare therapist network! We offer wraparound support with both marketing and practice management.
You can ask questions via our active email list-serv, build a professional online presence, and receive referrals for clients who are a great fit for your background and expertise! Plus, you'll have all the tools you need to run a successful private practice.
---
This is part of our series on the best billing and practice management software. For further reading, visit our reviews of TherapyNotes, TheraNest, Office Ally, and SimplePractice, as well as an objective comparison of TherapyNotes vs. SimplePractice.