Considering SimplePractice, but not sure it's the best fit for your practice? Getting a headache trying to compare costs and features between the different platforms, such as SimplePractice versus TherapyNotes? Deciding which billing and software tool is right for your practice takes time and careful consideration.
If you're considering SimplePractice, read on for our comprehensive guide. And once you've gotten a good overview, learn what other therapists prefer, too!
2. What does a SimplePractice plan include?
3. How much does SimplePractice cost?
4. Is SimplePractice HIPAA compliant?
5. Where is the SimplePractice login?
6. Does SimplePractice offer a free trial?
7. SimplePractice reviews from the Zencare community
This guide has been reviewed and confirmed by SimplePractice as of January 2019.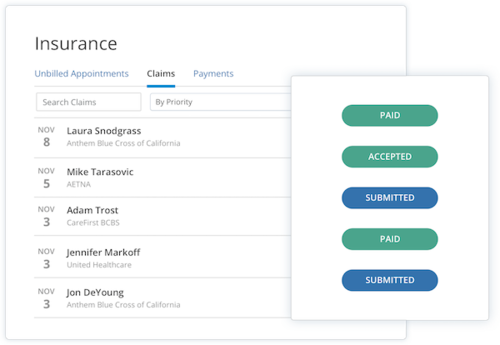 What is SimplePractice?
SimplePractice is a healthcare practice management software with a dedicated client portal. It is designed for healthcare professionals of all kinds and offers tools including scheduling, billing, and notes.
What does a SimplePractice plan include?
SimplePractice offers two different plans, Essential and Professional. The Essential plan includes most, but not all, of the below features. Features that are only included in the Professional plan are marked accordingly.
Documentation
SimplePractice gives you a variety of options for documenting your clients' treatment.
You can create note templates or use pre-existing ones. (Customizable note templates are only included in the Professional plan)
Easy access to notes and documentation.
Notes function includes a searchable library of thousands of ICD-10 codes.
Image courtesy of SimplePractice
Billing & Invoicing
SimplePractice can help you manage billing, invoicing, and payments through both individuals and insurers.
Your plan includes credit card processing, as well as the option to store credit card payment information.
Offers the option to mark payments as cash or check and to automate payment collection.
Full ability to oversee insurance claims, including electronic tracking and reconciliation. You can create batch claims, and practice and client info are automatically added to claims. SimplePractice can also generate online payment reports to automate insurance accounting. (Claim status, tracking, and reports are only included in the Professional plan)
Scheduling
SimplePractice offers scheduling tools for both you and your clients.
Includes an online booking option, with the ability to embed the booking widget directly into your website. (Online booking is only included in the Professional plan)
Customizable, automated appointment reminders.
Scheduling tools can be synced with your iCal, Google, or Outlook calendar.
Client Portal
SimplePractice offers a secure, dedicated client portal through which your clients can individually manage all of the following:
Paperless intake forms, which can be sent to you before a client's first appointment.
Secure, HIPAA-compliant messaging. (Secure messaging is only included in the Professional plan)
Credit card payment information, which can also be processed through the portal.
Access to superbills and invoices.
Image courtesy of SimplePractice
Telehealth
SimplePractice includes the option of conducting secure video appointments with your clients. (The telehealth feature costs an additional $10 per month on top of either the Essential plan or the Professional plan)
Mobile Features
SimplePractice is compatible with iOS and Android.
The SimplePractice mobile app includes schedule management, invoicing and payment processing, intakes, and viewing and managing client info and notes remotely.
How much does SimplePractice cost?
SimplePractice plans start at the Essential plan, which is $39 per month. This plan has all the features of SimplePractice, except for:
Online appointment booking
Secure messaging
Customizable note templates
Scheduling widget for your website
Claim status & tracking
Integrated ERA/EOBs (Payment Reports)
Automated ERA recording
Coverage reports
The Professional plan costs $49 and includes all SimplePractice features. The Professional for Groups plan also costs $49 per month, with each additional clinician costing $29 per month.
Telehealth through SimplePractice costs $10 per month per clinician.
Is SimplePractice HIPAA compliant?
Yes, SimplePractice is HIPAA compliant. You can find more details about SimplePractice's privacy and security practices here.
Where is the SimplePractice login?
You can find the SimplePractice login at https://secure.simplepractice.com/users/sign_in.
Does SimplePractice offer a free trial?
Yes, SimplePractice provides a free 30-day trial.
SimplePractice reviews from the Zencare community
On SimplePractice in general:
"I've tried several other PMS systems out there and I think Simple Practice is superior by far. The software is easy to use, very interactive and pleasant to the eye. Additionally, the staff are friendly and helpful and are always rolling out improvements. I 100% recommend this software. It takes care of all my private practice needs!" - Dr. Sarah Karytko, psychologist in Brookline, Massachusetts
"The defining feature/reason I chose Simple Practice over other practice management software options was their fully electronic intake process.
It is an indispensable value – as a group practice with six clinicians, there is no way we could manage our current client volume with our old paper form and data transcription process." - Kristen Acciari, Licensed Clinical Social Worker in Warwick, Rhode Island
On the SimplePractice app:
"I like and use the mobile app for Simple Practice all the time. It allows me to quickly check on any pending items/documents, etc. I can send and receive secure instant messages from clients and they can alert me to things like when they are running late. I can process payments through the mobile app if needed. I can check on and alter my basic calendar as well. I rely on the interface between the computer app and the mobile app to make my work easy and information accessible." - Dr. Ruben Hopwood, Licensed Psychologist in East Cambridge, Massachusetts
On SimplePractice customer service:
"I have interacted several times with customer support and have found them responsive and generally helpful. They check back in and follow up until you have an answer and solutions whenever possible to your needs." - Dr. Hopwood
"Very accessible via phone, email, and now online chatting. Everyone is very helpful, pleasant and always answers my questions." - Dr. Karytko
Still not sure which billing and practice management platform is right for your practice? Read the survey we conducted of 100 Zencare therapists, with honest, firsthand insight on cost, ease of use, and overall experiences with different platforms!
And if you're starting or looking to grow your private practice, and want to join a supportive community of vetted providers, join the Zencare therapist network. You can ask questions via our active email listserv, build a professional online presence, and receive referrals for clients who are a great fit your practice! Schedule a free call with our Therapist Success Team today to learn more.
---
This is part of our series on choosing the best billing and practice management software for your needs. For further reading, visit our reviews of Office Ally, TheraNest, and TherapyNotes. We also have a guide to choosing the right therapy billing + practice management platform for you.