For those of us that love a symbolic fresh start, it's our time to take a good long look at the past year and draw up New Year's Resolutions for 2022. New Year's Resolutions are a tradition that some approach with spirit, some approach with sarcasm, and some approach with reluctance. If the popular New Year's conventions aren't for you, see this as a chance to add a little something into your current routine to boost your health and wellbeing rather than a complete lifestyle overhaul.
At Zencare, we see the start of a new year as an exciting opportunity for some healthy habit building — and we'll help you get there by sharing below 6 therapist-recommended habits that will support your mental wellness in 2022 and beyond.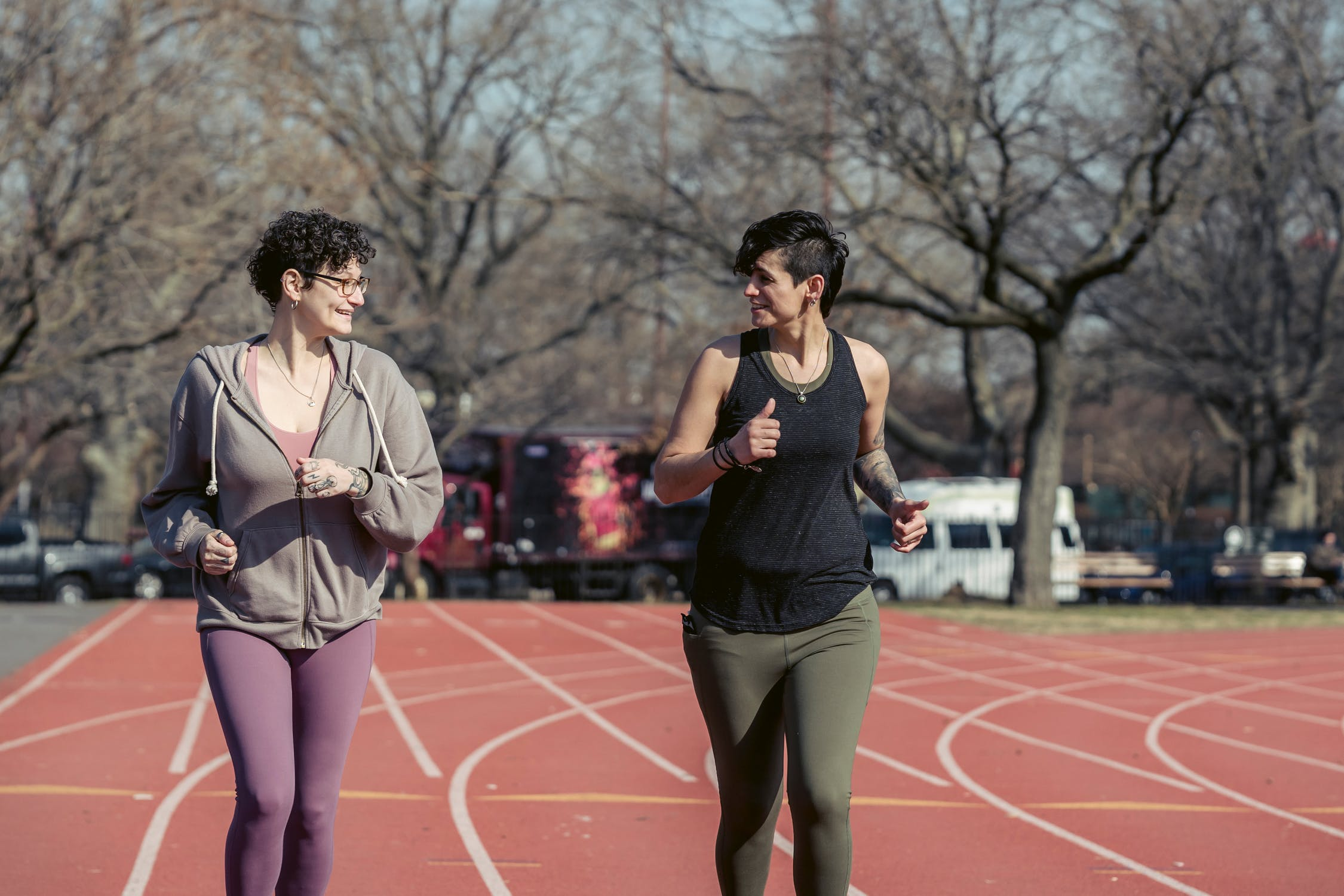 Build a healthy body for a healthy mind
While we generally think of mental wellness residing within our brains, we need a healthy home for those precious minds to relax, reflect, heal, and flourish. By giving your mind all the resources it needs to prosper, we can work to boost our mental health and grow our resilience.
Attaining a healthy body looks different for everyone. Our bodies, preferences, histories, and lifestyles are all unique. Even if we all tried to have the same routine, not everyone would end up feeling great — and many people might instead end up stressed out or frustrated. The following tips are to be taken with your own personal touch, paying attention to what's authentic, accessible, and energizing for you.
Here are a few ways to ensure that your body is healthy so that your mind can thrive:
Get enough sleep. When we sleep, our brains undergo many vital processes that impact our moods, memories, cognitive capabilities, and more. The general rule of thumb is eight hours of sleep a night is healthy for your brain and body. Having good sleep hygiene is the first step towards establishing a healthy sleep routine. This could include a sleep diary, a set bedtime, a no-phones policy, or even an aromatherapy practice. Naps are also a great option, if that's something that you feel you need to get the right amount of sleep!
Eat healthy foods in healthy amounts. This doesn't mean that you have to (or should!) go on a diet! Healthy eating does not equal deprivation of the foods that you love. Eating healthily means finding a balance of getting enough variety of nutrients and vitamins while avoiding overdoing it on less nutritional foods. It's a balancing act, one that will depend on your food preferences, body's needs, and goals. We encourage you to set the goal of providing your body the sustenance it needs to have enough energy for your mental health, rather than a number on a scale.
Exercise in ways that appeal to you. There are so many different ways to get your body moving and elevate your heart rate — when you think of exercise, you don't have to just think of jogging! Try out fun ways to get your body moving and blood pumping, which will give your mind the strength it needs to prioritize your mental health. Some favorites of ours include: jumping on the bed, dance parties, walking the dog, laughing, or trying to learn a cartwheel.
Find genuine connection with others
Another healthy habit to incorporate into your daily life is to focus on genuine, beneficial relationships with other people. This also means avoiding harmful or toxic relationships that bring down your mood or energy levels. Finding "your people" is especially important after the isolation of the past two years.

There are so many ways to make genuine, healthy connections with others part of your daily routine. First, ask yourself who you enjoy being around. This could be specific people or types of people (i.e. people who knit, people who also do martial arts, people who cycle on the weekends). Then ask yourself the questions: what people make you feel good about yourself? Do you often find yourself around these people? If not, what can you do to make your interactions more frequent? By prioritizing the people who make you smile and feel happy, you're prioritizing your own mental health.

We'll give you some ideas about ways to connect with others:
Volunteer for a cause that you're passionate about. This could be community gardening, teaching English to non-native speakers, painting murals in the park — there are so many ways to give back to where you live and volunteering is a great way to meet other similarly-passionate people.
Book clubs. Because there are so many types of book clubs, you have some variety to choose from when it comes to meeting new people. With a central topic for discussion, you won't need to feel nervous about coming up with conversation starters.
Call your family members or host a family video call. If you find that speaking with your family brings you joy, make calling them a part of your weekly routine. You might even designate a specific time for a family video call to connect with more than one family member at once. There are many apps that will let you and your family play games against each other, which could be a fun and meaningful time to get together (even when living in different places).
Date night. For those with a romantic partner(s), plan a special date night regularly. Set aside time to focus on bonding with each other, learning more about one another, and having fun.
Send a postcard or handwrite a letter. While snail mail might be slowly going out of fashion, everyone enjoys getting a thoughtful note in their mailbox. Buy a stack of postcards and spend time writing out short messages to your friends. If you're feeling up for it, write some letters to send to loved ones — you could even get some letters in return!
On the flip side, it's important to think about habits to break when it comes to harmful or negative relationships. Being mindful about the relationships in your life and their impact on you, can you identify the relationships or aspects of relationships that leave you feeling tired, upset, frustrated, or burned out? Sometimes, taking a break from social media (or deleting it altogether!) is helpful for people who fall into heavy social comparison. It might also be beneficial for your mental health to consider setting boundaries with certain relationships (see number 4 on our list!).

Humans are social creatures. Who we connect with — and how we connect with them — brings us joy and meaning, even if we need our alone time too. This is another habit that needs to be authentic to who you are and what feels good. You can't force social connection with others, but you can be mindful about what your social connection looks like and when it happens.
Grow your mindfulness practices
There's a long list of research that shows the value of adopting a mindfulness practice. And we don't just mean meditation! There are a wide range of mindful activities available to you, so finding the one that fits with your routine and with your preferences will result in better outcomes. Check out our collection of mindfulness activities to see if one sounds particularly compelling. Here are a few to get you started:
Mindful eating. Slow down your eating habits to focus on taste, texture, smell, and other sensations.
Yoga. Yoga is a great body movement practice that draws attention to different parts of your body — it's great for strength and flexibility too!
Mindful breathing. We breathe every day throughout the day — but how often do we pay attention to our breaths? By focusing on the sensations of our breathing, we slow down our minds and give our lungs the attention they deserve.
Visualization. Using our creativity, there are many different types of visualization exercises with different goals, including relaxation, confidence-building, and more.
Mindfulness, at its core, means developing a greater awareness of yourself and the space around you. When you practice mindfulness, you're shining your mental spotlight onto parts of you that you might overlook any other part of the day. This includes your body's comfort, tension, and sensation. It also includes your mental state. By giving yourself designated time each day to sense your feelings, you might find something surprising.
Many therapists use mindfulness practices in their client work. Mindfulness and self-awareness is a major component for several evidence-based modalities. That said, you don't need a professional's care to practice mindful habits each day! Find the ones that work well for you and set a time each day for them.
Draw boundaries when you need to
The need for drawing a boundary doesn't automatically mean that something needs to be cut out of your life completely. Boundaries are a great way to prioritize your own mental health while still being involved in a relationship, situation, or idea. Boundaries emphasize your agency in what's going on and give you a way to ensure that what you're doing remains positive. Boundaries are helpful in friendships, in the workplace, at school, even within your own thoughts.
Boundary setting looks different depending on the situation. It's important to understand why you need a boundary before you implement one, so journaling about the situation is a helpful tool to learn what's happening that's impacting you.
Here are some examples of situations that may need boundaries:
Your romantic partner continuously teases you about a time you accidentally offended a mutual friend. The memory of that initial experience causes you shame, even though your friend accepted your apology. You ask your partner to stop bringing up that memory.
Your coworker repeatedly presents your work as if it's their own work. You've talked with them about it in the past, but need to stop telling them about your work ahead of meetings.
Your mother constantly makes suggestions about how you live your life. These suggestions feel like criticism, even though she doesn't mean them that way. You ask her to stop making those types of comments because you find them intrusive and frustrating.
The reason that boundaries are so important is that they promote self-sustainability. Without setting boundaries, you might repeatedly run into situations that cause you distress. By examining your reactions to these situations, you can determine the best way to move forward. It may be to remove yourself completely from a situation or to ask someone to change their behaviors. Setting boundaries is another way to prioritize your mental health and many people would benefit from making boundary-setting a part of their routine by checking in with themselves regularly.
Establish a learning practice
With so many educational resources out there, establishing a learning practice is an accessible, easy way to grow your mind. What topics are you interested in? What makes you feel engaged, excited, or joyful? This could be learning a new language, an instrument, an art form — anything that's novel is a great way to get out of your comfort zone and push yourself! This in turn will provide you with self-confidence and perhaps even some pride, which may be a great addition for your mental health.
Learning a new skill or learning about a specific topic can be challenging — but if you stick with it, you're proving to yourself that you can dedicate yourself and your time even when the going gets tough.
Not only that, but a learning practice may connect you with other people or boost your physical health, making it a win-win activity.

Not sure what you want to learn about? Here are a few recommendations:
A certain time period in history.
A certain geography or culture.
A specific type of cooking or cuisine.
The philosophy behind a mindful practice.
The life story of a famous person.
A hard skill like coding.

Prioritize your mental health by starting therapy
Our last habit for you to consider in the new year is starting therapy with a qualified therapist that's a great fit for you. Making time for your mental health each week speaks to your self-love and your belief that you deserve the best life you can possibly have. Zencare makes it simple to find an excellent therapist in your area, when you're ready to start your therapy journey.

If you're looking for other mental health resources, try finding a book or listening to a podcast about mental health topics (we recommend the Therapy for Black Girls podcast, an excellent place to learn about therapy of all types!). There are also videos online where you can learn more about specific mental illnesses, therapy modalities, or research (just make sure they're from a credible source!).
Make 2022 the year you build healthy habits — or simply add to your healthy routines in authentic, accessible ways. Prioritize your mental health by giving it time, space, energy, and attention. And don't forget to include a regular dose of self-love each day!
---