Instagram is an amazing place for generating inspiration, community, and connections. Through the app, people have found new friends, launched businesses, and bonded over shared values and interests (plus, there's always a cute puppy video just when you need it). But like all social media platforms, Instagram can also lead to feelings of comparison, loneliness, and guilt – a perfect storm for the infamous "grass is greener" syndrome.
That's why it's so important to remember that you can take control of what you see on your feed. You can make social media a place that continues to keep you encouraged, happy, and understood without stigma. Below, we share a behind-the-scenes peek of nine accounts we scroll through on the regular!

Minaa is a social worker, mental health educator, and go-to resource for us for bite-sized prompts, reminders, and affirmations. Many of her posts are thought-provoking, and can spark inspiration and encouragement to buoy you along wherever you may be in your mental health journey.
Miina breaks down the nuances of boundaries, healing, and growth in tangible and digestible ways, often using her own life experiences as a starting point. Her posts are the perfect ones to share with a loved one or friend that may need some reframing or a new perspective in their lives, too.

LiLi Hayim is a Registered Dietician who's dedicated her virtual presence to teaching others about ditching food rules and getting rid of diet culture through her online program, F*rk the Noise. But her conversations certainly go beyond what's on the plate.
No topic is off limits with Lisa, especially when it comes to mental health. She is open and honest with her personal relationships with anxiety and depression, including her own story on taking medication and experiencing a panic attack on her wedding day.
We appreciate LiLi using her Instagram to be real about the ups and downs of daily life, and how to live life to the fullest, with plenty of goofy, smile-inducing dancing videos to boot!

Half the Story is setting a new standard for social media by shining a light on the untold story that so often exists behind selfies, hashtags, and excruciatingly-polished posts. Dubbed "Life Unfiltered," it's a wake-up call of a series in an era when social media feels like a highlight reel of our lives.
The account encourages a new kind of relationship to technology – one that leads to true digital wellbeing. Half the Story not only shares mental health resources, but also lifts the veil to the real stories of celebrities and everyday people beyond what's discernable from social media. With this mission at the forefront, they are building a global community where this type of cathartic sharing is possible.

Serena Wolf and Katie Dalebout are the podcast hosts of a new podcast called Spiraling, which has been a great addition to our commutes this season.
Picture two successful and down-to-earth women coming together to talk about their daily anxieties and what's causing it (in other words, their titular spirals). Each comes from different professional backgrounds – Serena is a chef, founder of the blog DomesticateMe, and author of a new book, The Dude Diet, and Katie is a long time podcast host and author of Let It Out, a book about journaling –  but one thing they have in common is their anxiety.  

Their virtual presence makes for an open and honest conversation about their unique experiences with anxiety, how they manage it in their lives, and their hands-down love affair with therapy. We love following them on Instagram because they use their platform to not only showcase their creative projects, fun recipes, and daily life adventures, but to be honest and clear with how their anxiety (and their therapists!) are along for the ride.

Amber Rae is an artist and the author of the best-selling book Choose Wonder Over Worry. Through her brightly-colored, visually-appealing posts, Amber consistently shares resources for how to reframe negative thoughts and navigate challenging situations.
She's focused on helping us understand what our feelings are saying, and our favorite posts of hers are the weekly and monthly check-ins that she shares. They pose questions and prompts that remind us both how important consistent self-reflection is, as well as how crucial it is to reflect on the time that has passed so that we can continue growing and looking ahead.
We first found Georgie because of her beautiful feed, which is now filled with picture-perfect fall vibes (it was no surprise to learn that Georgie is a professional photographer, too!).
But more than her aesthetic prowess, we love Georgie for her relatability and openness. On her feed, she dishes on her struggles with self-confidence as openly as she does her love of coffee. She's also the host of the podcast Chasing Joy, where she has conversations with guests around joy, intuition, personal growth – and just generally living well.

Devyn Walker does an amazing job at capturing the essence of self-care and all that it entails. Her mission is to help others heal in a way that is unique to them, and as a registered yoga teacher, certified rehabilitation counselor, and licensed professional counselor, she takes a holistic approach to overall wellness.
After going through her own struggle with depression, anxiety, and PTSD after her father died, she developed her passion for helping others heal from trauma. Dedicated to educating people about mental health, she uses her Instagram to share resources, encouragement, and her own moments of self care throughout her day. She is also the founder of SelfCare.Gang, a community created to hold space for self-love, self-motivation and healing.

Dr. Ellen Vora is a Board-Certified Psychiatrist, Acupuncturist, and Yoga Teacher who takes a functional approach to mental health. She is committed to addressing the root cause of diagnoses, such as anxiety, depression, and bipolar disorder, rather than taking a band-aid approach with, say, labels or excess medications.. Viewing health as a puzzle, she truly takes the whole person into consideration. When working with her patients, Dr. Vera evaluates not only thought patterns, relationships, connections, and sense of purpose, but also aspects that often get overlooked like nutrition, physical health, sleep, and digestion.
Dr. Vora is the epitome of holistic health, and her Instagram account is the perfect resource for us as we strive for balance and optimal health too. Some of her recent posts include natural remedies for migraines, ways you can stay motivated to work out, as well as tips for making home cooking realistic.
She has also been interviewed on many podcasts including the Goop Podcast and Mindbodygreen's podcast, and we've always learned something new each time we hear her speak.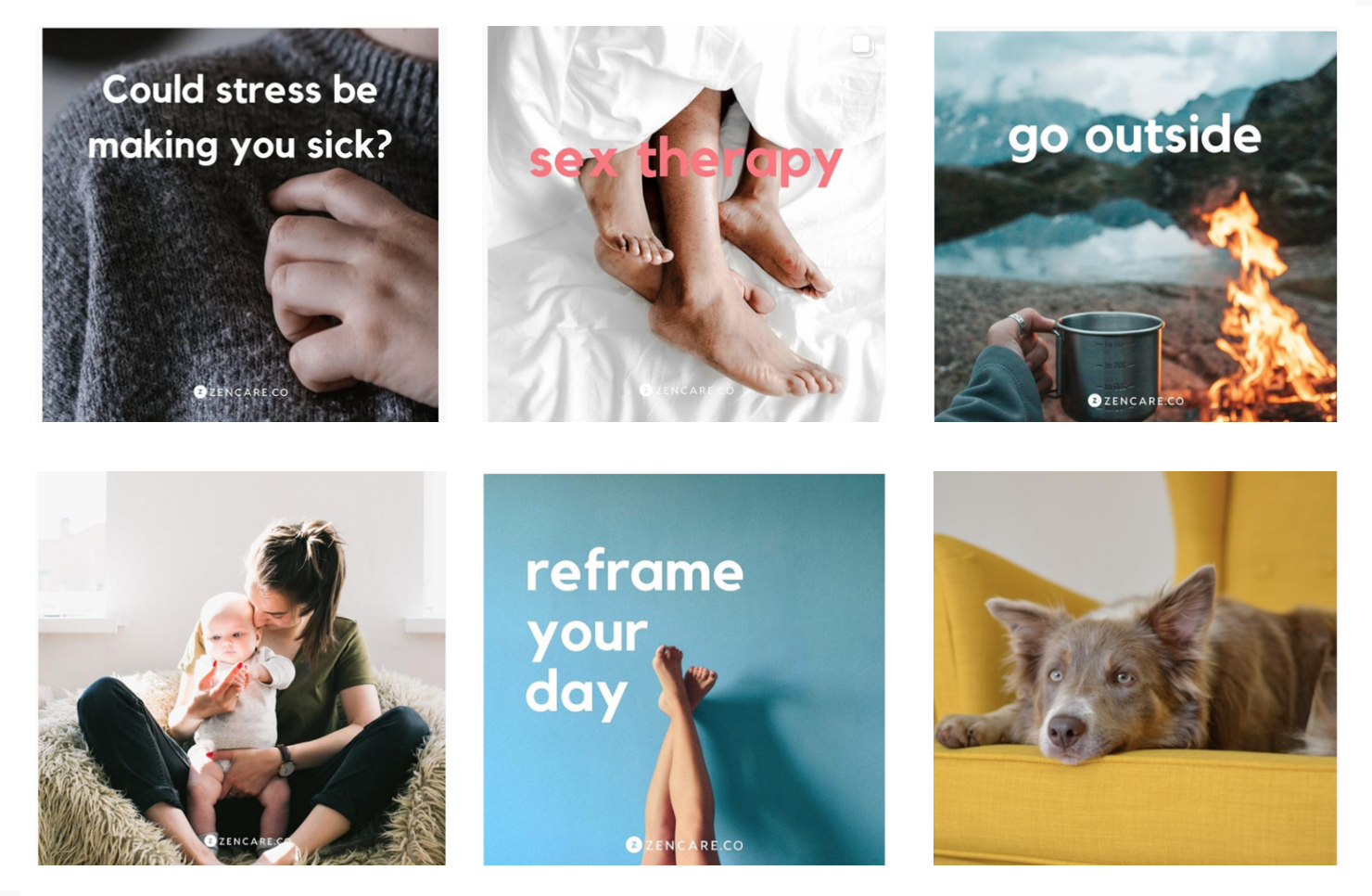 Our feed features near daily doses of mental health 101, uplifting reminders, and all therapy-positivity! On our account, we've curated the best advice from our therapist network of over a thousand providers nationwide! Not to mention, some pretty cute glimpses of our office pup :)
These eight accounts consistently remind us to ground ourselves, reframe our challenges, and be compassionate to ourselves and others on a daily basis. We hope they encourage you, and even inspire you to fill your own feed with self-healing, de-stigmatizing, game-changing accounts as well!