To a certain extent, we all experience healthy levels of stress and anxiety. And since symptoms of these two conditions are often similar – issues like trouble sleeping, energy dips, a weakened immune system, even digestive issues – it's easy to conflate them.  
But there are significant distinctions between the two – and those differences are important to note, since best practices for approaching and treating the conditions are different.
Here are five ways to tell the difference between stress and anxiety, plus recommended treatment options if you feel either has gotten to be an overwhelming force in your life.
1. If you're nervous about an external situation – and your symptoms go away when the situation has passed – it's likely stress
Stress is generally considered a normal part of life. It's a near universal reaction that occurs in response to an external event or pressure. In other words, once that external situation has passed, the stress should dissipate, too.
The types of events that can trigger stress vary in nature, and length of time. Examples might include:
Losing a job
Having an illness or injury
Getting married or divorced
Moving to a new home
Financial pressures
Work or academic performance
Consider that last bullet point, for example. When you have a looming deadline for a work project, the nervousness (a.k.a. stress, in this case) that you feel about performing might incentivize you to go the extra mile and do really well. Then once the deadline is complete, you'll feel a sense of relief that it's over... and the stress will go away on its own.
That's because typically, the symptoms of stress are temporary: they ease once the triggering situation has passed. In contrast, if you notice that you are continuing to feel tense and nervous even after the situation has passed, it's possible that you are experiencing anxiety.
Related: Eustress vs. distress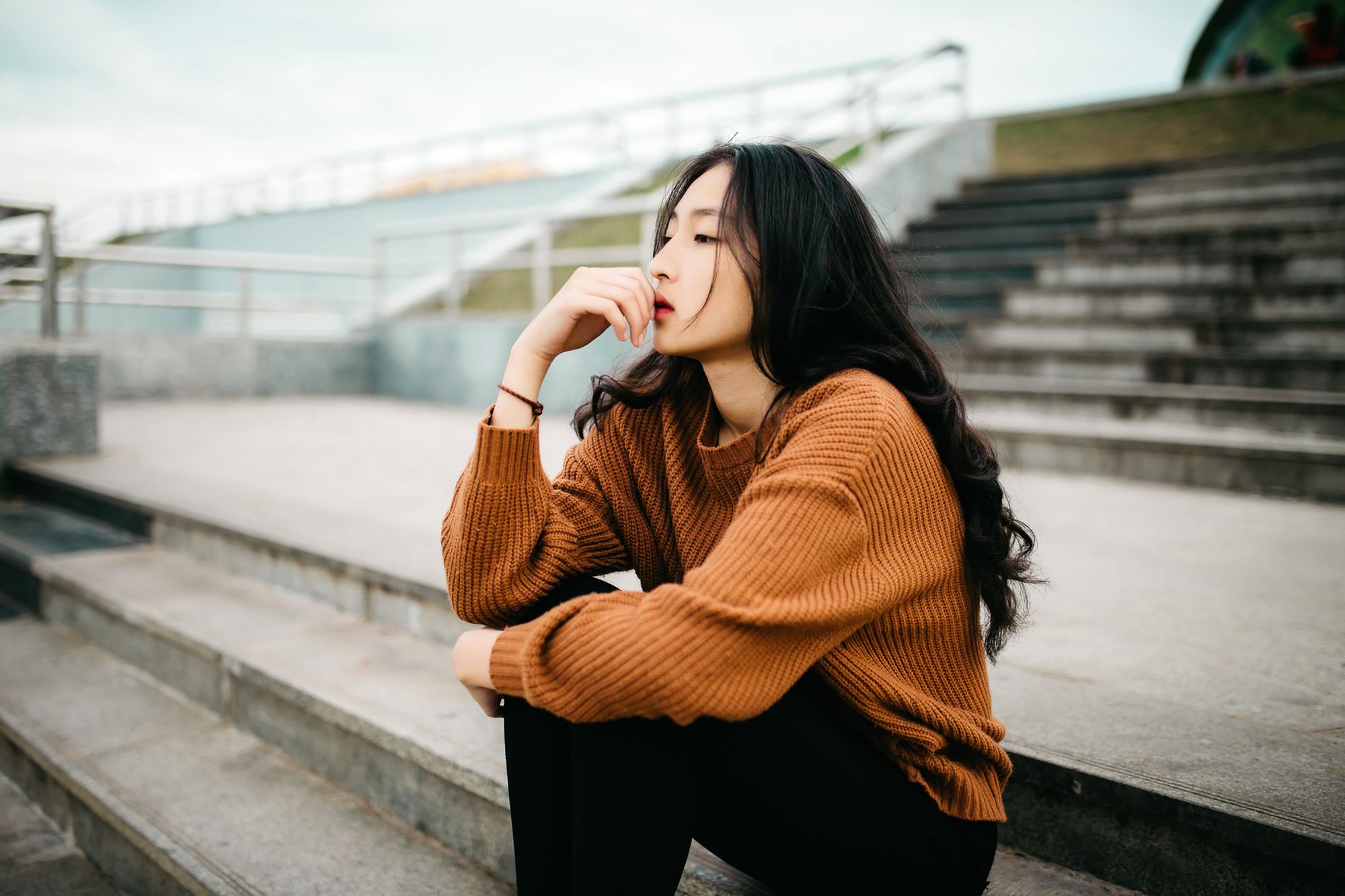 2. If you're constantly experiencing excessive, worry-based symptoms without a direct cause, it could indicate anxiety
Whereas stress and fear are rooted in an identifiable, isolated situation, generalized anxiety is less particular. Someone with generalized anxiety disorder (GAD), for instance, is often inundated with excessive worry that doesn't have any perceivable cause.
Let's say your partner doesn't pick up the phone when you call them after work. You might immediately assume they're in danger, even when there's nothing that actually confirms that fear, and find yourself unable to focus on anything else until you hear from them.
Or, perhaps, you find that you struggle to complete seemingly minimal tasks because your mind starts overthinking the repercussions of doing so. You might stop yourself from writing to a group text, because you have worrisome thoughts like "what if everyone else thinks this is a stupid response?" or "what if my dinner suggestion gets rejected?"
In both of these examples, the anxious mind makes tremendous leaps to assume the worst, without any tangible catalysts or causes.
3. If you find yourself weighing "what ifs" over and over again in your mind, it's probably anxiety
When it comes to telling the difference between stress and anxiety, your thoughts can be a valuable source of information.
When we are stressed, our thoughts and worries tend to be revolve around a particular event. Our concerns are related to pressures in the present moment. An example of a stress-related thought might be:
"I've just moved apartments I've got so many things to organize; I have to remember to change my address with everyone and unpack all these boxes before I go back to work!"
Thoughts related to anxiety, on the other hand, tend to be unhelpful, excessive, and focused more loosely on the future. An anxious thought might look more like:
"What if I'm not able to get everything done? My belongings are going to stay in boxes forever; I'll forget to change my address; I'll miss something, forget to pay a bill, and the electricity will go off, and the neighbors will think I'm a mess!"
What's more, the anxious thoughts tend to repeat themselves over and over, morphing and growing into various unfortunate future scenarios, seemingly unsolvable.
4. If you're exhausted from burnout, it is probably rooted in stress
Burnout happens when we're slammed with stress-inducing responsibilities that pile up faster than we can take them on.
Work-related burnout is a common example. Whereas anxiety might be at play, this type of burnout is more often rooted in tangible causes that induce stress.
For example, if you're in a workplace where you and your colleagues are constantly under pressure to meet excessively demanding workloads, meet unreasonable deadlines, or work with low levels of support, you may soon experience burnout.
5. If you've experienced a panic attack, it indicates anxiety
A panic attack happens because of heightened anxiety. While ongoing or perceived stress may exacerbate a panic attack, it does not cause one.
A panic attack is a relatively brief – yet intense and distressing – physiological and psychological event.
Panic attacks often occur suddenly and involve intense feelings of fear or anxiety, alongside symptoms of the 'fight-or-flight' response in your body, such as:
Difficulty breathing
Chest tightness
Sweating or chills
Feeling sick or nauseous
Dizziness
Trembling
How to treat stress and/or anxiety
If you're feeling overwhelmed by stress or anxiety – or both at the same time – there are ways you can treat them.
Consider implementing, and calibrating, lifestyle changes until you find what works for you! Here are some starting suggestions for treatment.
Ways to treat stress:
Eliminate unnecessary commitments: Take a good look at your calendar to see if you can remove any unnecessary pressure by rescheduling non-essential appointments or commitments, or perhaps seeing your friends together instead of individually.  
Take time to intentionally relax: Take moments for intentional relaxation throughout your day by going for a walk outside, practicing gratitude, or listening to music you enjoy.
Prioritize regular exercise: Research has shown that exercise can be extremely beneficial in reducing stress; see if you can make time in your day to go for a run, play a team sport, or do yoga.
Seek social support: Stay connected to family and friends; they can be an important source of emotional and practical support.
Practice mindfulness regularly: Practice a mindfulness exercise or look for a therapist who offers mindfulness-based stress reduction (MBSR) to help you with stress management.
Carve out time to do something you enjoy: Try to make time for an activity that you find pleasurable, each day. This might be painting, watching a movie, or grabbing coffee with an uplifting friend.
Get organized: Set goals, organize your time, or create a plan of attack about what's bothering you so that you can feel more in control.
Seek therapy for stress: Ask for help from a mental health professional if you are struggling to get your stress under control. Some common types of therapy for stress management include cognitive behavioral therapy (CBT), mindfulness practices, acceptance and commitment therapy (ACT), and existential therapy.
Ways to treat anxiety:
Seek therapy for anxiety: A mental health professional can help you to understand your anxiety and equip you with the tools to manage symptoms. The most common types of therapy for anxiety include cognitive behavioral therapy (CBT), mindfulness practices, acceptance and commitment therapy (ACT), and exposure therapy.
Consider making healthy lifestyle changes: As much as you're able to, prioritize anxiety-reducing habits like regular exercise and a sleep routine. Reducing your intake of alcohol and caffeine can also help to manage anxiety symptoms.
Seek social support: Talk to a trusted friend or family member about how you are feeling; they may be able to offer a different perspective that changes how you feel.
Learn breathing exercises you can practice in moments of anxiety: An exercise like square breathing can help you to cope and manage the symptoms of anxiety.
Look for a support group with others who have similar anxieties: Many people find that talking about their experiences with others' in similar situations can help to normalize difficult emotions. You can search online for support groups in your local area.
Get regular medical checkups: See your physician for a checkup to rule out any medical factors that could be contributing to your symptoms. In some cases, medication can help manage symptoms of anxiety, in combination with therapy.

With context and a deeper understanding of the differences between stress and anxiety, you'll be better placed to know how to take care of yourself – and, if need be, support your loved ones in the future. It may also help to remember that professional help is at hand, and effective; you don't need to manage everything on your own.