At Zencare, we believe that everyone should have access to a great therapist. However, looking for a therapist might seem like an overwhelming process, and it can be difficult to know which therapist to choose.
Below are some factors to keep in mind when looking for a therapist and provide concrete first steps to help you find your ideal therapist!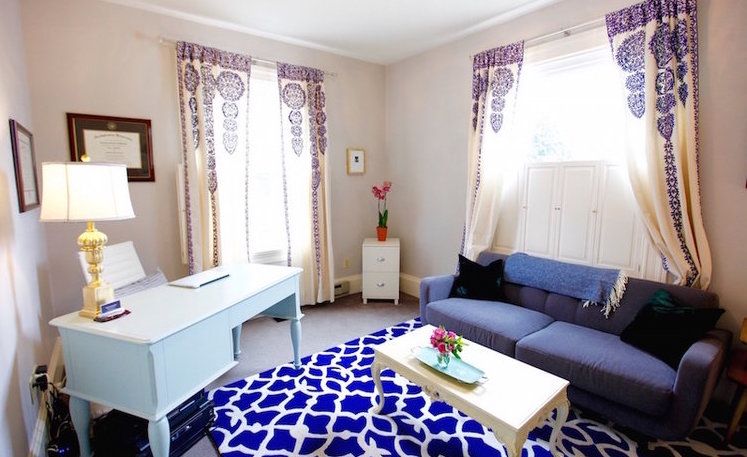 Dr. Stephanie Hartselle's office
1. Start when you're ready
People go to therapy for all kinds of reasons. You don't need to have ever been diagnosed with a mental illness or be in distress to seek out a therapist. People go to therapy to improve communication in relationships, receive career guidance, gain skills for managing anxiety and depression, cope with a loved one's illness, heal past trauma, or to navigate difficult life transitions, just to name a few. A therapist is an impartial listener whose job is to support you and help you make positive change in your life.
To get the most out of your therapy experience, it's important to commit yourself to the process. Therapy can be hard, and as you're dealing with difficult, often hidden emotions, you may feel worse before you feel better.
It's also a good idea to consider why you're thinking about starting therapy now and what you want to get out of the experience; this will help you find the therapist who is the right fit for you and ultimately make sure you're on track towards goals as sessions progress. When you're ready, enter therapy with an open mind, and it can transform your life.
2. Prioritize personality fit
Finding a therapist you trust and who puts you at ease is the absolute most important part of a successful therapy experience. More than any other factor on this list, look for a therapist you connect with and who makes you comfortable being open and honest.
The most qualified therapist in the world isn't going to be able to help you work through your problems if you don't feel safe sharing them.
3. Choose the right kind of provider
When you first start looking for a therapist, you may notice different letters and titles following a therapist's last name. The letters indicate the services the therapist is licensed to provide and the level of training they have received. The most common abbreviations are:
MD: Psychiatrists are licensed to prescribe medication. Some will offer talk therapy alongside medication management.
NP/CNS: Nurse Practitioners (NP) and Certified Nurse Specialists (CNS) are licensed to prescribe medication. They typically do not offer talk therapy, and may work in collaboration with an established therapist.
PhD/PsyD: Doctoral-level psychologist. Provides talk therapy.
LICSW: Licensed Independent Social Worker. Provides talk therapy.
LMHC: Licensed Mental Health Counselor. Provides talk therapy.
LMFT: Licensed Marriage and Family Therapist. Provides talk therapy, often focused on interpersonal relationships.
4. Consider your therapy budget
Before you start looking for a therapist, determine how much money you are willing and able to invest in therapy. Therapist fees can vary widely based on location and your insurance plan. It is typically less expensive to see a therapist who is "in-network" with your insurance, but there are several reasons why seeing an out-of-network therapist may be the right choice.
5. Get smart on therapy approaches
There are hundreds of therapy approaches, and it can be difficult to know what's most effective for you. Many therapists incorporate several modalities and tailor their approach to fit each client.

There are two major schools of therapeutic thought:
Psychodynamic Therapy: Examines how past experiences influence present emotions and behaviors
Cognitive Behavioral Therapy: Focuses on building skills to recognize and change negative thoughts and behaviors
There are many other schools of thought and even more branches within each of them. Certain therapy modalities are considered best practice for particular conditions, and most require clinicians to have received in-depth training.
6. Seek out a specialist
Most therapists have experience working with common life stressors, as well as depression and general anxiety. However, for certain challenges, it's best to find a therapist who has specific expertise, such as for eating disorders, trauma, OCD, and substance use.

So how do you know when you've found an expert?

First, check out their education and experience; it should be substantial, and directly related to the challenges you're facing. Do some research, and make sure they are using evidence-based approaches. Finally, it's ok to ask the therapist! During an early conversation, ask about their experience working with a particular challenge and what percentage of their practice is dedicated to it. A specialist will be totally comfortable answering those questions and likely will admire your dedication to finding the therapist who is right for you.
7. Take the first step!
Ready to find a therapist? Start browsing therapists on Zencare in New York City, Rhode Island, and Massachusetts! For more information on how to maximize Zencare's search tool and get the most out of your initial call with a therapist, read on for How to Find Your Ideal Therapist on Zencare.