Living in the age of content means that learning about mental health can happen anywhere you are, whether that's during your daily commute, while you're exercising, or as you're drifting off to sleep. For those who enjoy listening to podcasts, there are multitudes of excellent mental health and self care podcasts that teach us about different mental health topics and give us tangible ways to improve our mental health.
Looking for the best mental health podcasts? Here are 15 top shows, recommended by therapists. Whether you want to connect with other people's stories about mental health, learn more about mental health topics, or build your mental health toolbox, we've found the right podcast for you.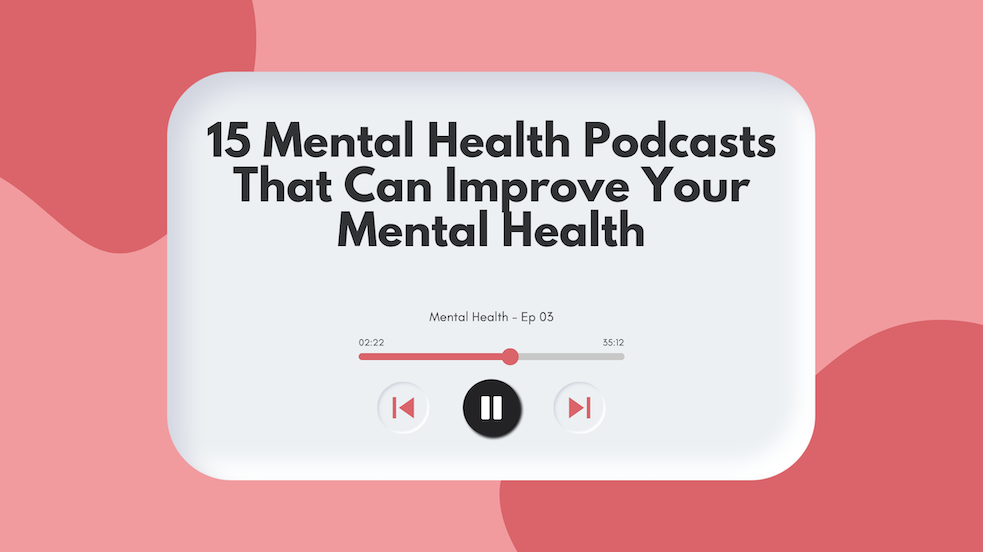 Podcasts about happiness
The Ten Percent Happier Podcast with Dan Harris gives listeners small, incrementally effective ways to optimize their happiness, recommends psychologist and Zencare therapist Dr. Philip Hammel. Podcast host Dan Harris is a journalist whose own experiences with mental health issues led to the incorporation of meditation into his daily routine. According to Dr. Hammel, this podcast is an excellent source of evidence-based discourse on how to improve your happiness and well-being.
The Happiness Lab with Dr. Laurie Santos is another great podcast for those who would like to learn more about happiness from a scientific perspective. Dr. Santos is a psychologist and professor at Yale University who takes listeners through the latest happiness and well-being research, findings, and evidence-based insights. Each podcast covers a different topic and topics range from how to make meaningful adult relationships, to how to raise happier children, to cultivating a growth mindset.
This podcast will give you ideas on how to embrace well-being in your life and how to refocus your energy around your joy and happiness. It will also boost your savviness when it comes to psychological research.
Podcasts on how to improve your quality of life
The podcast Life Kit, which is produced by NPR, is a podcast that gives clear, concise tips for a variety of topics — mental health included. Their slogan says it all: "Tools that help you get it together." Episodes touch on many ways to improve mental health, including the episode "3 common thinking traps and how to avoid them, according to a Yale psychologist" and "What to do if you're struggling with your mental health at work." There are also plenty of episodes about other topics unrelated to mental health that are also engaging and entertaining.
Another podcast that can help the busy mind is Cleaning Up the Mental Mess. This podcast's host is Dr. Caroline Leaf, who is a cognitive neuroscientist. Dr. Leaf has extensive experience in the field of mental health. She provides listeners with practical tools to use when making decisions, thinking on your feet, and focusing on your work. This podcast is especially helpful for those who feel so unfocused that they struggle to be present in their daily lives, including in their relationships.
Podcasts to increase empathy
The podcast Terrible, Thanks for Asking gets its name from the often frustratingly bland question, "How are you doing?" For many, the real answer doesn't match the answer that we give: "I'm fine." This podcast, hosted by the dynamic Nora McInerny, is a collection of honest stories about mental health. From postnatal depression, to traumatic brain injuries, to surviving accidents, Nora explores these concepts and many more with her guests through beautiful storytelling. While Nora is not a mental health professional, she has written several books on the topic of grief, including The Hot Young Widows Club and Bad Vibes Only. This podcast is a great way to boost your empathy for others and hear about stories that might relate to your own.
Katherine Mahan, LPC, also recommends Everything Happens, a podcast that humorously explores the dark sides of human existence. The podcast comes from Kate Bowler, a writer and professor who was diagnosed with Stage IV cancer. Together with her guests, Kate brings her wit and her fun personality into conversations about the greatest challenges that humans go through. Mahan shared that while the host of this podcast works within the Duke Divinity School and often brings religion into the conversation, there are many pieces of wisdom that are beneficial for all.
Podcasts about mental health from a POC perspective
Therapy for Black Girls is an engaging and highly informative podcast that centers itself on the mental health in the Black community. It is hosted by Dr. Joy Harden Bradford, a licensed psychologist whose work has been featured in publications like Huffington Post, The Oprah Magazine, Forbes, and Black Enterprise. She interviews other Black therapists and mental health professionals who talk about mental health topics and how their personal experiences relate to their practice while decreasing the stigma of reaching out for help.
Podcasts that offer a new perspective on life
Tell me Something True with Laura McKowen is a brilliant podcast that brings together people from all walks of life, professions, and experiences to talk about what it means to be human. The host, Laura McKowen, is the founder and CEO of a sobriety community called The Luckiest Club. While this podcast no longer produces new episodes, the conversation featured in episode 51 is a favorite for Mary Beth Dziedzic, LICSW. Dziedzic shared that her favorite episode is titled "Mother Hunger," and discusses how adult daughters can understand and heal from the relationships that they had with their mothers growing up. This includes the impacts of a lack of nurture, protection, and guidance that many women must face as they become adults and mothers themselves.
Podcasts about psychology
The podcast Speaking of Psychology comes from the American Psychological Association, the leading organizational body for psychologists across the country. It highlights the latest research into topics ranging from the psychology behind school shootings to the reason that people find gambling addictive. The host of the podcast, Kim Mills, interviews psychologists who are experts in their fields about the latest information coming from engaging research. This podcast helps people of all backgrounds, not just psychologists, connect on topics of mental health and learn more about how we think, act, and grow. It also gives listeners tangible ways to improve their own mental health and well-being based on the information from the experts.
Podcasts about anxiety
For those with anxiety, it can feel like you're all alone in your emotional reactions. However, the podcast Not Another Anxiety Show endeavors to explore how anxiety impacts many of our lives. The host is Kelli Walker, who is a certified health and wellness coach and registered nurse who previously overcame agoraphobia. She has conversations about how big change — including moving to a new place, starting a new job, or even the natural change of the seasons — can impact our mental health. She brings along anxiety experts to teach listeners practical tools and techniques that can help them decrease their anxiety.
Podcasts about wellness and peak performance
The Rich Roll podcast brings Rich's experiences as an ultra-endurance athlete and wellness advocate into conversations with other thought-provoking leaders of the health and wellness field. He delivers deeply meaningful content on topics of health and nutrition, fitness, mental health, and finding your purpose. He explores what it means to be your best authentic self and how you can reach your goals intentionally and with clarity.
Dziedzic recommends this podcast for anyone who would like to learn more about how humans function and how they can better set up their lives to feel healthy.
Podcasts about relationships
There are many excellent podcasts for couples who would like to improve their relationship. One of these is That Relationship Show, hosted by Naomi Rather and Deborah Curtis, who are both licensed therapists. Naomi and Deborah interview other marriage counselors and therapists — including sex therapists — to offer their listeners ideas on where to focus when it comes to their own relationships. They also candidly discuss the utility of dating apps, what to do when you're leaving a marriage, and how to improve your sex life.
Hillary Howard, LCSW recommends the podcast Love Letters for those in romantic relationships. This podcast, hosted by Meredith Goldstein of the Boston Globe, offers listeners compelling, inclusive stories that are relatable for many. Topics range from how to get over a break-up, getting ready for marriage, how to be in an open relationship, and more. Howard says that she recommends specific episodes to her clients, depending on their situation, so they can hear another perspective.
Podcasts about ADHD
The host of ADHD reWired is a psychotherapist and social worker named Eric Tivers. Eric's therapy practice specializes in helping clients with ADHD or autism. Through this insightful and entertaining podcast, he talks with other experts about mental health and how it impacts people's lives. He talks about his experiences with ADHD and offers listeners advice on how to manage the challenges that come with ADHD or autism.
Podcasts about managing work conflict
Esther Perel is a well-known couples therapist who specializes in helping people through difficult points in their relationships. Her podcast How's work? explores the dynamics between colleagues, which often become fraught with conflict. Each episode is a one time therapy session that focuses on improving the relationship and talking through the difficult emotions, dynamics, and strained connection that lie behind the work conflict. Esther spends time explaining to the listener the different approaches and techniques that she uses as a relationship therapist, making this podcast a great way for other therapists to learn more about helping in this way.
If you find that you're particularly interested in a specific podcast, topic, or body of research, you might consider finding a therapist who can help you apply those concepts to your everyday life. Turning information into action takes intentionality, as making healthy changes looks differently for everyone. You can find a great therapist to help you in this journey through the Zencare therapist directory.