Congratulations on establishing your therapy private practice! Now, as a new business owner, you might be thinking about marketing. How will you grow your client base? How will prospective clients learn about your services?
There are many online platforms that help private practice therapists grow their caseload. With so many to choose from, it's important to understand the differences between the major directories and therapist marketing platforms. We've collected information about 8 leading therapist directories and their strengths and limitations — including costs and differentiating features — so you can decide where to focus when it comes to getting your name out there.
Therapist Marketing Platform Comparison

Click on any item to jump to that section.
Zencare
Zencare is an online platform that makes it easy for anyone to find excellent, high-quality therapists in their community. As a therapist directory, Zencare focuses on easy-to-use filters so engaged, motivated prospective clients can find what they're looking for, and top therapists rise above the crowd. Therapists are vetted to ensure top standards of care, and provided with extensive support while creating their profile, including copywriting, onsite professional photography and videography, and technical support.
The entire Zencare experience — both for clients and therapists — was created to be intuitive and efficient, while maintaining an empowering aesthetic.
The cost for a therapist profile on Zencare is $49-59 per month for individual providers and $79-89 per month for group practices.
On therapist profiles, prospective clients can read about each therapist's specialties, watch their introductory videos, and schedule consultation calls. This ensures that referrals are well-matched, and easy-to-manage for therapists (no more phone tag with clients!). Zencare profiles also have the ability to share information about whether or not there's a waitlist, so prospective clients know exactly which therapists are available. All this with the caring support of the Zencare team, who are passionate about supporting therapists as they grow their practices and making mental health care more easily accessible for all.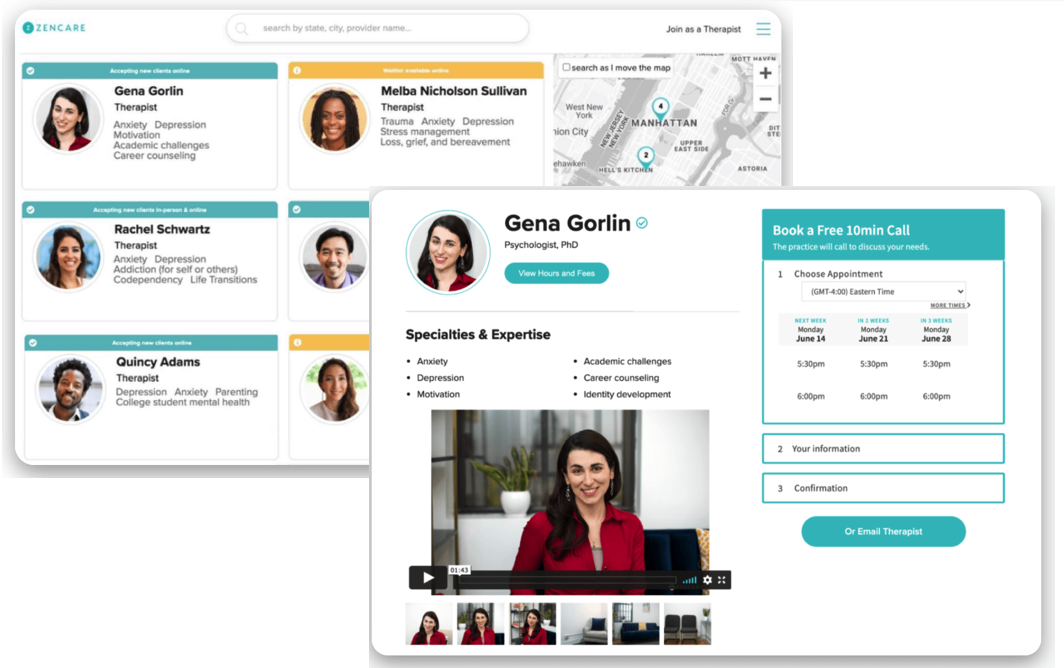 Psychology Today
Psychology Today is an international therapist and counselor directory that gives prospective clients an expansive provider pool to look through. They have hundreds of thousands of therapist and counselor profiles in their directory across multiple countries.
The cost for a therapist profile on Psychology Today is $29.95 per month.
Psychology Today also publishes a magazine in which therapists and clients alike can read about highlighted mental health topics.
The goods
The Psychology Today directory has many strong elements. Some of the features below make them a useful tool for therapists to use in their marketing outreach strategy:
It's easy to set up a profile. To make a profile on Psychology Today, all you have to do is sign up. Psychology Today makes it easy for therapists to get ahead on their online presence.
It has strong SEO. Because Psychology Today has so many providers, profiles and search pages tend to rank highly in search results, so clients searching online are likely to come across the site.
It links to therapists' contact information, including your own website. Each Psychology Today profile includes therapist contact information such as phone number, email address, and website URL. If you don't want to include your direct contact information, prospective clients can complete and send you a form with their questions.
You can track your traffic. Psychology Today gives its members the ability to see their profile metrics, including how many visits they get by prospective clients.
The limitations
While Psychology Today has many strengths, it also has some limitations. Here are a few:
Therapists must write and maintain their own profile information. This is a challenge for many therapists who may not feel strong in their writing skills or are too busy to spend time writing out and accurately maintain an engaging, information-filled profile.
Verification doesn't mean excellence. While Psychology Today checks each therapists' credentials before adding them to the directory, that's where their quality check ends. They also include many non-clinical therapists or counselors in their directories that may not have the same caliber of mental health training as psychotherapists, as well as those who are not fully credentialed yet.
It's like a phone book. The main strength of Psychology Today is also one of its weaknesses: if nearly every therapist in private practice is on there, it's hard to make your profile stand out, and many providers feel as if they get lost in the crowd.
Magazine first: Psychology Today was developed as a magazine, and the therapist directory is a secondary offshoot of that; supporting clients in the therapy search and therapists in growing their practice is not the business's primary focus.
Psychology Today vs Zencare
When it comes to the experience of the prospective client, there are many similarities between Psychology Today and Zencare. This includes the use of filters to narrow the search, the inclusion of key information in each profile, and resources like blogs and articles.
However, there are major differences between Psychology Today and Zencare when it comes to the therapist and client experience. Zencare is designed to be an intuitive, user-friendly site that makes the process of seeking therapy as efficient and empowering as possible. Clients cite the introductory videos, which are professionally filmed on-site, as one of their favorite features; they can also check up-to-date provider availability, and book a free initial call through Zencare's scheduling tool.
Zencare takes a quality over quantity mindset: with a unique provider vetting process, Zencare ensures that each therapist is excellent in the care they provide, making the site a trusted source for clients and referral partners across the country.
Zencare also takes the heavy lifting off of the therapist when it comes to developing their profiles. With a network of trained photographers across the country, all therapists have a professional onsite photo and videoshoot, including post-production editing, for well below market rates. Therapists can also choose to add profile copywriting services,  so you don't have to spend time putting this together! All profile elements are developed with a great focus on SEO so your profile gets in front of as many people as possible.
GoodTherapy
GoodTherapy is another international therapist directory that highlights the safety of their platform. The therapists listed in the GoodTherapy directory must be fully licensed and go through a peer-review process in order to become listed, making this directory highly-vetted. They also agree to the GoodTherapy standards, which include a dedication to non-pathologization, empowerment, and collaborative therapy services.
The cost for a profile on GoodTherapy is between $29.95 - $49.95 per month, depending on your membership tier.
GoodTherapy membership also includes the opportunity for therapists to access a wide range of Continuing Education (CE) credits. They provide these opportunities through courses dedicated to topics such as mindfulness, ethics, teletherapy, compassion fatigue, and much more.
The goods
GoodTherapy has many strong features to their platform and their service. This includes:
A high quality of therapist. GoodTherapy's membership requirements ensure that the therapists listed in their directory are credentialed, educated, and capable of serving clients. Prospective clients can trust that the therapists are vetted as they search for the right fit.
They support provider education. GoodTherapy offers education courses to help therapists grow their knowledge while requesting that all therapists take care of themselves as they take care of others.
They distinguish between therapist types and treatment facilities. GoodTherapy gives prospective clients the option of looking for a therapist or a treatment center. They also give the option to look for marriage counselors, child counselors, support groups, or psychologists at the outset of the search to best guide the results.
They share resources on mental health. For prospective clients that want to learn more about mental health, GoodTherapy provides many articles on different mental health topics. These resources encourage clients to reach out for help by maintaining a positive and supportive tone.
The limitations
However, there are limitations to the GoodTherapy directory when it comes to marketing for therapists. Here are some of them:
Busy interface. While GoodTherapy packs in a lot of great information across their directory, the interface may leave prospective clients feeling overwhelmed while searching for a therapist. This may lead to less-than-thorough search, leaving out many therapists that might be a great match.
Scheduling platform only available for top tier members. Certain features are only available for GoodTherapy members that pay for the highest membership level. This includes the scheduling platform that gives clients and therapists a seamless way to plan their calendars. Those without this membership tier will need to utilize other scheduling tools.
No support on profile-building. Therapists must provide their own written text for their profiles, which may take time and effort. This leads to limited standardization across therapist profiles and decreased SEO.
GoodTherapy vs Zencare
GoodTherapy and Zencare both dedicate themselves to providing individuals with a directory of high-quality mental health professionals. While Zencare vets each therapist listed in the directory with a one-on-one conversation, GoodTherapy only accepts members that are fully credentialed and agree to a standard ethics code.
Both directories offer filters to narrow a prospective client's search, however Zencare's appearance is more aesthetically-pleasing and intuitive for users. Zencare's simple, bright interface makes searching for the right therapist an enjoyable experience.
Zencare also supports therapists by writing and editing profile text, saving therapists time and offering them the opportunity for maximum professional polish in their profiles.
MyWellbeing
MyWellbeing is a therapist directory that aims to help private practice therapists grow their practice by pairing them with clients that are specifically looking for therapy services like yours. yWellbeing asks prospective clients to complete a quiz about who they are and what they're looking for, including therapist identity, mental health priorities, therapist style, and more. This information then curates a recommendation of three specific therapists and the prospective client can contact those therapists.
The cost for a therapist profile on MyWellbeing is between $100 - 125 per month, depending on your payment schedule. They also offer a community plan for $38 - $50 per month that includes access to their community resources, including networking events with other therapists.
The goods
MyWellbeing is a unique resource and has many good parts to it. Here are a few good parts:
Clients get personalized, curated match recommendations. By asking the prospective client to invest time in answering questions about what type of therapist and what style of therapy they're looking for, prospective clients receive tailored recommendations.
You can decide the right fit for you. Because much of the therapist profile remains unseen by prospective clients, you can explicitly stipulate what types of clients you're looking for — and who will get matched with you. This includes session fee, mental health condition, and identity preferences. When a prospective client matches with you, they'll only see your contact information and your professional statement, the rest remains behind-the-scenes.
They offer therapist-centric resources. MyWellbeing boasts of having many networking and learning opportunities for their members to participate in. They understand the importance of having a strong support system as a therapist and encourage therapists to join their network to find such a support system.
The limitations
MyWellbeing also has several limitations for therapists seeking to boost their marketing, including:
No searchable directory. Unlike other therapist directory platforms, prospective clients cannot search for therapists or see more than a few therapist profiles. They receive three recommendations and must request to see other therapist profiles from the customer support team if those recommendations don't resonate with them.
They leave insurance reimbursements on the table. Because MyWellbeing focuses on private pay clients, there's the potential for missing out on prospective clients that want to use their insurance benefits to cover therapy costs. Without having the capability of sharing whether you're in-network with certain insurances, prospective clients may disregard your profile in favor of a therapist that explicitly takes their insurance.
They aren't yet in all geographies. Currently, MyWellbeing only serves prospective clients looking for therapy in New Jersey, New York, California, Texas, and Florida. While this will surely change in the future, it does show a large limitation of this platform.
There's an abbreviated vetting process. Therapists who sign up with MyWellbeing might be fully credentialed professionals, however they might also be still in training or under supervision. This may decrease the trust that prospective clients have in the platform, as they're likely searching for excellent care.
MyWellbeing vs Zencare
Where Zencare allows prospective clients to view as many therapist profiles as they would like — including watching their introductory videos and reaching out for phone consultations — MyWellbeing limits the number of therapist profiles that prospective clients can view. With no public-facing search tool, this leaves clients with less choice, and lower visibility for providers.
Zencare also provides writing and editing support for their therapists as they're setting up their profiles, whereas MyWellbeing does not. Therapists must write their own statements for their profiles, and since MyWellbeing only provides prospective clients with a few options of therapists to contact, the stakes are high to get your profile just right.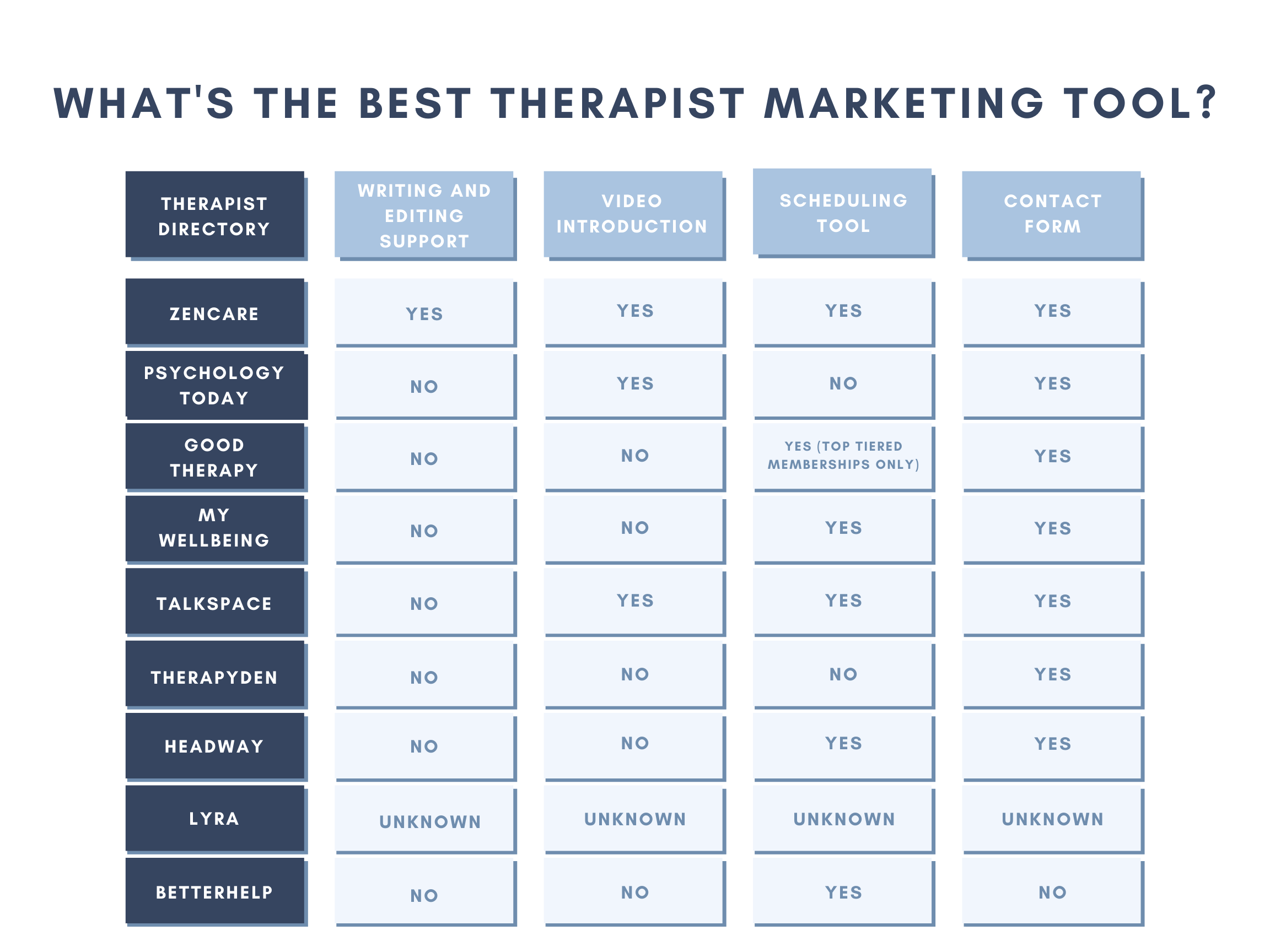 Talkspace
Talkspace focuses on making therapy services convenient, accessible, and technology-enabled. However, when a therapist joins Talkspace, they aren't just adding their profile into the mix — they're starting employment (full-time or part-time) with Talkspace in the role of therapist.
Clients pay for the use of Talkspace services, between $65 - $99 per week. The amount that they pay varies on their plan. Because Talkspace employs therapists to work with their clients, it does not cost the therapist to join as a Talkspace provider. However, therapists must be fully credentialed and have valid malpractice insurance. Once they join, they can provide services for clients in the state in which they live.
Talkspace therapists may have weekly sessions with clients or simply text with them throughout the week, depending on the client's subscription status.
The goods
Talkspace is very different from other therapist directory platforms, however they have many strong features incorporated into their service. These strong features include:
They provide recommendations based on answers to a brief assessment and live chat conversation. Because Talkspace uses assessments and live chat conversations with prospective clients, their client-base is often financially and emotionally invested in therapy before they even begin sessions. This may be a good sign for client engagement and retention.
They take insurance directly and will submit claims for you, so there's no overhead. You can think of Talkspace like a group practice — all of the admin is taken care of for you, including insurance claims. This saves you time and hassle so you can focus on your clients.
It's quick to start and you pick your own schedule and caseload. If you decide to join Talkspace as a therapist, the process is quick. You will need to apply to work for Talkspace, however you'll have complete control over your schedule and how many clients you take on.
There is messaging outside of sessions. Clients have the option of subscribing to different levels of members. They can pay for the ability to message therapists, including text, video, and audio messages. They can also pay for live therapy sessions. This gives you multiple ways of supporting your clients.
The limitations
Talkspace also has several limitations to their tool and their support of therapist private practices. Here are a few of them:
Heavy lift for clients before even seeing therapist profiles. Before clients get access to therapist profiles, they must create a profile and log-in to chat with a matching agent. The client and the matching agent live chat about what the client is looking for — the matching agent then asks clients to sign up (and pay) for a subscription. All of this must be done before clients get a chance to look around for therapists, making it a high-touch therapist search — one they might not be up for.
It's a job, not a marketing service. The major difference with Talkspace than other directories is that you aren't signing up for promotional outreach — you're committing to a full-time or a part-time job. This comes with additional responsibilities, even if working for Talkspace is flexible. If you're simply looking for a way to boost your marketing, this isn't the option for you.
Talkspace vs Zencare
Zencare and Talkspace are completely different in terms of their services for therapists. Therapists who sign up for Zencare have their practice promoted in an online therapist directory — prospective clients can search this directory using multiple matching filters and view therapist profiles to find a perfect match. Therapists who become employed with Talkspace will be assigned clients and paid by Talkspace to provide mental health services, including messaging and video calls.
For therapists who want to increase their caseload while maintaining their own private practices, Zencare is the favorable resource. The Zencare team is passionate about providing therapists with the support they need to successfully attract prospective clients without adding additional responsibilities.
TherapyDen
TherapyDen is a therapist directory that wants to make finding a therapist an easy experience for everyone. Their company dedicates itself to the incorporation of social justice values into the directory. This shows up in their many filters, as these filters are a way of helping prospective clients find therapists of all backgrounds and identities.
Therapists can list their profiles on TherapyDen for free. They can also pay between $10 - $30 per month for a Premium account, which lets them flesh out their profiles and pull their profile to the top of search results for prospective clients.
The goods
TherapyDen has many great elements to their directory. Here are a few:
You can create your profile for free. TherapyDen makes it easy and budget-friendly to list your profile in their directory. While paying for a Premium account may lead to an increase in client referrals, you'll still have prospective clients finding your free profile in their searches as well.
Premium memberships have distinct advantages. When you have a Premium account with TherapyDen, your profile gets bumped to the top of the search list. This means more visibility for your services and likely more referrals. Premium membership lets you indicate that you have a waitlist for those periods when you are no longer accepting new clients. There's also more customization on premium profiles, including more subheadings and more text options available.
There are many search filters. TherapyDen believes that by including more search filters, prospective clients will save themselves time by narrowing their potential therapist pool. If you have a specialty, this is a great way to make sure that you show up in searches.
The limitations
TherapyDen also has a few limitations for supporting therapists in private practice, including the following:
The free profile won't be the most robust. When you have a free profile, TherapyDen limits you to listing your practice in only one state — even if you practice in multiple states or have an online practice. You also won't be able to list group therapy sessions, which you can if you have a Premium account.
No videos on profiles. Currently, TherapyDen therapist profiles do not include introductory videos. Often, prospective clients find it helpful to see therapists in action, which makes it easier to gauge their personality and therapy style — key elements to a successful therapeutic alliance.
Small team which means limited support. TherapyDen is a growing company. While they're certainly on a great path, their team is small and this means that there may be limited support for their therapist members.
TherapyDen vs Zencare
While TherapyDen and Zencare offer similar advantages for therapists and therapy seekers in terms of building inclusive, highly filterable therapist search platforms, they differ in some key ways. Zencare's therapist profiles include more than just written text — they also include stylized, personable videos shot by professional photographers. Zencare membership includes the support of a professional photographer, copywriter, and the Zencare support team. This leaves all therapist profiles looking polished and engaging, and the support team is highly responsive and goes above-and-beyond helping therapists in growing their private practice.
Headway
Headway is a venture-backed mental health start-up company that offers prospective clients the ability to work with any therapist, despite insurance network status. Headway acts as a group therapy practice and takes care of billing insurance companies. This means that therapists that are not in-network with insurance companies can still see insured clients — and the client won't be required to pay the full session fee.
It's free for therapists to join Headway as members. However, there is a brief application to join as a member.
Clients pay Headway for therapy services, who in turn reimburse therapists. If your idea of a nightmare is submitting reimbursement claims, Headway may be an excellent resource!
The goods
Headway is innovative in its business model. This helps therapists across the country in a few key ways, including:
You don't have to worry about insurance networks. Because Headway acts as a group practice, they take on the work of billing and administrating your sessions. With Headway, you can offload these often tedious tasks, which saves you time! It also saves clients money by allowing them to use their insurance to see out-of-network therapists.
It's free to create a profile. Headway wants therapists to join as members and benefit from their services, so they do not charge therapists to create a profile. This makes it budget-friendly for you as well as the clients!
They use a brief questionnaire to create a curated list. Clients are required to complete a brief questionnaire before they begin their search for a great therapist. This narrows the field in a way that ensures that the therapists that show up for them fit their needs. When therapists include their specialties in their profiles, they'll be more likely to show up in these searches.
The limitations
There are also some ways that Headway could improve their support for therapists. Here are a few:
They only serve insured clients. Because of the way that Headway works, they only serve clients that have insurance. This excludes Medicaid and Medicare insurance. With these restrictions, therapists will miss out on helping clients who are uninsured, have Medicaid or Medicare, or do not want to use their insurance (perhaps so their parents don't see that they're in treatment).
Information gathering as roadblock. Headway asks clients to share their health insurance information before they start searching the directory. This could be a barrier for some prospective clients who want to search for therapy services without putting in too much effort — and could potentially scare off some individuals who find handling their insurance difficult or anxiety-provoking.
New kids on the block. Headway is still relatively new on the mental health scene. This means that many of the ways they work may still need to get worked out. This could impact their members, especially if it means delayed payments of difficulties with client insurance companies.
No support on creating profiles. When a therapist joins Headway as a member, they do not get any support in writing their profiles, which could mean that some therapists have difficulties getting their information written into engaging, personable text. Headway profiles also do not include videos, which means that prospective clients must rely on this written information to grow interest — so the written information on the profile has some high stakes!
Headway vs Zencare
Zencare and Headway both want to make finding a therapist easier for all. However, the largest difference between being a member at Headway and being a member at Zencare is that Headway reimburses therapists for sessions that they have with insured clients — which means that membership set-up is a bit complicated and needs constant management outside of your private practice — while Zencare remains an easy-to-use marketing platform that represents your practice as it is, whether in-network or private pay. Headway's profiles also lack the polish that Zencare offers, with its professional copywriting and photographers.
Lyra Health
Lyra Health is a mental health company that offers employers access to mental health services for their employees. Employers purchase Lyra Health and offer membership to their employees as a company benefit. Therapists who join Lyra Health as providers then serve these employees through a diverse range of mental health services, including psychotherapy.
To join the Lyra Health therapist network, a therapist would have to apply for the role. There are both part-time and full-time roles for therapists.
The goods
Lyra Health is an established, highly-successful mental health company. Much of their success stems from the following key features:
There won't be any worries about session fees. Because clients receive therapy services from Lyra Health through their employment benefits, they do not have to worry about paying for their therapy out-of-pocket.
Guaranteed new clients. As a Lyra Health therapist, you'll receive new clients up until you reach your capacity. While you aren't filling your own private practice with these clients, you'll be guaranteed work (and pay!) while working for Lyra Health.
The limitations
Lyra Health also has a few limitations in its ability to help therapists grow their practices, including:
It's a job. Working for Lyra Health means finding new clients, however those clients will be yours through your employment with Lyra Health, rather than through your own private practice. If your goal is to boost your private practice business, this is not the best option for you.
Prospective clients must be members to search directory. Those who aren't members of Lyra Health through their employer will not be able to search or see a Lyra Health therapist. This limits the prospective client pool.
Lyra Health vs Zencare
Joining Lyra Health as a therapist is an excellent way to work with more clients. However, it does not grow your private practice like Zencare does. Zencare makes it easy for prospective clients to search the directory for a therapist that's a perfect match for their needs — without having to sign up, be a member, or pay for access. Zencare focuses on helping therapists market their private practices and we're dedicated to the growth of your business.
Betterhelp
Betterhelp is an online therapy platform that leans on its technology to provide clients with secure, in-depth therapeutic care. Clients who pay for membership with Betterhelp get access to Betterhelp therapists through texting, voice messaging, and live online sessions.
It costs clients $80 per week to access Betterhelp services. Therapists can become Betterhelp providers by applying for part-time or full-time employment.
The goods
Betterhelp has many great ways that it helps therapists in their work, including:
It gives clients curated recommendations for therapists. Because clients must go through a brief assessment and live chat with a Betterhelp agent before they can communicate with therapists, the clients are invested and ready for therapy by the time they reach out.
Guaranteed work. As a Betterhelp employee, therapists can rest assured that they will receive new clients when they have availability.
Offers flexibility. Clients have the option of messaging their therapists, either in addition to live therapy sessions or as a standalone service. This means that therapists can opt to work with clients in more ways than just live calls — you can also support clients through texting and audio messaging, which may be better for your schedule if you're looking for flexibility.
The limitations
There are also ways that Betterhelp is limited in its support of therapy practices. Here are a few ways:
You aren't adding to your private practice. If you went through the effort of setting up your private practice, you may want to see your clients through your practice rather than through Betterhelp.
No filters for non-members. If a prospective client wants to find a therapist, they can look at the Betterhelp therapist directory and at therapist profiles. However, without paying for a membership, they cannot filter these profiles or communicate with the therapists. Clients are matched with therapists automatically based on their answers to the short assessment, so clients may not get to pick the therapists that look the most engaging to them.
Therapists must write their own profiles. Betterhelp doesn't provide copywriting support for their therapists, leaving them to create their own professional statements. This may be a barrier for some therapists who don't feel comfortable with their writing skills.
Better Help vs Zencare
Zencare and Betterhelp both want to make mental health services accessible. While Betterhelp employs therapists and offers them clients through their technology platform, Zencare helps therapists grow their own private practices by giving them an intuitive, aesthetically-pleasing therapist directory to list their services. Zencare also is passionate about supporting therapists as they create their profiles, including offering them professional copywriting or editing and sending a professional photographer their way for a clean, engaging profile.
Overall, it's amazing that there are so many ways that individuals, couples, and families can access mental health services. With so many platforms for therapists to market their services online, there's an unprecedented level of support for therapists' private practices these days. Finding the marketing or outreach strategy that's best for your practice begins with learning what's out there — and who has features that will make your profile stand out to prospective clients.
Many of the therapists that choose Zencare as a marketing tool share that the clients who get referred through Zencare are engaged, eager for care, and motivated for change. Zencare also has an extensive reach for prospective clients through our active social media (including paid advertising!), robust listservs, and strong partnerships with community referrers across the country. When building your practice, clients of this nature — and the Zencare team — will surely help you and your business thrive!