Zev Berkowitz is a Licensed Clinical Social Worker who offers remote therapy sessions to clients living in Virginia, Maryland, New Jersey, or New York. Zev specializes in relationship challenges and provides therapy to individuals, couples, and families. He also works with clients struggling with behavioral addictions, trauma, anxiety, and/or depression. Zev works hard to create an interactive, safe, and collaborative environment in which clients feel connected, heard, and seen.
We asked Zev more about his work with clients and his guiding philosophies on therapy.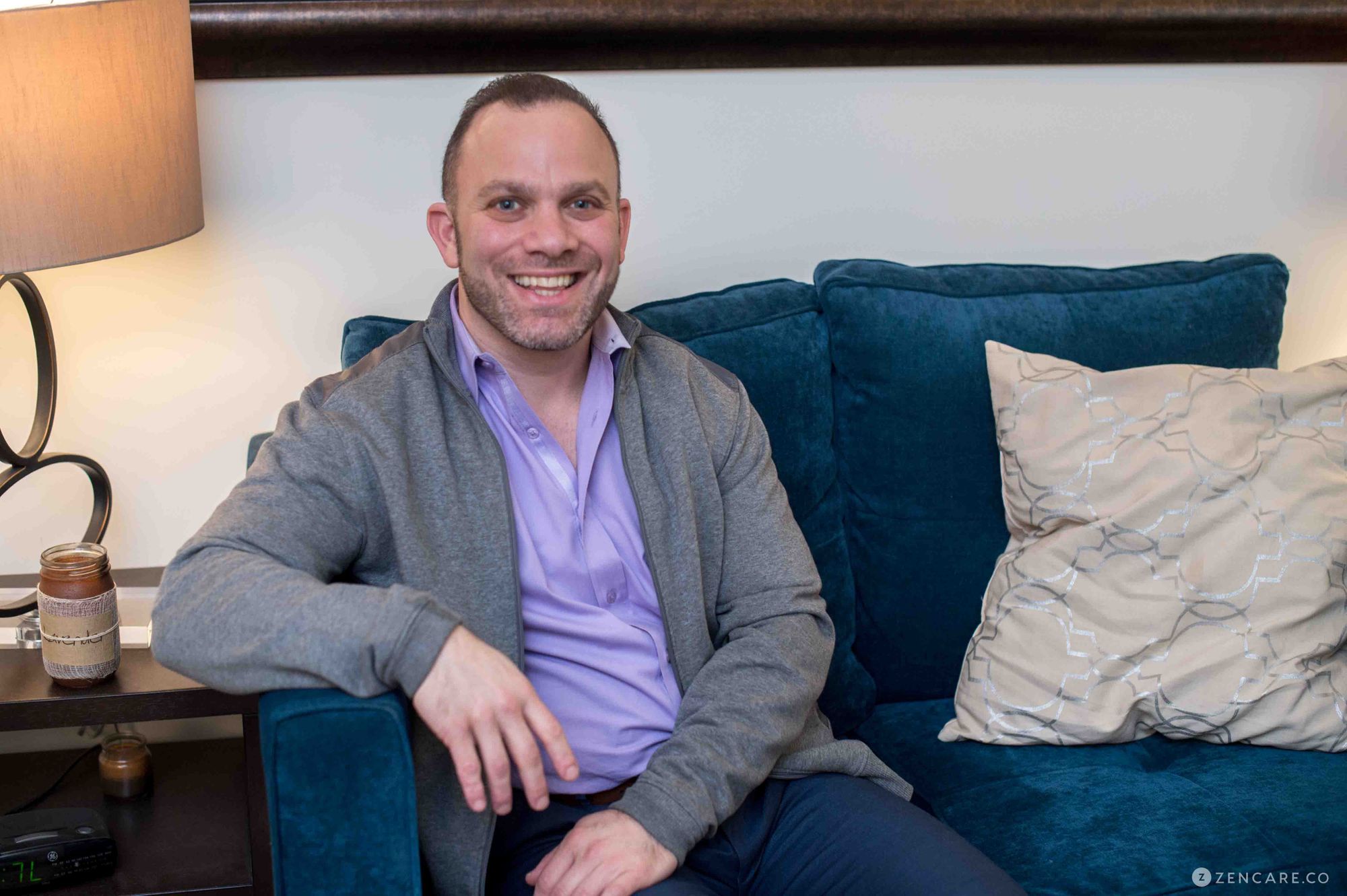 Zev's background and personal life
How did you decide to become a therapist?
I started working with individuals with disabilities and volunteering as a peer counselor in my junior year of college. I then started working in the public school system in 1997 first as a special education teacher, and then as a school psychologist (my first masters). All of these positions gave me a lot of exposure to therapists and mental health workers. I knew from the start that I eventually wanted to be a therapist, as I admired what they did.
What do you enjoy doing in your free time?
I love spending time with my wife and our four kids, as well as spending time with friends. I also have a passion for biking, hiking, and exercising.
Zev's specialties and therapy philosophies
What guiding principles inform your work?
I am a very interactive therapist and am not passive. I give a lot of feedback and guidance to clients. Clients seem to appreciate it, and it allows them to get a sense of my active and caring style. I also believe that clients need to have goals to work on in between sessions so that they can get the full benefits of therapy.
What clientele do you work with most frequently?
I have numerous specializations and certifications that have all led me to the practice I have today. My foremost passion and specialization is working with relationship issues, with sub-specializations in relationships that have gone "stale," relationships where trust has been broken (infidelity, addiction, etc.), and/or where communication is very weak. I also work individually with people suffering with a behavioral addiction (sex, porn, gambling, internet, etc.).
Can you tell us more about your specialty in relationships?
I work with couples and individuals within a couple. I focus on learning new communication skills, as well as rebuilding trust and safety after a breach. I rely heavily on my trainings in Imago couples work, as well as the Gottman principles.
I teach couples how to mirror one another as well as validate and empathize so that they can feel heard and seen. We work on breaking bad patterns and cycles to create healthier ones using positivity and appreciation.
Can you tell us more about your specialty in working with clients recovering from addictions?
I work predominantly with behavioral addictions. These are process addictions or things that people use (similar to alcohol and substances) to self-soothe and escape from their realities, responsibilities, and negative emotions.
I help clients develop insight into why they developed the coping skills and defense mechanisms they did, and help them begin to recognize their addiction in a less judgmental way. Family-of-origin issues can also arise, and we see how this influences the present as well. We then work on replacing the addiction with healthier outlets and learn how to sit through uncomfortable feelings.
Can you tell us about your family therapy specialty?
I love family dynamics. Similar to my work with couples, I focus on maintaining a healthy atmosphere in the communication and boundaries that often go "off the rail" in families. We together explore the family system and dynamics, and we explore how it's affecting siblings and/or parent-child relationships.
I try to create a safe environment where everyone can have their voice and express their feelings. I've worked with intact, divorced, mixed, and blended families. Each one has its unique strengths and challenges. I work with heterosexual as well as gay and lesbian unions.
What do you find most rewarding about your work?
So many things! I love helping couples and families heal from old and current wounds and watching my clients soar to new emotional freedoms. I also love assisting those enveloped by behavioral addictions find healthier and better ways of coping and then watching them blossom. I am so blessed to be doing the work I am.
Therapy sessions with Zev
What will our first session together be like? What happens in ongoing sessions?
With couples, I usually see the couple together for the first session and get a temperature and insight into the history of the relationship and the issues bringing them into therapy. We start uncovering some resentments and patterns from the very first session.
I then often will see each person in the relationship one time individually to give them a chance to give over their own family history and have a space to speak openly. We then meet back as a couple and create mutually agreed upon loose goals as to what we will be working towards. It's similar (but obviously technically different) with individuals and families.
Are there any books you often recommend to clients?
Yes! I recommend:
Do you assign "homework" between sessions?
I do! I have a library of collected questionnaires and fun (ok, not always...) quizzes for all of my clients. I also have readings and webinars/podcasts that I've researched and collected that I highly recommend.
How do you help ensure I'm making progress in therapy?
I often check-in with clients and ask what is working and what is not. I inquire if the goals we originally set forth need to be updated or changed. Lastly, I encourage feedback so I can know how you feel you're making progress.
How do I know that it's time to start seeking therapy?
It's time to start seeking therapy when the pain you're experiencing outweighs the desire to procrastinate.
How can I prepare for our first session?
Bring an open mind and a willingness to explore! More practically, if you keep a journal or make specific notes and questions for the session, please feel free to bring it.
How will I know it's time to end my time in therapy with you or reduce session frequency?
It's something I believe we will know and communicate about together. Some of my fondest sessions are when clients are truly ready to move on because then I know i've done them a service.
Why should I seek therapy, rather than turning to my partner, friends, or other loved ones?
We all (including therapists) need a neutral and developed person who can help us be objective and tell us the truth (even if it hurts!).
What advice would you share with therapy seekers?
Please don't be in pain any more. Don't postpone the mental/emotional call for help any more than you would with physical pain.
Visit Zev's profile to watch his introductory video, read more, and book an initial call!