Yuliya Golubev is a Licensed Mental Health Counselor providing remote therapy sessions to clients throughout the state of New York. Yuliya particularly enjoys working with young professionals and college students on challenges related to the transition to adulthood, including work-related stress, anxiety, and relationship issues. She also enjoys working with couples and expecting parents on challenges ranging from new parenthood and perinatal mental health to infertility and loss. With all clients, Yuliya emphasizes the importance of the mind-body connection and utilizes both cognitive-behavioral and mindfulness therapeutic approaches to help clients develop increased confidence and compassion both with themselves and in their relationships with others.
We asked Yuliya more about her work with clients and her guiding philosophies on therapy.
Yuliya's background and personal life
How did you decide to become a therapist?
I was born and raised in Belarus (formerly part of the Soviet Union) in a culture where mental health was stigmatized. When I came to the U.S., I noticed many resources for mental health that my country did not have. This led me to study mental health counseling and provide resources and services for clients that my country did not have.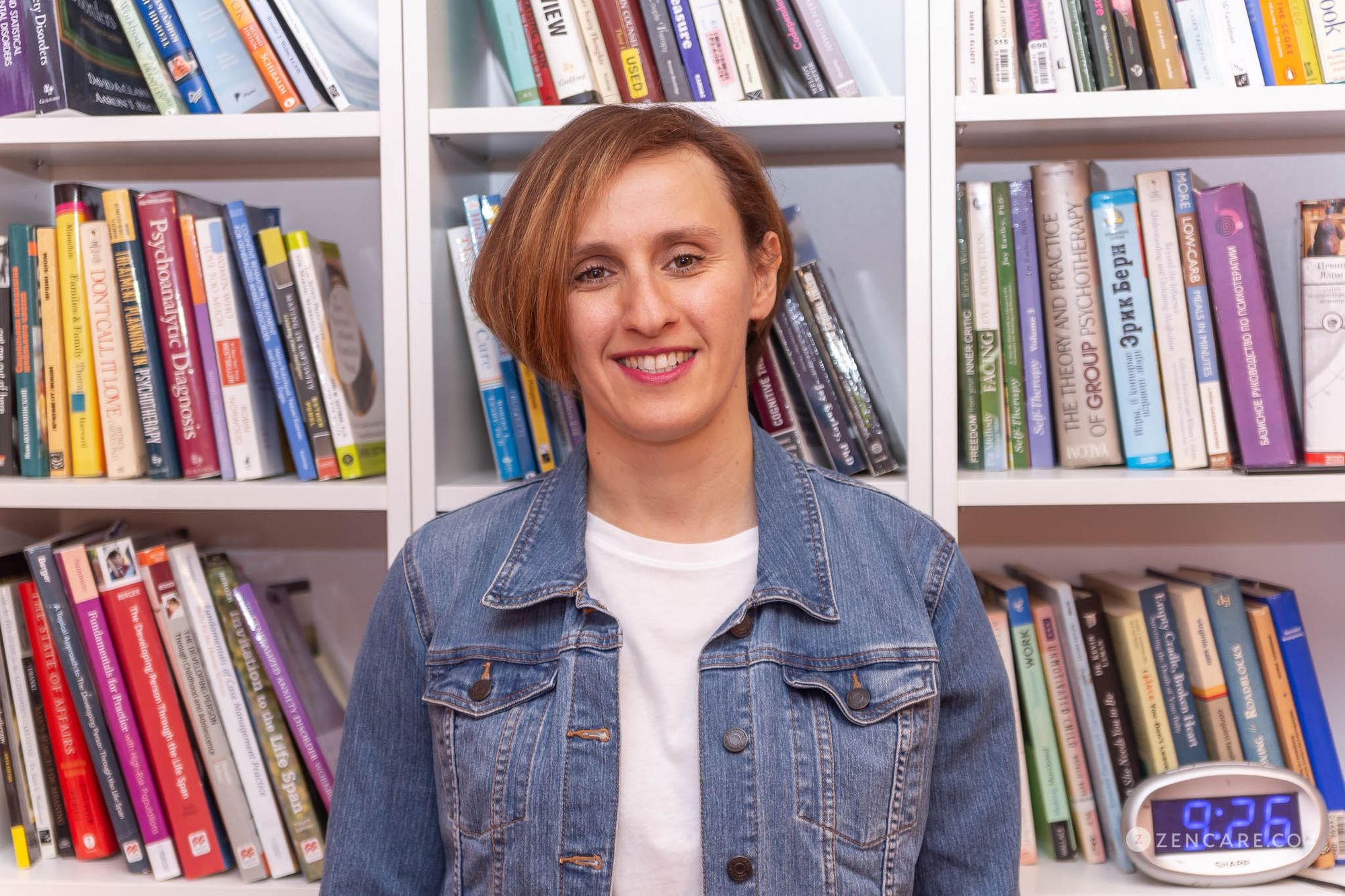 What was your previous work before going into private practice?
Prior to starting private practice, I worked with a diverse set of clients in many settings, including a college counseling center, an outpatient substance abuse program, a crisis call center, and in a hospital. I provided a spectrum of clinical services: individual, group, family therapy, crisis intervention, and supervision.
What do you enjoy doing in your free time?
I love ice-skating in Central Park. I also love going to the theater, discovering new hiking trails, and trying new recipes.
Yuliya's specialties and therapy philosophies
What guiding principles inform your work?
As a multicultural and bilingual therapist, I honor each client's culture and values. I help clients to become more resilient and empowered. By diving deep into a client's narrative, feelings, and body sensations, I help clients bring awareness to their stuck points to facilitate a change in their thinking, feelings, and behavior.
Can you tell us more about your specialty in anxiety?
Anxiety can be disguised through perfectionism, procrastination, avoidance, or exaggerated responsibilities at work and within one's family. I provide evidence-based treatment for anxiety called CBT. I also help clients bring awareness to their experience of anxiety within their body and how they can recognize it. I will often also utilize Internal Family Systems, which helps clients learn more about the mission of their anxiety and develop a relationship with it.
Can you tell us more about your work with young professionals and college students?
There is a lot to figure out in one's mid-to-late 20's and 30's: dating and relationships, managing friendships, finding  a work-life balance, climbing the career ladder, and handling the stress that comes with being a young professional in NYC.
I also provide therapy for college students. Being a college student is a large step in a person's life and an adjustment by itself. Students might find themselves in survival mode going through a competitive programs. I help college students manage competitive academic programs, navigate friendships and relationships, deal with family stressors, and establish the fundamentals of their career.
Can you tell us about your specialty in perinatal mental health and parenting?
There is a lot of anxiety and stress in the parenting journey. I provide quality perinatal therapy to women and their partners dealing with the variety of challenges that can arise surrounding pregnancy, such as infertility, pregnancy after miscarriage, a history of a traumatic birth experience, anxiety about becoming pregnant, struggling with postpartum depression or anxiety, and adjustment to parenthood.
I also provide couples therapy to NYC parents looking to strengthen their connection and intimacy. I help parents solve the puzzle of navigating a demanding career, parenting, and a connection with their partner.
What do you find most rewarding about your work?
I feel honored to witness the transformation process my clients go through during the process of psychotherapy. I feel so privileged to share this journey with clients and witness them develop resilience and empowerment.
Therapy sessions with Yuliya
What will our first session together be like? What happens in ongoing sessions?
In our first session, I ask you to share your story, what's bringing you to therapy, and what needs attention right now. We will concentrate not only on the content of your story, but we will also go between the lines. What is it like for you to share your story with me? What feelings are coming up? I also try to normalize the process of starting therapy. We will work together on building a trust in the therapy room.
I might also ask some questions about your family history and if you have been in therapy before. I would also ask you to come up with some goals you would like to start working on. What is important for you? Where should we start? At the end of the first session, I will do another check-in with you, seeing how the session was for you and if you have any questions or concerns.
How long do clients typically see you for?
Clients usually see me for 1-2 years, but I also work with clients in short-term therapy, which can be around 6 months.
Are there any books you often recommend to clients?
I often recommend books for clients to reinforce the gains of therapy between sessions. I love the following books:
Do you assign "homework" between sessions?
I assign "homework" depending on the issues we are working on. Prior to assigning any "homework," we will process if you have any worries or stop signs that might prevent you from doing this activity. I like the idea of "homework" since it helps to maintain the gains of therapy between the sessions. It also help the client to apply coping skills between the session and develop resilience.
How do you help ensure I'm making progress in therapy?
I do check ins with my clients from time-to-time to assess how therapy is going. I might ask you to rate your mood on a scale to see what direction we are going. I might ask what is helpful, what is not helpful, and what we should focus on more. I might ask you if you feel we are missing something. Client's feedback is important component of healing.
How do I know that it's time to start seeking therapy?
Your emotional wellness is not a luxury – it's a necessity in an ever-changing society. In order to create real change in your life, you must care for your mental health needs. No matter what your age or relationship status, you're in therapy because you're looking to make a change. Maybe you don't feel good enough – you're insecure and not sure what your next step is. Or perhaps you're overloaded with tasks and your anxiety is through the roof, or you're feeling so overwhelmed that you don't even know where to begin.
Living in a world of anxiety and worry takes a toll on your mental health. If you find yourself not feeling good enough, or you're taking care of others instead of yourself, it might be time to seek help.
How can I prepare for our first session?
Prior to the first session, I will send you intake paperwork, which includes a questionnaire. You will need to fill out this questionnaire prior our first session.
My practice is also primary online, so clients will need to ensure they have a quiet space that will honor their confidentiality.
How will I know it's time to end my time in therapy with you or reduce session frequency?
By doing regularity check-ins with clients, we can see progress, healing and when the journey needs to end.
Why should I seek therapy, rather than turning to my partner, friends, or other loved ones?
Therapy provides a unique place where a therapist can help you to focus on your agenda and honor your beliefs and culture. They can create nonjudgemental space and help to notice your stuck points, and a therapist's only agenda is to facilitate your healing by bringing their professional expertise and compassion.
What advice would you share with therapy seekers?
Getting help doesn't mean there's something wrong with you – we all need help from time to time. Life's full of uncertainties. Whether you're navigating life as a young professional in NYC, going through challenges in your relationship, or managing parenthood, I'm here to help.
Visit Yuliya's profile to watch her introductory video, read more about her, and book an initial call!