Stacy Donn Cristo is a Licensed Mental Health Counselor and holistic therapist in Providence, RI who works with students, young adults in their 20s, artists, and adults navigating midlife changes. Stacy has a particular specialty in working with creative and sensitive individuals. In addition, she supports clients struggling with a variety of issues, including anxiety, depression, trauma, life transitions, questions of identity, and family of origin challenges. When appropriate, Stacy incorporates breathing exercises and gentle yoga into her practice to help ground clients and bring the body into the healing process.
We asked Stacy about her work with clients and her guiding philosophies on therapy.
Stacy's background and personal life
How did you decide to become a therapist?
After some considerable difficulty in my own young adulthood both emotionally and in feeling stalled finding a career path, I decided to seek out a therapist for myself (not really knowing what this was but knowing I needed help).
Although the first person I met wasn't quite a match, he lead me to who I now consider to be my first therapist. I was so touched by how she related to me; no one in all my life had related to me with such kindness and affirmation before.
I was also quite taken by the fact that she worked both for herself and in her own home. She was a new kind of rockstar, someone who appeared to completely own her own life and offer something good to the world. She became a model for what I wanted for myself.
What was your previous work before going into private practice?
My previous work as a therapist before going into private practice was providing psychotherapy to homeless adults through an amazing outreach organization in Worcester, MA. After that, I worked in a standard community mental health center but was very unhappy with the quality of care. Although I always knew I wanted to work for myself, this experience led me here sooner.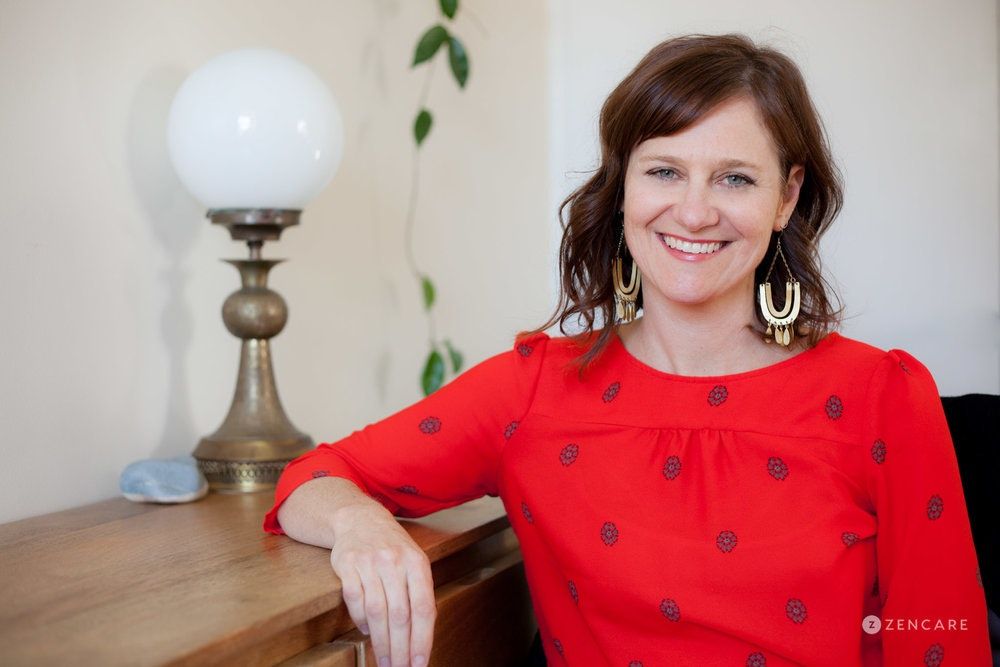 What do you find most rewarding about your work?
What I find most rewarding about my work is when my clients begin to fall back in love with themselves and discover the magic that is already within them; they catch on to what healing work really looks like. I think it tends to be a bit of a mystery until we are lead by those who have experienced it for themselves and know the way.
What do you enjoy doing in your free time?
I am a bit of a crazy plant lady these days. I have fallen in love with propagating and what I also started to call 'plant art'--finding lovely shapes and the vessels to hold them. I also like to make things (jewelry, up cycling clothing, the art of mending), learn things, and read. I love a great novel about interesting people and lives, specifically historical fiction.
Stacy's specialties and therapy philosophies
What guiding principles inform your work?
Guiding principles for me are:
Safety: I want to put a client at ease. I want them to know that it is here that they can exhale. That it is here that they can be.
I want my clients to discover the innate wisdom of their body. I want them to no longer fear what is knocking on their door from the inside, that what lies within is their beautiful self simply waiting to be seen and loved and respected and that they have the power to heal from within.
I want my clients to trust in their Own True Nature. That who they are is enough. And that they can walk freely in the world free from judgement and no longer what was expected of them.
Can you tell us more about your work with creative and sensitive individuals?
As a creative and sensitive person living in the world myself, I know first hand how alienated and misunderstood these people can feel and how very painful the world can feel and be. I think often these people don't even really know themselves as this way--they are just in pain. And I get to point these qualities out and share all the unique and wonderful things that can also come with these traits. I offer support navigating a world that doesn't quite get this!
Can you tell us about your focus on holistic therapy and embodiment?
As a holistic provider I do not see symptoms as pathology, or illness, as does the medical model. Instead our symptoms, both emotionally and physically, is our bodies intelligence and is how it communicates to us what is needed and how to attend to ourselves.
People come to therapists in pain. There is always a reason behind it even when (and I have met people who experience this) the person has no idea what is causing them to feel so depressed or anxious. But in time, we always discover what the cause(s) is/are.
We live in a culture that values knowing and thinking over feeling. Because this is so, we must disembody in order to go to school, or go to work, or in some cases, survive our families. We must turn off what we are feeling and we do this from such an early age and so often that we don't even know we are doing it. Thus, we don't even know that we are no longer living in our bodies. But it is in fact where we live. We all have bodies--and they are like whole universes--extraordinary, and vast, and wise, and magical.
What clientele do you work with most frequently?
I work with most people ranging in age from 18 years and up. I work with artists, creative thinkers, sensitive people, activists, people from all over the world, students, professionals, and anyone who has a deep desire to heal and know their self more deeply.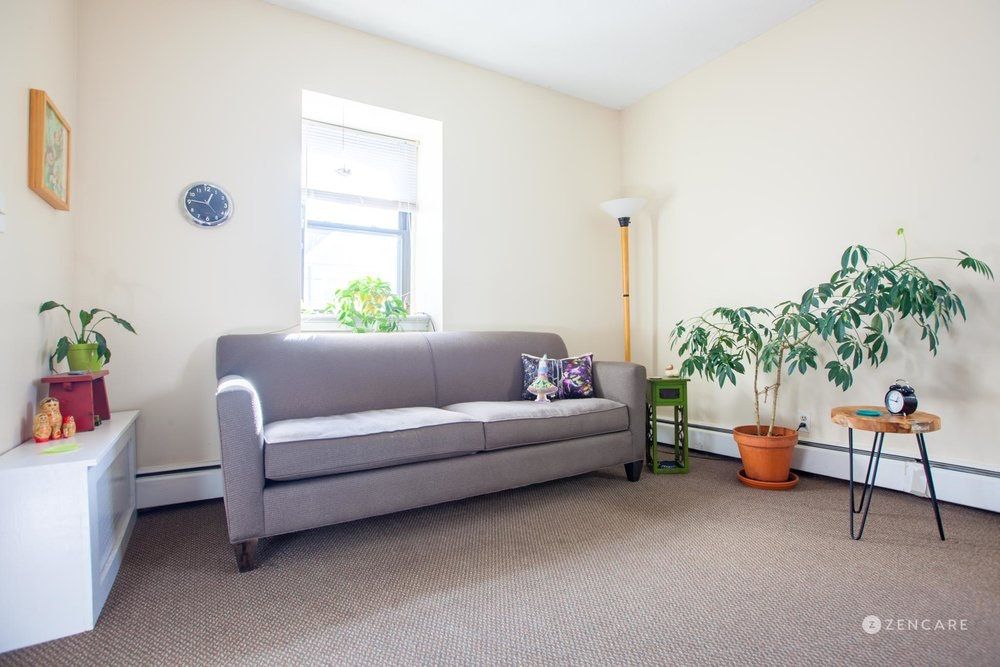 Therapy sessions with Stacy
What will our first session together be like? What happens in ongoing sessions?
Our first session begins where you are most comfortable beginning and it looks different for everybody. Sometimes people need to share the specifics of why they are reaching out right then while others need to talk and explore more generally first. As we continue together we are exploring with curiosity and the practice of non-judgement (at the very least I invite you to try!) and this includes both talking (i.e. telling your story) and inviting the body into the conversation. I will ask questions like "what does that feel like in your body?" or "what might be happening in your body now?".
How can I prepare for our first session?
Just show up. That takes so much courage! And I think you'll discover that you already have everything you need.
Do you assign "homework" between sessions?
Sometimes, if it feels relevant. Examples of homework assignments include checking in with a part of you that you are developing a new relationship with, practicing relaxation techniques if its relevant to you, showing up to something you'd rather avoid but know is good for you, and practicing communication (we are always practicing that).
How do you help ensure I'm making progress in therapy?
This is an interesting question! As humans we want to make progress. It's a natural instinct. If you are feeling connected to this work, the work that we are doing together, you just will! It's not something that I really have to monitor.
However, an example might be those questions of self inquiry that I offer--building a relationship with yourself is something that we practice in each session. The building of this relationship is perhaps a way to understand 'making progress'.
My yoga teacher likes to tell a story about her first conversation with her meditation teacher which goes something like this:
Meditation teacher: "Are sure you want to do this?"
My yoga teacher (a little confused) "Um, yes?"
In other words, when we engage in healing practices, there is progress. The progress is transformation.
How long do clients typically see you for?
I still have clients that I started working with 10 or more years ago;  it's not for lack of progress but rather a commitment to the practice. However, more commonly I see clients for perhaps 1-3 years. It's amazing the transformational effects of 1 year of really good therapy!
How will I know it's time to end my time in therapy with you, or reduce session frequency?
This tends to be different for everybody and is often a process and a conversation. I invite most people to begin weekly for a least a month or two so we can establish report. I want you to feel comfortable with me and it helps to stay connected to the work.
How do I know that it's time to start seeking therapy?
If you are feeling lackluster, if you are in pain, if you've experienced what you might consider to be or even wonder if it is trauma are all reasons to seek therapy. And also seek therapy for growth and knowing yourself more fully; being a person willing to grow is a beautiful and amazing thing.
Why should I seek therapy, rather than turning to my partner, friends, or other loved ones?
Often what happens is we are working our stuff out and reenacting the past with our loved ones, and we put them in a position to emotionally labor for us. This complicates actually receiving the support we are looking for. We are more likely to receive the support we need when we have more clarity about what is going on for us and know ourselves more deeply.
What advice would you share with therapy seekers?
Coming to therapy for the first time involves taking a leap of faith and trusting in the process.
Are there any books you often recommend to clients?
Braving the Wilderness by Brene Brown (or anything by Brene Brown)
Quiet by Susan Cain,
Eastern Body, Western Mind by Anodea Judith
Understanding Girls with ADHD by Kathleen Nadeau, Ellen Littman, and Patricia Quinn
Various books on Internal Family Systems (as I have fallen in love with this practice)