Nicole Coffelt is a Psychologist in Beverly Hills, CA with over 15 years of experience in private practice. Nicole has a passion for working with members of the LGBTQ community, those in recovery from addiction, and individuals facing major life transitions or existential challenges. As a published author and professional artist herself, Dr. Coffelt is also highly adept at helping artists and other creative individuals navigate mental health struggles. Nicole's approach to therapy is holistic in nature, and she regularly blends somatic, Jungian, humanistic, and mindfulness-based therapeutic approaches in sessions with clients.
We asked Dr. Coffelt more about her work with clients and her guiding philosophies on therapy.
Dr. Coffelt's background and personal life
What was your previous work before going into private practice?
I am a professional artist (abstract painter, writer) and previously toured the world doing live shows and exhibitions! I also ran a chef business for many, many years. I am super creative and understand deeply the challenging road one must traverse in turning passion(s) into a sustainable livelihood!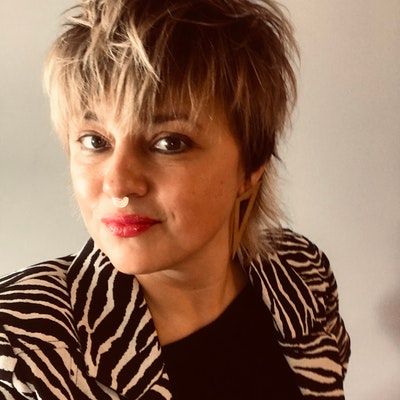 Dr. Coffelt's specialties and therapy philosophies
What clientele do you work with most frequently?
I most frequently work with creatives/artists, the LGBTQ/queer community, addicts in recovery, deep souls seeking belonging, counterculture folx, and those invested in personal and collective evolution.
Can you tell us more about your specialty in helping clients navigate major life transitions and/or existential concerns?
From the time young adults attempt to transition from the "nest" out into the "real world" all the way through what has been dubbed as the "midlife crisis" (and many other plot twists in between), I assist and guide folks through the sometimes harrowing portals that initiate one into a new phase of life. People tend to seek me out after a crisis, loss, illness, mental health "emergency," dissolution of a significant relationship, or some other unfortunate circumstance that catalyzes a crisis of meaning.
What we find together, in skillfully working with what life is presenting and quite literally "weathering the storm," is that a much deeper place of authenticity, meaning, and growth awaits on the other side.
Can you tell us more about your specialty in trauma recovery?
Somatic therapy is necessary to heal trauma, as trauma is stored in the nervous system and in cellular memory. As expert Dr. van der Kolk once said, "Talk therapy simply doesn't cut it." After realizing the gravity and consequences of unresolved trauma on the majority of our population, I pursued a four year "Somatic Experiencing" certification after my post-doctoral fellowship in order to assist people suffering from trauma and/or addiction in finding the relief and deep healing they deserve.
Every day, I support those suffering from compulsive behaviors, pervasive feelings of disconnection from self/others, anxiety, depression, physical pain, ADHD symptoms, among other challenges in transitioning to a greater sense of ease, joy, freedom and fulfillment.
Can you tell us about your work with couples on intimacy issues?
Our family histories and past wounds/trauma inform our current relationship dynamics in order to be finally resolved, so I work with couples invested in moving beyond ego battles and "power" struggles (eg. issues with emotional distance, physical intimacy/sex, communication problems, lies, issues with assertiveness, codependence, secret lives outside of the relationship) and toward a deeper sense of connection and sustainable interdependence within the relationship dynamic .
Therapy sessions with Dr. Coffelt
How long do clients typically see you for?
I normally see clients on a weekly basis for 6 months to a year, depending on the issues they are presenting with. In more complex cases, the work may take place over a period of several years (and sometimes people need to be seen twice/week, although this is ultimately up to your discretion).
I do prefer people invest in deeper work, and it often takes a year (or two!) just to stabilize, reduce, or eliminate presenting symptoms. Thus, many of my clients come in for several years. Again, this is ultimately up to you and your desired goals, lifestyle, long-term dreams, and holistic health.
Are there any books you often recommend to clients?
So many!
Waking the Tiger (Peter Levine)
Modern Man in Search of a Soul (Carl Jung)
Women who run with the wolves (Clarissa Pinkola Estés)
The Spirit of Intimacy (Sobonfu Somé)
When the Past Is Present: Healing the Emotional Wounds that Sabotage our Relationships (David Richo)
Wild Mind: A Field Guide to the Human Psyche (Bill Plotkin)
Witness to the Fire: Creativity and the Veil of Addiction (Linda Schierse Leonard)
The Wild Edge of Sorrow: Rituals of Renewal and the Sacred Work of Grief (Francis Weller)
The Smell of Rain on Dust: Grief and Praise (Martín Prechtel)
The Body Keeps the Score: Brain, Mind & Body in the Healing of Trauma (Bessel van der Kolk)
Eastern Body, Western Mind (Anodea Judith)
The Thirst for Wholeness: Attachment, Addiction, and the Spiritual Path (Christina Grof)
The Trusting Heart: Addiction, Recovery, and Intergenerational Trauma (Michael Aanavi)
Call of the Wild (Kimberly Ann Johnson)
Nature & the Human Soul: Cultivating Wholeness and Community in a Fragmented World (Bill Plotkin)
How do I know that it's time to start seeking therapy?
We almost always know it's time to seek outside support—when life seems to be careening out of control, when there's a voice or impulse inside that you can no longer ignore, when you are feeling stuck or trapped in your own life, when advice from your friends just doesn't seem to cut it, when loved ones (who may very well have your best interest in mind) never seem to "get it" anymore, and/or when you have outgrown old ways of being and living and are yearning for MORE from life—it's time to reach out. There is infinite strength in vulnerability. As Terry Tempest Williams once said, "The eyes of the future are looking back at us and they are praying that we might see beyond our own time."
How can I prepare for our first session?
Come as you are. You don't really need to "prepare" anything per se for the intake or first session, although it is helpful to devote some time to what you are hoping to accomplish in this process, as that gives me a good starting point and framework for future directions. Do know that it is normal to be nervous, and you may experience a vulnerability "hangover" afterwards. Feel free to pause or take breaks at any point while we are talking. Allow for ample "down time" before and after our sessions to notice and digest what comes up for you .
How will I know it's time to end my time in therapy with you or reduce session frequency?
This is ultimately up to you.
I don't want people to be anywhere they don't want to be and you know yourself and your own capacity best. I do always encourage beginning the process with weekly sessions for the first 9 - 12 months (minimum) in order to establish a potent enough relationship to do effective healing work. After that time, as long as I have space in my practice to alternate someone with your standing appointment (I generally do), I am happy to reduce to twice per month and/or slowly titrate sessions down and work on termination / relationship closure / preparing you to transition to full autonomy when you are feeling ready for that!
Visit Dr. Coffelt's profile to watch her introductory video, read more about her, and book an initial call!