Naomi Arbit is a Licensed Master Social Worker in New York specializing in anxiety, relationship issues, perfectionism, body image, and disordered eating. We asked Naomi more about her work with clients and her guiding philosophies on therapy.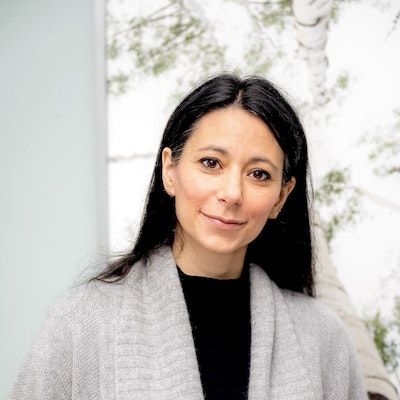 Naomi's background and personal life
How did you decide to become a therapist?
I've always been deeply driven to understand human behavior and meaning making, and I first entered this field as a researcher and scientist. However, alongside my training and work as a behavioral scientist I was also doing my own personal work in therapy. It was following my own powerful experience of growth that I realized I could apply everything I'd been studying to supporting others on their own journey of development.
What was your previous work before going into private practice?
I worked as a behavioral research scientist for many years before training as a social worker and psychotherapist.
What do you enjoy doing in your free time?
I love reading, traveling, spending time outdoors and getting quality time with my loved ones.
Naomi's specialties and therapy philosophies
What guiding principles inform your work?
I believe in creating a safe, supportive, accepting environment where people can explore deeper questions and possibilities for their lives, and find new ways to approach challenges. Each of us has the capacity for development and growth, and while everyone's path is unique, we can all experience greater wellbeing by living a life aligned with what we care about most deeply. I partner with people to discover what it is they care about most and to align their lives with those values and ideals.
What clientele do you work with most frequently?
I work with executives and busy professionals who are passionate about their personal and professional development. I love partnering with high achievers in applying a deep psychological lens to identifying, learning from, and ultimately shifting the patterns that may be holding them back from living and performing optimally.
I also frequently work with young and middle aged women looking to navigate through challenges, reach greater well-being, and achieve professional and personal goals. I love partnering with women on identifying and moving closer to a fuller, more meaningful and satisfying version of their lives.
What do you find most rewarding about your work?
I find it deeply inspiring to see people grow, change and identify and achieve new life possibilities for themselves.
Therapy sessions with Naomi
What will our first session together be like? What happens in ongoing sessions?
In our first session we will get to know each other. I will ask you questions about your life and your goals for our work together and give you the opportunity to ask me any questions that might feel important. Once we've created a strong alliance we then agree on specific goals for our work together, which we move closer towards in subsequent sessions.
How long do clients typically see you for?
It really depends on the person and situation. Some people I've been seeing for years, for others it's far more short term.
Are there any books you often recommend to clients?
Do you assign "homework" between sessions?
I often give the option of potential homework assignments for clients to work on between sessions, but it is never necessary and always depends on client preference. Sometimes the work involves taking a concrete step towards a goal, sometimes it involves practicing a new skill, and sometimes it involves reflecting on a question.
How do you help ensure I'm making progress in therapy?
We establish clear goals throughout our work together and routinely check in on progress being made towards those goals.
How can I prepare for our first session?
My suggestion is to think about what you'd like to achieve as a result of our work together.
Visit Naomi's profile to watch her introductory video, read more about her, and contact her for an initial consultation!