Kristi Rhebb is a Licensed Marriage and Family Therapist in Florida specializing in trauma, anxiety, OCD, and chronic illness. We asked Kristi more about her work with clients and her guiding philosophies on therapy.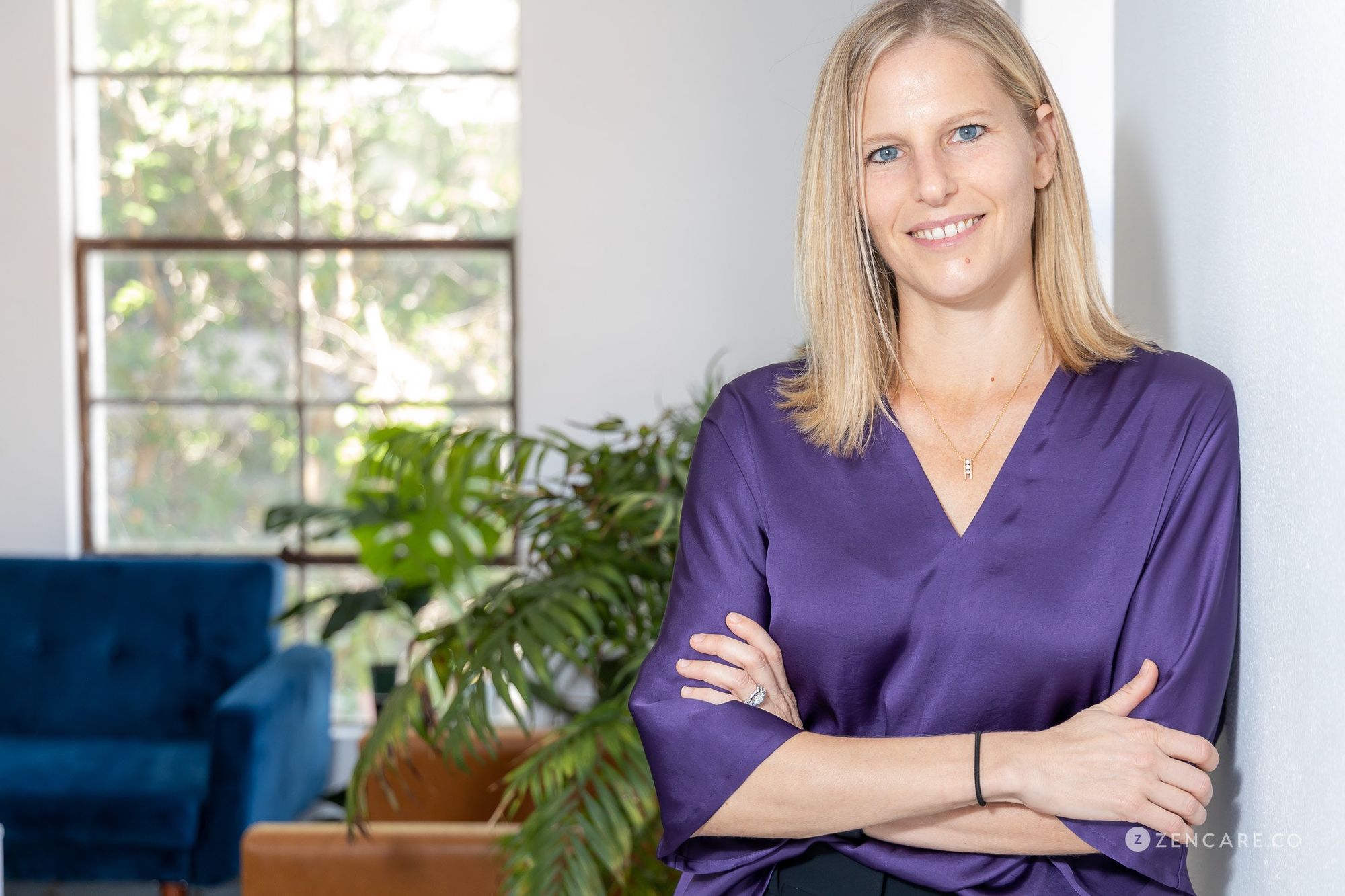 Kristi's background and personal life
How did you decide to become a therapist?
I've had a passion for human behavior, being present with others in times of suffering and need, and strangely enough - bacteria, for as long as I can remember. In college, I pursued the molecular biology field and accomplished quite a bit as an undergraduate researcher. Still, my heart felt restless and after a bunch of soul searching (and pushback from others), I pursued the more fulfilling option - becoming a therapist.
What was your previous work before going into private practice?
It's diverse! I was a mental health and grant writing consultant for a cancer care nonprofit and for a tech company developing a program to meet the emotional and mental needs of individuals and families going through cancer. Before that, I practiced as a therapist with clients on adult and pediatric oncology/neurology hospital units, child and adolescent crisis and behavioral health units, and a bit of adjunct work at a private practice.
What do you enjoy doing in your free time?
Traveling with my husband, spending time with good friends, staying active with my Weimaraner pups, and getting absorbed in a good book or TV series.
Kristi's specialties and therapy philosophies
What guiding principles inform your work?
I hold tight to a core foundational belief in my work: People deserve to be seen, understood, and valued for who they are - without judgment. Our capacity to grow, discover, and create meaningful change in life is often a struggle without that experience of unconditional acceptance. I'm also guided by a collaborative and client-centered philosophy. While I bring professional experience, insight, and expertise to the table, my clients are experts of themselves. We work together in partnership, but I support their autonomy the entire time. They are in the driver's seat.
What clientele do you work with most frequently?
I work with a wide variety of adolescents, adults, and families - mostly those who are struggling with anxiety, OCD, emotional dysregulation, eating disorders/disordered eating, PTSD and/or the impacts of childhood trauma and abuse (all types of abuse, neglect, abandonment). I have specialized training and experience in working with clients navigating the life-changing impacts of medical trauma and/or illnesses like cancer, neurological disorders, and metabolic diseases.
Can you tell us more about your specialty in trauma?
Whether we've experienced a single overwhelming and threatening event or have a lifetime of physical, emotional or sexual abuse or neglect, our lived experiences can shape the way we see ourselves and our environments. We develop patterns of thinking, feeling, behaving, and relating to ourselves and the world around us that help us survive and manage what feels so overwhelming; with time, some of these patterns and strategies can hold us back from who we want to be and how we want to show up in life.
I help my clients find their capacity for growth and healing in a validating, compassionate, non-judgmental space. We explore past hurts, identify the patterns and strategies that are no longer working in their lives, and create more adaptive ways to show up for and relate to ourselves and others.
Can you tell us more about your specialties in anxiety and related disorders?
Anxiety, fear, and OCD can quickly dominate and minimize life. What brings short-term relief - avoidance and distraction - usually ends up disempowering us while strengthening worries and fears. I help clients systematically face their fears, mindfully tolerate uncertainty and discomfort, and learn adaptive ways to process and respond to anxiety.
Can you tell us about your work with clients navigating health- and illness-related concerns?
Facing certain medical conditions or injuries can upend our lives and that of our families. Feelings of uncertainty, grief, shame, loss, helplessness, and threats to personal identity can become paralyzing and make a difficult diagnosis and even heavier burden to carry. I am present with my clients as they sort through these heavy thoughts and feelings, empower them to make decisions to adjust and/or face their diagnosis and treatment with integrity, and help them strengthen connections with their loved ones so that they don't have to navigate their challenges in emotional isolation.
What do you find most rewarding about your work?
What I love most is seeing people find and reconnect with their humanity - finding the hope, confidence, and strengths/capabilities that have always been within them, but have been lost or buried for many different reasons. Being able to witness that kind of personal growth, discovery, and change is an awesome privilege!
Therapy sessions with Kristi
What will our first session together be like? What happens in ongoing sessions?
Our first session is an opportunity to start laying a foundation of trust. I'll share what you can expect from me, my style and expertise, and give you space to ask me questions. I also learn about you - your presenting concerns, needs, past experiences in therapy, and goals. Before we wrap up, we'll talk a bit about whether we seem like a good fit for one another. If you want to continue with me, subsequent sessions will vary based on your presenting concerns, needs, and preferences. We might first explore your history and how it has shaped the person you are today and your presenting concerns, or we might immediately start developing necessary tools and strategies to support change/progress your goals.
How do you help ensure I'm making progress in therapy?
There are targeted measures and self-report logs that we can use to help you track your progress in certain areas. Whether we use those tools frequently or not, I keep ongoing communication about your improvements and setbacks; we'll collaborate on any shifts we need to make to better support your progress. It's important to know, however, that progress is not linear. Ups and downs are normal, so we'll ensure that you are overall trending in the right direction.
How will I know it's time to end my time in therapy with you or reduce session frequency?
We start talking about ending therapy when you come close to reaching your treatment goals. Practically speaking, it's usually time to end therapy when you've addressed the areas where you feel stuck, gained any needed insight, and are equipped with and regularly using the skills and tools to support your functioning and wellbeing. We'll start spacing out sessions in advance so you can consolidate your treatment gains and build your confidence to manage problems on your own. Once you've ended your time, the door will be open if something comes up for you in the future.
Visit Kristi's profile to watch her introductory video, read more about her, and contact her for an initial consultation!