Kathy Sterling is a Licensed Professional Counselor in Denver, CO specializing in anxiety, parenting, codependency, and stress management. Kathy incorporates both Eastern and Western practices into her work with clients, often drawing on her training as a Contemplative Counselor and her knowledge of mindfulness practices to help clients. Kathy is committed to providing an individualized approach to therapy and is dedicated to providing a safe, non-judgmental place for clients to grow and learn about themselves.
We asked Kathy more about her work with clients and her guiding philosophies on therapy.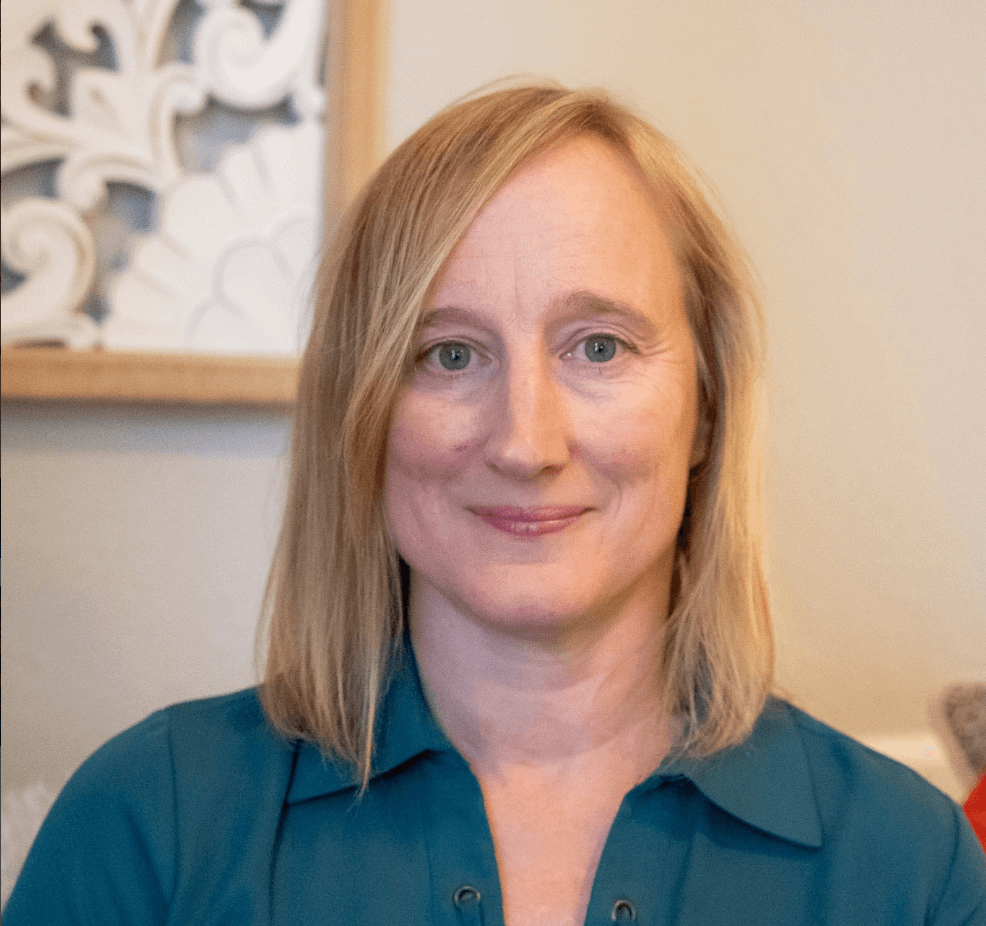 Kathy's background and personal life
How did you decide to become a therapist?
I chose to leave my tech job to travel the world and find a new direction professionally. I traveled for a year and kept a journal. In India, my journey changed to a more spiritual one in which meditation became a primary focus. During the trip, I was offered multiple jobs and declined them. Upon returning to the US, I still felt confused about what I was supposed to do professionally.
I knew that I wanted to get a master's degree in a school that valued contemplative education. I prayed and meditated for direction. When I reread my travel journal, I noticed a theme... that people around the world, strangers, would open up to me about deeply personal matters. I realized that this had always been the case. People feel comfortable with me and trust that I can hold their secrets, as well as comfort them with an attuned presence and listening ear. I decided I should get paid for the things I was already doing! I finished grad school and followed my calling. I have no regrets and much gratitude for this opportunity to do work that I love.
What was your previous work before going into private practice?
Prior to private practice, I specialized in play therapy helping children in schools to manage stress/anxiety, depression, trauma, and life transitions.
What do you enjoy doing in your free time?
I enjoy meditating, doing yoga, going to concerts, playing hand drums, anything outside (e-biking, hiking, snowboarding), and spending time with my 5 year old son.
Kathy's specialties and therapy philosophies
What guiding principles inform your work?
I believe that all of us have the propensity to heal no matter our history. When we begin to accept who we are in the moment..emotions, judgments and all..then we can change. I value the use of contemplative practices, which help connect the mind, body, and spirit, as well as Western neuroscience.
What clientele do you work with most frequently?
I am currently working primarily with young, female adults dealing with anxiety, depression, and trauma. Young adults are resilient and adaptable. They are often motivated to make changes, and they have a whole life ahead to implement them. Young adulthood is a time of great insight and growth, and I feel honored to be an influence and aid in helping them find direction and move forward.
Can you tell us more about your specialties in anxiety and depression?
I look at most challenges from a lens of nervous system regulation. Anxiety occurs when a nervous system is hyper-aroused or upregulated. This can feel like a fast heart beat, shallow breathing, restlessness, difficulty focusing, disorganization, aggressive behaviors, and panic attacks. I help my clients learn how to regulate their nervous systems and change their perceptions about their reality.
From my view, depression is seen as a down-regulated nervous system. Clients feel sad, down, hopeless, occasionally suicidal. They lack motivation to do the things that must be done and usually are down on themselves. Again I help my clients regulate their nervous systems, as well as learn how to change thinking patterns that are unhelpful.
Can you tell us about your work with clients on trauma-related concerns?
Childhood trauma often results in immature and/or impaired functioning in relationships. It can disrupt performance in work and at home. It feels like a combination of anxiety and depression. I use a variety of interventions to help clients heal from trauma, including art, play, and somatic (body-based) modalities.
What do you find most rewarding about your work?
My job is fulfilling, when I see my clients overcome hardships, accomplish goals, and make changes now that will affect the trajectory of their lives. I love it when a client has an "Ah ha!' moment.
Therapy sessions with Kathy
What will our first session together be like? What happens in ongoing sessions?
I ask people to complete paperwork securely online, so the first session can focus on you - the client. My goal is to get to know you, better understand your needs, help you to feel comfortable, and build trust. My style is often client-centered, meaning that you decide how much to offer when. If this is hard for clients, then I will take a more directive approach.
How long do clients typically see you for?
It depends on the presenting problem. Average stay is 12 - 16 sessions. If there are more persistent mental health concerns present or complexity in the case (like multiple traumas), then it can take much longer.
Are there any books you often recommend to clients?
Many of my clients are working on forming and maintaining internal and external boundaries for themselves and with others. Nonviolent Communication by Marshall Rosenburg is a great resource for learning how to say how you feel and assertively state your needs. Vulnerability can be hard, and this book gives you a format to practice it.
I often see symptoms of codependency in clients, who have suffered childhood abuse and neglect. Facing Codependence by Pia Mellody defines the true meaning of codependency, explains how it shows up in our lives, and provides specific ways to unlearn these behaviors.
Do you assign "homework" between sessions?
I do not provide traditional "homework." I do invite my clients to practice skills I offer for emotional and nervous system regulation, as well as those used to change thinking patterns, in their daily lives. Occasionally homework is provided in the form of reading.
How do you help ensure I'm making progress in therapy?
We will create a treatment plan in the first or second session to identify your goals. We will check in with how our relationship is going and how progress is looking on the stated goals through the duration of care. Typically treatment plans are officially updated every 4-6 months.
How do I know that it's time to start seeking therapy?
It's time for therapy when life feels hard due to overwhelm or lethargy, when life changes occur, or when you are not loving yourself so much.
How can I prepare for our first session?
Most of my clients report feeling comfortable at the first phone consultation. For those who are nervous about meeting in-person, I recommend taking deep breaths and remembering the reasons why they are coming. Therapy can be scary at first, but it is definitely worth it! Clients only need to bring an ID to the first session.
How will I know it's time to end my time in therapy with you or reduce session frequency?
Progress is discussed throughout our time together, so there are many opportunities to discuss how we are doing and to plan for the future. I consider the ending of therapy to be a phase of treatment, and I typically notify of the beginning of that phase. Of course, client's views and needs are considered.
Clients are also welcome to leave at any time, and I prefer that it be a mutual decision. Time is spent preparing for the ending and a plan is created for when/how to reach out again if needed in the future.
Why should I seek therapy, rather than turning to my partner, friends, or other loved ones?
It is good to have supportive partners and friends, but they are not trained in helping you to change your brain and regulate your emotions/nervous system. It can be taxing on our loved ones to hold our mental challenges, as well as their own. The therapy space is a sacred place, where you can bring all of you without judgment.
You can be validated and cared for mentally without worries about how you look, act, or what you say. It can be incredibly healing to get things off your chest without worrying about the loss of relationship with the other person.
What advice would you share with therapy seekers?
You don't have to hold all of life's challenges on your own. The earlier you start the better you will feel in the long run.
Visit Kathy's profile to watch her introductory video, read more about her, and book an initial call!