Katheryn Barton is a Licensed Professional Counselor in St. Louis, MO specializing in working with couples on topics related to communication, emotional regulation, and conflict resolution. In sessions, she draws upon Emotion Focused Therapy (EFT) and the Gottman Method  to support couples that seek her help, relying on the understanding that clients are the experts of their own reality and that she best functions as a guide as they move toward a deeper understanding of one another.
We asked Katheryn more about her work with clients and her guiding philosophies on therapy.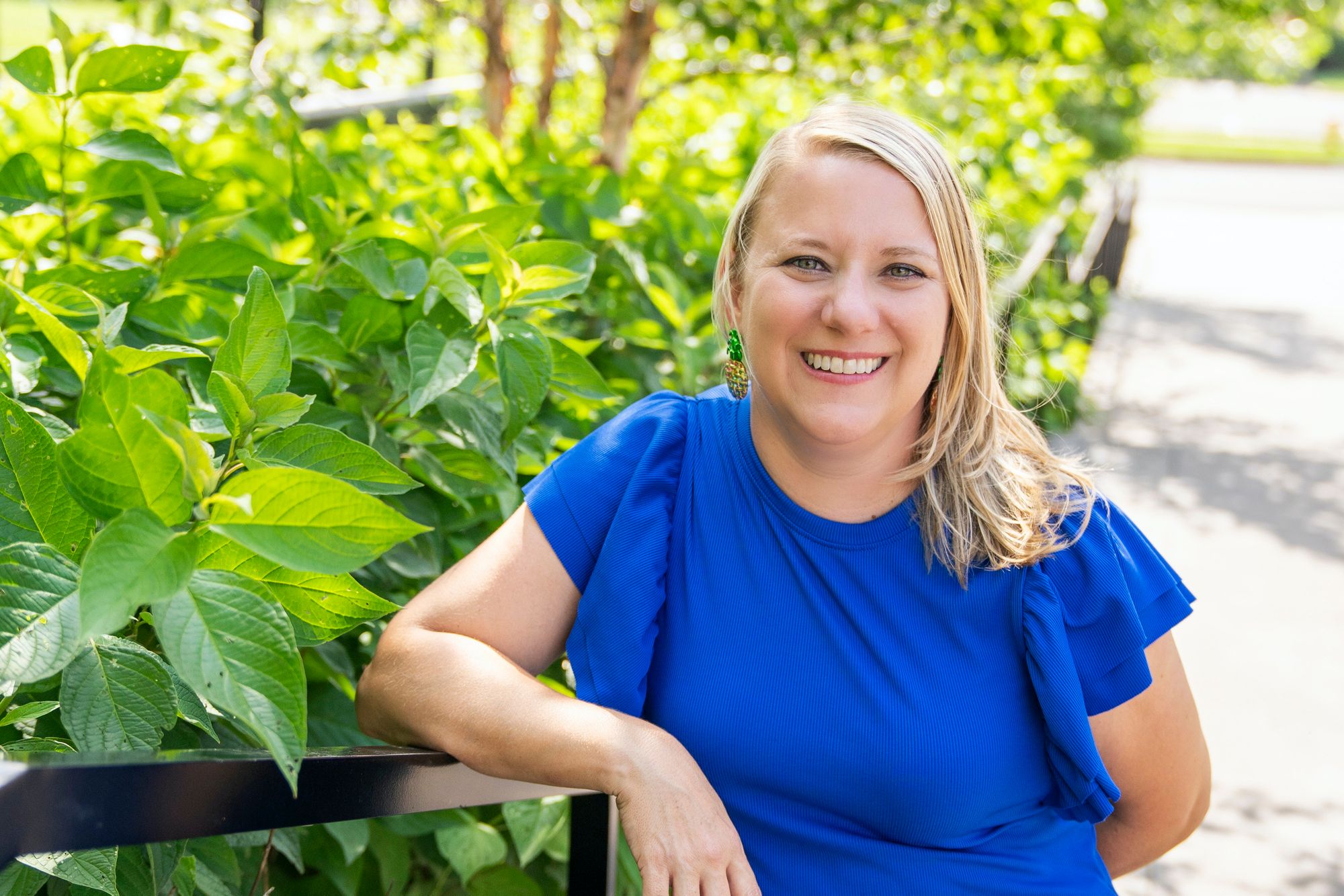 Katheryn's background and personal life
How did you decide to become a therapist?
It was always in the back of my head but the decision came about as I was working as a sign language interpreter in schools. I was not in a role to help as much as I wanted. At the time, I remember thinking "I have more to offer in the way of support and understanding." So, I decided to go back to school. While in school, I fell in love with couples work and here I am!
What was your previous work before going into private practice?
I worked as a Sign Language Interpreter in the community and in schools and colleges.
What do you enjoy doing in your free time?
I love hanging out with my family doing anything that's popular at the time! Getting out in nature and, reading and trying a new crockpot meal.
Katheryn's specialties and therapy philosophies
What clientele do you work with most frequently?
Couples, who are overwhelmed in high-stress work/life situations mainly ages 30-65. I love this population as they are in the "thick of it" meaning they are trying to juggle so many balls at once and are feeling distant from their partner and wanting to reconnect.
Can you tell us more about your specialty in couples counseling?
I work with all kinds of romantic relationships going through struggles and feeling disconnected from each other. I work with my clients using an Emotion Focused Therapy approach. I focus on where they get stuck. We slow it down and dig into the hard conversations to gain traction for better connection and understanding.
Relationships in general are hard. I help clients gain insight into the roles they play within their relationships and what they can do to make change and take control of their own life and situation.
Can you tell us about your work with professional women?
Being in positions of influence and control have challenges of their own. And when we add other challenges that are specific to women in these roles things can get hard. I help my clients gain perspective and explore their wants as needs as no one else will.
What do you find most rewarding about your work?
Seeing the softening in my clients' faces as they feel heard and supported. I also love when my couples can look and reach for each other and know their connection is changing for the better.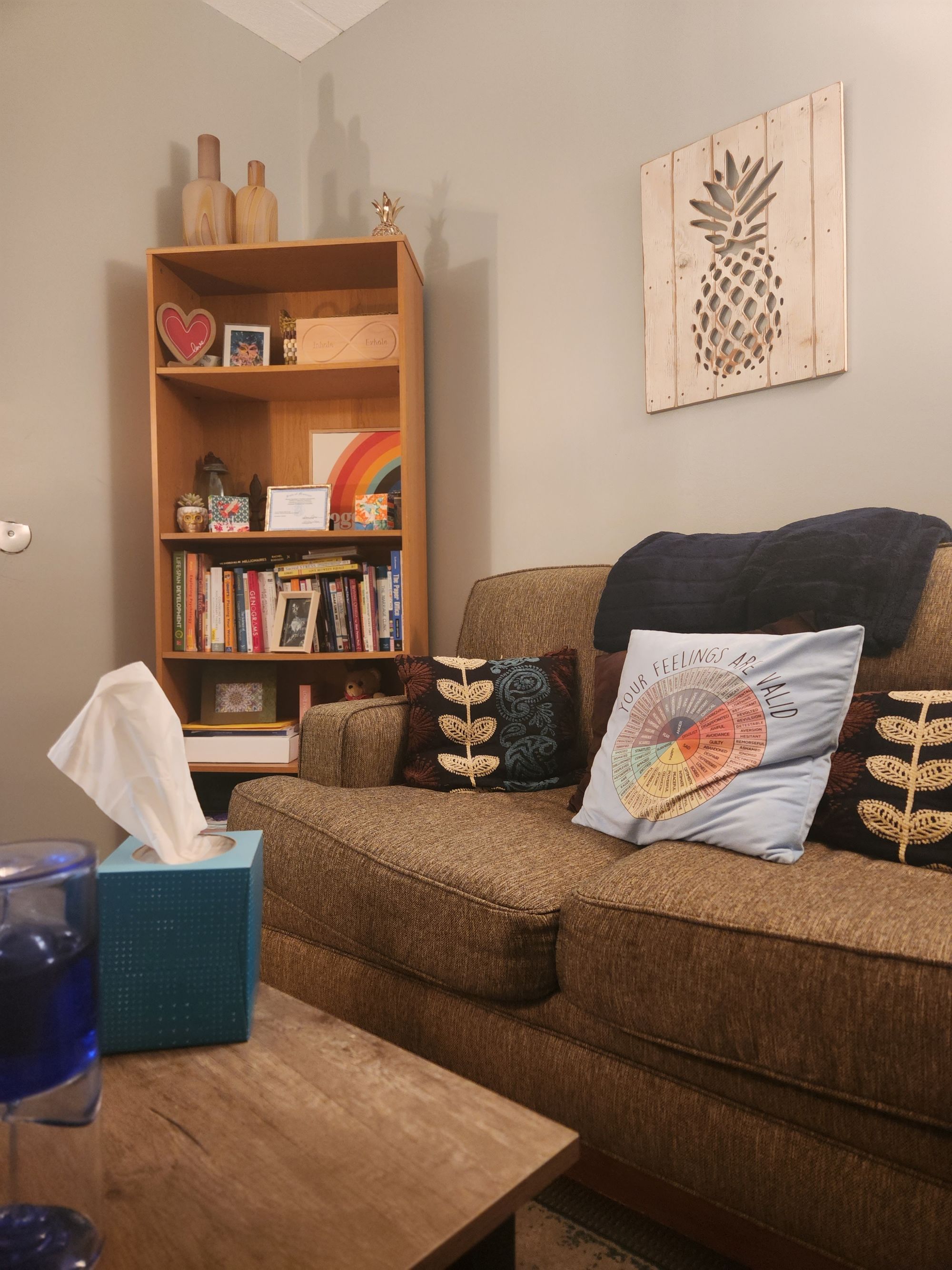 Therapy sessions with Katheryn
What will our first session together be like? What happens in ongoing sessions?
In our first session we explore the stuck places and what it feels like for them in their relationship. We focus on how their conflict shows up, what it looks like and a general overview of how they met and where they are now. We will discuss the areas they want to improve and what they want their relationship and connection to look like.
We will avoid fault and blame and work toward feeling understood and seen. I pride myself on my ability to play a neutral party and encourage my clients to call me out if I don't.
How long do clients typically see you for?
Obviously, it depends on the clients and their situation. I often find that I will work with couples an average about 8 months and individuals about 6 months to a year. My goal is for my clients to gain skills and confidence that they can work through their issues without my guidance.
Are there any books you often recommend to clients?
I find that the following books offer great insight and support of relationships and the self:
Do you assign "homework" between sessions?
If my clients would like to have homework I can always find something for them to work on or focus on until our next session. Overall, I do not assign much homework but often email articles or suggest books that I feel are helpful to our work.
How do you help ensure I'm making progress in therapy?
We will do check-ins at the beginning and end of each session. I encourage my clients to be as transparent with me as possible and if something is not working or helping we can discuss it and make changes.
Progress in the couples work that I do is based on how we are able to share hard things, how supported we feel and the move toward making their partner a safe space for vulnerability and worries.
How do I know that it's time to start seeking therapy?
When I am starting to feel distance with my partner, during life transitions and changes. It's even a good idea to seek couples therapy if you never have and feel like sometimes conversations don't go smoothly.
How can I prepare for our first session?
The intake paperwork is a must and then to prepare I just ask that they show up with a willingness to be open, patient and to put forth the effort needed to move toward change.
How will I know it's time to end my time in therapy with you or reduce session frequency?
When conversations in the relationship are safe, non-volatile and where both partners feel understood from their perspective. Conflict is inevitable but it's important to be able to discuss it in a safe way where both partners feel important and supported. When they can do this without my support and can repair hurts on their own, they don't need me.
Why should I seek therapy, rather than turning to my partner, friends, or other loved ones?
Therapists play a different role. We offer a different outside/unbiased perspective to your life that provides space for you to grow and see things in a different way. As a couples therapist I can say and guide you through the hurtful places without it feeling like judgement or falling out of love.
What advice would you share with therapy seekers?
Do it!!! Find someone who is a great fit for you and your situation. Don't be afraid to change therapists if the first one you meet with doesn't feel great and be open to new perspectives. You got this! Change and support is good :)
Visit Katheryn's profile to read more about her practice and book an initial call!