Kate Kripke is the Founder and Senior Supervising Therapist at The Postpartum Wellness Center in Boulder, CO (the "PWCB").
Kate and her team of therapists work with women and families adjusting to and managing the emotional challenges that come with raising a family. Dedicated to utilizing a variety of evidence-based practices, the PWCB maintains a holistic lens to treatment, combining traditional psychotherapy with reproductive psychiatry, naturopathic medicine, sleep support, and/or lactation support. Kate and her team at the PWCB firmly believe that with the appropriate treatment and care collaboration, women and families can get better and thrive.
We asked Kate more about her work with clients and her guiding philosophies on therapy.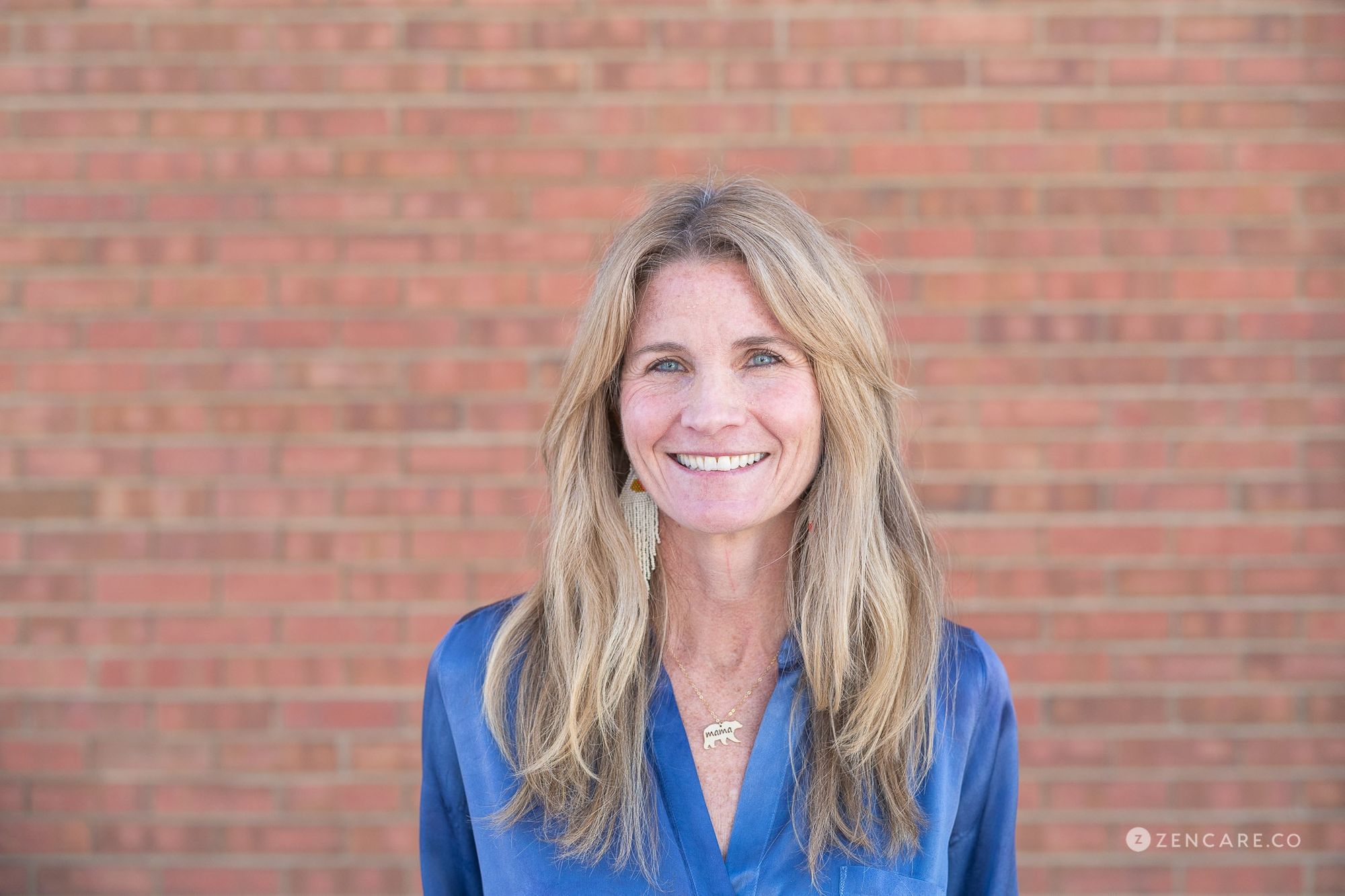 Kate's background and personal life
How did you decide to become a therapist?
Believe it or not, my journey towards becoming a therapist started in high school when I became appointed as a peer counselor. It kind of makes me laugh now - who knew how far that would take me!? In college I majored in sociology, which was a supposedly an "easy" major choice and one in which I would have time for outdoor play. I loved it.
After college I worked as an Outward Bound instructor in South Africa and then in New York, and it was during this time that I became truly interested and passionate about the lives of children and families.
After getting a master's degree in social work, I continued to work with adolescents in the Mission District of San Francisco with the goal of helping them find their way away from conflict and towards health, wellness, and success.
The teens I worked with did NOT want to be in my office. But you know who did? The moms. When the mothers of these teenagers received the support and care that they needed to be healthy, things at home began to change for their children, and it was at this point that the adolescents began to thrive too. So there began my journey as a maternal mental health specialist. The women (and men) who sit in our office are not our only clients - their children are metaphorically right there with them.
What was your previous work before going into private practice?
Before opening the PWCB, I worked with Boulder County Public Health in instituting strong perinatal mood disorder screening practices within its family programs. Prior to that, I developed and ran the counseling program at an after-school program for kids in the inner city of San Francisco.
What do you enjoy doing in your free time?
In my free time I try to practice what I preach with my clients. I sleep and rest. I spend as much time outdoors as possible. I have a regular meditation practice, and I am committed to my own personal growth. I have dance parties with my teenage daughters in the kitchen. I walk my dog while listening to podcasts. I do yoga, run, and I give myself lots of permission to make mistakes.
Kate's specialties and therapy philosophies
What guiding principles inform your work?
That motherhood is the all-time equalizer. Women of all backgrounds - regardless of race, ethnicity, culture, financial status, educational background, political view, or religious perspective - struggle. Every single one. When we look at pregnancy, childbirth, and motherhood as a biological, psychological, and social dilemma we can see how women who are NOT well enough supported in these areas WILL be deeply distressed (at best) and impacted by depression and anxiety (at worst).
It is certainly easier for some women to receive support in these areas than others, but each and every women who decides to become a parent will find motherhood filled by many moments of discomfort. Most importantly, I believe that every mother out there deserves to thrive.
What clientele do you work with most frequently?
At the PWCB, we support "parents," which is a subjective word. We work with parents from conception to pregnancy/postpartum and beyond. This includes fertility struggles, miscarriage and termination, neonatal, and infant loss.
Untreated maternal and paternal depression, anxiety, and other mental illness is the leading cause of mental illness in children, and we want families to thrive. When parents get what they need to be well, their children get well too.
Can you tell us more about your specialty in perinatal mood and anxiety disorders?
Perinatal mood and anxiety disorders - like postpartum depression and anxiety - are the leading complication of childbirth and affect about 1 in 5 women. In our society, most women are not taught that taking care of themselves should be a priority in motherhood, so they inevitably get lost in the parenting shuffle.
We know that women who are not well enough supported biologically (think sleep, nutrition, hydration, exercise, breath, brain function), psychologically (think beliefs and thoughts), and/or socially (think connection with others) will often develop symptoms of depression and anxiety. Alternatively, we know that women who are well enough supported in these areas report more joy, happiness, and satisfaction. At the PWCB we are committed to helping parents to achieve what they need in these areas.
Can you tell us more about your specialty in working with families?
Many parents continue to struggle even past that initial "postpartum" 1-year mark. And, again, when moms and dads struggle with challenges related to depression and anxiety, they will find it very difficult to parent the way that want and need to. Our support at the PWCB extends to parents with children of any age. When parents are emotionally well, their children and their families will thrive.
Can you tell us about your work with couples?
John Gottman, a long time specialist in relationships and the founder of the Love Lab at the University of Washington in Seattle, has shown us through extensive research that partnered adults with children report the most life satisfaction when their priorities go: Self, partnership, and then children.
This does not mean that these parents are neglecting their kids. In fact, it means is quite the opposite. Two heathy adults have more to give to a partnership. A healthy partnership has exponentially more to give to children. When parents take the time to focus on their individual and relational health, they have more to give to a partnership, and a healthy partnership has exponentially more to give to children.
That said, parenthood is a major stressor on a relationship and, without support, these partnerships can suffer. At the PWCB we offer support to couples who are in the midst of conflict or who simply want to learn tools and strategies around how to be the best partnership they can be.
What do you find most rewarding about your work?
Moms. Getting. Well.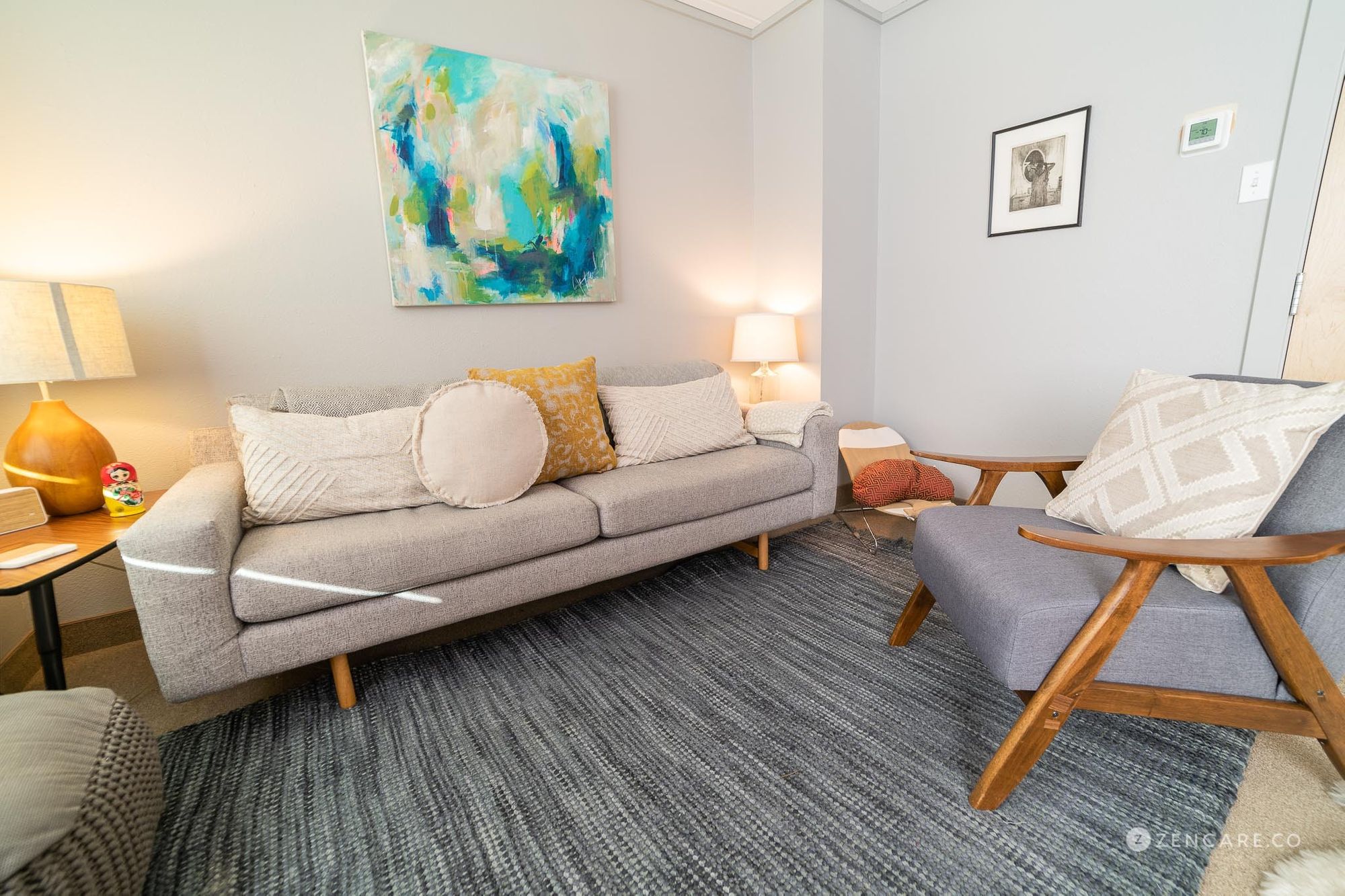 Therapy sessions with Kate
What will our first session together be like? What happens in ongoing sessions?
First sessions at the PWCB are a chance for your therapist to learn about you: who you are as a human, the things that you feel good about, the places where you struggle, and the experiences that have gotten you to this point. This is also, of course a chance for you to ask your therapist what ever questions you might have about ongoing work together. At the PWCB your therapist is the specialist in mental health and wellness, but you are the specialist in you. We simply want to know who you are.
Are there any books you often recommend to clients?
I often recommend:
Do you assign "homework" between sessions?
Most, though not all, clients at the PWCB are calling us because they don't feel well and they want to feel better. Most clients are struggling with something that they feel is getting in their way of being happy.
While sessions with us provide opportunity for conversation and reflection, we want you to get well. For that reason, you will learn tools and strategies that will lead you toward greater health. The more you practice these between sessions, the quicker you will feel better. Practice might include goal setting and completion, work on changing thoughts and behaviors, or practicing new skills for nervous system maintenance.
How do I know that it's time to start seeking therapy?
As mentioned, we believe that every mother needs therapeutic support. So, if you are a mother, we might say that just by that fact it is time to seek therapy! For those who don't resonate with this idea, therapy can also just be useful if you are feeling like your thoughts or feelings are getting in your way of living the life that you desire.
How will I know it's time to end my time in therapy with you or reduce session frequency?
Great question! When you start with us, we will ask you this very question for you to answer: "What would be different if you knew that you no longer needed our support?" We want to help you set and get to your goals in your work with us. In general, you will likely be done with therapy when you can access the level of wellness that you desire without coming in for direct support from a therapist who is here to guide/walk with you.
Why should I seek therapy, rather than turning to my partner, friends, or other loved ones?
Do both! While sharing your feelings with the people in your life that you trust is important, therapists offer an unbiased support to you. Therapy also offers knowledge and expertise in health and wellness that other people in your life may not have.
What advice would you share with therapy seekers?
Asking for help is the ultimate sign of bravery.
Visit The Postpartum Wellness Center's profile to watch their introductory video, read more, and book an initial call!