Jules Confino is a Licensed Marriage and Family Therapist in Fresno, California specializing in mood disorders, stress management, and work-related challenges. We asked Jules more about his work with clients and his guiding philosophies on therapy.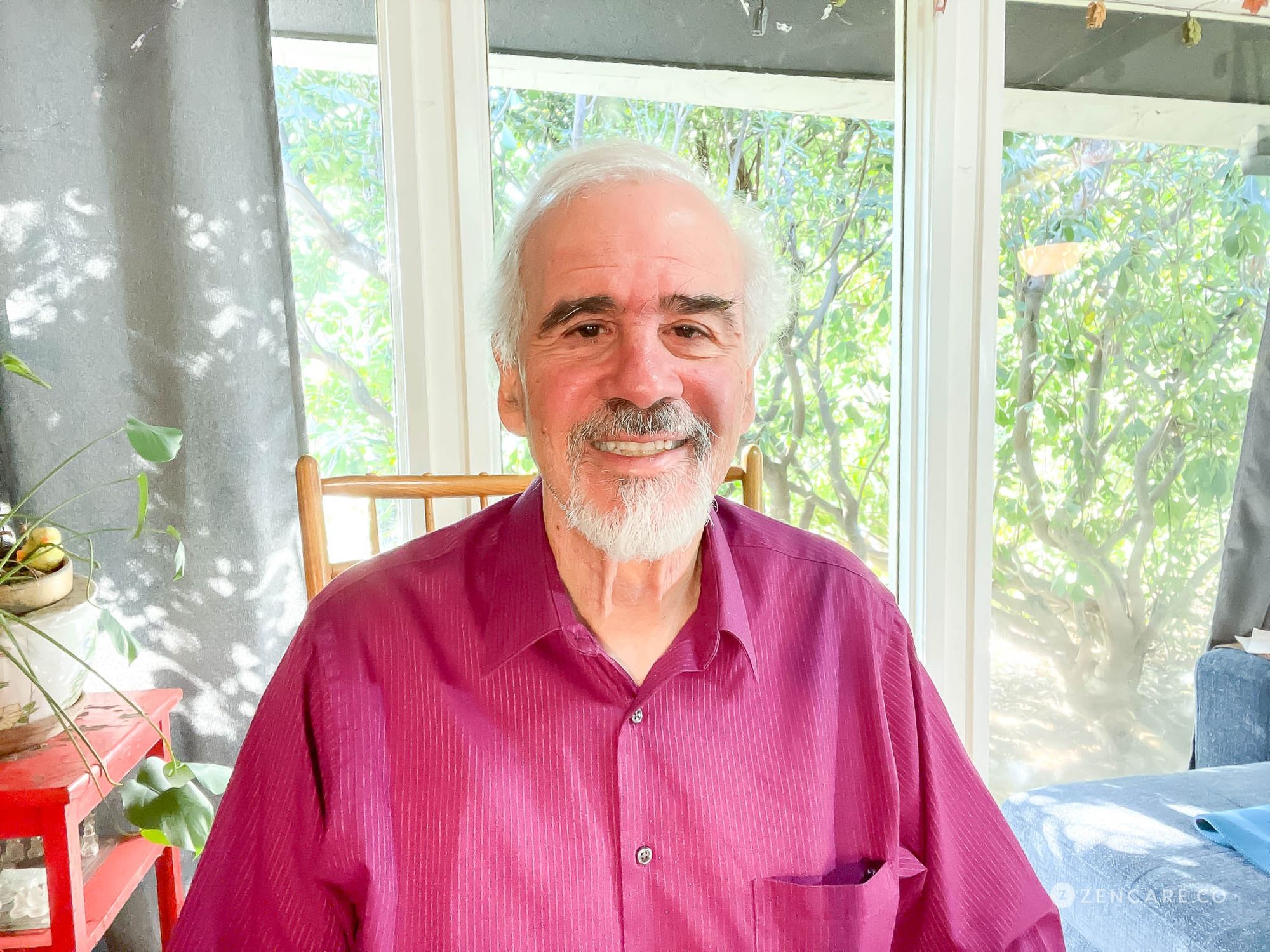 Jules' background and personal life
How did you decide to become a therapist?
When I started my journey in college I first thought that I wanted to go into the engineering field to become an electrical engineer. However when I started coursework and encountered physics I opted to take a left turn as I was also taking a psychology intro class. I realized that I resonated more with psychology and opted to major in psychology and my future career aspirations as a psychotherapist began there.
What was your previous work before going into private practice?
I have been in the therapy field for my entire career and also worked part time as a postal service clerk while attending college. I have worked in a variety of settings in the mental health field, including with autistic children in residential care homes and people with schizophrenia in a residential treatment center (early career pre-license).
I have also worked as care manager for a national Managed Care corporation Magellan Behavioral. While working in all of these positions I always did part time private practice. My last employment prior to establishing a full time private practice was working as a unit manager/clinical supervisor in an adult county mental health agency.
What do you enjoy doing in your free time?
I enjoy reading, learning, meditating, and exercise (I'm an avid cyclist). I enjoy nature hiking and traveling including road trips, cruises, international adventures etc.
Jules' specialties and therapy philosophies
What guiding principles inform your work?
When I begin working with new clients my aim is to establish an understanding alliance and from there tune into my clients needs to establish relevant treatment objectives. A key component in establishing an alliance is to develop a rapport and create a non judgmental relationship to allow my clients to discuss their concerns in a user friendly manner.
My emphasis in my treatment approach is based on using mindfulness strategies. The focus being on helping clients learn how to establish a positive mindset. Mindset is driven by a concept that is known as wise mind. When clients learn how to access their wise mind they're able to manage their current stressors, concerns, conflicts etc. which in turn help them address challenges in their lives.
What clientele do you work with most frequently?
I generally prefer working with adults ages 20- seniors. I also enjoy working with adolescents that are motivated for therapy vs. parental pressure to attend therapy against their desires. I have expertise in addressing work/occupational issues. Addressing interpersonal conflicts with managers/bosses as well as coworkers.
In my work with clients, I strongly advise them to learn how to use what I call respectful assertiveness skills to be able to speak truth to power as needed. I have found that managers/bosses often abuse their authority and create toxic workplace environments.
Can you tell us more about your specialty in anxiety?
When dealing with patients that struggle with anxiety, I emphasize helping them learn how to establish a positive mindset to be able to tame their tendencies to worry or obsess/over think about their situation. I find that patients that struggle with anxiety as well as obsessive compulsive disorder tend to be their own worst enemies. They are overwhelmed with worry and fear and fall into too much negative self talk which exacerbates their anxiety.
Can you tell us more about your specialty in depression?
Patients that struggle with depression or bipolar disorder often feel hopeless, which leads to them losing their center. Here again I want to help them learn mindfulness skills to help them climb out of what I call the black hole of depression.
It's critically important for these folks to understand how they tend to be overwhelmed with negative thoughts which causes them to lose their center. Establishing a positive mindset goes a long way in helping them improve their self esteem, self confidence, and self image.
Can you tell us about your work with clients navigating work-related concerns or stressors?
When addressing patients struggling with work/occupational stressors I want to help them understand that they can learn how to cope with their stress. I emphasize the importance of them learning how to maintain their integrity ( which defines how they approach their work and use their skills accordingly). This in turn helps them to establish a reasonable comfort zone and establish respect in their roles. Additionally I help them learn how to use respectful assertiveness skills to manage conflicts with management and coworkers.
What do you find most rewarding about your work?
I have worked with a wide array of patients in my mental health career. What I find most rewarding is when I'm able to help my patients learn how to improve their mindset which in turn helps them manage their challenges and stressors that plague them. A well established mindset helps my patients learn how to manage the good, bad and ugly experiences they are struggling with. In turn they are able to establish a positive lifestyle which helps them navigate through their concerns and live happier productive lives.
Therapy sessions with Jules
What will our first session together be like? What happens in ongoing sessions?
In an initial session I am focused on learning about your background family of origin, current life concerns and establishing a rapport and alliance to establish a user friendly therapeutic relationship.
How long do clients typically see you for?
I am committed to working with clients that are motivated to improve their lifestyle and live more productive lives. As such the length of therapy can vary between short term problem solving focused needs or long term therapy to resolve past trauma and significant history of depression, anxiety, anger issues etc.
Are there any books you often recommend to clients?
I often recommend books about mindfulness in particular Full Catastrophe Living by Jon Kabat-Zinn who I consider a mentor in the mindfulness field.
I also recommend relevant books for other client issues, including:
Do you assign "homework" between sessions?
I don't typically recommend homework between sessions as clients are not in school and often resist doing homework. I do at times suggest that they focus on developing insight in regards to their concerns so they can start establishing a positive mindset to navigate through their problems and gain perspective. I help patients learn how to use my 3P theory: patience, perseverance and prayer (non-eligious just their current belief system).
How do you help ensure I'm making progress in therapy?
I believe progress in therapy is best determined when clients I work with have well established mindsets that have helped them manage current situations, stressors, problems, and resolve interpersonal conflicts.
How do I know that it's time to start seeking therapy?
In general clients that I provide therapy for are motivated to change and as such are ready and willing to be open minded to address their concerns and improve their lifestyles and relationships.
How can I prepare for our first session?
In preparation for the initial session, it's important that you know what your priorities are that you want to improve/resolve. As such I feel it's important for you to be transparent, truthful and motivated to address your issues in an objective and nonjudgmental therapeutic relationship. It's important that you be open to learning how to manage your emotions and concerns and be open to establishing new ways of thinking/communicating to help improve your mindset.
How will I know it's time to end my time in therapy with you or reduce session frequency?
Determining when to end or reduce therapy sessions is done by consensus when you feel you have established a positive mindset that helps you to manage your stress conflicts and establish a healthy and productive lifestyle.
Why should I seek therapy, rather than turning to my partner, friends, or other loved ones?
Seeking therapy with an experienced clinician vs. partners, parents, family friends etc. is a different experience as therapists focus on establishing an objective arena to help you address your needs and concerns in a non judgmental manner.
What advice would you share with therapy seekers?
The desire to start therapy should be driven by a client's desire to change their behavior, negative thoughts and emotions that cause an increase in anxiety, mood swings and frustration when feeling stuck which leads to self sabotage and helplessness and hopelessness struggles.
Visit Jules' profile to read more about him and book an initial call!