Joyce Stewart is a Licensed Clinical Social Worker in Maryville, IL specializing in helping women navigate anxiety, trauma, life transitions, and phobias/fears. As an author of three books and a therapist for over 12 years, Joyce brings a rich background of experience to her work with clients. Her approach to therapy is holistic and integrative—striving to incorporate the mind, body, and spirit in the healing process. Joyce offers both in-person therapy appointments in her office in Maryville, as well as remote therapy sessions to clients throughout the state of Illinois.
We asked Joyce more about her work with clients and her guiding philosophies on therapy.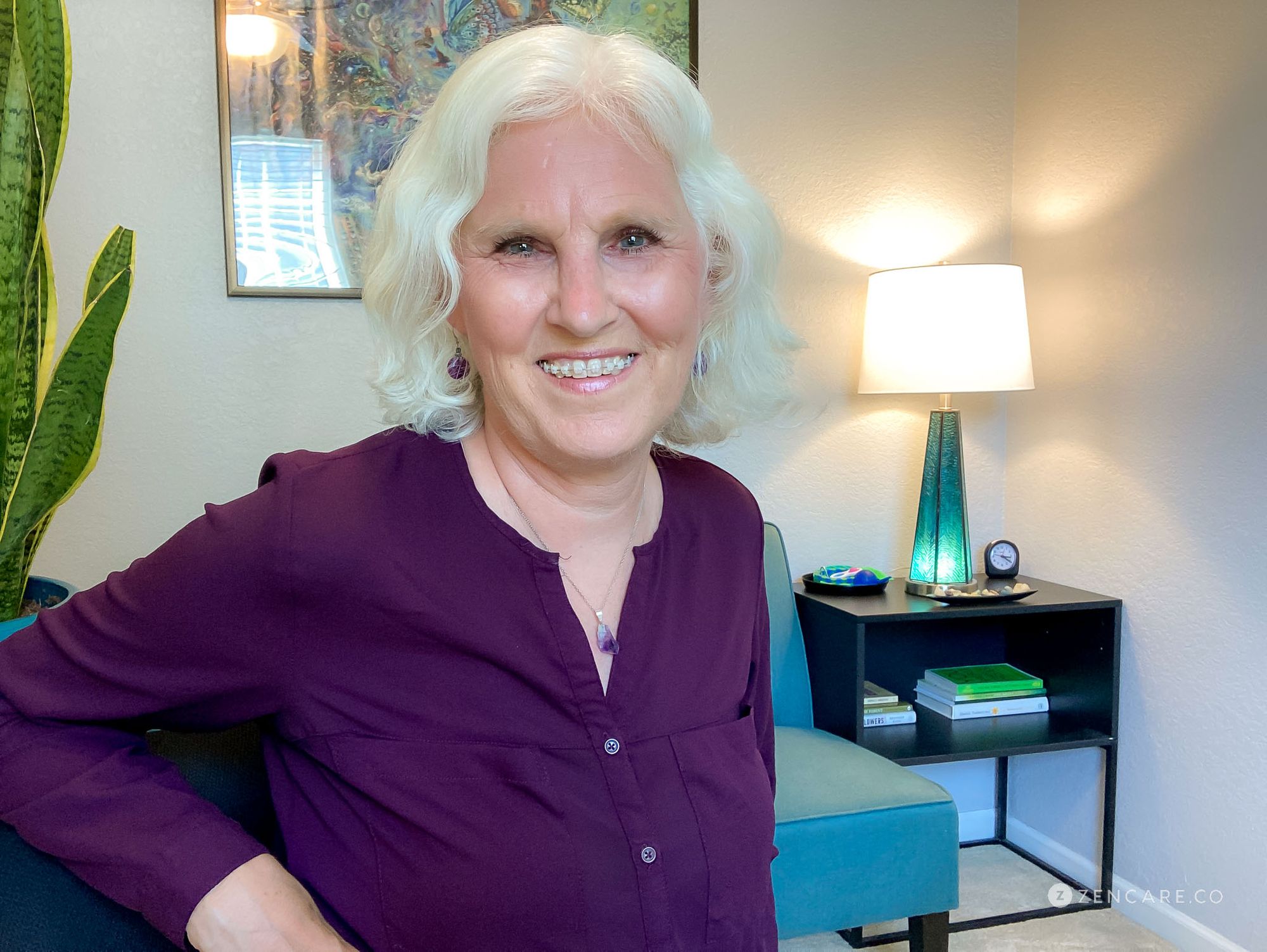 Joyce's specialties and therapy philosophies
What guiding principles inform your work?
The guiding principle that informs my work is to provide personalized therapy to each person that I work with. I have been trained in a variety of treatment modalities so can offer people more than just talk therapy. I believe that it's important to manage symptoms and identify the root cause of the problem in order for symptoms to fade away and for clients to get back to creating the life they really want to live.
What clientele do you work with most frequently?
I enjoy working with women who are dealing with trauma, abuse, fear, anxiety, and spiritual issues.
Can you tell us more about your specialty in helping clients manage phobias/fears?
All emotions are rooted in either fear or love, and living life from a place of love is much more enjoyable than living from a place of fear. Look around our society and you can see how many areas use fear to control and manipulate people. People get caught in this fear trap, and it either becomes normal to them or they want to get out and don't know how. This is where I come in. I help people identify their fears, release them, and learn how to live a life motivated from love.
Can you tell us about your work with women?
Many women today have been programmed to see themselves as victims due to past abuse and trauma. Many are given coping skills or medications, or they gravitate toward different types of addictions to prevent themselves from having to feel or be triggered by their past. This leads them to living disempowered lives. I like to help women become free from their past, believe in themselves again, and create the life they really want to live.
Can you tell us more about your therapeutic approach?
We have two parts to our mind—the sub-conscious and the conscious. The conscious is what you are aware of at any point in time: the weather, what you are eating, the people around you. The sub-conscious is the master computer that records your entire life history. What most people do not realize is that your sub-conscious programing controls much of what you do on a conscious level.
Here is an example of how this works: If you have a fear of sleeping in the dark, chances are at some time in your life, something bad/painful will happen to you in the dark. Therefore, your subconscious mind recorded, "It is not safe for you to be in the dark." As a result, you can live the rest of your life sleeping with night lights. Or, you can change the programing in your mind to: "It is safe for me to be in the dark, '' and you will be able to sleep just fine with the lights off.
We all have lots of sub-conscious programing that blocks our ability to live the life we want. I am trained in how to undo these blocks and program what you really want to believe about yourself and life.
What do you find most rewarding about your work?
The most rewarding part of my work is seeing people actually heal and get their life back. I have many clients who have been to therapy in the past but never felt like it helped them. Then, one of my past clients will refer them to me, and they realize that there is hope for them, and that they can enjoy their life again.
Therapy sessions with Joyce
What will our first session together be like? What happens in ongoing sessions?
Your first session with me is all about gathering information. I don't like using forms, as they are not very personalized, so I let you do the talking and tell me anything you want about why you are here, what you need help with, your past, etc.
I will be writing things down and asking questions as we go along. Then, together we will decide what are the top three things you want to focus on in therapy. I will also tell you about the different types of therapeutic treatments I use to help you get better.
How long do clients typically see you for?
Depending on the issue we are working on, clients see me anywhere from 3 months to 2 years. I like to see clients weekly at first, as we can make quicker progress this way. Then, as they get better, we go down to twice a month, monthly and then as-needed.
Do you assign "homework" between sessions?
I assign homework on an as-needed basis, depending on what issues we are working on. Homework may be journaling, keeping track of triggers, feelings, etc., or it may be reading something, watching a video, creating a vision board, or doing a mindfulness exercise.
How do you help ensure I'm making progress in therapy?
We set weekly goals, and I check-in with you each week to see how you are doing.
How do I know that it's time to start seeking therapy?
When we have experienced past trauma and abuse, we tend to push it down because it is too painful to live with. We find coping skills and addictive behaviors to help us get through life. However, over time, many find themselves repeating the same destructive patterns and coping skills that no longer work for them and begin to feel tired of living this way.
These are the most common signs that let someone know that it is time to enter therapy, and doing so can help you get your joy back, engage in heathy relationships, and work a job you are passionate about.
How can I prepare for our first session?
A lot of people have anxiety about starting therapy, and this is very normal. I try to make therapy fun, informal, and a safe, nonjudgmental environment. You do not need to bring anything other than your yourself, your insurance information, and—if you would like—a pen and paper to take notes.
How will I know it's time to end my time in therapy with you or reduce session frequency?
We make this decision together based on the improvements you see in your life.
Why should I seek therapy, rather than turning to my partner, friends, or other loved ones?
A therapist is like an outside person who can see the bigger picture, even when you are unable to see past the pain and drama going on around you. Many times family and friends do not want to keep listening to your drama stories and will begin to turn away from you, or they will give you advice based on their own life—which may not apply to your situation.
What advice would you share with therapy seekers?
The sooner you start therapy, the sooner you will begin to feel better and enjoy your life again. Every therapist is different, so interview different ones and choose the one you resonate most with.
Visit Joyce's profile to watch her introductory video, read more about her, and book an initial call!