Josh Dodes is a Licensed Clinical Social Worker in New York specializing in working with "unhappy achievers"—high-achieving individuals who have lots going on for them but yet feel empty or unfulfilled on the inside. Josh also works with clients navigating anxiety, self-esteem challenges, and relationship issues. We asked Josh more about his work with clients and his guiding philosophies on therapy.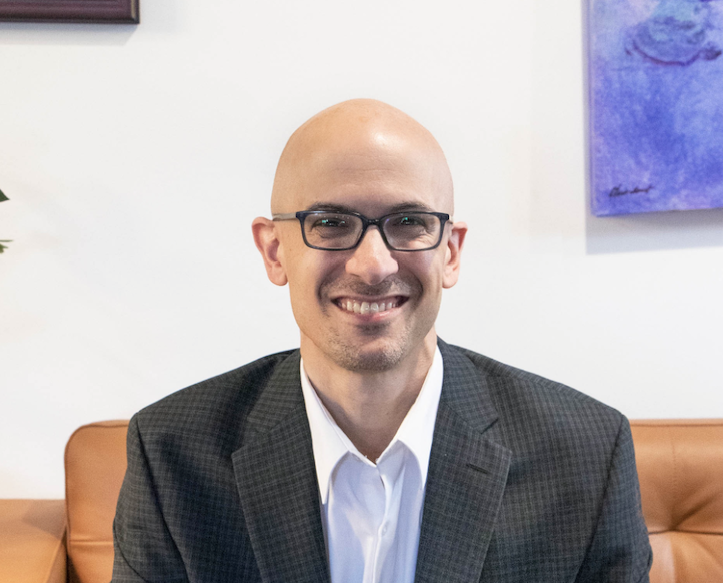 Josh's background and personal life
How did you decide to become a therapist?
In some ways, I've been on the path to becoming a therapist since I was in third grade. I was at a new school and being bullied by a more popular kid. My parents—a psychoanalyst father and an elementary school teacher mother—helped me to consider that this other kid must be incredibly unhappy to have become such a bully.
It may sound obvious, but to an eight-year-old, it was profound. It was a whole new lens on the world, thinking about what goes on under the surface of people's behavior. I've been fascinated with psychology ever since.
What was your previous work before going into private practice?
Despite having been interested in psychology from an early age (and having majored in it at Yale), I had another passion I wanted to pursue first: working as a professional musician. I'm a pianist/singer/songwriter who enjoyed a 15-year career as a touring and recording artist, both as the leader of my own band and as a sideman for other artists, before returning to school to become a psychotherapist.
Josh's specialties and therapy philosophies
What clientele do you work with most frequently?
Over the last several years, I've increasingly specialized in working with (and writing about) a population I call Unhappy Achievers: high-functioning and often highly successful adults, who nonetheless feel empty inside.
Often, these are individuals who learned early in their lives that their value lies in what they accomplish, rather than in who they are. The resultant need to please, just to feel worthwhile, commonly leaves them anxious, depressed, even angry—and all too often—they don't understand why. I love helping people work through these feelings, and seeing them come out the other side with a deeper, more stable sense of fulfillment.
What do you find most rewarding about your work?
I love doing long-term, deeper work that helps people work through issues that have held them back in their relationships and careers. The kind of work I do with people can be difficult (what's truly valuable that isn't difficult?) but getting to work closely with people as they free themselves from old, ineffective patterns and become more fully themselves is incredibly fulfilling.
Therapy sessions with Josh
What will our first session together be like? What happens in ongoing sessions?
In the first session, I'll ask you to start by telling me whatever you can about the issues that are bringing you into therapy: What feels hard? Where do your struggles appear in your life? How long have you felt this way? Why are you reaching out for therapy now? While it is not uncommon for people to come in for one issue and end up working on other, deeper ones that are related, I'm always interested in hearing how you describe the difficulties in your life.
How long do clients typically see you for?
Since I help people work through big-picture issues that they have often struggled with their whole lives, progress takes time. I have sometimes worked with people for several months, but more often, I work with people for several years. The good news is that the kind of deeper work I do with people usually lasts for the rest of their lives.
Are there any books you often recommend to clients?
The two books I find myself recommending most often are Alice Miller's The Drama of the Gifted Child and Russ Harris's The Happiness Trap. The first is an exploration of some of the deeper factors that can create Unhappy Achievers. The second is a guide to ACT (Acceptance and Commitment Therapy), a more cognitive-behavioral approach that I have been increasingly integrating into my work over the last few years.
How can I prepare for our first session?
The only thing I ask people to bring to their first session is an open mind. What does that really mean? For people who haven't been in therapy before, it means openness to an entirely new kind of relationship, one where you can talk about anything at all (including your feelings about me and therapy itself) and learn to trust that I will take you seriously and genuinely listen.
For people who have been in therapy, but not with someone psychodynamically oriented, it means openness to a new kind of process, one where we will looking both at the here-and-now of your current difficulties *and* at what has led to those difficulties, historically and unconsciously. That means a less linear and often longer process, but it is by far the most effective way to create lasting change.
Visit Josh's profile to watch his introductory video, read more about him, and contact him for an initial consultation!