Jonathan Mattice is a Licensed Marriage and Family Therapist offering remote therapy sessions to clients in California and Colorado. Jonathan specializes in working with couples on topics such as communication dynamics, parenting, and major life transitions. Jonathan's approach to therapy is collaborative in nature and influenced by his training in Dialectical Behavioral Therapy (DBT), Cognitive Behavioral Therapy (CBT), and Emotionally Focused Therapy (EFT). In sessions, he particularly focuses on helping couples development tangible skills they can use to improve their relationship.
We asked Jonathan more about his work with clients and his guiding philosophies on therapy.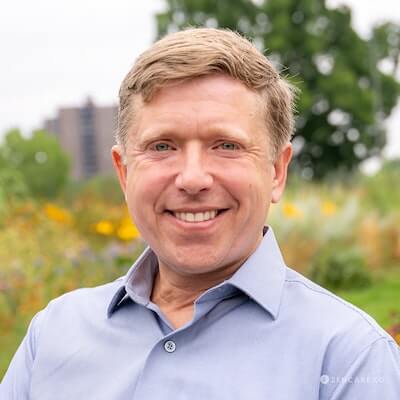 Jonathan's background and personal life
How did you decide to become a therapist?
I decided to become a therapist because I love seeing the lives of couples and individuals improve, heal and grow; Early on, I began noticing the differences between couples with healthy communication and unhealthy communication. I found that I wanted to become a therapist who would be a part of the solution; someone who could help improve the immediate climate of the home for the better.
What was your previous work before going into private practice?
I've worked in the following places doing the following things:
A non-profit organization in New Jersey with highly anxious and thought disordered clients
A prison in Delaware facilitating groups with correction populations
A non-profit organization in California, safety planning with teens who have threatened injury to themselves
A jail in California, assessing for suicide
A hospital in California, working with mental health populations and their families
And now... after doing some work with couples and seeing the benefits happen session after session, I've found my niche with the previous experiences aiding compassion in my current work.
What do you enjoy doing in your free time?
I snowboard (Ikon Pass style), play fingerstyle guitar, and—yes—I do play pickleball!
Jonathan's specialties and therapy philosophies
What guiding principles inform your work?
Safe space is a principle that guides my work. It's integral to how I lead sessions. Safe space is about creating an atmosphere where thoughts, feelings and opinions matter. It's a place where experiences are validated and welcomed without judgment. Safe space gives room for you to verbalize what is going on in your mind while kindness is reflected in return.
What clientele do you work with most frequently?
I tend to work best with young to middle aged couples that want to work on communication dynamics; couples who want to work on loving each other better.
Can you tell us more about your specialty in working with couples?
Common challenges with couples counseling is that each person is often trying to be seen, heard, validated and appreciated; often feeling that the heart of what they are trying to say gets "missed." While each would like to be understood in this way; this level of care and understanding can be difficult to give. My coaching here helps to develop skills necessary to be able to see, hear, validate and appreciate what's being said; to really catch the heart of the matter.
With couples communication, reflective listening is core. We'll go into real time specifics, pin pointed to your relationship on how to do this. I'll keep you on your toes! You won't know when I'll ask you to reflect back what you're hearing. Not to worry, done in a way that leaves you feeling supported and encouraging of connection. When couples get a hold of truly how to do this, their need for therapy comes down and I work myself out of a job.
A lot of couples talk about how they "should find time." One of the things we'll work on, if this is a challenging area for you, is how to create a boundary time so that your relationship can be prioritized. We'll set it up so it can be given the attention it needs so that it can BE at its best!
What do you find most rewarding about your work?
What's most rewarding is when I see a couple using the skills and tools we've gone over in therapy to fundamentally set their relationship on a positive trajectory. It's powerful when things start to shift. Tears of relief and joy are not uncommon during my sessions and everyone feels it!
Therapy sessions with Jonathan
What will our first session together be like? What happens in ongoing sessions?
Connection, connection is what's happening in the first session. It's a time of getting to know each other with focus weighted so that I can really get to know you and your story. I'll be asking questions about how you met and your strengths as a couple. I'll be asking you if you're familiar with the love languages and what your primary love languages are. We'll talk a little about what each of you do for work and what you both would like to get out of therapy.
For ongoing sessions, I'll ask about what you would like to prioritize for our time and then we'll come up with a game plan together to pave a way forward. We'll likely work on skill building for communication and how to connect with each other. Ongoing sessions address some of the more challenging areas. We'll likely work on how to preemptively keep conflict at bay before it ramps up. We'll also go over how to de-escalate your specific situation and how to work towards resolution on tough issues.
How long do clients typically see you for?
Couples often don't need long term therapy. Most relationships that I see gain enough traction in weekly therapy for about 2 - 3 months. Usually every other week is effective for another couple months. And then perhaps a session as needed. I find this trajectory to be about the average with my work.
Are there any books you often recommend to clients?
I recommend Gary Chapman's 5 Love Languages. I recommend this book because time and time again, couples love each other in the way that they, themselves want to be loved. The problem is that emotional disconnect happens when one person is not feeling loved in a way that they experience love. The book untangles this challenge. If you haven't read Love Languages, Chapman helps identify how you want to be loved and talks you through how to love your partner, prioritizing the ways that they would like to be loved.
For couples who need a boost on conversation starters, I recommend a set of cards with prompts. My couples speak highly of the deck called Love Lingual. I like this deck because it builds emotional intimacy and connection through understanding your partner better.
If an App is more your thing, get Agape. It will help you create memories, ignite playfulness, deepen conversation and ultimately encourage healthy connection.
Additionally, I often use mindful skill building in my sessions. An under-utilized and widely unknown app is called the Mindfulness Coach. It's free and there are no annoying ads. I love the variety of mindful exercises that bring about increased awareness and thoughtfulness.
Ok, one more and then I'll stop! If you're not convinced about the benefits of mindfulness, read the book, Mindfulness by Mark Williams and Danny Penman. The book is super valuable because it coaches you through an eight week mindfulness program, reflective of the research that's been done to give max benefit.
Do you assign "homework" between sessions?
Yes, I do assign "homework" between sessions. I usually find something relevant to work on in-between sessions, based on what is happening real time during the hour of the session. We'll then bring up this homework during the following session so we have momentum by the time we meet next.
How do you help ensure I'm making progress in therapy?
I ensure progress through skill building, real time during sessions. Homework in-between sessions will aid that progress. Also, I tend to work with clients who are generally motivated to work on things. You'll get out of it what you put in. I'll guide you.
How can I prepare for our first session?
Yes, For our first session, please have an idea of your (both of your) schedule(s). I'll open up my availability at the end of the first session and I'll secure time for you. Have an Idea of what you'd like to work on in our sessions. This info is extremely helpful to me as I'll be collaborating with you to develop a game plan. Other than that, bring a willingness and an openness for therapy and I'll see you in our first session.
How will I know it's time to end my time in therapy with you or reduce session frequency?
You'll feel a different level of connection, understanding and empathy in your relationship. It' will be noticeable and my commitment to you is to get you to this place so that unnecessary time isn't spent in and on therapy
Visit Jonathan's profile to watch his introductory video, read more about him, and book an initial call!