Joelle Chorny is a Mental Health Counselor at Resilience Lab in Tribeca Manhattan who sees adolescents and adults across the lifespan. Most frequently, she works with young adults navigating relationship challenges, ADHD, anxiety, depression, or eating disorders. Joelle takes a solutions-focused and client-centered approach to sessions, and she is passionate about meeting clients where they are at while also empowering them with the coping skills they need to navigate their own struggles. We asked Joelle more about her work with clients and her guiding philosophies on therapy.
Joelle's background and personal life
How did you decide to become a therapist?
I knew I wanted to help people since I was very young. The question then became: how am I going to do that? My idea of helping people mainly came from being there for my friends and helping them through whatever obstacles or issues they faced. I realized that helping people through this medium was something that I had a knack for, and it was also something that I enjoyed. When I discovered the term "therapist," I knew that would be me one day.
What was your previous work before going into private practice?
Before going into private practice, I was working as a case manager at a homecare agency. I was working with clients to either assist them with needs (such as helping them find a doctor, rectifying their insurance, helping them obtain food stamps, etc.), or assisting them and their families with emotional support.
I also had two internships: one where I conducted group sessions at an addictions clinic and one where I had individual sessions with clients with various issues, such as anxiety or depression.
What do you enjoy doing in your free time?
Some things I enjoy are hiking, traveling, hanggliding, playing music, and singing.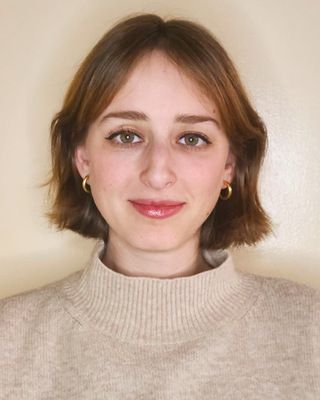 Joelle's specialties and therapy philosophies
What guiding principles inform your work?
I believe that by getting to the root of a problem, you can begin to find a solution. Oftentimes, the root of an issue is derived from past trauma or experiences that haven't been fully dealt with. This is where I use psychodynamic principles in order to assist my clients in dealing with present issues by first processing past issues. I encourage my clients to speak their mind at their own pace and offer a nonjudgemental and welcoming space.
What clientele do you work with most frequently?
I typically work with clients aged 16-24 and enjoy working with this population. I have found through my own experience and research that this time in one's life is when one begins to solidify their identity. This can often be a challenging time for people as they learn to navigate the world and their place in it, and I want to be there to help make that process easier.
Can you tell us more about your specialty in relationship issues?
People often only start to see issues in a relationship when big arguments start to surface, but relationship issues usually begin to form earlier on. Differences in communication style, attachment style, past trauma, cultural background, etc. can cause rifts in a relationship if they go unaddressed. My approach involves taking a look at these differences and bringing them into the light so that they can be understood and resolved.
Can you tell us more about your specialties in anxiety and depression?
Anxiety often makes us feel like we are blowing things out of proportion or being irrational. However, anxiety stems from our brain's natural and adaptive response to a perceived threat. The issue comes in when we see things as more threatening than they actually are or if we don't feel like we can handle the threat. My approach is to explore where my clients learned to see such as situations as threatening, so that they can be changed.
I believe that depression feels different to everybody but often centers around feeling unfulfilled and out of control in some or several aspects of one's life. In dealing with depression, I help my clients identify where they don't feel in-control and explore how to take advantage of the things they can control.
What do you find most rewarding about your work?
I enjoy the process of seeing and hearing about positive mental change in my clients.
Therapy sessions with Joelle
What will our first session together be like? What happens in ongoing sessions?
In our first session, I ask about your goals for therapy and ask you to describe your reason for coming into therapy. I then provide some feedback, and we talk about creating eventual plans for sessions.
How long do clients typically see you for?
Clients see me for as long as they feel comfortable or find it necessary.
Are there any books you often recommend to clients?
I often recommend Maid by Stephanie Land, Man's Search for Meaning by Viktor Frankl, and Lost Connections by Johann Hari
How do you help ensure I'm making progress in therapy?
I ask for your feedback, and we can talk about how we can improve sessions if you feel like we aren't making progress.
Visit Joelle's profile to read more about her and contact her for an initial consultation!