Joanna Barrett is a Licensed Mental Health Counselor in Massachusetts specializing in mood disorders, trauma, and stress management. We asked Joanna more about her work with clients and her guiding philosophies on therapy.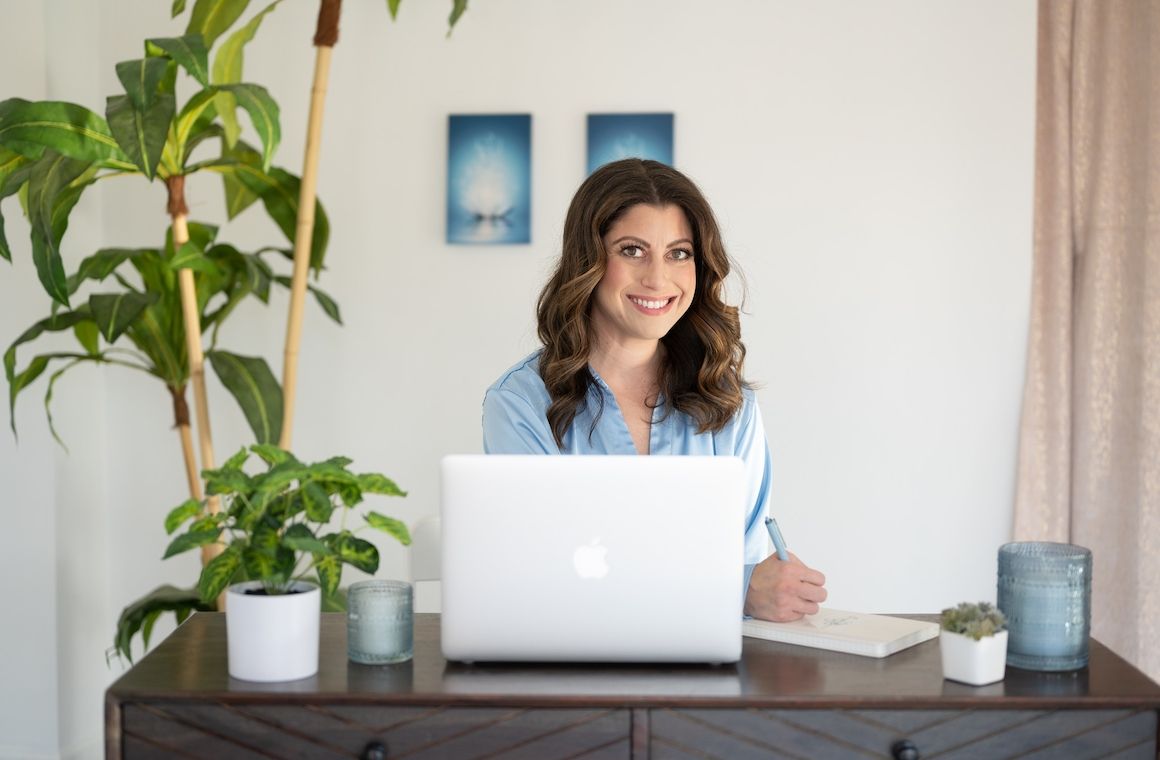 Joanna's background and personal life
How did you decide to become a therapist?
Moved deeply by my personal experiences with the many benefits of psychotherapy and yoga, I decided to pursue a career in clinical mental health counseling and mindfulness/yoga studies.
I am a therapist so I can help others. I believe that my healing work in the world was offered to me as a gift. I was born a sensitive soul so that I can relate to other people. Naturally intuitive and empathetic, my own struggles on my path have shaped me into the healer I am.
I deeply care about how people think and talk about mental health. I don't see humans as broken or damaged goods, despite what many think or say. I see them as whole beings; I see their essence and their heart center.
What do you enjoy doing in your free time?
I enjoy being with my loved ones and spending time with my dog. I love reading books that inform my therapy and yoga practices, as well as engaging in my own yoga practice daily. Being in nature, especially near the ocean, inspires me. I also love finding time for my own creative pursuits (journaling, photography, and artwork), and I'm currently writing my first book.
Joanna's specialties and therapy philosophies
What guiding principles inform your work?
My experience in holistic wellness and mind-body modalities for healing has led me towards guiding individuals to reach their full potential for optimal well-being. Through my work, I support individual clients and groups in managing their symptoms, deepening their relationships with themselves and others, and coming home to themselves. My heart's work is to help guide clients to explore and deepen into themselves to lead more authentic and joyful lives.
No matter what your challenges are, I hold the belief that our work together will elicit benefits in your life. I believe all people hold the ability to shift in their lives and are capable of making changes (big and small!); even if you can't see it yet, I will hold hope and direction for you. Many people just need a little support and guidance along their journey. That's where I come in.
What clientele do you work with most frequently?
I love working with clients who are looking for emotional well-being through body-based and mindfulness practices, as well as utilizing CBT and DBT skills. I most often work with clients who want to make changes in their lives, and who are longing for more peace and ease in their daily life. Clients who want to ease the symptoms of depression and anxiety, adjust to life changes, and heal from the many complex effects of trauma, are the clients I work with most frequently.
Can you tell us more about your incorporation of yoga into therapy?
Emotional Wellness Yoga utilizes asana, pranayama, mantra, and meditation techniques that are personalized for clients so they can be guided through a journey of self-discovery to promote healing, restore balance, and increase vitality.
Can you tell us more about your specialty in working with female clients?
I am passionate about women's rights and women's health. I enjoy giving psycho-education and learning alongside my female clients to enhance their lives through stable hormone health, improved sexual experiences, deeper emotional intimacy, and managing stressors.
What do you find most rewarding about your work?
I find myself walking beside my clients and standing with them in their pain, sorrow, shame, and grief is a great gift (for me and for my clients). I am honored to hold their secrets and their trauma stories gently in my hands and in my heart, so they can walk a little lighter through life. I love holding hope during the darkest of days, even when they cannot see the light on the other side.
I am also privileged to carry their joys and excitements, celebrate their success, and see their resiliency and fierce inner determination to move through life in a new and different way. I am rewarded by supporting clients in all their emotions and experiences, with the intention that the ripple effect will travel far and wide throughout humanity.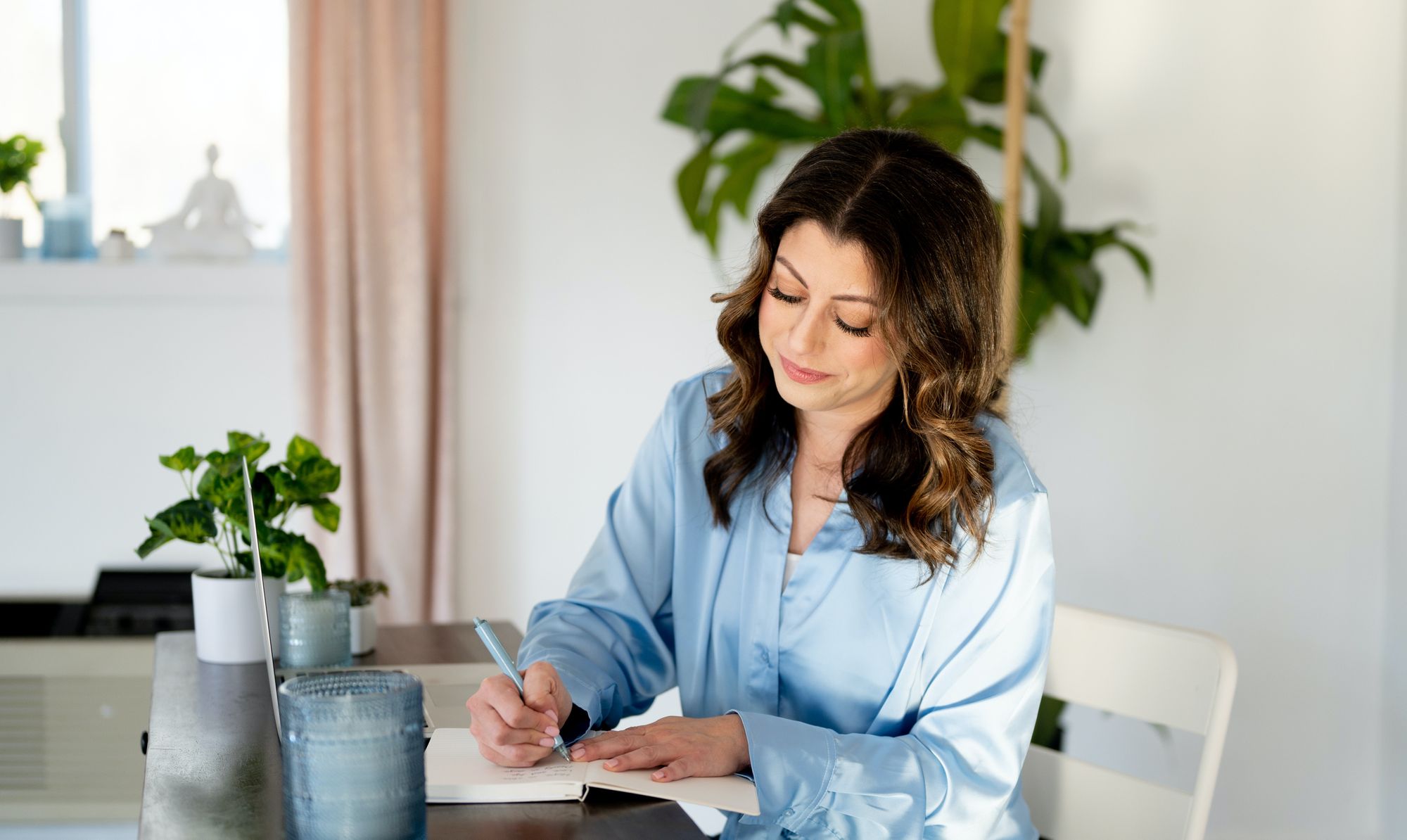 Therapy sessions with Joanna
What will our first session together be like? What happens in ongoing sessions?
I offer a complimentary call to see if we're a good fit to begin work together. In our initial intake appointment, we'll get to know each other further and see what your needs are. We'll discuss the best-fit treatment modalities and set treatment goals.
As your therapist, I can be your sounding board, your listening ear, and your therapeutic partner in problem-solving to make your life better for you. Utilizing a safe and supportive approach that is led by you, I offer suggestions and guidance, encouraging you to find the best path for your journey. I encourage and allow my clients to heal at their own pace. There is no judgment and no pressure. I offer space for talking, journaling, art, or other modalities, as well as yoga (if a client is interested in that approach).
How long do clients typically see you for?
Therapy may be shorter-term or longer-term, depending on the client's needs.  Some clients have specific short-term goals, and once those goals are reached, we can reevaluate if services are still needed. Other times, clients stay in therapy longer-term, as their life circumstances may be more complex, and more time is needed to address ongoing issues.
Are there any books you often recommend to clients?
I love recommending books, podcasts, shows, and music that will support a client's growth. Written and spoken words can be so powerful in the therapeutic process. I generally offer personalized resources to my clients that will support their journey of healing.
How do I know that it's time to start seeking therapy?
Therapy can help individuals work through tough times on their journey to optimal well-being. If you are experiencing challenges, I encourage you to reach out to a professional. If you are not living a glorious, joyful, and fulfilling life, it's time for therapy. You can find what your soul is searching for by taking the first step forward and scheduling an appointment.
How will I know it's time to end my time in therapy with you or reduce session frequency?
I trust in my clients that they are precisely where they need to be — on their journeys in life. My hope is that they can stand on their own two feet and walk through the world with confidence and ease. Through our work together, we will decide together when the timing is best for changing the frequency of sessions, and determining when your goals have been met.
Why should I seek therapy, rather than turning to my partner, friends, or other loved ones?
Conversations with loved ones can sometimes lead to unfulfilled expectations. Therapy, on the other hand, can support you in your life without judgment or unsolicited advice. Therapy is your time for you; it is an essential part of your self-care and living in a better way.
What advice would you share with therapy seekers?
In our work together, I encourage clients to commit to the therapeutic process and desired outcomes. I truly believe in the power of our authentic therapeutic relationship; we are in this together. Your life circumstances can and will change. If depression, anxiety, adjustment to life changes, and/or trauma are weighing too heavily on you, and I encourage you to reach out for help.
Visit Joanna's profile to read more about her and book an initial call!