Jayne' Green is a Licensed Professional Counselor (LPC) working with both individuals and couples in her practice in Sandy Springs, GA. Jayne' has particular expertise in conducting forensic evaluations related to child custody, fitness for duty, and competency to stand trial evaluations. Jayne' is also experienced in working with clients in the medical or helping professions, with clients navigating a history of trauma, and with veterans. As a trauma-informed therapist utilizing evidence-based CBT in sessions, Jayne' is committed to helping her clients reframe the narrative of their life in a way that maximizes their self-worth and fulfillment from the inside out.
We asked Jayne' more about her work with clients and her guiding philosophies on therapy.
Jayne's background and personal life
How did you decide to become a therapist?
After my very first psychology course as an undergraduate in college, I knew I wanted to be in the field of psychology. Learning about the connections between the mind and body grabbed my attention, as did how our environment and our genetic makeup contribute to our dynamic personalities.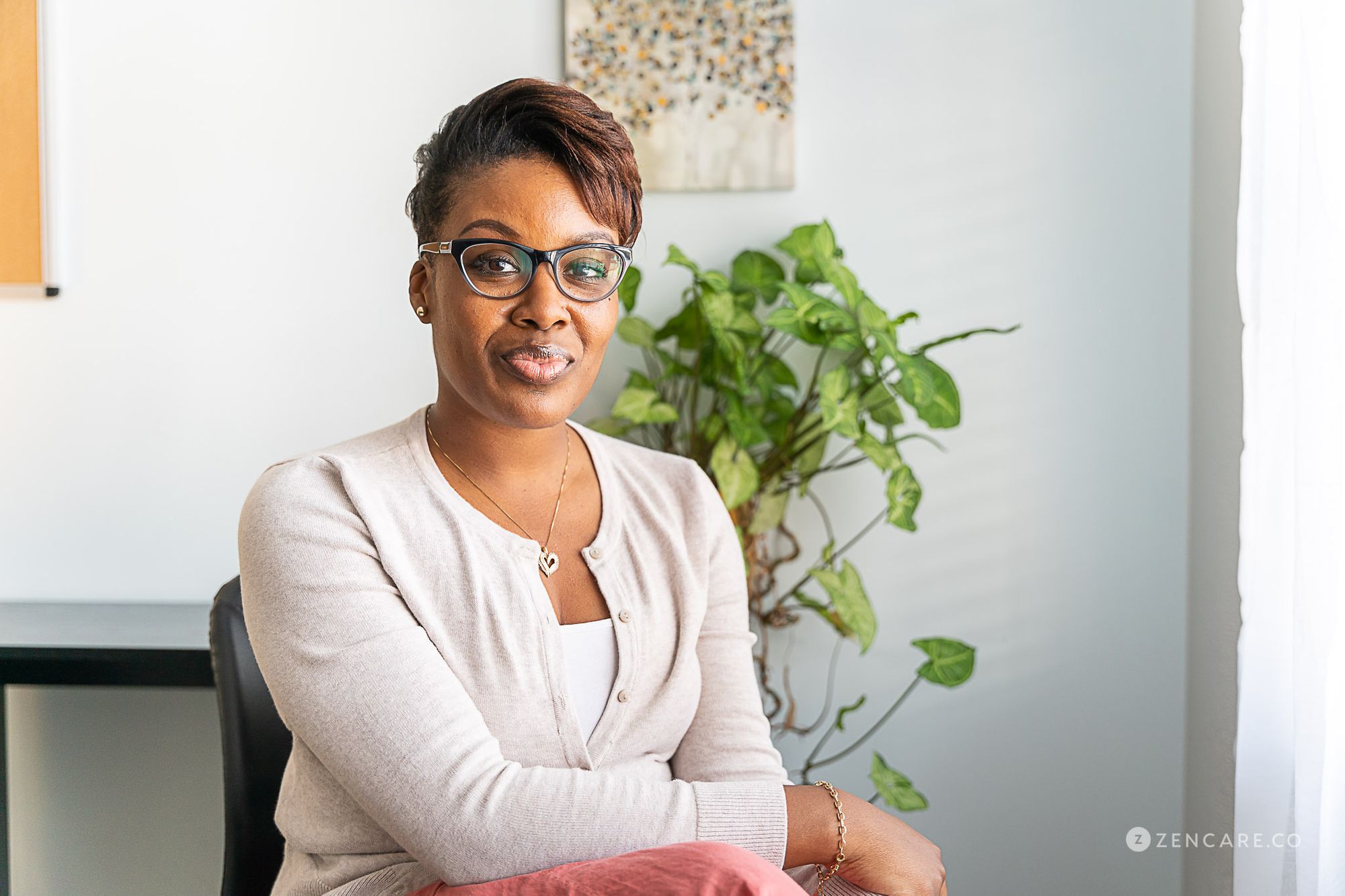 What was your previous work before going into private practice?
Before going into private practice, I worked in a variety of settings with teens, adults, couples, and families. Although the setting of my work has been different, the nature of my work has remained consistent in working with those who struggle with mood disorders, personality disorders, trauma, substance use, and adjustment disorders.
What do you enjoy doing in your free time?
In my free time, I enjoy spending time with friends and family, outdoor activities, and reading.
Jayne's specialties and therapy philosophies
What guiding principles inform your work?
My work is informed by creating a non-judgmental space that allows for a healthy therapeutic connection and collaboration; I create a space for clients to be their authentic selves and find healing through understanding and processing. A holistic approach (focusing on the mind and body) is incorporated since it helps with complete relief given the mind affects the body as much as the body impacts the mind.
What clientele do you work with most frequently?
Most frequently, I work with couples who want to improve their relationship through healthy communication, or with those who want to repair their marriage following infidelity or growing apart. I also work extensively with individuals who want to effectively cope with anxiety, stress, trauma, among other issues.
Can you tell us more about your specialty in conducting forensic evaluations?
Forensic evaluations include child custody, fitness for duty, and competency to stand trial evaluations. Child custody evaluations are for couples facing divorce or separation and are in need of an unbiased assessment to determine what is in the child(ren)'s best interest. Fitness for duty evaluations are to assist employers in determining whether or not an employee or prospective employee is able to fulfill the duties of the job position. Competency to stand trial evaluations are to determine if an individual has the mental capacity to make rational, voluntary, and reasonable decisions with regards to medical, civil, and criminal matters.
Can you tell us more about your work with couples?
Couples counseling is for those in a long-term committed relationship, those considering marriage, as well as newly-weds and seasoned marital couples. Depending on the status of the relationship, counseling can focus on exploring strengths and weaknesses, identifying ineffective communication styles, improving communication, repairing trust, determining if the couple ought to remain together, among other topics.
Can you tell us about your work with clients on trauma?
Many individuals face trauma—either from recent or past experiences—that impact their ability to function at work and/or within their relationships and interactions with others. Many of these individuals are in the helping professions (e.g. law enforcement, doctors, nurses, abortionists, firemen and women, etc.), but many are not and still face the impact of trauma on their everyday lives. Trauma counseling helps individuals develop healthy coping mechanisms and assists them in reorienting their narratives.
What do you find most rewarding about your work?
The most rewarding aspect about my work is seeing and hearing about the change and progress clients make through their own efforts of choosing to live a more liberated life.
Therapy sessions with Jayne'
What will our first session together be like? What happens in ongoing sessions?
Our first session together will be about learning your reason for seeking therapy, understanding your story, building a therapeutic relationship, and establishing goals to focus on in our sessions. Subsequent sessions will focus on exploring, processing, and collaborating on healthy ways to manage symptoms.
Do you assign "homework" between sessions?
"Homework" between sessions is something I like to offer for clients who like having something to work on in between sessions. This practice helps to reiterate anything discussed in session while helping to improve desired areas.
How will I know it's time to end my time in therapy with you or reduce session frequency?
You will know you are ready to reduce your session frequency and/or end therapy when you are able to consistently experience relief in the areas where you once struggled. When you are able to consistently have a healthier approach to challenging situations, while still experiencing a sense of control over your destiny, it may be time to end therapy.
What advice would you share with therapy seekers?
For anyone seeking therapy, know that it is an investment in your overall health. Physical health impacts mental health and vice versa. Therapy can help you to live a healthy, holistic lifestyle that incorporates balancing your physical and mental health.
Visit Jayne's profile to watch her introductory video, read more about her, and contact her for an initial consultation!