Hannah Brents is a Licensed Independent Clinical Social Worker in Massachusetts specializing in trauma, anxiety, and religious & spiritual issues. We asked Hannah more about her work with clients and her guiding philosophies on therapy.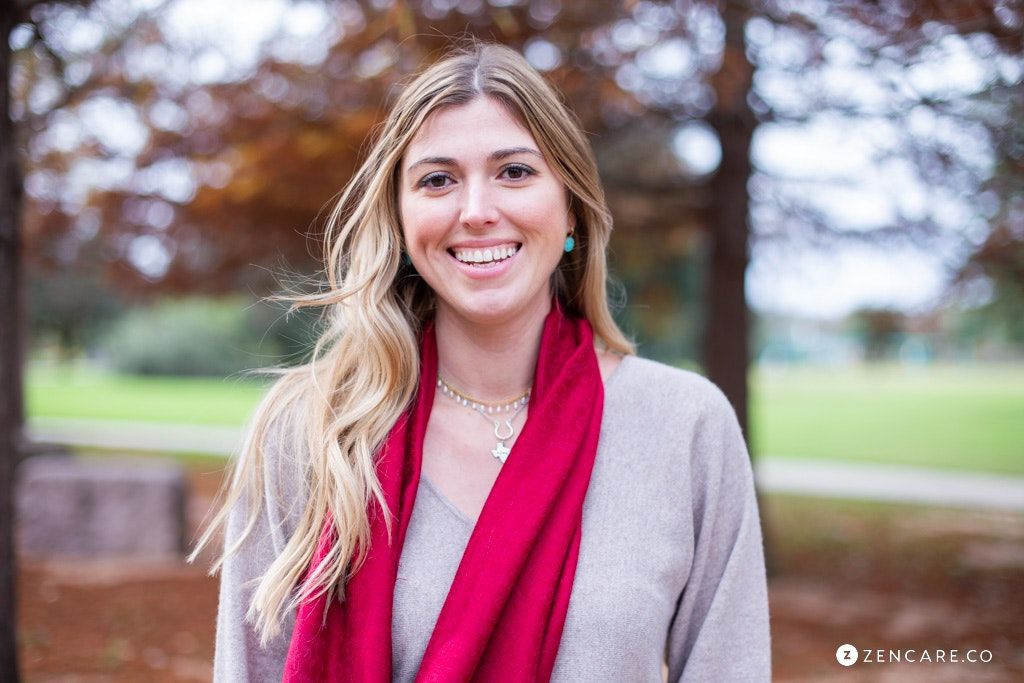 Hannah's background and personal life
How did you decide to become a therapist?
Oftentimes I hear my clients worry that they aren't in their dream job, they aren't living up to their full potential, or they believe that their job has to be their everything and well it isn't. I am no stranger to this! I took some time off before graduate school and found myself wondering many of the same things. Initially I spent my academic career studying religion with an upward trajectory towards the Ivory Tower. But, when I realized that this kept me separated from people and since what I care most deeply about is people, I knew it was time for a change. I took a winding journey towards becoming a therapist–a year of backpacking the world, in churches, inpatient psychiatric hospitals–but wholeheartedly believe that each of these experiences informs my therapeutic practice.
When I decided (ahem, before covid) that I wanted to quit my stable job to travel more and have time for the things I love, I didn't have a roadmap of how to do it or how it was going to work out. And honestly, it's been crazy! But, I'm so happy that I did it. I try to combine what's most important to me in life in the present moment and live accordingly. Now my dream job is my day job and I couldn't be more grateful for the winding road.
What do you enjoy doing in your free time?
Oh gosh, what do I NOT enjoy doing in my free time is a better question haha. I am an avid knitter, a beginner calligrapher, and a passionate traveler. Exploring new places and cultures has helped me expand my worldview and where I find a lot of joy. My next trip will be a cycling trip around Holland during tulip season, which happens to be my favorite flower.
During the covid quarantine, I needed to find hobbies that don't involve my phone. This is how I've begun my journey as an adult beginner—knitting, skiing, calligraphy, learning a new language. Doing new things as a beginner is hard for a recovering perfectionist like myself, but the time I spend doing these things, away from my phone, improves my mental health and simply makes me happier.
Hannah's specialties and therapy philosophies
What clientele do you work with most frequently?
Many of my clients are millennials or older adults. I love my work with these groups because there is so much transition that's happening and deeper contemplation. Many of my clients ask, "Is this what I want to do with my life?" or "Is this what I want to spend the rest of my life doing?" Two versions of the same questions with 30 years of life experience in between.
My clients tend to find that our work together not only addresses their concerns about the here and now, but also the deeper issues about what makes life worth living. Using therapy in this way is so beneficial because it allows you to carve out time to consider what you find meaningful and how to align your values with your lived experience.
Can you tell us more about your specialty in trauma?
I primarily work with people who have experienced trauma. What trauma looks like is unique to everyone. Yes, it can be really BIG events like a car crash or sexual assault, but it can also look like: having emotionally absent or manipulative parents and toxic professional or religious communities. Trauma is anything that is too much, too fast or too soon.
Usually my clients struggle to set boundaries or cut ties with the person or group that hurt them. They are processing that the relationship isn't what they want or need it to be and are taking an active role in their healing journey.
If you're just getting started on this journey, it might be hard to believe this is possible. I like to borrow from a saying in yoga. When practicing balance poses and you feel unsteady, find a still point in the room and borrow from its stillness. So if that's you, you're welcome to borrow from my belief that it is possible for you. I watch people do it everyday! If you need support, a trauma specialized therapist is a great guide and support along the way.
Can you tell us more about your specialties in anxiety and life transitions?
My clients tend to experience the most anxiety during transitions from one phase of life to another–student to professional, employed to professional sabbatical, adjusting to life as an empty-nester. Typically, we begin by identifying ways of coping that are not helping lower the anxiety and practice new, better ways of coping with stress amid the unknown. Then we enter into a journey of self-exploration where you are redefining your identity within this new context or phase of life.
Can you tell us more about your work with clients on religious and/or spiritual issues?
Religious or spiritual issues are very unique because the stakes are so high. It is typically very confusing and disorienting to navigate doubts that arise while still being active in the community, especially if you're concerned about letting down God or loved ones. In these situations, it is so important to set boundaries with the community or in close relationships. We also work through unhelpful stories that you may be telling yourself that are no longer serving you, like you have to be perfect in order to be loved or worthy. This is NOT true! You are worthy of love exactly as you are!
What do you find most rewarding about your work?
The most rewarding thing about working as a therapist is being allowed into someone's most intimate, sacred parts and then watching them bravely heal the pain they've been carrying around. My clients often say, "It felt safe and good to say this here because you allowed both the pain and the calm to be okay."
Your story is extremely important to me. Once you understand the parts of yourself, the beliefs, and the emotions that rule the day, the ones that spend the most time in the driver's seat, then you can do something about it. It's really quite empowering.
Therapy sessions with Hannah
How long do clients typically see you for?
If you have a specific traumatic event(s) you want to process and work through, we can do Cognitive Processing Therapy (CPT), which is a type of short term, highly structured therapy that targets the ways your beliefs or your life has changed since the event(s). We can discuss this on our intro call and I can give you my professional recommendation about the best type of therapy for what you're experiencing.
Clients opting into Cognitive Processing Therapy participate in about 12 sessions with the option to continue. Most of my other clients who are in therapy tend to appreciate the process and the stability that the relationship provides. This means that we typically meet for anywhere between 1-3 years (with varying degrees of frequency) as they are focused on cultivating self love and developing their own values system.
Are there any books you often recommend to clients?
Adult Children of Emotionally Immature Parents: How to Heal from Distant, Rejecting, or Self-Involved Parents by Lindsay C. Gibson
I recommend this book ALL THE TIME to clients who struggle with their relationship to their parents. My clients say it is the most validating and normalizing experience they've had and feel like they're reading their lives on the pages of the book. This book is especially helpful when someone is having a hard time accepting their parent relationships and feel like they are the only one struggling with this. After reading this book, they tend to accept the relationship as it is and feel ready to make changes that are best for them.
Come As You Are: Revised and Updated: The Surprising New Science That Will Transform Your Sex Life by Emily Nagoski
Come As You Are is an incredible guide on how to unlearn unhelpful sexual narratives and explore your body as a sexual being. Whether you grew up with toxic religious beliefs, experienced sexual trauma, or struggle because of how the media depicts women, Nagoski provides great suggestions for how to discover sexuality on your own and when to seek additional support. Don't worry: if you're concerned about being triggered, she gives warnings and tells you what page to pick up on if you'd rather skip.
Leaving the Fold: A Guide for Former Fundamentalists and Others Leaving Their Religion by Marlene Winell
A few decades ago, Winell was the first to coin the term Religious Trauma Syndrome from her research and clinical practice. It's the most concise and comprehensive way to understand how toxic religion can really affect you. When my clients are trying to understand how this happened or if they made it all up, I suggest they read this book to support the work we do in our therapy sessions.
Do you assign "homework" between sessions?
The short answer: it depends. There are some types of treatment, like Cognitive Processing Therapy, that have homework built in and each session is centered around it. It doesn't make sense for everyone though, so with a lot of my clients who are on a journey into greater self-awareness, we rarely use formal written assignments.
The most important thing to know, that I remind my clients of all time, is that the time and energy you put into this is what you'll get out. If you only practice in therapy what you're trying to work on and then go about life the same way you've been living for the rest of the week, it's going to take a lot longer to see the change and growth you'd like to see.
How do you help ensure I'm making progress in therapy?
We do this by identifying what your goals are starting on day 1. Each time we meet we will be discussing how the way in which life happened this week–your thoughts, behavior, relationships, all of it!--are aligned with your values and goals. If they're not, we strategize ways you can see small change. It is small changes that are sustainable over time and the difference is like interest, it compounds.
How do I know that it's time to start seeking therapy?
I think that one of the best ways to know that it's time to start therapy is when the symptoms you're experiencing are starting to disrupt other areas of your life. It's becoming harder to not let it affect your productivity at work, happiness in your relationships, or your sense of self. I also hear my clients say that they wanted to have a neutral space where they could express themselves and explore current challenges without it having a negative impact on their relationships.
How can I prepare for our first session?
Our first session is an intake session where I'm asking a bunch of questions to get to know you. So the pressure is off to feel like you need to talk enough to fill an hour with a stranger :) You don't need to bring anything, just yourself and a willingness to be open, even if that means simply being open enough to say that you're not ready to talk about it. That's okay too! I think the best thing to remember is that your relationship with your therapist is built and strengthened over time. It doesn't happen overnight, but like all other relationships, with consistency and authenticity.
Visit Hannah's profile to watch her introductory video, read more, and book an initial call!