Feruze Zeko is a Licensed Mental Health Counselor in New York specializing in anxiety, life transitions, and adjustment disorders. We asked Feruze more about her work with clients and her guiding philosophies on therapy.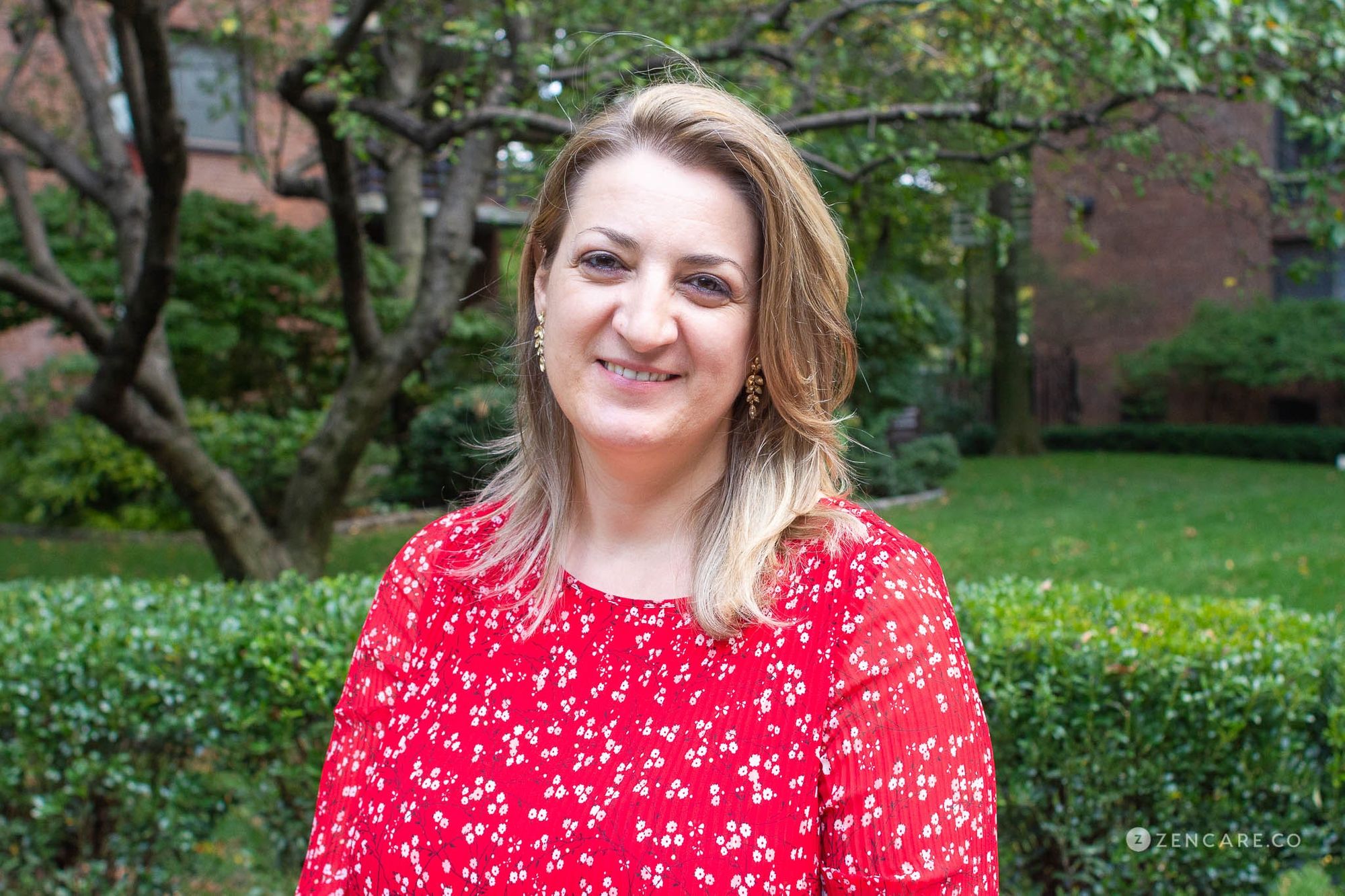 Feruze's background and personal life
How did you decide to become a therapist?
As a child, I was often inquisitive about people's experiences and backgrounds but found that my environment didn't model or facilitate how to express emotions effectively. As I indulged in learning about psychology, I realized how much the human brain, emotions, and thoughts interested me. I decided to pursue a career that would allow me to understand myself better and learn how to express my emotions while helping others to do the same.
What was your previous work before going into private practice?
I worked with children and families in foster care for many years in both residential and community settings, in transitional housing for adults with severe mental health challenges and substance use and in managed care coordinating services with inpatient and outpatient providers.
What do you enjoy doing in your free time?
I enjoy taking long walks, hiking, traveling, having brunch with friends and volunteering in my community.
Feruze's specialties and therapy philosophies
What guiding principles inform your work?
I believe strongly that the experiences of our lives need to be explored and examined to give us a better understanding of ourselves and our decisions. I live my life by these principles and I invite each client to explore this possibility in therapy. In many ways I believe that through the work with clients, I continue to heal pieces of myself.
My diverse and multicultural life allows me to be relatable, empathetic, and understanding of the complexities of life and modern society. Furthermore, my sense of humor helps clients feel at ease while we are working on getting to know each other and building a relationship.
What clientele do you work with most frequently?
I have been working extensively with women during the pandemic and I have found that my approach has been very helpful in supporting them navigate transitional stages, age, female issues and becoming more confident in their bodies.
Can you tell us more about your specialty in anxiety?
The more clients I work with and the more people I meet in my life, I am realizing that everyone experiences some sort of anxiety independent to socio economic background, race, gender, nationality etc etc. I help clients understand the source of their anxiety, explore the narratives they have created and how to reframe them in order to manage their anxiety more effectively and use it as a motivator to grow.
Can you tell us more about your specialties in life transitions and adjustment disorders?
Every transition in life can become traumatic depending on the circumstances and novelty can be unsettling at times. Recent graduates from college experience challenges in this area, navigating new workplaces or searching for new opportunities leave people experiencing a shake in their self esteem and confidence. I help clients put things in perspective, follow their instincts and pay attention to what they want for themselves and their lives.
As adults in an ever changing society, we all constantly find ourselves having to readjust our expectations, be more flexible and reassess the way we view and deal with the world. Clients in different life stages need support my support around adapting to new and/or challenging life circumstances, skill-building for improved stress management, and reduction of anxiety.
What do you find most rewarding about your work?
Helping clients feel better about themselves and their lives and decisions and constantly learning from them and sharing experiences that bond us as humans.
Therapy sessions with Feruze
What will our first session together be like? What happens in ongoing sessions?
I gather history, ask you to develop goals for therapy and in ongoing session we start to build a rapport, get comfortable with each other and get deeper into a dialogue about your thoughts and feelings.
Are there any books you often recommend to clients?
Necessary Losses by Judy Viorst
Do you assign "homework" between sessions?
I like to end sessions with food for thought ideas.
How do you help ensure I'm making progress in therapy?
We review goals and make sure we have a conversation about where to go next in treatment.
How do I know that it's time to start seeking therapy?
You might not be able to articulate it or externalize but somehow a part of yourself is telling you that you could benefit from talking to someone.
How can I prepare for our first session?
Just your desire to want to make the commitment and dedicate the time it takes to make your therapy successful.
How will I know it's time to end my time in therapy with you or reduce session frequency?
You will feel that you are doing better by not requiring as much support and feel comfortable that you have the tools to deal with your emotions and thoughts on a regular basis.
Why should I seek therapy, rather than turning to my partner, friends, or other loved ones?
Therapy can provide an objective space for you and can help you see things from a different lens without projecting their insecurities on them.
What advice would you share with therapy seekers?
Give it a shot and be open to it, there is something magical and tangible about the power of therapy.
Visit Feruze's profile to watch her introductory video, read more about her, and contact her for an initial consultation.