Davis Falcon is a Licensed Professional Counselor in Broomfield, CO specializing in anxiety, trauma, depression, bipolar disorder, existential concerns, and OCD. Davis's background in a variety of mental health settings—including community-based and inpatient facilities—helps to inform his current work and has given him expertise in working with a diverse range of young adult and adult clients. Davis takes an eclectic approach to therapy that combines aspects of Jungian/Depth therapy with more modern techniques, such as CBT, DBT, and Somatic Experiencing.
We asked Davis more about his work with clients and his guiding philosophies on therapy.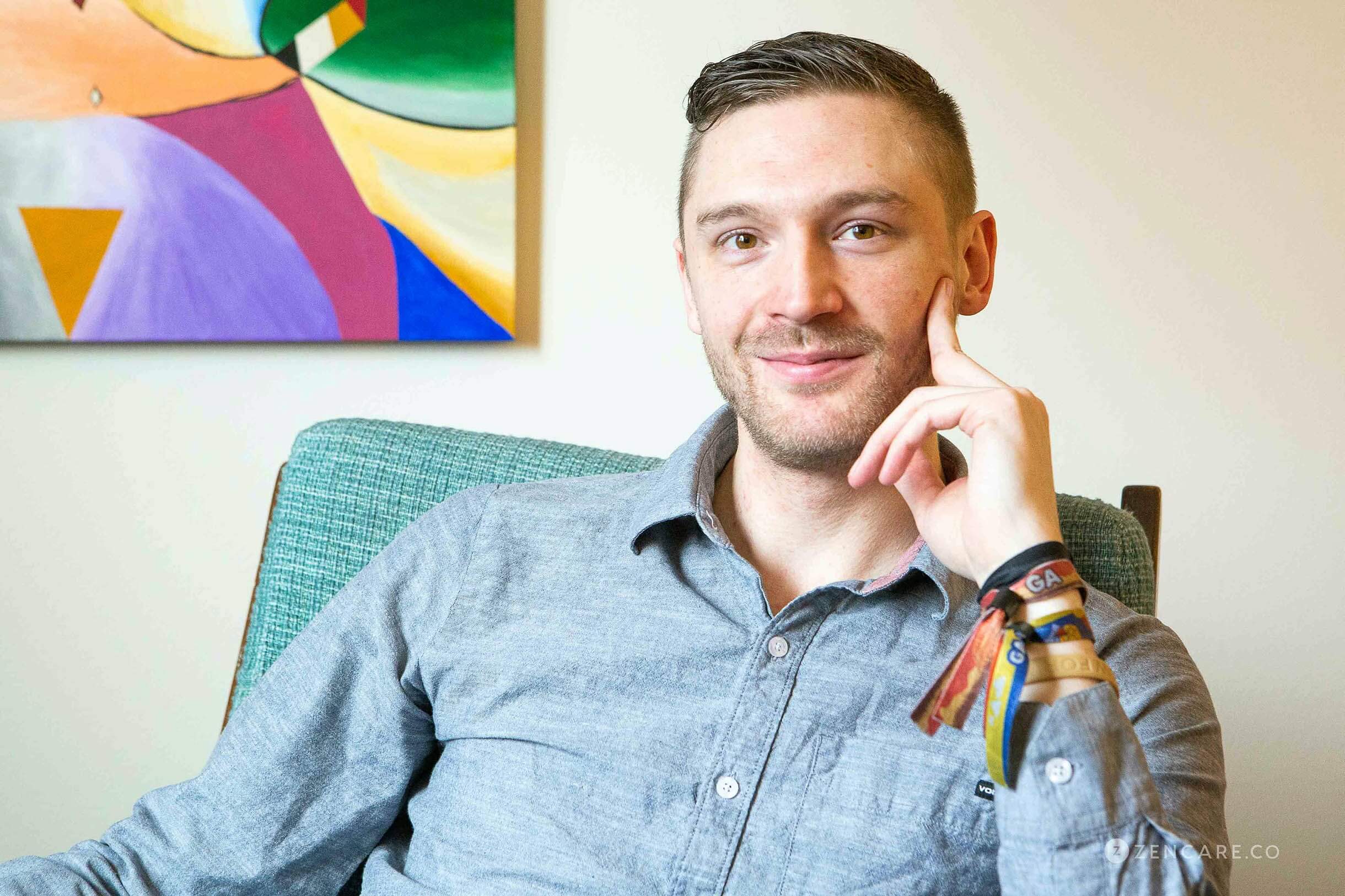 Davis's background and personal life
How did you decide to become a therapist?
In retrospect, I suppose I was more or less guided towards therapy through my life experiences. I naturally gravitated more and more towards the path of therapist, as I was encouraged by synchronicities along the way. It eventually it became clear during my undergraduate studies that therapy was my intended path.
I had initially planned to work in neurosurgery, but encountered a biology professor who I felt had differing views on biology (he failed me), which lead me to question my pre-med path and focus more on psychology. I also picked up a philosophy major in addition to my psychology BA and eventually decided (through countless conversations and difficult realizations about myself) that I was better suited as a therapist than as a surgeon.
I realized I was much more concerned with "what the mind is" than "what a brain does" through my studies in philosophy of mind/metaphysics and blended those schools of thought with my psychological focus. I like to say that "I chose to do surgery of the psyche instead of brain surgery, using words as my scalpel and metaphor as my method."
What was your previous work before going into private practice?
I have been working in the field since 2014, starting off at a psychiatric rehabilitation program as a PRP specialist, which entailed providing group therapy in a day program twice a day 5 days a week. After about 2 years there, I was accepted into my masters program and worked at an inpatient psychiatric hospital throughout my degree, leaving that position after over 4 years.
I completed a year long internship at a community mental health center, and after graduation worked at an agency providing affordable counseling services to the community. I've spent time working in many of the major settings involved with the mental health care system: outpatient intensive, psychiatric rehabilitation, community mental health, inpatient hospital, agency, and finally private practice.
What do you enjoy doing in your free time?
I enjoy anything in nature or related to traveling, so camping is one of my favorites. I also like to paint and occasionally attempt to play guitar, piano, or violin. I am a goalie in hockey and need to get back out on the ice more often. There's a lot more hobbies, but, ultimately, I enjoy whatever adventure I end up on.
Davis's specialties and therapy philosophies
What guiding principles inform your work?
The individuality of each and every person is a major guiding principle. I also am hugely influenced by working with the unconscious and trying to help establish a functioning relationship with it in all those I work with. The notion of the resolution of the tension of opposites is another guiding principle, as well as the connection between our mind, spirit, and body.
What clientele do you work with most frequently?
I typically work with adults, though have experience working with adolescents and will occasionally work with teens age 16+ in my private practice. I truly enjoy working with just about any concern, focus, or population. I have a particular interest in psychosis and mania, though most often work with existential themes, anxiety, depression, OCD, and trauma.
Can you tell us more about your specialty in anxiety?
Anxiety can be debilitating, especially when it becomes a part of a feedback loop: "I'm anxious about being anxious, which makes me more anxious." I work not only to provide some reframing of the anxiety, but also want us to figure out where it is coming from in the first place. We cannot change that which we do not know.
I focus on an approach involving working to understand the anxiety as well as its source, providing skills to challenge it, ground in the moment, and ultimately integrate these skills into one's life to make a lasting change.
Can you tell us more about your trauma specialty?
Trauma can be an immensely painful and distressing part of life that I find can also be a paradoxical catalyst for healing and self-discovery. It does not matter if it is something seemingly insignificant or a major life event, it still impacts us. In addition to my typical unconscious, somatic, and cognitive approaches, I am trained in the use of EMDR, which is extremely effective in reducing the negative impacts of traumas.
The concept of trauma is complex and so very unique to the individual and their experience. Regardless, I strive to provide a safe, secure, and nonjudgmental place for healing to occur using the approach that is best suited to the client's unique needs.
Can you tell us about your work with clients on existential-related themes/topics?
The world we live in today is so full of fuel for existential dread. There is constant uncertainty and often lack of closure, purpose, or meaning. It is no wonder people feel burnt out, depressed, anxious, stressed, or all of the above. We work to define what these core existential themes mean for you, which typically helps with burnout, stress, and other issues. Once we identify and connect with our true meaning and purpose in our lives, the rest seems to follow.
What do you find most rewarding about your work?
It's impossible to narrow it down to just the most rewarding aspect of the work; it is rewarding on so many different levels and in so many ways. The ability to witness another person's journey through their most vulnerable states to becoming a confident and generally happier person has to be up there.
When the client's connection to those parts of themselves they lost touch with, or when energies long since feared or abandoned are embraced, or when some of the burdens they've been carrying for years are let go—these are some of the most beautiful things a person can witness. Somehow, someway, I got lucky enough to be in a position where I get to see it, likely more often than most.
Therapy sessions with Davis
How long do clients typically see you for?
Most of my current clients have worked with me for a year or more and continue to do so. That said, I have also had clients who wanted more focused work, which lasted about 8 months to a year. Growth and healing is a constant cycle that is different for everyone.
Generally, the real work occurs after stabilization, so once you start to feel relief from symptoms, we can really dig in to heal the deeper core wounds and work with the unconscious content that is presenting itself more in depth.
Are there any books you often recommend to clients?
So many!I often provide recommendations based upon their relevance to our work, so I'll only name a couple of my most regularly recommended here. I highly recommend many of the books by Robert Johnson as an introduction to Jungian theories or if we are beginning Anima/Animus work.
I also tend to utilize Somatic Experiencing in my practice in addition to my more Jungian focus, so Peter Levine's works are amazing resources for my clients. Some philosophical works also often serve as particularly interesting additions to therapy.
Do you assign "homework" between sessions?
I'll generally ask if there's anything you'd like to keep in mind over the week, and I ask that you try to be more aware of this when it appears throughout the week. Depending on what we're working on, there are times I may ask you to do something in preparation for the next session. If we are engaging in dream analysis, I may encourage you to keep a dream journal. If you journal or like to do artistic things, it can be helpful to bring these to session so we can discuss them further.
How do you help ensure I'm making progress in therapy?
I will regularly check in with you to see how you are feeling about your progress. I am also constantly looking to unconscious content for opportunities for growth and healing. I value a collaborative therapeutic approach and look to you for input or concerns you'd like to focus on more.
Often, there is progress followed by regression, so it is natural to feel like you're initially notmaking progress. Despite maybe not feeling it during the regressive times, if you end up in a similar situation with a different perspective, I would call that progress.
How do I know that it's time to start seeking therapy?
If you're thinking about it, it's got to be coming from somewhere within your psyche, and all that really wants, unconscious or not, is to be whole, balanced, and healthy. It is up to you if you want to listen.
Visit Davis's profile to watch his introductory video, read more about him, and contact him for an initial consultation!