Danielle Ojeabulu is a Licensed Professional Counselor (LPC) in Texas who works with individuals, couples, and families facing a variety of challenges, including anxiety, depression, and chronic illness. Danielle has a particular specialty in working with black/indigenous people of color (BIPOC), as well as those who have faced childhood or teenage trauma.
Danielle's work is rooted in cognitive behavioral therapy (CBT), which she applies to help clients manage external stressors, develop problem-solving skills, and work to rewire unhelpful thought patterns.
We asked Danielle more about her work with clients and her guiding philosophies on therapy.
Danielle's background and personal life
How did you decide to become a therapist?
I knew I wanted to be a therapist in 1988 when I was enrolled in my undergraduate program's psychology department. However, I had financial problems and almost was not able to stay when the chemistry department offered me a full-ride scholarship because of my grades. I took it because I was the first to go to college in my family and did not want to risk going home and never returning. I then worked as a chemist, pharmaceutical sales rep, and an insurance agent before I realized that I was called to help people like myself, who had experienced complex trauma as a child and through my young adult years.
I enrolled in graduate school right away in 2012. I was a full-time student, wife, and mother of two small children competing with 22-year-olds with much more freedom. I questioned my competence until a professor told me that I was one of the most gifted therapists she had seen in awhile. She affirmed that application was better than book knowledge, and I walked courageously into my calling, never looking back.
What was your previous work before going into private practice?
I worked for a private, faith-based non-profit for three years before starting my own practice.
What do you enjoy doing in your free time?
I like to write, craft, and spend time working out. I research all things health (as I have done since I was 16-years-old!).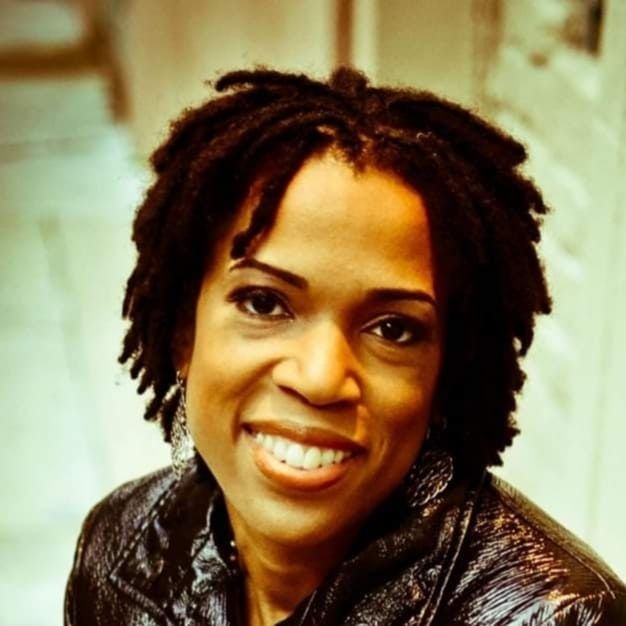 Danielle's specialties and therapy philosophies
What guiding principles inform your work?
My faith governs my work, even though I see people from all cultures and religious backgrounds. Providing a safe and nonjudgmental space is a priority for me, and I allow God to give me wisdom on how to handle each person individually. I meet people where they are in life and walk with them to their desired destination.
What clientele do you work with most frequently?
My practice is very diverse, but consists mostly of women of color. Most of these women suffer from anxiety, depression, and have experienced some form of trauma in their childhood.
Many struggle in relationships and job stress. Most recently, the pandemic and the political climate in the USA has caused a shift in the population of people that I see and many are very angry and affected by what is going on.
Can you tell us more about your specialty in working with individuals who have experienced trauma?
I love to teach in my practice. I don't want my clients guessing about what I am talking about. I teach them about the soul and how offense and trauma affects our thinking, feeling, and behaving. I help my clients see how their struggles impact them spiritually and then lead them down a path of healing their soul. It is hard, but most clients tell me that they feel free when they reach their goals.
Can you tell us more about your specialty in healing marriages and working with couples?
This population of clients usually come to therapy as a last resort before divorce. Some use it to check the box so they can go through divorce quicker. Others really want to mend the wounds and be one again.
I have found that culture, family of origin, pride, guilt, and shame are all big challenges that couples face. I have observed that as I walk with clients utilizing the Gottman method, marriages are often healed. Another common challenge is abuse – I often separate couples dealing with abuse and work on safety planning with the offended.
Can you tell us about your work helping clients overcome anxiety, depression, and/or burnout?
Most of my clients, whether individual, couples, or families, suffer with anxiety, depression, and/or burnout, especially in 2020. I have observed that most of the challenges can be traced back to childhood offenses, when children are unusually vulnerable to adopting negative beliefs because they are still learning to process emotions. I walk with my clients to their past with one foot grounded in the present to reconcile faulty beliefs and forgive the offenders. It doesn't change what happened, but it changes how the person responds to situations in their present.
Therapy sessions with Danielle
What will our first session together be like? What happens in ongoing sessions?
Our first session is about building the therapeutic alliance. I like to get to know my clients, and I want them to get to know me. They learn what to expect from me and what I expect of them. I gather information in the first few sessions to formulate a treatment plan, which sets the tone for future interventions.
How long do clients typically see you for?
The length of time in therapy depends on the goals set, how committed the client is, and the client's budget. Some clients are ready to discharge after 3 or 6 months. Some people stay longer. Clients going through EMDR therapy tend to finish faster.
Are there any books you often recommend to clients?
I recommend:
Do you assign "homework" between sessions?
I definitely assign homework between each session because I only see my clients for 50 minutes out of 168 hours each week. So much gets lost in the 167 hours and 10 minutes that I don't see clients if there is no work on the skills learned in session. The goal is to make baby steps to the end of the therapeutic relationship, not stay in therapy forever.
How do you help ensure I'm making progress in therapy?
I hold my clients accountable and, when they are not making progress, we work on problem solving. If that does not work, we look at whether or not the professional relationship is a good fit. If not, I give them a referral base.
How do I know that it's time to start seeking therapy?
I believe that if you ask yourself this question, then it is time to start seeking therapy. Anyone and everyone should seek therapy in their life at some point, just like we get yearly physical exams. The world is difficult and having an objective ear and heart to process thoughts and emotions is very comforting and promotes mental wellbeing.
How can I prepare for our first session?
I prepare my clients for their first session by offering a 15-minute complimentary initial consultation. I review paperwork, discuss informed consent, privacy practices, telehealth, and limits to confidentiality. I usually suggest the client get a journal for their sessions to take notes, and I recommend clients read certain books if they want.
How will I know it's time to end my time in therapy with you or reduce session frequency?
I always let my clients know that they are in control of the frequency of their sessions and that they get to decide when our time is over.
Why should I seek therapy, rather than turning to my partner, friends, or other loved ones?
The relationship one has with a mental health professional is more objective, nonjudgmental, and usually a more emotionally safe space than friends and family, who tend to be biased because of their love for you. Therapy is the best alternative when things are very difficult.
What advice would you share with therapy seekers?
It is okay to not be okay. We are here to help you through it.
Visit Danielle's profile to learn more about her and contact her for an initial consultation!