Courtenay Baber is a Licensed Professional Counselor in Virginia specializing in trauma, anxiety, and depression. In addition to her use of traditional therapies, such as Eye Movement Desensitization and Reprocessing (EMDR) and Acceptance and Commitment Therapy (ACT), Courtenay also integrates animal-assisted therapy into her work with clients when appropriate. We asked Courtenay more about her work with clients and her guiding philosophies on therapy.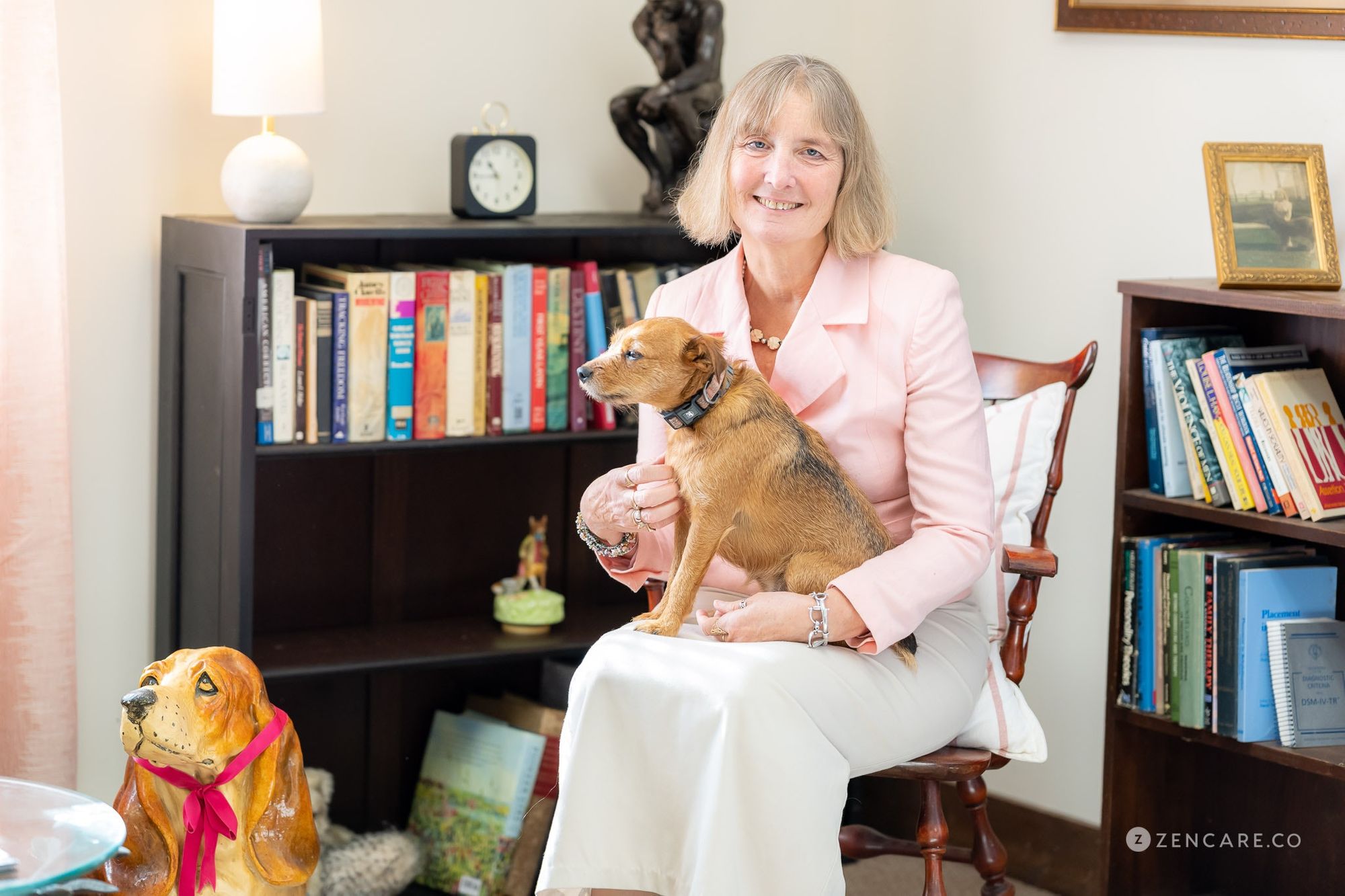 Courtenay's background and personal life
How did you decide to become a therapist?
I became interested in therapy and mental health while still in grade school. I was always curious about what made people do the things they do, and this passion has not gone away. I really enjoy talking with people and learning about their beliefs, interests and fears. I do believe that people have the ability to change, and they have the ability and knowledge to change within them. I believe that it is my job as a therapist to help people find the answers that are within them.
What was your previous work before going into private practice?
I spent over 15 years working inside correctional centers providing mental health services to both men and women. I also spend several years working in retail prior to going back to mental health and my passion.
What do you enjoy doing in your free time?
You can rest assured that in my spare time I will be at the barn spending time with my horses and dogs. I continue to ride and enjoy the companionship of horses now as I have done all my life. I enjoy being outside and a good cup of coffee.
Courtenay's specialties and therapy philosophies
What guiding principles inform your work?
I believe that we can heal ourselves when given support and guidance. I believe that all people change and develop and that we are affected by our thoughts and feelings and actions. It is also important not to leave out the body as it is fully connected with our mental health. We are connected as humans and as we become more aware of these connections we are able to make even larger changes.
What clientele do you work with most frequently?
I work primarily with adults and older teens. I enjoy working with people from all different backgrounds. I am a truly curious person and find it interesting to learn from others.
Can you tell us more about your work with clients recovering from trauma?
Recovery from trauma or complex trauma can take time to heal. Complex trauma is often complicated and multifaceted. It is often hard to believe that change is possible or that things can be different after significant trauma. I give clients the time and space to learn how to feel safe in the world and with themselves.
Can you tell us more about your specialty in anxiety?
Anxiety is often like being on a hampster wheel. We just keep running and running and we are not getting anywhere. We imagine the worst and keep focusing on what might happen and what might go wrong. Learning to step off the hampster wheel and gain control or our thoughts and emotions is the primary goal therapy. I will help you gain the skills and knowledge to step off the wheel but also to not get back on it.
Can you tell us about your work with clients with depression?
Depression takes the life out of living. Worrying about things that have not happened and feeling more and more lost in the day to day grind of life. Comparing ourselves to others and telling ourselves we are not enough drags us even further away from where we want to be. I help clients find their voice and allow them to see the joy in the world and in themselves.
What do you find most rewarding about your work?
I enjoy helping people find a different way to see the world and feel better about themselves. I think if we can change our perspective even a small amount, this can provide us with big changes in our world. Imagine what it would feel like if you were able to change the way you see fear or the way you see yourself.
Therapy sessions with Courtenay
What will our first session together be like? What happens in ongoing sessions?
The first session is a conversation for both of us. I will ask questions learning about what is important to you and what you see happening in therapy.
How long do clients typically see you for?
Clients usual stay in therapy for several months.
Are there any books you often recommend to clients?
I would recommend:
Do you assign "homework" between sessions?
I mostly ask clients to be curious about themselves and their parts and how they are noticing how they are responding to things. I ask clients to become more aware of their internal and external environments.
How do you help ensure I'm making progress in therapy?
We will discuss what progress is for you and what you want to accomplish.
How do I know that it's time to start seeking therapy?
It is time to seek therapy when we need somewhere safe to place things that are interfering with our ability to enjoy life. Often we need somewhere to place our problems or to vent about our daily stressors and learn additional skills for managing stress or daily living. There does not need to be a traumatic event or major crisis to begin therapy the desire to understand ourselves better is a great reason to start therapy.
How can I prepare for our first session?
Being curious about what you want to accomplish in therapy is best thing to bring the first session.
How will I know it's time to end my time in therapy with you or reduce session frequency?
We will discuss this through out therapy and making the decision together as to the best decision going forward.
Why should I seek therapy, rather than turning to my partner, friends, or other loved ones?
Sometimes it can really help to have someone not connected to any other part of your life except for therapy to talk about problems.
What advice would you share with therapy seekers?
Find a therapist that you connect with and feel comfortable with. Therapy may fall short of expectations if you do not feel comfortable with the therapist. If you can get a consultation with the therapist before you start therapy to help you decide if this person will be a good fit.
Visit Courtenay's profile to read more about her and book an initial call!