Jessica "Chiara" Viscomi is a Licensed Marriage and Family Therapist in San Francisco, CA specializing in artists mental health, codependency, stress management, and depression. We asked Chiara more about her work with clients and her guiding philosophies on therapy.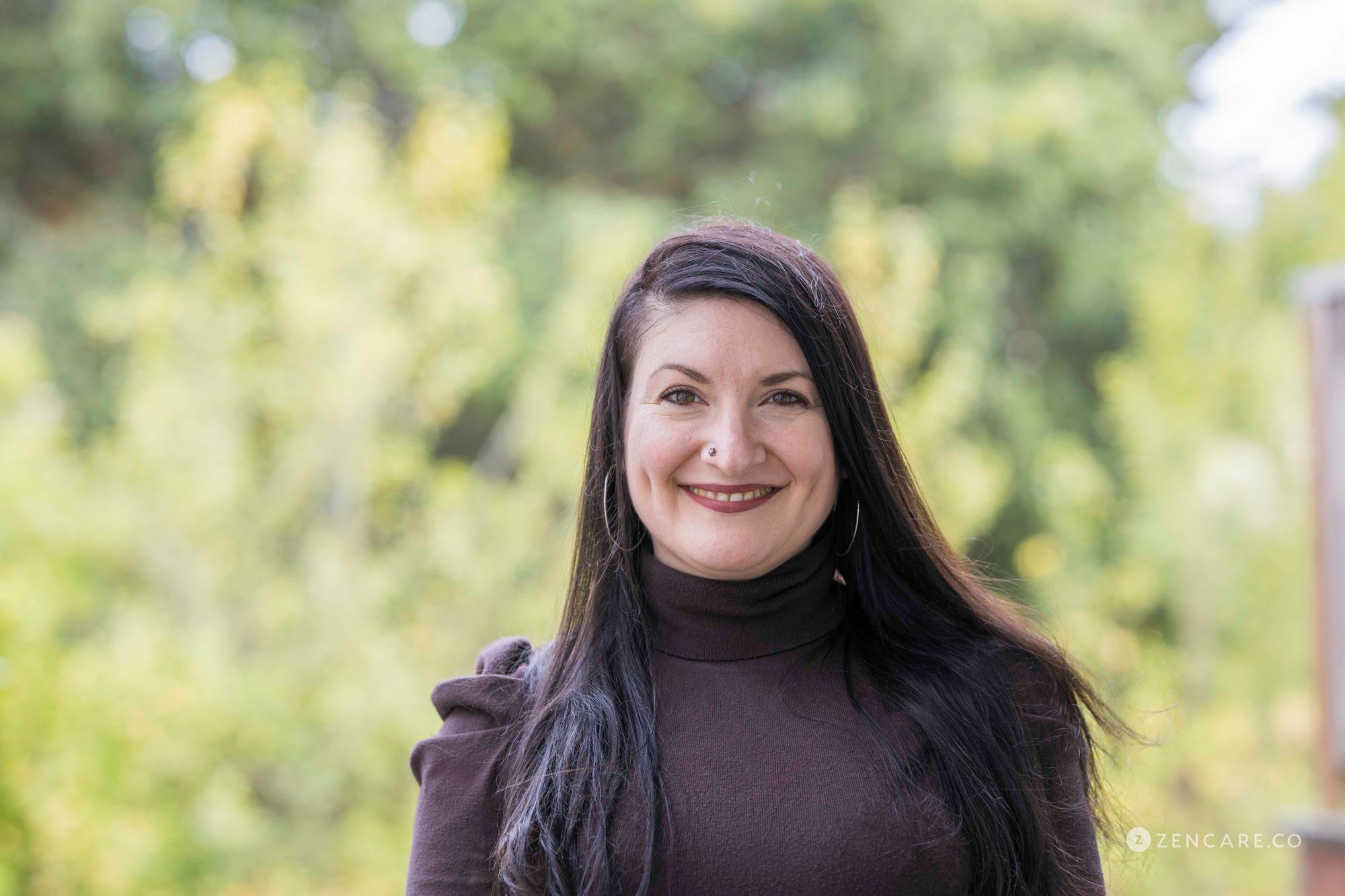 Chiara's background and personal life
How did you decide to become a therapist?
I've always wanted to be a psychotherapist since I was a kid. There is actually a picture of me at 5 years old playing "therapist," listening to one of the neighborhood kids! It's always just been something I've known that I was going to be. I truly believe this field is a calling.
What was your previous work before going into private practice?
I've been a longtime wordsmith in the integrative medicine and healthcare fields. I worked in healthcare advertising during most of my journey toward becoming a psychotherapist. I'm grateful to the companies that let me leave a little early so I could go to night school and my nighttime clinical internship! I have also served as a mental health clinical consultant in the digital health space, with a focus on mind-body interventions and chronic pain.
My background as a longtime writer in the integrative medicine field has significantly influenced the way I practice therapy. One of the prime ways that I follow the integrative model is that I work with the whole person, not just the symptoms.
Also, because I worked in the corporate arena for many years, it has given me particular insight and lived experience. This helps me to better support clients with issues such as work-life balance, burnout, finding life purpose/right livelihood, assertiveness development, and more.
What do you enjoy doing in your free time?
I love doing yoga, dancing, making music, doing visual art, reading, and drinking tea.
Chiara's specialties and therapy philosophies
What clientele do you work with most frequently?
I work with adults of all ages. Artists, people wanting to develop or reclaim their creativity, queer people, and people navigating nontraditional relationship structures tend to gravitate toward my practice. I love using expressive arts therapy, somatics, and depth therapy to help artists and people looking to nurture their creativity tune into the wisdom and information held in their bodies, creations, and dreams. I also love to help create a nonjudgmental, supportive, and informed space for queer and poly people.
Can you tell us more about your specialty in narcissistic abuse and codependency?
Narcissistic abuse is, unfortunately, highly prevalent. According to one estimate, more than 60 million people in the U.S. may have been affected by narcissistic abuse. Also, this kind of emotional abuse can occur in essentially any type of relationship—for instance, romantic partners, coworkers, friends, or family members. Emotional codependency—which often coexists within narcissistic abuse dynamics but can also happen on its own—is also widespread.
The effects of narcissistic abuse and codependency can completely wreak havoc on a person's mental health. Unresolved narcissistic abuse and codependency symptoms can manifest as low self-esteem, depression, anxiety, difficulty with drugs and alcohol, and even PTSD. What I've noticed is that narcissistic abuse and codependency require and benefit most from specialized treatment in therapy, as these dynamics can be quite insidious and even sometimes fly under the radar of otherwise well-trained therapists.
In therapy, I help people to learn more about narcissistic abuse and codependency, how to recognize red flag behaviors in their relationships, and how to identify and communicate their feelings and boundaries. I also use modalities such as Somatic Experiencing to help people process the trauma from past experiences of narcissistic abuse.
Can you tell us more about your specialty of people who have a loved one with serious mental illness?
One in 5 adults in the US live with mental illness, so the odds are that the majority of us have shared a connection with someone with mental illness. Examples of serious mental illnesses (SMIs) include bipolar disorder, borderline personality disorder, schizophrenia, dissociative identity disorder, and major depressive disorder. When people close to someone with SMI don't get their own support, this can contribute to burnout, isolation, chronic stress, caregiver fatigue, and codependent behaviors, as well as anxiety, depression, and PTSD. It can also affect a person's ability to caretake, as well as the outcomes for their loved one with SMI.
I find that providing therapy to "support the supporters" creates an optimal environment for increased well-being, healthier relationships, and even recovery (defined as the person with SMI being able to have good quality of life while managing their SMI). In therapy, I help address caregiver stress, burnout, and trauma with Somatic Experiencing, expressive arts therapy, and mindfulness. I also focus on helping to build a toolbox of tools such as stronger communication skills to improve relating to and setting boundaries with the loved one with SMI. Last but not least, I help to encourage personal growth and exploration with depth therapy to help shore up the caregiver's sense of self and sense of being supported.
Can you tell us about your work with clients on stress management?
I love working with burnout and stress management. I'm definitely no stranger to burnout myself. Over the past several years, I've been gathering information and developing skills and strategies that can make a huge difference. Many people come to me complaining of burnout and stress when they've reached the end of their rope with work-life balance that has fallen out of whack and overwhelm related to work and personal stressors. Often, there are old core beliefs running in the background that can affect a person's awareness of and ability to honor their needs for regular self-care, boundaries, nourishing hobbies, joy, play, rest, and connection. I use Somatic Experiencing to help address the affects of chronic stress and to build self-awareness. Also, I incorporate expressive arts, which helps to provide replenishment and insight, as well as increase self-expression and centeredness. I also provide education and support on developing concrete daily self-care tools.
What do you find most rewarding about your work?
It's an honor to facilitate people's growth and help "midwife" some of the most important and life-changing work humans can do. I also learn so much about life and our collective human experience when working with people. Seeing people step into their power, strength, compassion for self and others, courage, and creativity is flat-out inspiring, too. Witnessing moments of insight, healing, and transformation is extremely rewarding as well.
Therapy sessions with Chiara
What will our first session together be like? What happens in ongoing sessions?
I see the first few sessions as a way for us both to continue to see if it's a great fit to work together. First off, I'll give you a warm welcome and check in with how it is to be in therapy. Then, I'll do a quick review of practice policies and give you some space to ask any questions you have about them. I will review your intake form before your first session and may ask you some clarifying questions based on your answers. I'll also review your goals for therapy with you. Depending on what comes up in session and where you're at, I might offer some small somatic therapy or art therapy techniques so you can get a taste of these ways of doing therapy.
How long do clients typically see you for?
Due to its more complex and thorough nature, depth therapy is generally a longer process compared with more solution-focused techniques like cognitive-behavioral therapy. Several factors determine the duration of the therapy, including your needs, goals, and resources. On average, the therapy can last between 1-3 years.
However, some folks choose to do therapy for more or less time. Further, some people decide to focus on doing a chunk of work on a particular issue and then take a break from therapy to integrate what they learned. They may decide to come back when they feel ready to do another chunk of work on a different issue at a later time.
Ultimately, the choice of the duration of the therapy is up to you. As a depth-oriented therapist focused on ethical practice and client empowerment, it is also important to me that the work always has a "North Star"—that is, a general aim, goal(s), or direction. I will work with you to help you determine and clarify your North Star(s), as well as create space to periodically evaluate them and how you're feeling about the therapy in general.
Do you assign "homework" between sessions?
I am all about providing recommendations for books, articles, podcasts, etc., for self-study outside therapy, as well as encouraging clients to practice the skills they learn in therapy in the outside world. However, I actually avoid the term "homework" in therapy because a.) who wants to feel like they're in grade school again?! and b.) it implies that I am in a position of authority or power over the client.
As part of client-centered therapy informed by social justice values, I am very interested in leveling the power gap between therapist and client in the therapeutic relationship. I'm also committed to empowering clients to be the experts on their lives and the authors of their experience. I find ways to support accountability and learning other than assuming the role of the teacher assigning homework.
Why should I seek therapy, rather than turning to my partner, friends, or other loved ones?
While receiving connection and support from loved ones is vital, it's a very different experience than therapy. When you're working with a therapist, they are there to listen to you and you alone, without judgment or advice giving. A therapist has been extensively trained in specific skills to help facilitate your unique therapeutic process. Also, a therapist is inherently more objective than people who are in close personal relationships with you. Moreover, when you work with a therapist, this can also help to relieve some of the pressure and overwhelm in your support system, so that your loved ones don't have to "hold it all," so to speak.
At its core, therapy helps people to become more aware of themselves. In therapy, we gently help to bring deep-seated beliefs, feelings, and thoughts, as well as the effects of any traumatic experiences, to greater awareness. Often, when such elements are stuck just under the surface of our awareness, they play a big role in contributing to undesired symptoms, patterns, and behaviors (such as codependent relationships, low self-esteem, or anxiety). Therapy also provides a place to process trauma, as well as learn and experiment with new tools, skills, and ways of being with oneself and the world.
When we become more aware of what's been "running the show" and we learn new skills and tools, we can start to create powerful changes in our lives, thaw out from numbness, release what's no longer serving us, and tap into an increased sense of aliveness, joy, and fulfillment. I also strongly believe that therapy is not only a place to examine "what's wrong"—it's also a place to look at what's right: what are your strengths, dreams, and passions? What helped you get this far? What inspires you and keeps you going? Let's celebrate and amplify that, too!
Visit Chiara's profile to watch her introductory video, read more about her, and book an initial call!