Cheryl Pacione is a Licensed Mental Health Counselor providing remote therapy sessions to clients throughout New York state. With over 25 years of experience, Cheryl is experienced in providing solution-focused, holistic therapy to clients with a wide variety of concerns and from a variety of backgrounds. She most often works with young adults and adults on topics related to sexual identity, chronic illness, career-related concerns, and racial identity. Cheryl also utilizes her experience across multiple levels of care—including inpatient rehabilitation centers and community mental health settings—to inform her work with clients.
We asked Cheryl more about her work with clients and her guiding philosophies on therapy.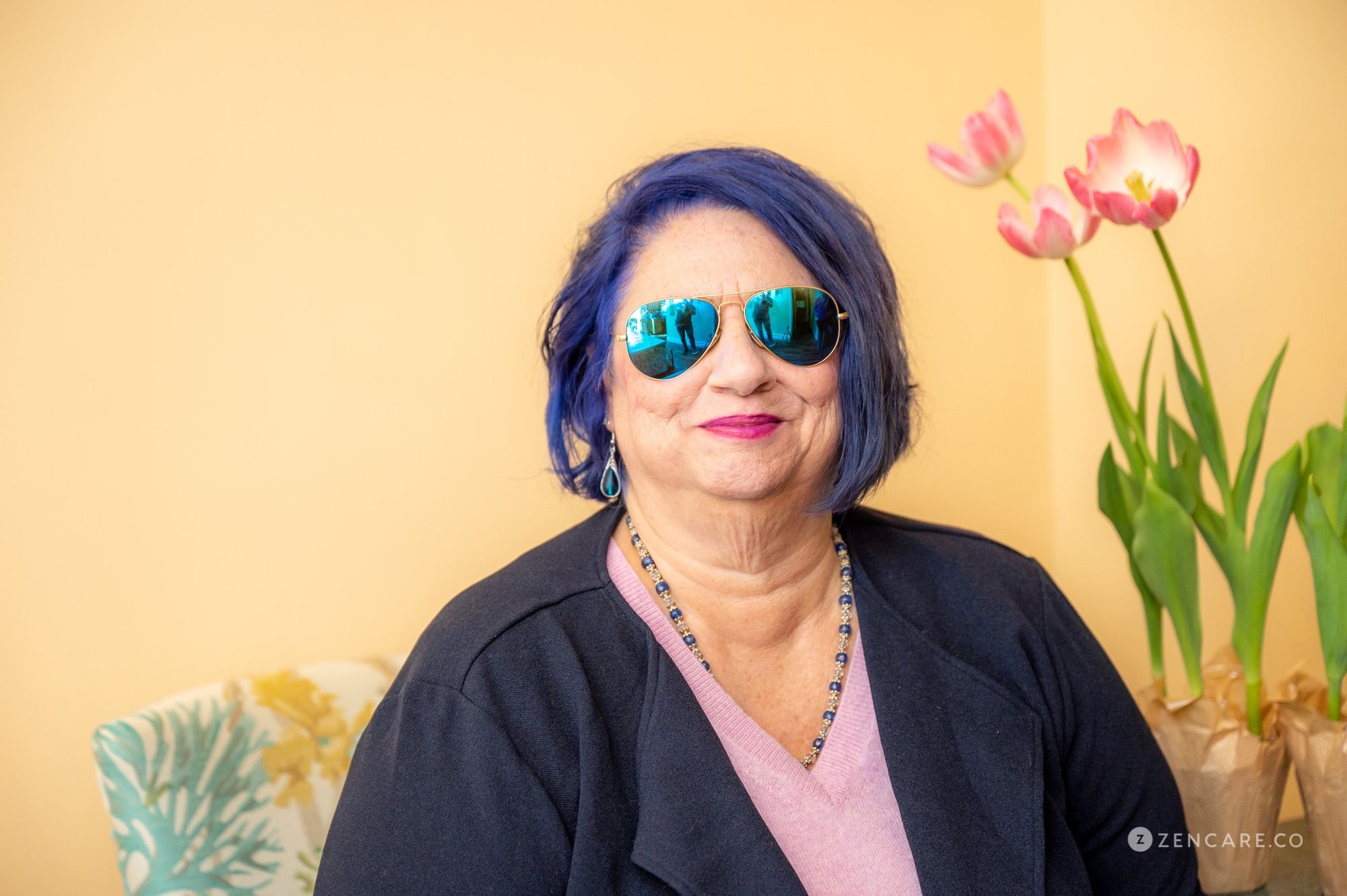 Cheryl's background and therapy specialties
What was your previous work before going into private practice?
I started my private practice in 2006 after working 12 years in the community as a counselor amongst diverse populations. In 1996, I wrote a grant to work with persons with severe and persistent mental illness. The purpose of the grant was to integrate disenfranchised persons into the community, and its four focus areas were socialization, work, education and housing. Through individual and group therapy, clients chose one or all of these goals and worked to achieve them to their satisfaction.
Previously, I have also worked with underserved youth in a foster care setting. Many were questioning their sexuality and were being discriminated against in the community. I assisted them in establishing their identity and worked with them to overcome obstacles. I have also worked with persons with disabilities for the New York State Government, empowering them and assisting them in achieving their goals.
Initially, my private practice began with working with persons on the autism spectrum. I worked with young people and their families to assist them in achieving and maintaining a fulfilling life. As my practice has grown, I have worked with individuals with anxiety, depression, bipolar disorder, borderline personality disorder, and sexual addiction. Throughout my years as a therapist, my philosophy is to actively listen, treat each individual with respect and dignity, and help them develop trust in a therapeutic relationship.
What clientele do you work with most frequently?
I currently work with all ages—teens through geriatric age groups. My expertise is in childhood trauma and assisting people to heal from past life experiences. I work extensively with individuals who are questioning their sexual identity, as well as those making career choices or resolving workplace conflict. I also enjoy working with couples to resolve concerns in their relationships and facilitating mixed issue group therapy.
I believe strongly in changing social policy and have sat on a number of committees to facilitate change. I feel each individual should have equal rights and wish to empower them to fight against discrimination.
Can you tell us more about your specialty in helping clients navigate sexual identity concerns?
I find that many young people today are questioning and exploring their sexual identity. I assist my clients in embracing their identity and feeling comfortable with who they are, despite society placing many obstacles and challenges in their way.
Can you tell us more about your specialty in grief counseling?
People experience grief in many different forms. There is no right way to grieve. Some people become depressed, while others become angry. Grief also has no time limit or linear path; people regularly move back and forth between stages of grief. When working with people who are grieving, I assist them in the mourning process and help them to develop support structures and coping techniques to deal with their emotions.
Can you tell us about your work with clients on career-related challenges?
Many people are experiencing work-related concerns during this pandemic—isolation, procrastination, difficulties with work-life balance, or not wanting to return to the traditional workplace setting. I help clients explore their options, market their skills, set boundaries, and negotiate with their employers to achieve the best option for them.
What do you find most rewarding about your work?
I feel the most rewarding aspect of my work is observing people achieving their goals. Often times people just need an ally who will listen and validate their concerns. I feel a good therapeutic alliance can facilitate major life accomplishments and feel it is an honor to help people understand and implement their purpose in life.
Therapy sessions with Cheryl
What will our first session together be like? What happens in ongoing sessions?
The first session with entail me getting some basic background information, establishing how you see yourself in the world, and understanding how you identify. It will be a back-and-forth discussion in an open, non-judgmental safe zone where you can ask questions and see if you feel we would be a good match.
In ongoing sessions, we establish a therapeutic alliance where trust and respect are our main focus. We work together to establish achievable goals and come up with steps to help you feel more content in your life.
How long do clients typically see you for?
I am a solution-focused therapist that works with individuals to establish the time they will spend in therapy. The average length of time people in my practice seek therapy is 6-12 months.
Do you assign "homework" between sessions?
If the person that I'm working with is agreeable to homework, we will discuss how it can help the progression of therapy. I use a variety of worksheets based on the client's presenting problem and also suggest books that will assist the person in overcoming their specific challenges. I also encourage people to keep a journal of their feelings.
How do I know that it's time to start seeking therapy?
If you are thinking of seeking therapy, then it is probably time! If you find it difficult to navigate daily concerns or if others are suggesting you should think of therapy, it is a good time to seriously consider it.
Why should I seek therapy, rather than turning to my partner, friends, or other loved ones?
Friends and loves one are generally able to talk occasionally about others' concerns, but they may start avoiding you if you are crossing over boundaries and overwhelming them with your concerns since they also have concerns of their own. Therapy is a safe and confidential place to talk about your own challenges. It is non-judgmental, and you won't feel like you're being a burden to others. In therapy, you can feel free to explore your thoughts and feelings.
Visit Cheryl's profile to watch her introductory video, read more about her, and book an initial call!